5 Addicting City-Building Games For SimCity Fans
Since the day when the gaming come of age, the simulation games have already been around for quite some time. With the arrival of popular titles like the Sims, the genre finally got into mainstream.
The Sim as a game has successfully created not only a special genre, but also a legacy for many other games to follow, especially when SimCity, the first city-building game was created back in the 1989.
Many people saw the SimCity game not only as the pioneer, but also the solid base for sparking inspiration to many developers with the goal to create games in the same genre. And truth to be told, it won't be easy without it.
Now, the city building games have expanded. The theme is even not about cities anymore. Using the developers' creativity, now we can enjoy the unique city building games that look and feel so special.
So, if you're looking for the best citu building games except SimCity, you got plenty of options to think about. But to help you out, we've prepared the list of 5 addicting city building games with unique themes that you can try right now. See more of them below!
5 Addicting City Building Games With Unique Themes
1. Frostpunk
It is a city building game that you can install on a PC, both Steam and other game stores. This game features a setting in 1886, with a unique storyline. The beginning of the game begins with the eruption of Mount Krakatau and Tambora. These conditions have an effect on the occurrence of prolonged winters throughout the world.
Therefore, in this game players are required to be able to build their own civilization in a more comfortable place to live in. The best city building game on PC is quite popular, because it features stunning graphics and fun gameplay.
2. Cities – Skylines
At first glance, this game is quite similar to SimCity, especially from the gameplay to the graphics. It's just that, compared to SimCity, this game has more complex gameplay. So, players will not only build cities. But it is also required to make careful planning from the beginning of the game.
However, this game can offer more detail aspects of a city. For example, when people are working in the morning, you can even track someone's life starting from the sunrise till they come back from work.
And since the game itself is considered more complex, you may need to spend some time on it to learn everything about it. Building a city is sure a hard job. But, it would be one satisfying job when you can see everyone happy living in your lovely town.
Note that you can get the game on various game platforms, including Steam. And remember, if you want to download the game right now, we highly recommend using a gaming VPN. VPN for gaming can reduce your ping and limit buffering, especially when you're playing online games. If you want to download games like Cities: Skylines, using a gaming VPN can make it possible for you to achieve even better speed.
3. Aven Colony
Next is the Aven Colony which presents a slightly different gameplay. In this game, players are required to build a new life on an alien planet which turns out to be inhabited by aliens. As a player, you are tasked with supervising all construction and existing resources for the development of the city.
Each building will have its own function to meet the needs of the community. Apart from that, you also have an obligation to protect your colonies and cities from other threats such as extreme weather, poison gas and other dangerous conditions. One of the best city building games on PC is highly recommended for you to try.
4. Anno 1800
Anno 1800 presents a 19th-century setting, so it is quite unique. As you know, at that time it was known as the era of the industrial revolution, so all the features were deliberately made to support these conditions. Starting from the conditions of colonialism, factory workers who were the main pillars of the industrial movement and Victorian-style buildings.
This game provides many game options, such as campaign, multiplayer, to sandbox mode. Then, in the game Anno 1800 you will not only build cities, but also the occasional war that can occur in the city that you manage.
5. Tropico 6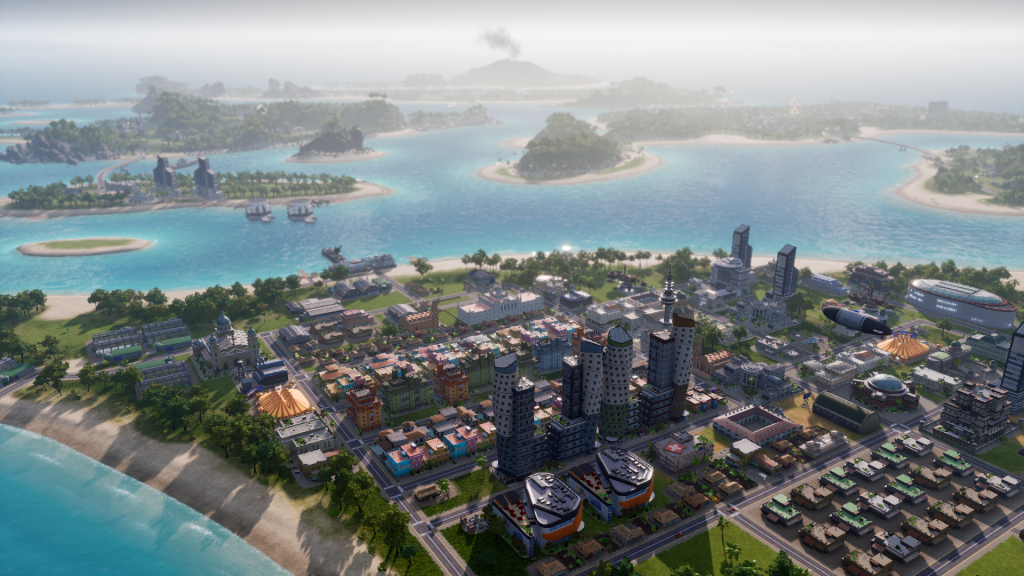 A city building game on a PC or laptop that is no less exciting is Tropico 6. The game begins with the chaotic condition of the people in a country. You as a player will act as a leader to re-organize the country. The appeal of this game is that you can choose the leader character you want.
You can be a dictatorial leader, or just the peace-loving type when leading the people of Tropico Island. This game has a cool graphic display. Moreover, it is supported with the best features that will not bore the players.
And that's the list of the 5 best city building games with unique themes that you can play today. So, which one is you're going to play first? Tell us on the comment below!