6 Best Mobile Hotspot For Gaming in 2023
GPCD
is reader-supported. When you buy through links on our site, we may earn a small commission at no extra cost to you. Thanks for the support! Learn more.
There are thousands of offline games that you can play without the internet, but more and more gamers are now playing competitive online games, which requires internet access. Now the problem occurs when you are traveling regularly, or the place you are going to has no good internet.
In that case, a reliable internet connection is a must for serious gamers who are always on the go. This is where a WiFi mobile hotspot comes in handy. This small device makes sure that you always have a reliable and strong internet connection by your side.
The smaller size of these devices makes them portable and great for traveling. You can keep them in your laptop bag or even in the pocket. Check out these 4K portable monitors for your portable hotspot device.
There are multiple devices available in the market, and we have reviewed some of the best mobile hotspots for gaming.
You can also check out our article on how much internet speed is good for gaming to select a device accordingly.
Title
Best Overall/speed
NETGEAR Nighthawk M1 4G LTE WiFi Mobile Hotspot (MR1100-100NAS) – Up to 1Gbps Speed,...
Best User interface
GlocalMe G4 Pro 4G LTE Mobile Hotspot Router, with US 8GB & Global 1.1GB Data, 5" Touch...
Best Budget
GlocalMe U3 Mobile Hotspot 4G LTE Wireless Portable WiFi - No SIM Card Needed | Connect Up...
Thumbnail
Best Overall/speed
Title
NETGEAR Nighthawk M1 4G LTE WiFi Mobile Hotspot (MR1100-100NAS) – Up to 1Gbps Speed,...
Thumbnail
Best User interface
Title
GlocalMe G4 Pro 4G LTE Mobile Hotspot Router, with US 8GB & Global 1.1GB Data, 5" Touch...
Thumbnail
Best Budget
Title
GlocalMe U3 Mobile Hotspot 4G LTE Wireless Portable WiFi - No SIM Card Needed | Connect Up...
Thumbnail
NETGEAR Nighthawk M1 Mobile Hotspot 4G LTE
If you aren't familiar with Nighthawk M1 mobile hotspot router, then let me tell you that this thing is probably one of the most useful little gadgets you can have with you in your laptop bag when you're traveling. This is also the most expensive unit on our list.
It can be an excellent substitute for your home internet setup if you live in an area with not-so-great internet providers. This is an all-in-one, completely portable 4G LTE hotspot router with unlimited data and no throttling.
If you're tired of getting overcharged for mediocre packages from your ISP, or maybe you need a reliable hotspot set up for traveling or gaming on the go, or perhaps you need better internet at home. This is a really great little product that has tons of uses.
It's pretty compact, not relatively small enough for a pocket, but definitely, it won't take much space on a backpack. It comes with a 5000mah battery, which will last all day with multiple devices connected.
You will also get a USB-C cable for keeping it juiced up. The speed and coverage will vary depending on your location, though the router is technically GSM unlocked, so you could theoretically use it with a different service as well. Setting up this device is quite easy too.
It has a screen upfront that displays all the important information about data usage and connected devices. Around the back, there's USB-C charging port in the middle Ethernet port off to the right and a standard USB port off to the left that you can use to charge your phone. There's an SD card slot at the bottom as well.
You can connect up to 20 different devices to this mobile hotspot and use t-mobile 4G LTE service anywhere you need it. The router itself has both 2.4 gigahertz and 5 gigahertz network bands, and you can either set it up to broadcast both or one or the other.
NETGEAR Mobile WiFi Hotspot AC797-100NAS
This one is also made by NETGEAR but at an affordable price. AC797-100NAS 4G mobile hotspot can support up to 400Mbps download speed and WiFi connection for 15 devices. It is an ideal travel companion that can provide an exceptional internet experience on the go.
Whether it is gaming, streaming, or browsing, AC797 will provide you with fast internet at home or outside the home. It comes with an average-sized 2930Mah battery that can last for up to 12 hours of use.
External antenna port allow you to connect an external antenna like the Netgear MIMO to your mobile hotspot in order to improve your signals.
On the front, it has a small 1.8 inches color screen, which shows data usage monitoring, mobile signal strength, and network management information. This device is unlocked, and you can use any SIM card around the world.
GlocalMe G4 Pro 4G LTE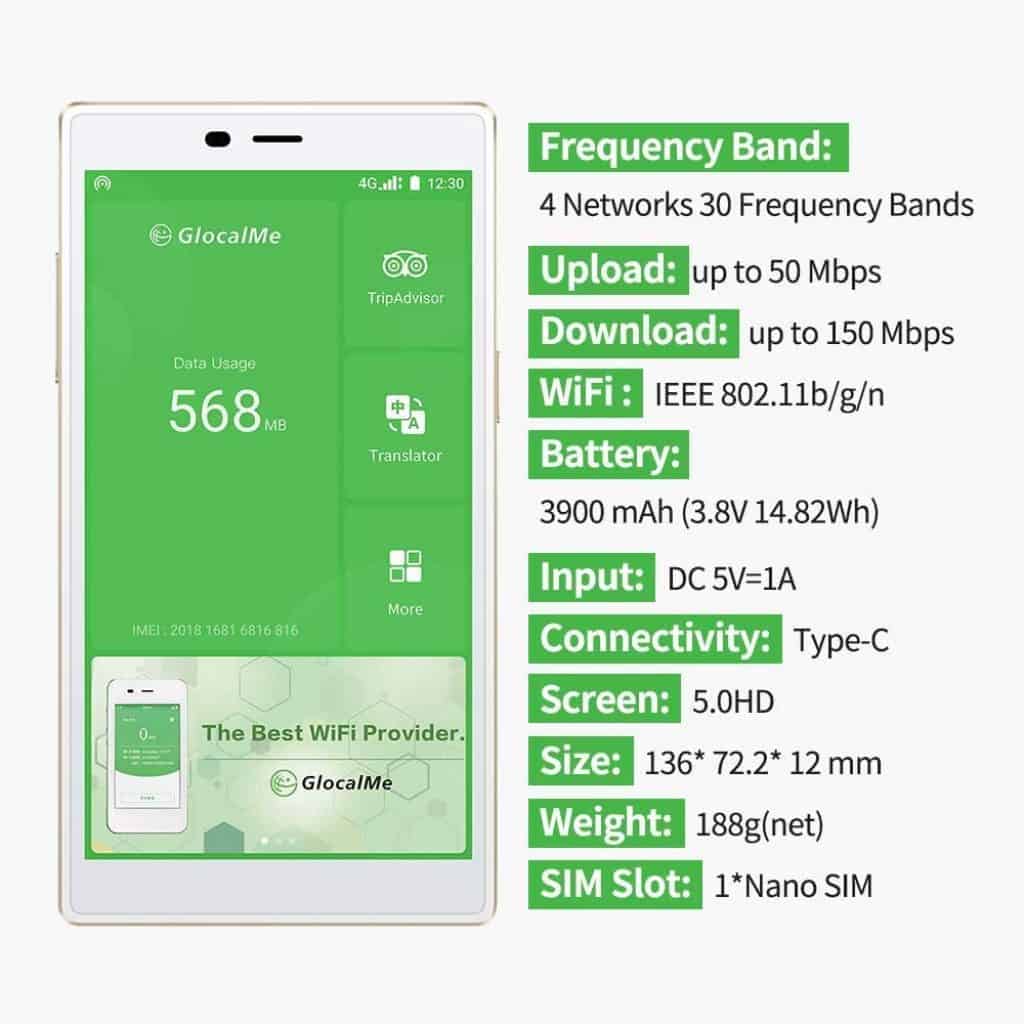 GlocalMe G4 Pro is an upgraded version of GlocalMe G3, and I think it's pretty cool. It is thinner and has a larger screen. The G4 weighs 187 grams, and it is almost 50 grams less than the G3. It may not sound like much, but it's a noticeable difference when you're toning it around in your pocket, and everything adds up in a travel backpack.
Battery wise the G3 houses 5350Mah while the G4 settles with a 3900Mah. This may sound like the G3 has a leg up in this area, but the G4 s battery life is also terrific, and you won't notice a difference between the two.
The UI is the showstopper for the G4. It's vibrant, and it just looks more modern than the G3. The G3 certainly gets the job done, but the G4 does it with panache. The new model has a bit more future-proofing.
With the G3, the screen is just a way to connect and verify a few connection related things. Once done, you pop it back in your pocket and don't look at it again until it's time to turn it off. However, the G4 screen is set up as prime real estate for apps. At the moment, they've got TripAdvisor and a translation app built right in. We found the translation app to be buggy, but a future update will likely clear that up.
Now let's talk about some of the features of the G4. The G4 has a pay-as-you-go option, and there's no contract restriction on GlocalMe data service. Instead, different data packages are available for different user needs.
You can connect up to five devices at once. It has 4G LTE with 150Mbps download and 50Mbps upload speed. We've found the speeds to be exceptional, and we've tested them in many places around the world.
This thing doubles as a power bank with a built-in USB charging. If you need a quick charge for your phone or camera BAM, you've got it in the G4.
ZTE Velocity Mobile Hotspot 4G LTE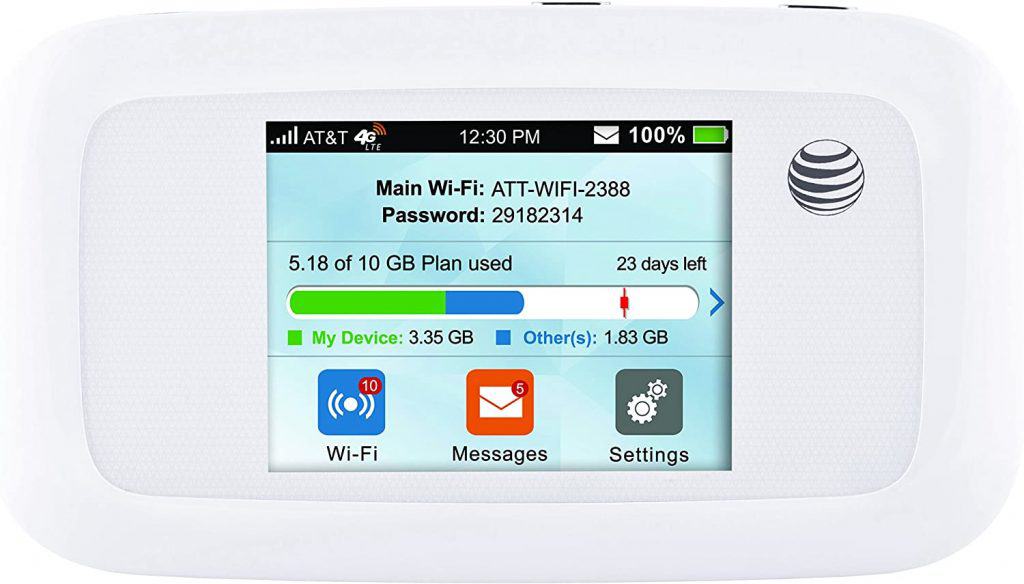 The ZTE Velocity is a budget mobile hotspot for gaming, which seems to be well stacked in terms of features. It is a simple yet essential device for anyone who travels a lot. ZTE is relatively easy to set up and easy to use.
It's a small-sized device that you can easily fit in your pocket or laptop backpack. The ZTE Velocity doesn't feel heavy, but it has a solid build quality to it. On the front, it has a 2.4 inches color touchscreen that you can use to change settings, view data plans, view remaining data, signals, battery life, or messages.
As long as you have a good network, this device will perform well. Being a 4G device, the data transfer is also quick. The only downside in performance is that the Velocity runs a sort of Dual Band-lite WiFi setup. Velocity can handle 2.4GHz and 5GHz bands, but not at the same time.
So, if you have a single device connected that supports only 2.4GHz, the rest of the devices will also get 2.4Ghz. This isn't a deal-breaker as more and more devices are now supporting the 5Ghz band.
GlocalMe U2S 4G LTE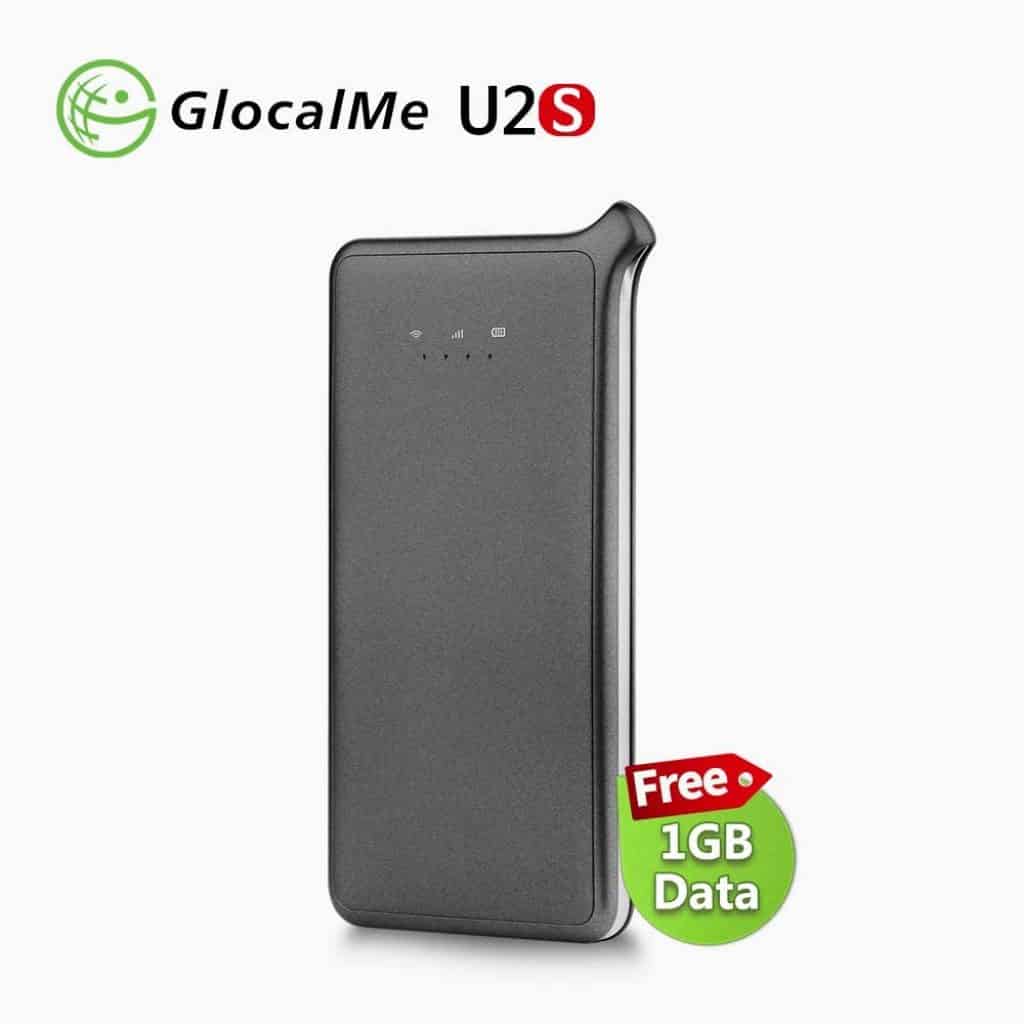 So, you are a serious gamer and always traveling around from place to place? Does your phone not have a reliable internet connection, or the hotspot drain the battery faster? You need a mobile hotspot that can provide you with a stable and fast internet connection for lag-free gaming.
For that matter, GlocalMe U2S is a great option to choose from at a low price. It has an advanced cloud sim, which means you won't need an extra SIM while traveling internationally. Still, the device has space for a single SIM card. You can connect up to five devices at the same time.
Another good thing about this device is that international roaming is free. Data rates are also cheaper than most of the other networks. The U2S is a 4G device supporting 150Mbps of download speed and 50Mbps of upload speed.
GlocalMe U2S comes with a 3500Mah battery, which can last for more than 12 hours. The only drawback of this device is that it does not have a screen. You have to manage the device through the mobile app.
Overall it's a good device if the screen is not a big deal for you.
Alcatel LINKZONE
Alcatel Linkzone is the cheapest mobile hotspot on our list. This is the only T-Mobile device available in the market. If you are not a serious gamer and can sacrifice some features, then this device is a great value for your money.
The device and the data packages are both very inexpensive. It is quite easy to use and has good coverage and internet speed. The Alcatel Linkzone is a small portable device, which is easy to carry around in a pocket or laptop bag.
It has no screen, but there are icons for signals, WiFi, messages, and battery status on the front. The Linkzone has a USB port at the bottom to charge the device or connect it with the laptop. If you open the back cover, you will find the WiFi password, battery, SIM slot, and microSD card slot.
The chipset in Linkzone is a bit old, which is the reason for being cheap. Even some of the latest mobiles phone has better chipset than this device. You can connect 15 devices on 802.11g at the same time, which is more than enough.
The downside of having Linkzone is that it only works at 2.4Ghz, which may cause slower speeds in crowded places plus the signals are also weaker when you are indoors. The Linkzone is only useful if you are trying to save your phone's battery or the plans on your phone is expensive.
Conclusion
Some of these mobile hotspots are great for gaming but quite expensive too. I have tried to include mobile hotspots in all ranges so, you can make a choice according to your budget.
You can also check out our article on best gaming router under $100.