8 Best Gaming Laptops Under $800 2023
GPCD
is reader-supported. When you buy through links on our site, we may earn a small commission at no extra cost to you. Thanks for the support! Learn more.
Are you on a tight budget and can't buy a premium gaming laptop? Do you want to start a new streaming channel as a gamer, but don't have any suitable gaming devices? Well, if the answer is yes, then we can help you.
We have reviewed some good gaming laptops under $800. These laptops are on a budget but give their full performance when it comes to gaming.
There are a few reasons people don't buy laptops for gaming, and they are reasonably valid too. But, every technology item has its own set of advantages and disadvantages. For example, the very first and fundamental flaw of laptops is that they aren't upgradable.
I mean, you may plug in a new RAM of several gigabytes, storage, but you cannot upgrade the GPU, which is a prime requirement for gaming.
Though they may not be upgradable, they are still quite useful. You can carry them with you anywhere you want and use them according to your needs and desires. However, selecting the right gaming laptop on a budget is a bit hard. This is precisely why you are here, and we will help you in picking the right one.
Check this Laptop Buying Guide before you buy a laptop.
Lenovo IdeaPad Ryzen 5 5600H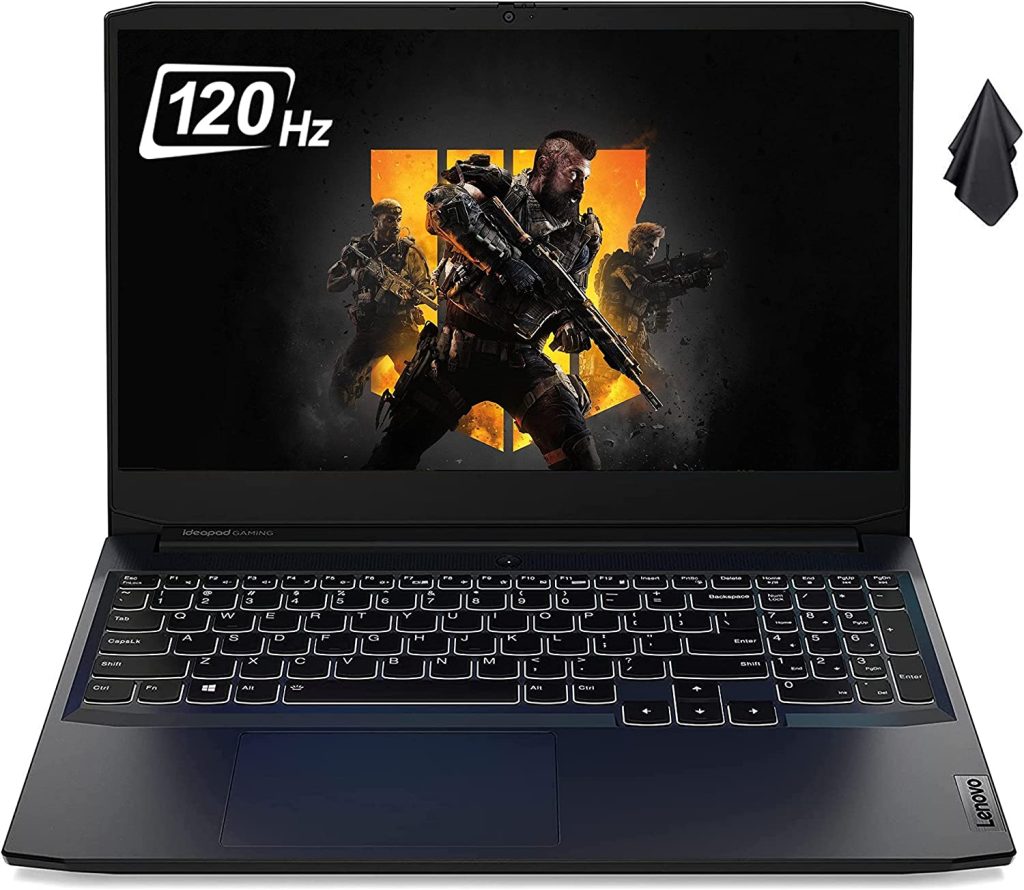 The Lenovo Ideapad laptop is a well-balanced machine at a low price point, offering excellent performance and great features. Its biggest advantage is its performance, which comes from a six-core AMD Ryzen 5 CPU operating at high frequencies and an Nvidia RTX 3050 Ti graphics card with 4GB GDDR6 of video memory onboard.
This combo is fantastic, and the laptop can easily handle multitasking, coding, and high-end gaming. The keyboard is backlit with white light, making it easy to use in dimly lit environments.
The laptop features a 15.6-inch IPS panel with a full HD 1080p resolution, a 120Hz refresh rate, and 170-degree viewing angles, making it suitable for gaming, freelance work, or document editing. The screen is bright, and its color gamut covers 45% of NTSC, which is not suitable for professional graphic work, but it is more than enough for regular use.
The Lenovo Ideapad laptop also features a 720p HD webcam with a physical shutter for privacy and supports Wi-Fi 6, offering fast and stable internet connectivity.
The laptop comes with 16GB of RAM, and Windows 11. The laptop's pre-installed storage is a 512GB NVMe solid-state drive, which is enough to store games, photos, movies, design projects, and install a secondary operating system.
The laptop performs well, and although it works a bit loud under heavy loads, it stays pretty cool and doesn't throttle. The package also includes an Oydisen Cloth.
| | |
| --- | --- |
| Speed | up to 4.2 GHz |
| Processor | Ryzen 5 5600H |
| RAM | 16GB DDR4 |
| Storage | 512GB SSD |
| GPU | RTX 3050 Ti |
| Display | 15.6″ FHD IPS 120Hz |
MSI i5-11400H
The MSI GF63 Thin 11UC gaming laptop is a budget-friendly device that is capable of handling 1080p gameplay with its Nvidia GeForce RTX 3050 graphics core and Core i5-11400H (2.7GHz-4.5GHz, 12MB Intel Smart Cache) processor.
It comes in a brushed metal casing that looks smart and mature and has red keyboard edging and logos that lend consistency. The laptop is slim and light but not very sturdy.
It has a 15.6-inch IPS display with a Full HD resolution and 144Hz refresh rate, which is average at this end of the market. The laptop has a single full-size USB 3.2 Gen 1 port, a USB-C port, two more full-size USB connections, Gigabit Ethernet, and an HDMI 2.0 socket. It also has dual-band Wi-Fi 6 and Bluetooth 5.2, but no card reader or Thunderbolt.
The keyboard has no number pad, and a single-zone red backlight, but it has fast and reasonably crisp buttons that can handle mainstream gaming. The laptop speakers are serviceable but too tinny at the top end and have flat bass.
It comes with 16GB DDR4 RAM, 256GB PCIe SSD, and pre-installed Windows 11.
The RTX 3050 has 2,048 stream processors and 4GB of memory, and a 40W power limit, which is the weakest among Nvidia's laptop cores. The Core i5-11400H processor has six Hyper-Threaded cores and a top Turbo speed of 4.5GHz.
The laptop runs Far Cry New Dawn with an Ultra quality average of 55fps, but it struggles with more demanding games like Cyberpunk 2077 and Warzone. The laptop is quiet, but it is not the best for content creation or tough workloads.
| | |
| --- | --- |
| Speed | Up to 4.5GHz |
| Processor | i5-11400H |
| RAM | 16GB DDR4 |
| Storage | 256GB PCIe |
| GPU | RTX 3050 |
| Display | 15.6″ FHD 144Hz |
Acer Nitro 5 i7-11800H
The Acer Nitro 5 AN515-57 is a standard-looking laptop with a plastic construction and a muted black design with some red accents. The laptop is compact and lightweight but not as small as other laptops in its class.
The laptop is well-made with some flex in the lid and keyboard deck, but not the kind that should pose any reliability issues. The IO is lined on the sides, and the video outs and single USB-C port are on the right side.
The Nitro 5 comes with either a red or 4-zone RGB keyboard. The base-level 144Hz panel made by AU Optronics is a poor panel choice, but it's well-calibrated out of the box, with solid uniformity, blacks, and contrast levels.
The Nitro 5 has a mid-range PCIe SSD and space inside for a 2.5″ storage drive. The Nitro 5 is controllable through the included Nitro Sense application.
The thermal design is simple yet efficient, with two fans and thick heat pipes. The laptop has Gigabit Lan and Wireless 6 + Bluetooth through Realtek/Intel chips. The Nitro 5 has a 58Wh battery, which is smaller than what the competition offers these days.
The device is equipped with an NVIDIA GeForce RTX 3050Ti graphics processor that operates at a base clock speed of 1485MHz and has 4GB DDR6 RAM, consuming up to 75 watts. The graphics chip has 2560 CUDA cores, 20 Ray Tracing cores, and 80 Tensor cores.
While the RTX 3050Ti GPU can handle most games without Ray Tracing enabled, the 80 Tensor cores can be utilized for DLSS in certain games to enhance performance.
The Nitro 5 ships with a single 8GB DDR4 3200MHz SODIMM RAM module. To optimize performance, I suggest upgrading to a minimum of 16GB or 32GB. The Nitro 5 has a maximum RAM capacity of 64GB, which can be achieved by using two 32GB modules.
The good news is that the Nitro 5 includes a 512GB M.2 NVMe 2280 SSD (WD SN530) and an extra PCIe slot that can be utilized for an additional data drive.
| | |
| --- | --- |
| Speed | Up to 4.6GHz |
| Processor | i7-11800H |
| RAM | 8GB DDR4 |
| Storage | 512GB NVMe SSD |
| GPU | RTX 3050 Ti |
| Display | 15.6″ FHD 144Hz |
HP Victus 15 i5-12500H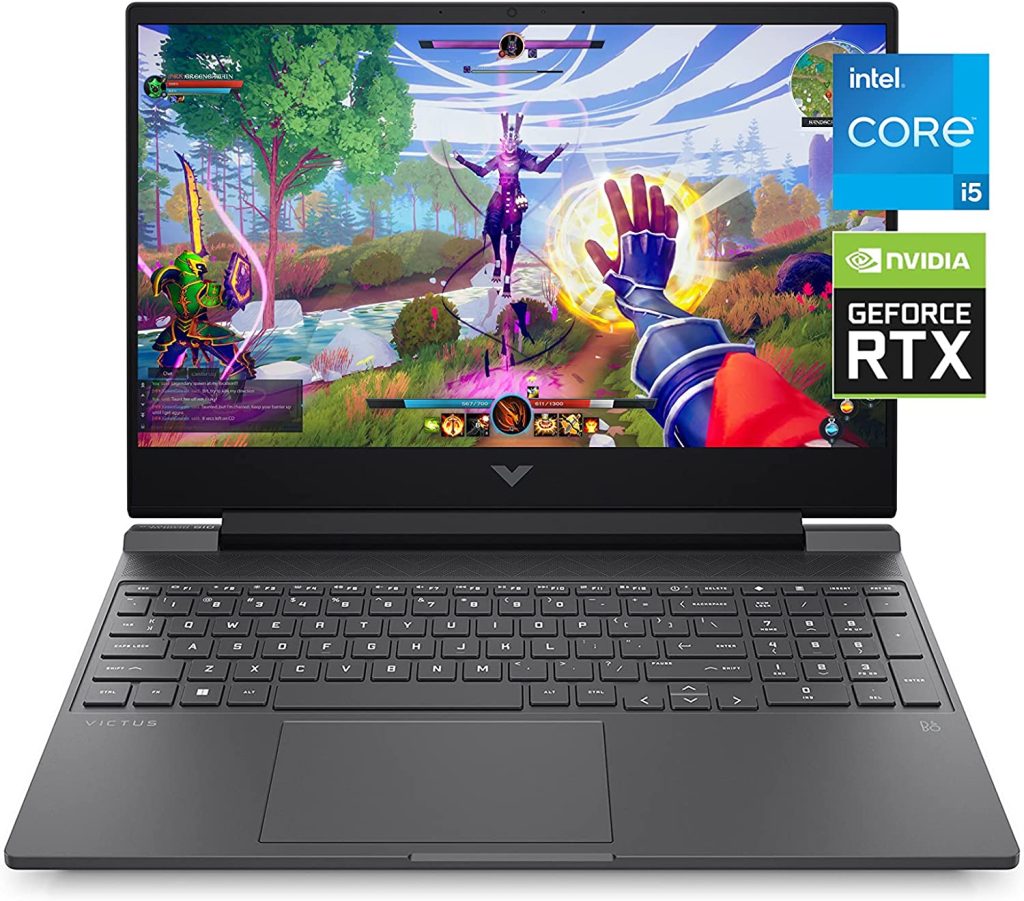 The HP Victus 15 gaming laptop is an interesting machine with a lot of impressive specifications. The packaging experience is top-notch, with a cool-looking black box that contains the laptop and plenty of protective packaging.
The laptop is well-composed and elegant, with an overall weight of 7.4 pounds that puts it within the territory of gaming machines in general.
This is a laptop with a 15-inch display and is equipped with Intel's 12th generation I5 12500H series processor. It has 8 gigabytes of DDR4 memory and 512 gigabytes of SSD storage. Additionally, it features an RTX 3050 graphics card with 4 gigabytes of VRAM and Wi-Fi 6 capability.
When it comes to gaming, it's important to keep in mind that this is an entry-level gaming laptop and the RTX 3050 won't be able to max out the latest titles. However, games like Doom Eternal can be played at higher settings with a good frame rate ranging from 90 to 120 frames per second, which is impressive.
Even games that are more CPU-dependent, like Guild Wars 2, run smoothly thanks to the h-series I5 chip, and I was able to get 40 plus frames per second even in high activity areas. Fortnite, a game that is well-optimized, runs smoothly at high settings, and easily gets over 60 frames per second.
This laptop can handle high-intensity tasks such as 4K video editing, photo editing, 3D modeling, and coding with ease, even with just 16 gigabytes of RAM. The laptop's thermals are also noteworthy.
The laptop has a healthy composition of IO ports on the side, including a DC charging port, USB-A port, headphone jack, full-sized SD card reader, HDMI 2.1 port, ethernet jack, and USBC port that supports both power delivery and DisplayPort functionality.
The bottom side of the laptop is a pretty happening place, with a massive air intake vent, HP crew grill at the bottom, and a spacious palm rest. You should also upgrade the RAM to 16GB, as 8GB is not enough these days.
The keyboard is of respectable quality, with well-labeled keys, a fully backlit keyboard, and a 10 key number pad. However, there is no fingerprint scanning built-in.
Overall, the HP Victus 15 gaming laptop is a great machine for gamers who want a powerful laptop with a good keyboard and plenty of IO ports. However, the hinge mechanism is not very sturdy, which could raise concerns about long-term wear and tear.
Nonetheless, the laptop has a lot to offer and is definitely worth considering for anyone in the market for an entry-level gaming laptop.
| | |
| --- | --- |
| Speed | Up to 4.5GHz |
| Processor | i5-12500H |
| RAM | 8GB DDR4 |
| Storage | 512GB NVMe SSD |
| GPU | RTX 3050 |
| Display | 15.6″ FHD |
Lenovo Legion 5 Ryzen 5 5600H
The Lenovo Legion 5 with RTX 3050 Ti graphics is a fantastic gaming laptop that offers excellent value for the price. The 15.6-inch full HD IPS screen boasts 100% sRGB gamut, 300 nits brightness, and 165Hz screen refresh rate with under 3 milliseconds response time, making it an ideal screen for gaming, photo and video editing, and other purposes.
The laptop features a sleek and minimalistic design, although it's not exactly portable due to its weight of 2.4 kilograms and thickness of 22 millimeters. However, the size positively affects cooling, thanks to the brand new quad channel exhaust cooling system, which ensures that the machine doesn't overheat or throttle.
The Lenovo Legion 5 comes with a bunch of cool features, including the Legend True Strike keyboard, which is comfortable to type and game with, and the immersive 3D audio technology, which is a game-changer when not using headphones.
The Legion AI engine optimizes system performance with dynamic CPU/GPU power distribution, and the laptop has been tested to provide high FPS in various games with high graphics settings. The laptop can also handle streaming games with ease, making it an excellent choice for gamers looking to start their streaming career.
The laptop comes with an octa-core 16 thread 7 nanometers AMD Ryzen 7 5800H CPU with a base frequency of 3.2 GHz and a turbo boost mode of up to 4.4 GHz, along with an Nvidia GeForce RTX 3050 Ti graphics card with 4 GB of video memory on board.
Overall, the Lenovo Legion 5 is a good choice for a gaming machine under $800. It's not just great for gaming but also for coding, streaming, 3D modeling, and content creation with Adobe Photoshop, Lightroom, Premiere Pro, and After Effects.
Its versatility makes it a perfect suit for students, videographers, photographers, gamers, streamers, and programmers who want a fast SSD and a powerful CPU. The laptop's battery life is decent and can work up to six and a half hours, depending on usage.
In conclusion, the Lenovo Legion 5 is a fantastic laptop that offers excellent value for its price and is versatile enough to cater to the needs of a wide range of users. However, you need to upgrade the RAM to 16GB, as 8GB is not enough.
| | |
| --- | --- |
| Speed | Up to 4.2GHz |
| Processor | Ryzen 5 5600H |
| RAM | 8GB DDR4 |
| Storage | 512GB NVMe SSD |
| GPU | RTX 3050 Ti |
| Display | 15.6″ FHD |
ASUS TUF F15 i5-10300H
The ASUS TUF F15 is a 15.6-inch gaming laptop that features an Intel Core i5-10300H processor, NVIDIA GeForce GTX 1650 graphics, and 8GB of DDR4 RAM. It also comes with a 512GB PCIe NVMe M.2 SSD for fast storage and quick boot times.
This gaming laptop provides smooth gameplay even during graphically intensive moments. The 144Hz 15.6" Full HD IPS Type Display offers swift visuals for a competitive edge. The 512GB PCIe NVMe M.2 SSD provides ample storage for all your games.
Additionally, the dual fans with anti-dust technology keep the system cool and clean. The laptop also has a sleek and durable design, with a MIL-STD-810H military-grade construction that can withstand a range of environmental conditions.
The ASUS TUF F15 comes with a range of additional features that make it a great choice for gamers. These include a backlit keyboard for easy typing in low-light conditions, Wi-Fi 6 connectivity for fast internet speeds, and a range of ports for connecting to external devices.
Overall, the ASUS TUF F15 i5-10300H GTX 1650 is a great choice for gamers on a budget. It offers powerful performance, a sleek design, and a range of additional features that make it a versatile and reliable option for gaming, streaming, and everyday use.
Just make sure you upgrade the RAM to 16GB.
| | |
| --- | --- |
| Speed | Up to 4.2GHz |
| Processor | Ryzen 5 5600H |
| RAM | 8GB DDR4 |
| Storage | 512GB NVMe SSD |
| GPU | RTX 3050 Ti |
| Display | 15.6″ FHD |
Lenovo Ideapad L340
It is one of the most leading brands for laptops, tablets, and computers. Throughout the years, the company has produced many competent devices which have won the market. Whether it be devices for home, office, or gaming, you can always trust them. In this article, we would like to tell you a bit about the L340 model from Lenovo.
It is an excellent laptop in the Ideapad line that will run almost all games for you. The computer features an intel core i5 processor, which is responsible for the laptop's peak performance. It'll handle tasks and make the device run smoothly even during the recording of the gameplay. However, frame drops may be expected during the recording of higher end games. In addition to a high-quality intel processor, it also has an 8GB DDR4 memory, which takes its performance to a whole new level.
Also Read: 6 Core vs. 8 Core CPU for Gaming
| | |
| --- | --- |
| Speed | Up to 3.9GHz |
| Processor | Intel Core i5-8265U |
| RAM | 16GB DDR 2400 SDRAM |
| Storage | 1TB PCIe SSD |
| Inter Graphics | Intel UHD Graphics 620 |
| GPU | NVIDIA GeForce 1650 |
| Display | 15.6" FHD (1920 x 1080) anti-glare |
Asus TUF FX505DT
Asus is another big brand, known for its gaming products. Whether it be their GPUs, Motherboards, or laptops, they always have something special for their customers. After a quite bit of digging about the best gaming laptops under $800, we found the TUF FX505DT model suitable for the list.
We have included this device to our list of recommendations for several reasons. First, off all, it features an impressive design that makes it quite attractive. This gaming laptop is equipped with the latest AMD Ryzen 5 r5-3550h processor. It is one of those fantastic processors that handle quite heavy tasks without any issue.
The 256GB of NVMe SSD storage and 8 gigs of the RAM of this device takes its performance to a whole new level. It is capable of running almost all the latest titles on medium graphics without dropping frames.
Even if you intend to buy this device for your new gaming studio, it'll never disappoint you with its performance. Apart from everything, Asus has kept its tradition by making this laptop different from its kind. They have made it quite durable with MIL-STD-810 design that is military-grade construction.
| | |
| --- | --- |
| Speed | Up to 3.7GHz |
| Processor | AMD Ryzen r5 3550h |
| RAM | 8GB DDR4 |
| Storage | 256GB PCie SSD |
| GPU | NIVIDA GeForce GTX 1650 4GB |
| Display | 15.6" 120 Hz FHD (1920 x 1080) IPS |
Conclusion
Finding the right gaming laptop may seem very hard. Especially if you are on a tight budget. However, it doesn't mean that there aren't any devices in a budget range, you have a lot of options but these devices need a bit of searching. Luckily, we did that search for you and narrowed down the list from fifty laptops to just ten.
These laptops possess state of the art components that will survive the next few years and run games for you. I still have my Dell Inspiron N7520 that I bought 7 years ago. So, if you invest in a right device it might last you for many years.
Also Read: Gaming Laptops under $1500