8 Best White Motherboards for Gamers
GPCD
is reader-supported. When you buy through links on our site, we may earn a small commission at no extra cost to you. Thanks for the support! Learn more.
Gaming enthusiasts are well aware that the performance and aesthetics of their battle stations are equally important for a truly immersive experience. White motherboards, with their clean and sleek look, have rapidly gained popularity among gamers who are looking to build or upgrade their gaming rigs.
These visually striking components not only enhance the overall appearance of your setup but also demonstrate your attention to detail and dedication to the craft. In this guide, we'll be discussing the best white motherboards for gamers, taking into consideration various factors such as compatibility, performance, and features.
When it comes to building or upgrading a gaming PC, every element plays a crucial role in ensuring optimal performance and seamless gameplay. While the processor, graphics card, and RAM are often considered the heart and soul of any gaming setup, the motherboard is the backbone that brings everything together.
A high-quality motherboard ensures efficient communication between all the components, leading to a smoother gaming experience.
White motherboards, in particular, have become increasingly sought after as they add a unique touch to any gaming rig. With a stylish and elegant design, these motherboards are perfect for gamers who want their setups to stand out from the crowd.
Whether you're building an all-white gaming setup or simply want a motherboard that adds a touch of sophistication to your existing setup, these white motherboards are definitely worth considering.
As you browse through our selection of the best white motherboards for gamers, it's essential to keep in mind the various factors that contribute to a motherboard's performance and compatibility. These include the form factor, socket type, chipset, and expansion slots, among others.
You'll also want to consider additional features such as RGB lighting, built-in Wi-Fi, and cooling solutions to ensure you're getting the most value for your investment.
In this guide, we have carefully curated a list of the best white motherboards for gamers, catering to different preferences and budgets. We'll dive into the specifications, features, and benefits of each motherboard, helping you make an informed decision on which one best suits your gaming needs.
So, let's get started and explore the world of white motherboards, where performance and aesthetics come together to create the ultimate gaming experience.
MSI Z690 Force WiFi Gaming Motherboard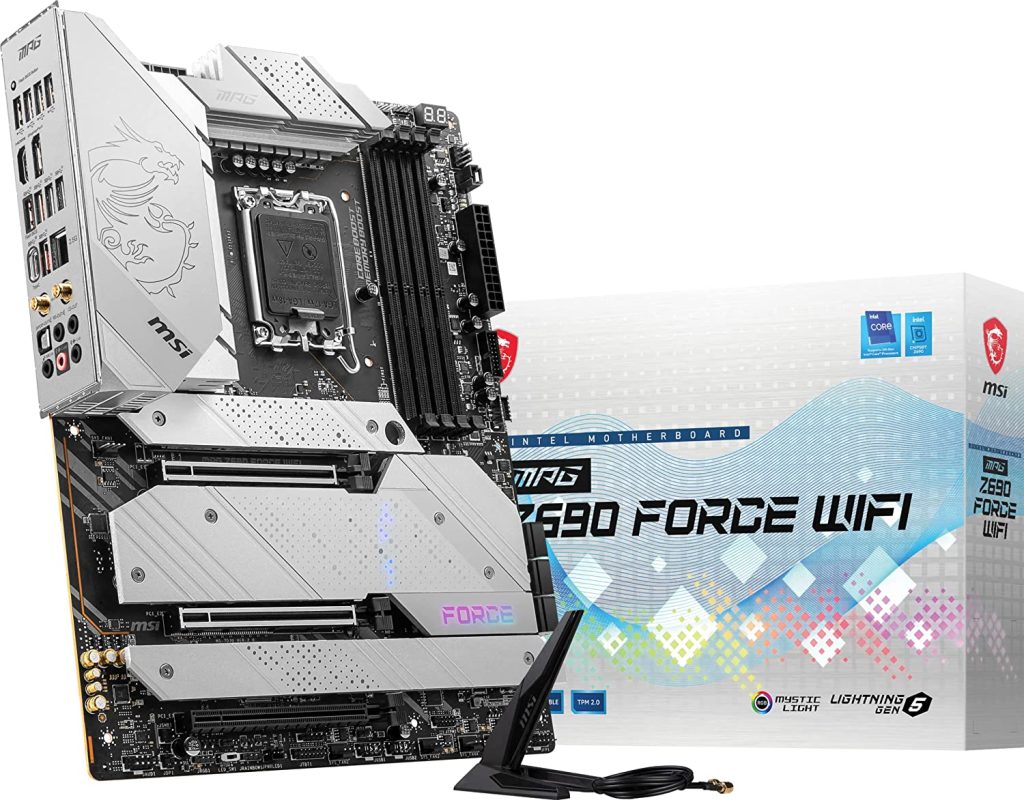 The sleek, dragon-inspired design isn't the sole reason to appreciate MSI motherboards, but it certainly adds appeal. Many motherboards lack flair, merely serving as a carbon fiber base for your PC build.
While the MSI Z690 Force WiFi Gaming Motherboard may not be technically white, its abundant silver accents create a striking foundation for any components you decide to incorporate.
The MSI Z690 Force adopts the ATX form factor, making it compatible with all mid-tower and most full-tower case builds. ATX motherboards are the most prevalent form factor in PC building, accommodating nearly all but the most extreme configurations.
In terms of compatibility, this board supports the two most recent generations of Intel processors. It is exclusively compatible with Intel Core, Celeron, or Pentium processors from the 12th and 13th generations, which is a significant advantage given their impressive performance.
The processor isn't the only aspect where you'll need to start fresh with the latest generation. This motherboard is solely compatible with the new DDR5 memory form factor. It supports up to 128GB of 5600MHz DDR5, a substantial improvement over DDR4, which maxed out at 5333MHz and is commonly sold at lower speeds.
Like most ATX motherboards, the MSI Z690 Force WiFi Gaming Motherboard features three PCI-E slots, allowing for multiple GPUs to facilitate high-level streaming or even crypto mining. Additionally, it has five M.2 slots for a substantial amount of onboard storage.
Furthermore, the MSI Z690 Force comes with the latest connection capabilities, including WiFi 6E and Bluetooth 5.2. The maximum LAN connection speed is 2.5G, surpassing the 1G default seen in previous years, but still falling short of the 10G speeds already available in recent years.
Finally, this motherboard offers a total of 9 USB-A ports but only 1 USB-C port, which may become increasingly insufficient as time goes on. It includes both an HDMI port and a DisplayPort for those who prefer running their display through the CPU rather than the GPU, which can be helpful during boot tests.
Besides that, it provides an extensive range of audio connection options, such as surround sound hookups, a digital optical port, a line in, a line out, and a microphone port.
In conclusion, the MSI Z690 Force WiFi is arguably the finest white motherboard available in 2023. It boasts an eye-catching design, exceptional performance, and abundant next-gen connectivity options. Most importantly, the Z690 chipset enables you to unleash unparalleled performance with 13th-generation Intel CPUs and DDR5 memory.
ASUS ROG Strix Z690-A
If you're planning to build a powerful, up-to-date PC in 2023, the ASUS ROG Strix Z690-A Gaming WiFi Motherboard is a great choice. The motherboard's striking silver heat sinks and customizable RGB elements, which default to a stunning teal color, make it a top pick for white motherboards.
It provides basic compatibility and excellent overclocking potential, making it a great foundation to build a high-performance system on.
Designed with 12th and 13th-generation Intel processors in mind, this ATX motherboard is compatible with any of the Alder and Raptor Lake processors, including the Core, Pentium, and Celeron models.
Unlike the MSI version of the Z690, ASUS opted to maintain DDR4 compatibility on the ROG Strix Z690-A. However, this could pose a problem for future compatibility as DDR5 becomes the standard. Nevertheless, considering the high cost of DDR5 currently, it is unlikely to happen for a few years.
This motherboard has one PCIe 5.0 slot and one PCIe 3.0 slot, which should be sufficient for most gaming builds. However, it may not be suitable for builds requiring multiple GPUs. Additionally, it has four M.2 slots, allowing for numerous NVMe drives to be installed directly into the motherboard.
While this motherboard comes with WiFi 6 connectivity, it does not support 6E, which is gradually becoming the norm. Although this may not be a deal-breaker in the near future, it may become a shortcoming for those seeking the best in all categories.
As for connectivity, the backplate has 8 USB-A ports and 2 USB-C ports, including one thunderbolt-compatible port. Additionally, there is an HDMI port, a DisplayPort, a 2.5G ethernet port, and audio connectors for both sound systems and headsets.
Overall, the ASUS ROG Strix Z690-A Gaming WiFi Motherboard may have some future-proofing issues. If you plan on upgrading your system over the next few years, it may not be the best choice.
However, if you're looking to purchase a complete PC build that will last for some time before needing upgrades, this motherboard is ideal. DDR5 can significantly improve gaming performance, and WiFi 6, even without 6E support, is not likely to be a liability anytime soon.
MSI MEG Z590 ACE Gold Edition
At first glance, the MSI MEG Z590 ACE Gold Edition Gaming Motherboard may not seem like an obvious choice for a white motherboard due to its name. However, its striking appearance makes it hard to resist, and who says white and gold don't complement each other?
The scale-like design and gold accents on the brushed aluminum heat shields transform this motherboard from a piece of futuristic technology into a mystical artifact reminiscent of a beloved RPG.
The MSI MEG Z590 ACE Gold Edition Gaming Motherboard is an ATX board, providing flexibility for various implementations. Unlike many 2023 motherboards, it isn't designed for the newest generation of processors.
Rather, it features an LGA 1200 socket, making it compatible with only the 10th and 11th-generation Intel processors. However, opting for a more powerful CPU from a previous generation is a common and valid approach to achieve a high-performance build while allocating budget for other components that significantly impact overall performance.
This philosophy of utilizing top-tier components from previous generations extends throughout the motherboard. It supports up to 128GB of the fastest DDR4 memory and has three PCIe 4.0 x16 ports for installing multiple GPUs.
For storage, the motherboard provides ample support for fast NVMe drives with four M.2 slots and six SATA ports for additional backup drives.
Even though it's tailored for older components, its internet connectivity is on par with the MSI Z690 motherboards, featuring Bluetooth 5.2, WiFi 6E, and a 2.5G LAN connection.
The back panel boasts a wide range of ports, including 8 USB-A ports, 2 USB-C ports (with one ThunderBolt port), an HDMI port, and two Mini DisplayPorts, which are not standard on many motherboards. It also includes WiFi 6E antenna hubs, a LAN port, and a variety of audio connectors.
In summary, the MSI MEG Z590 ACE Gold Edition is an exceptional and distinctive motherboard that serves as the ideal foundation for any white-themed gaming setup. Although it doesn't support the latest hardware, such as Intel's 12th and 13th generation CPUs and DDR5 memory, it still delivers excellent performance and extensive connectivity options.
If you already own a 10th or 11th-generation Intel CPU and are building a white-themed rig, this motherboard will be a perfect addition.
Asus Prime X570-Pro
Taking the first look at the ASUS Prime X570 Pro, ASUS hasn't changed the design all that much from their X470 boards. So, you still have the black PCB with silver heat sinks, and then you have white covers on the I/O and the heat sink fan.
The X570 motherboards support both the second and third-generation Ryzen processors. It has four RAM slots that support up to 128GBs of DDR4 4400 memory. These slots are colour coated for dual channel operation, and they don't have any locks, which makes swapping out your memory much easier once you have your graphics card installed.
Also Read: DDR4 vs DDR5
The Prime X570 PRO also has a cooling fan installed on the chipset. The connections on the back include a PS/2 combination port, four USB 3.2 gen one ports, display port, HDMI, four USB 3.2 gen two ports (3 type-A and one type-C), gigabit Ethernet and audio connections.
When it comes to RGB lighting on the board, you will find an RGB strip on the I/O cover and another under the chipset heat sink. With all the headers on the board, you can easily add more RGB lights if you want.
ASUS has done a great job with its Prime X570 Pro at providing its users with everything they want at an affordable price. I know its a bit expensive now but what you are getting in it brings good value for your money.
This motherboard has an integrated I/O shield, and if you do a lot of installation like me, it turns out to be a lifesaver. It saves you the extra step of installing the I/O shield, and there are times when you forget to install it, and you are already halfway through the process.
While testing and overclocking the motherboard, it performed well. It is an excellent board at a great price. The only thing missing from this motherboard is the WiFi.
Also Read: B550 vs B450 vs X570
Asus Prime Z390-A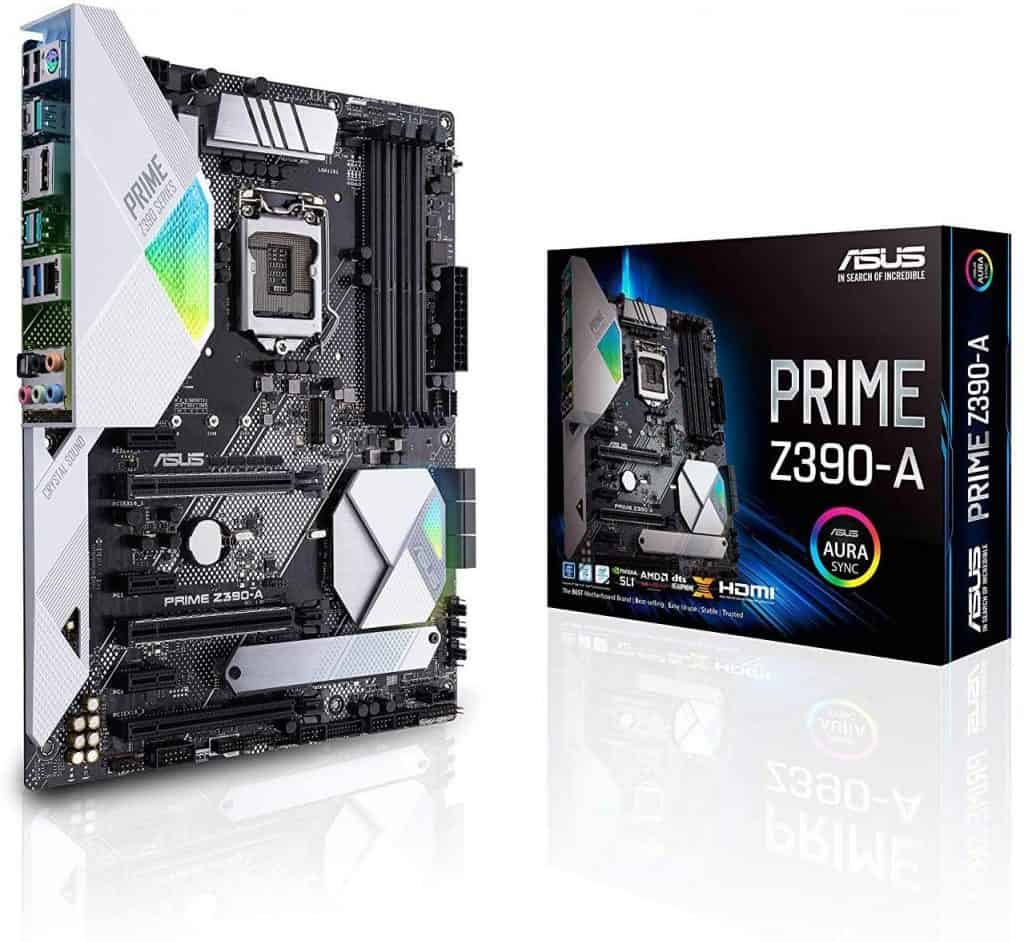 The Asus Prime Z390-A is a flagship best seller motherboard. Before going to the motherboard, I am going to cover the chipset. The Z390 chipset is in all point identical to the Z370 chipset, its predecessor.
The only differences are the number of available USB 3.1 second generation, the 10 gigabit ones, and for the first time, we do have an integrated WiFi standard adapter. The Z370 is frontward compatible, and this Z390 is backwards compatible. So, you can use your 8700k on the Z390 and your i9-9900k on your Z370.
Now, about the motherboard. The Prime series is ASUS's entry-level for any given chipset and usually, what that means is that ASUS is trying to do balance play between affordability and feature-rich product, meaning that this is the biggest bang for your buck.
The box comes with a two-way SLI bridge, a fan bracket for extra airflow on M.2 solid-state drive, a couple of SATA cables, a front connector bridge, a padded I/O shield, M.2 solid-state drive screw and screw raisers, and finally, the usual user manual coupon and DVD drivers.
No protective backplate on the back of PCB. Powering it, we have an LGA 1151 CPU socket which will be compatible with the 8th and 9th generation Intel CPUs. Memory wise it has a dual-channel that can support up to 64 gigabytes of DDR4 RAM. It can be overclocked up to 4,266 megahertz, and that is 266 megahertz more than available on its predecessor.
Also Read: How to Overclock Your Monitor
Looking at the I/O ports, it has a ps2 keyboard mouse plug, two 2nd generation USB plugs, four USB 3.1 2nd generation, including one type C. This is where the Z390 is different from the Z370 because we have more than 3.1 2nd generations. They can all transfer data up to 10 gigabits per second.
Plus, two 3.1 1st generation USB plugs can all transfer data up to five gigabits each individually. A display and HDMI plug for integrated graphics, usual Intel one Gigabit LAN, and the usual 5+1 optical audio channels.
An excellent, well-rounded motherboard needs to be able to support water cooling even on a budget, and in this case, the Prime Z390-A did not disappoint me. We have no less than seven fan connectors, two of which are compatible with pump PWM and let's note that we can connect an external thermal sensor if needed.
All the Prime motherboards are AURA compliant. The AURA effect will sync all your different components RGB to glow and dance in a synchronous beautiful, and glamorous way. This board is fitted with two RGB strips, one right behind the I/O roof and one right behind our chipset head shield. And if that is not enough, you have an additional two RGB AURA compliant connectors on your motherboard.
Also Read: If you should buy MSI Z390 A Pro
ASRock AM4-X570 Steel Legend
The mid-range gaming motherboard is a most competitive segment of the PC market with motherboards like the Asus Tough Gaming x570 Plus or the AORUS X570 Elite. A company like ASROCK might have wanted to go elsewhere. Instead, it decided to go all-in and released its X570 steel legend with ten 50 amps power stages, 4.6 gigahertz and a Thunderbolt 3 support. Yes! on an AMD motherboard, it makes no sense.
This is not a perfect board, but I am incredibly excited about it as there's so much stuff to talk about. Starting with obvious, we are dealing with a six-layer ATX PCB powered by an AM4 CPU socket supporting both the 2nd and 3rd generation of Ryzen processors.
VRM wise, it has premium ten 50 amps power stages configuration organized in four-plus two phases. It is cooled by thick and oversized heat sinks. They do an amazing job at keeping this VRM ice cold in any instance.
Memory wise we have the usual two channels configuration, which can support up to 128 gigabytes of DDR4 ram, lockable up to 3.6 gigahertz when coupled with a Ryzen 2000 series and an unprecedented and rare 4.66 gigahertz if coupled with a Ryzen 3000 series CPU.
Also Read: How a CPU works?
That is quite simply the highest Ram clock I've seen on a motherboard at this price. This is a perfect example of how a Ryzen 3000 and X570 chips combo will impact the overall performances of your build.
Staying in the memory, ASROCK X570 can support up to two SSDs, transferring up to 32 gigabits per second. If coupled with the Ryzen 3000 series, it will operate in a PCIe 4th generation standard, and data will transfer up to an unprecedented 64 gigabit/s. This can cause a lot of heat, and that is why ASROCK put two gigantic and very thick aluminium heat sinks.
Looking at the back, it has a decorated I/O shield which is not always present at this price range. The I/O ports include two integrated display outputs, a PS/2 keyboard + mouse plug, four-five gigabit 3.2 1st generation USB ports, four 10 gigabits 3.2 2nd generation USB ports including a type-c, Gigabit LAN and finally, the usual eight-channel audio codec.
Finally, this would not be a gamer motherboard without a bunch of RGB connectors on it. ASROCK software allows your motherboards RGB strips to sink it's lighting effect with other compatible components through your build.
It has two nested addressable RGB strips, one under the I/O roof and one under our chipset heat shield. If this was not enough, you could have three more RGB connectors, one of which is addressable.
Gigabyte B550 Vision D
There is an actual difference when utilizing or optimizing your PC for creative things instead of gaming purposes. And if you are looking for a perfect motherboard for creative work on a PC, look no further than Gigabyte B550 Vision D. I would consider this the best bang for buck white motherboard for the creators.
When going with Ryzen, one of the main downsides is thunderbolt support because so far, there hasn't been any. I know that many creators come from Intel or are just in the creative workflow, and there is a lot of thunderbolt devices or needs for thunderbolt 3.
The good thing about Gigabyte B550 is that it is one of the first ones to support thunderbolt 3 ports officially. It includes two Thunderbolt 3 ports.
At first glance, the Gigabyte B550 Vision D looks absolutely fantastic and has a minimalistic design. I like how simple and modern it looks. You might not like the look if you are building a gaming PC because there's no big logos of dragons or RGB lights. This minimalistic black and white motherboard is meant for creators.
The I/O includes standard audio connectors, a display port, an HDMI port, and two gigabit Ethernet Intel ports. It has four SATA ports. It also comes with a magnetic Bluetooth and WiFi antenna.
There are two M.2 slots on the motherboard, one PCIe 4.0 and one PCIe 3.0. There are two PCIe express slots, and both of them are PCIe gen 4.0 slots. It has four RAM slots, and this is not just any RAM but also supports ECC memory. Most of the gaming motherboards and most of the motherboards don't support that, especially with Ryzen processors.
The chipset cooler has a fanless design with a massive heatsink built on top, which looks gorgeous. The reason why this board is so special is that you have the AMD socket, which means that you can even get the new 5000 series processes and get an unbelievable performance, even better than Intel.
There is not much more that you want from a motherboard, and that's why I think this is a perfect motherboard for creators out there.
ASUS ROG Strix B550-A
The ASUS ROG Strix B550 may not be entirely white, as it starts with a layered fiberglass base for durability. However, it features laser-etched silver covering all external components and adds white and silver accents throughout the interior.
Many of these accents serve as heatsinks, providing additional cooling by dispersing heat over a larger surface area, which optimizes airflow for fan cooling. The motherboard also allows customization and synchronization of RGB lighting.
Primarily catering to AMD, ASUS ensures this motherboard's compatibility with 3rd and 5th Gen AMD Ryzen CPUs, which are among the most popular processors today.
The white motherboard is designed for efficient memory management. It includes two M.2 ports, which offer a more compact and versatile alternative to traditional SATA ports. These connections enable faster data transfer and loading with connected SSDs and accommodate a broader range of devices.
M.2 has been around for a few years, so finding compatible storage shouldn't be an issue. One of the two ports also supports PCIe 4.0, further enhancing data transfer speeds, with the capability of achieving up to 64 GT/s (Giga transfers per second).
Regarding memory, the B550-A Gaming motherboard features 4 DDR4 DIMM slots (often called RAM slots), allowing a total RAM capacity of 128 GB. While this may be overkill for most gaming setups, the capacity is available if needed.
However, using just two RAM sticks is generally recommended, as certain brands may encounter issues with more than two sticks, including routing and signal integrity problems. Additionally, purchasing equivalent RAM amounts spread across two sticks is more cost-effective than across four.
The only exception to this might be if you want to maximize RAM capacity beyond what two sticks can provide. While DDR5 isn't supported, its high price will likely outweigh the benefits for a few more years.
The Ethernet port supports connection speeds of up to 2.5 GB, sufficient for gaming and downloading large files. However, the motherboard lacks built-in WiFi capabilities, which could be a drawback depending on your internet setup. A WiFi adapter can resolve this issue, although cheaper options may compromise connection quality.
The audio connectors deliver excellent performance for high-end audio devices, including headphones and speakers. The motherboard also enhances noise filtering for gaming and features an optical port for improved audio management options.
There's only one HDMI and one DisplayPort, which could complicate multi-monitor setups. However, this issue is typically resolved by running the display through the video card. In terms of connectivity, the motherboard offers eight USB ports, including six USB 3.2 (with one USB-C) and two USB 2.0 ports, accommodating various peripherals and external drives.
In conclusion, the ASUS ROG Strix B550 is an attractive motherboard that supports powerful components. It falls within the upper-middle price range, but its cost won't significantly impact your overall build. If you're looking for a white motherboard that matches your build while offering excellent performance for the price, this is a perfect choice.