10 Best Graphics Cards for Gaming in 2021
The most critical component when building a gaming rig is the graphics card. Having a good graphics card is not the only important factor, but it makes a huge difference. In-game graphical settings of your favorite games can have a significant impact when using a high-end graphics card rather than an average one.
Choosing a graphics card can be difficult with all the numbers and benchmark scores. Only a few dedicated gamers know how to choose the best graphics card. We made this list to make things easier for you. These video cards will let you play the latest released games on the highest settings.
Also Read: Graphics Card Under $100
AMD Radeon RX 5700
This absolute giant of best graphics cards is the latest addition, and it has already topped our list beating its opponent the Nvidia GeForce RTX 2060. With this powerful mid-range affordable graphics card, you can play almost every game on 1440p at the highest settings. Those with a lower budget, the affordability of RX5700 makes it accessible for all. At this price, it can't be the perfect one, but the price and performance at this cost make it the best graphics card of 2020. It has two 100 mm fans that keep it cool during intense gaming.
Stream Processors: 2,304 | Core Clock: 1,465 MHz (1,725 MHz boost) | Memory: 8GB GDDR6 | Memory Clock: 14Gbps | Power Connectors: 1 x 8-pin and 1 x 6-pin | Outputs: 1 x DisplayPort 1.4 with DSC, 1 x HDMI with 4K60 Support
Nvidia GeForce RTX 2080 Ti
If you want the most out of your graphics card and don't want to settle for less then, RTX 2080 Ti will be good for you. RTX 2080 is the best option in the market right now but surely an expensive one too. After games like the Battlefield V, Metro Exodus, and Tomb Raider have implemented the RTX features, it is the best time to buy this card and enjoy the ray tracing. In case of anyone you don't know about the ray tracing, it is a rendering technique that can generate stunningly realistic lighting effects. This GPU is going to cost you a lot, but with a higher cost, you can expect some fantastic performance.
Stream Processors: 4,352 | Core Clock: 1,350MHz (1,635MHz boost) | Memory: 11GB GDDR6 | Memory Clock: 14Gbps | Power Connectors: 2 x 8-pin | Outputs: 3 x DisplayPort 1.4, 1 x HDMI 2.0, 1 x USB-C
Also Read: Dual graphics cards
AMD Radeon RX 5600 XT
For an immense 1080p gaming experience, you should look into this beast of a graphics card. RX 5600 XT gives a fierce competition to Nvidia RTX 2060 with an affordable price, high FPS, and a lot of features while needing less power. It lacks ray tracing and DLSS (deep learning supersampling), but for the high performance and a great price tag, it surely is worth considering.
Stream processors: 3,584 | Core clock: 1,506 | Memory: 6GB GDDR6 | Memory clock: 12Gbps | Power connectors: 2 x 8-pin | Outputs: 1.4 with DSC DisplayPort, HDMI with 4K60 Support
Nvidia GeForce RTX 2070 Super
RTX 2070 super is a supercharged version of already popular RTX 2070, which offers incredible 1440p FCS gaming. The reasonable price and exceptional power make it lucrative for most gamers. This founders Edition is cheaper than the original RTX 2070. It comes with the ray tracing feature without costing you a fortune.
Also Read: 1080p vs 1440p vs 4K
Stream processors: 2,560 | Core clock: 1,605 | Memory: 8GB GDDR6 | Memory clock: 14Gbps | Power connectors: 6 pin + 8 pin | Outputs: 1 x DisplayPort, 1 x HDMI, 1 x DVI-DL
Nvidia GeForce GTX 1660 Super
At the launch of GTX 1660 and 1660 Ti Nvidia called these graphics cards the best for HD gaming at an affordable price that won't make you flinch. Now the super upgraded version is here with a tiny bit faster speed than GTX 1660 and only a few bucks more in price. It reaches almost the same level as 1660 Ti while being an affordable choice.
This card will deliver the best performance on the latest titles. It comes with a new feature like Turing architecture and a nice boost. G-sync technology is further improved by NULL (NVIDIA Ultra Low Latency) when running games at lower settings. If you're looking for a full HD experience, then consider this card.
Also Read: Newbies Guide to Power Supplies
Stream Processors: 1,408 | Core Clock: 1,530MHz (1,785MHz boost) | Memory: 6GB GDDR6 | Memory Clock: 14Gbps | Power Connectors: 1 x 8-pin | Outputs: 1 x DisplayPort, 1 x HDMI, 1 x DVI-DL
AMD Radeon VII
After Radeon Vega 64 in 2017, we were waiting for AMD to make something that will show Nvidia some competition. Nvidia had a bigger share of the business, but after AMD launched the Radeon VII, AMD has reclaimed the percentage of the high-end graphics market. This graphics card holds a special position in 4K gaming, but it is mostly used in content creation. It comes with 16GB of HBM2 memory, which is excellent for high-end games and helpful in creating content.
If the ray tracing feature doesn't fascinate you that Nvidia is trying to sell, then this graphics card is excellent with the same level of performance as RTX 2080.
Stream Processors: 3,840 | Core Clock: 1,400MHz (1,800MHz boost) | Memory: 16GB HBM2 | Memory Clock: 2Gbps | Power Connectors: 2 x 8-pin | Outputs: 3 x DisplayPort 1.4, 1 x HDMI 2.0
Nvidia GeForce RTX 2080 Super
If you are looking for a graphics card for VR gaming, then you will need a special one that will do the job. We have tested many options, but Nvidia GeForce RTX 2080 super outperformed every other card and became the best graphics card for VR gaming in our list. Equipped with the latest Turing architecture, it will give you a smooth VR gaming experience. Other than VR gaming, it can also handle all of the latest high-end PC games at 1440p and 4K without and troubles. The best thing about this card is that it is 40% less than in price than RTX 2080, which makes it a great value graphics card.
Stream Processors: 3,072 | Core Clock: 1,650MHz (1,815MHz boost) | Memory: 8GB GDDR6 | Memory Clock: 15.5Gbps | Power Connectors: 1 x 8-pin, 1 x 6-pin | Outputs: 3 x DisplayPort, 1 x HDMI 2.0b, 1 x DVI-DL
Zotac GeForce GTX 1080 Ti Mini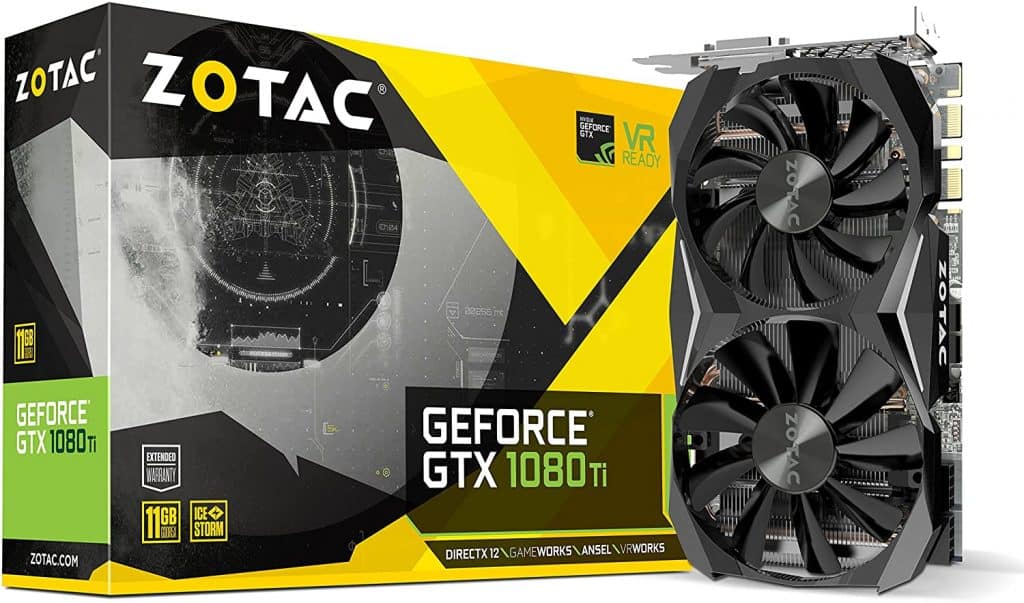 If you are setting up a mini-ITX gaming PC, then you will need a smaller graphics card that will fit in. In this case, don't settle for a lesser GPU and look at this mini GPU by Nvidia. This card was released a few years ago and is not the best and latest graphics card, but it has a lot of power. It is among the top GPU's to power you microATX and is only 211 x 125 x41 mm in dimensions. A little loss in power is worth the smaller size for your mini PC.
Stream processors: 3,584 | Core clock: 1,506 | Memory: 11GB GDDR5X | Memory clock: 10Gbps | Power connectors: 2 x 8-pin | Outputs: 3 x DisplayPort 1.4, 1 x HDMI 2.0b, 1 x DL-DVI-D
Gigabyte GeForce GTX 1660 OC 6G
Budget-friendlier graphic cards get neglected with all these fancy and expensive cards that everyone is talking about. Cards like GTX 1660 deserves to be in the spot of delivering outstanding 1080p performance at a lower price. With a tremendous entry-level performance and a healthy overclock speed, this card is the best option. You can play all of your games on multiple monitors without any issues. This is the best card we have ever tested in this price range.
Stream Processors: 1,408 | Core Clock: 1,530MHz | Memory: 6GB GDDR5 | Memory Speed: 8Gbps | Power Connectors: 1 x 8-pin | Outputs: 3 x DisplayPort 1.4, 1 x HDMI 2.0
PNY GeForce GTX 1660 Ti XLR8 Gaming OC
It was hard to find an affordable model when the Turing series was launched. But with the arrival of PNY XLR8 Gaming OC, high-performance gaming became accessible to every gamer. You won't be able to play games on 4K at 60 FPS, but this graphic card is great for players who are using a 1080p display. This card can handle most of the games on 60 FPS.
Stream Processors: 1,536 | Core Clock: 1,500MHz | Memory: 6GB GDDR6 | Memory Speed: 12Gbps | Power Connectors: 1 x 8-pin | Outputs: 1 x DisplayPort 1.4, 1 x HDMI 2.0, 1 x DVI
Buyer's Guide & FAQ
Every gamer asks himself the same question, how vital a graphics card is for better gaming. GPUs are somewhat overrated by players, but for a gaming PC, the graphics card is the essential hardware component. Unfortunately, when it comes to the performance of a graphics card, gamers are confused about the features and specifications that affect its performance.
The description of GPUs given by manufacturers is often so overwhelming with technical stuff that it's hard for someone to make a choice or compare them. Thus, the best solution is that you search for reviewers on google rather than manufacturers. The performance of GPUs is calculated with different aspects, and many sites will let you compare cards with almost every possible detail.
In this guide, we will break down some of the most important aspects of how to choose a graphics card according to your requirements. We will try to provide you a basic understanding of what is the difference between the different models and what kind of performance they deliver. Whether you are thinking about buying the AMD RX 5700 or one of the best Nvidia RTX 2080 Ti, we will help you select the one that fits your requirements.
Understanding the Brands
There are countless graphics cards from different companies you may not even hear of. Like when I started building a gaming PC, I only knew about AMD and Nvidia. This guide will help you understand the difference between GPUs and graphics cards, and once you know the difference, choosing the best option for yourself won't be a problem.
GPU is a processor that handles the rendering of graphics in games. The actual difference in the performance of a GPU won't be much in different models. Pick a GPU that is relevant to your gaming needs and compare it with the GPUs you are looking at.
Intel has shown its interest in entering the graphics card market this year. While there are only two big names AMD and Nvidia with the biggest shares in the market right now, both companies have some excellent performing graphic cards, and both have their niches in which they perform better than each other.
In terms of sheer raw power, graphics cards with Nvidia GeForce GPU quickly takes the lead. Powerful GTX 1080 Ti by Nvidia can deliver hands down the best performance over any card that AMD has to offer, and Nvidia still has more powerful cards than that. Performance-wise the Nvidia GeForce RTX 2080 Ti is the best video card out there for gaming. These high performing cards by Nvidia don't come cheap and will cost you more than $1000, and the price can go higher for more advanced ones.
Most of the gamers try to build the whole PC under $1000, and these cards by Nvidia alone cost that much money. Gamers with a limited budget are not going to spend that much money on a graphics card alone. AMD is not on the same level as Nvidia in delivering high performance, but they have enough power at a lower price. AMD provides the best value for gamers who are seeking out the best in a budget.
Slot Size
How much space does your motherboard have for a graphics card? Space in your motherboard will have an impact on which graphics card you will be able to fit there. A larger graphics card will lessen the space for other hardware components on your PC. Make sure that your PC has enough space for that card before making a purchase. Fortunately, there aren't that many choices available.
Usually, graphics cards need a dual-slot for connection, and you will need two PCIe ports and two expansion slots to function. It seems like a lot, but you should know that the gaming graphics card is the most crucial hardware component in a gaming PC that you are going to fit in. Getting the right card is worth it, even if you have to make sacrifices with other components.
Some graphics card takes 2.5 slots and doesn't need the 3rd PCIe slot, but they cover half of the 3rd slot leaving not enough space for another component to be connected. This is where you got to be creative to use utilize all of the slots and make most of the area.
Some graphics cards take 2.7 slots, and they are bigger than the cards that take 2.5 slots. They will leave even less space to use the 3rd PCIe slot.
GPU should be your number one priority when building a Gaming rig rather than the motherboard. Scale up your motherboard when you want a specific card to get the performance you wish to rather than scaling down the graphics card because graphics cards are a more important part of your PC when it comes to the quality of gaming than the motherboard.
Which slot should you choose for your GPU? Sometimes it matters, and sometimes it doesn't. The slot that is closer to CPU is considered the primary slot, and you should try to install your graphics card there. Make sure you PC casing supports the card you are purchasing.
Dual Card Setups
Some of the latest motherboards have the capability to install two cards and combine their power and performance. We believe that installing a single powerful card is better than installing two weaker ones. But if you already have two cards and don't want to purchase a new one. Then you can buy a motherboard that will happily fit both cards.
Price
How much should you spend on a graphics card for your gaming PC? It all depends on your requirements. You will get what you pay for, but high-end graphics cards won't matter to the majority of the gamers. We'll break the most common graphics cards down below in different price ranges.
Cheapest price range includes the NVIDIA GeForce GTX 1030 and the AMD Radeon RX 550. Both graphic cards didn't make it to our list because they are not up to the mark in terms of performance. These cards are for casual gamers who occasionally play games and want the cheapest card to have some fun.
Entry-level graphics cards can handle almost all the best and latest games, but you shouldn't expect outstanding performance at higher settings. Entry-level cards include the AMD Radeon RX 560, Nvidia GeForce GTX 1050, and GTX 1050 Ti model, and you can expect a price range of $100 to $200. These cards can efficiently deliver 1080p HD performance.
There is barely a little difference between the entry-level graphic cards and the AMD Radeon RX 570, AMD Radeon RX 580, and AMD Radeon RX 590. While the NVIDIA GTX 1060 and NVIDIA GTX 1070 represent the first substantial financial disparity between NVIDIA and AMD card design. In either case, these mid-range cards are the types of cards we recommend for most gamers. While you'll still mostly be gaming in 1080p, they offer about the smoothest performance you could want at Full HD as well as compatibility with the current generation of VR headsets.
The market is getting day by day, crowded with high-end graphics cards. The NVIDIA GTX 1070 Ti and 1080 Ti stands between mid-range and high-end cards, while the GeForce RTX 2060, NVIDIA GeForce RTX 2070, and GeForce RTX 2080 sit comfortably in the expensive high-end category. This is where AMD's starts to the left behind, RX Vega 56 and the RX Vega 64 are the best examples. These graphics cards can easily play games and stream video on144 Hz curved gaming monitor at 60 FPS.
Top shelf cards are not for every gamer, but the pro gamers and those who can afford it. These top of the line best graphics cards require heavy specs in all of your gaming PC. These cards efficiently cost over $1000. This is where the NVIDIA is the lone wolf with little to no competition. The NVIDIA GeForce RTX 2080, the NVIDIA GeForce RTX 2080 Ti, and the NVIDIA Titan V provide the best power and graphics performance, and these are the only GPUs reasonably good for playing games at decent 4K settings. They also come with the latest ray tracing technology.
Memory
One of the advantage is that they have their dedicated ram, which allows your CPU to make the most out of its processing power. This helps it render graphics smoothly. RAM is used for multi-purposes like storing textures, performing anti-aliasing, and post-processing. To play games on full 1080p or 14400p, 4GB of VRAM is more than enough. 8GB of VRAM is overkill, and you don't need that much of a RAM to play even the latest games on 4K settings.
How much memory is required for the best performance? A general thumb of rule is that if you have a graphics card with 2GB VRAM of then, you need 4GB of RAM. So, you need double the amount of VRAM, but that is just for the best performance. If you are playing games on 4K settings, then make sure you have the right Monitor for the job.
Clock Speeds
GPU clock speed indicates how fast the cores of a graphics processing unit (GPU) are. Clock speeds are an indicator of what sort of performance you'll get out of your graphics card. All the cards use standard core GPUs, which makes it easier for you to know exactly what you're going to get from a model name.
NVIDIA GeForce RTX will perform better than NVIDIA GeForce GTX. Every GPU has its clock speed mentioned for easier understanding. There's an almost entirely direct correlation between clock speed and frame rate for each video resolution. Overclocking helps you squeeze out better performance from a graphics card. The function of these cores is to render graphics; therefore, the higher the GPU clock speed, the faster the processing.
Cooling Systems
Cooling systems are used to prevent GPUs from overheating. Manufacturers use different techniques and components to cool their GPUs. Usually, fans are used to avoid the overheating problem, but some companies also use heat sinks and some other factors to keep the heat to a minimum. There are plenty of sites that let you evaluate the cooling system in terms of numbers, which makes it easier for you to compare the cooling system of different cards.
Also Read: Water Cooling Kits for Gaming PC
Ray Tracing & A.I.
The latest new technology is ray tracing and artificial intelligence, but you will need a top of the line card like the NVIDIA GeForce RTX 2080 or RTX 2080 Ti to get the most of it. Nvidia has included this in the latest graphics cards, but AMD doesn't have it in any of the cards at all. These new features have started to become noticeable in GeForce RTX 2070 models.
Nvidia is using these new features for its marketing strategy to sell its top of the line graphics card. At this point, it's tough to tell how important these technologies are in the cards. RT is a new rendering process that allows for more elegant and realistic lighting and rain effects. Artificial intelligence can similarly be used to make asset generation more spontaneous and detailed.
Let's see how many manufacturers use these features in the upcoming months. For now, we recommend that you consider performance and don't worry about these new features. By the time these new technologies become common, it will be time for you to upgrade your card for the best performance anyway.
Frequently Asked Questions
What is the Best AMD GPU for Gaming?
Best AMD for 4K: XFX AMD RX 5700 XT RAW II
Best AMD for 1440p: XFX AMD Radeon RX 5600 XT RAW II PRO
Best AMD for work: XFX THICC II Pro AMD Radeon RX 5500 XT
What is the Best AMD GPU for Gaming?
Best NVIDIA for 4K: EVGA GeForce RTX 2080 Ti XC Ultra Gaming
Best NVIDIA for 1440p: ASUS NVIDIA GeForce RTX 2060 SUPER
Best NVIDIA for work: MSI GAMING X NVIDIA GeForce GTX 1660 SUPER
Is the GeForce GTX 1080 Good for Gaming?
The NVIDIA GeForce GTX 1080 is a fantastic mid-range graphics card. While it is not the best against the high-end card but it is great to play games at 1080p Full HD smoothly.