9 Best Curved Monitors for Gaming 2023
GPCD
is reader-supported. When you buy through links on our site, we may earn a small commission at no extra cost to you. Thanks for the support! Learn more.
Curved gaming monitors have more advantages and can be really good as compared to flat-screen monitors. With curved screens, you can see a wide area at a glance, and you don't need to shift your focus to the different sides of the screen.
It also reduces the eye strain and creates an exceptional distortion-free viewing experience. We went through a lot of curved monitors for gaming and found the best available options for you in 2022. I made this list based on my personal opinion, and I try to list them based on their price and quality.
Also Read: Monitor Buying Guide
Dell U3818DW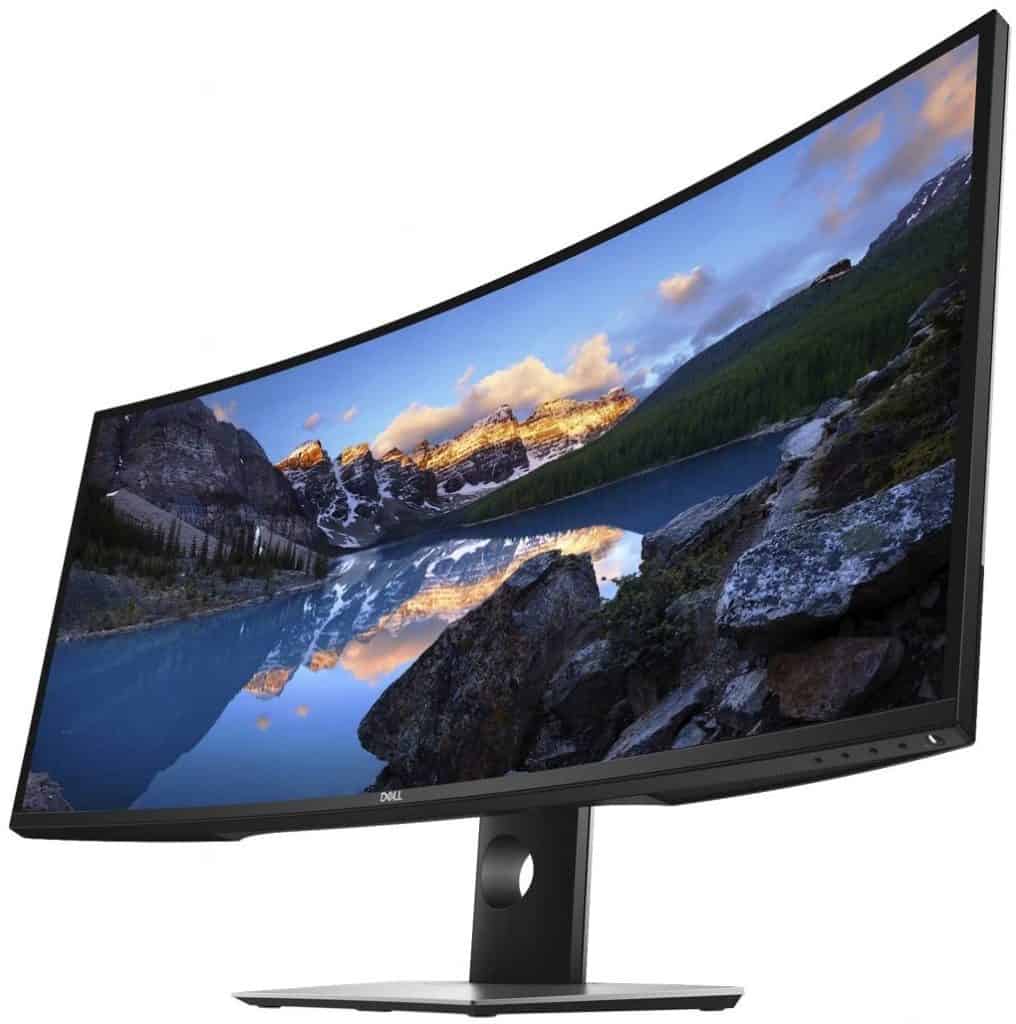 Number 1st on our list is the Dell U3818DW. Dell U3818DW is exactly what you need because this monitor offers you highly accurate vivid colors and enough screen space to do multiple things simultaneously. Get an immersive gaming experience and enjoy incredible visuals on WQHD+ curved screen with Infinity Edge.
This model has a chunky yet classy appearance that's followed by skinny bezels. The overall design looks lovely. Performance-wise this monitor reveals numerous details and around 25 % more screen content than the ordinary 34-inch monitors because it is an ultra-wide curved monitor. You can connect up to six compatible devices or Bluetooth 4.0.
This monitor is great if you're working with video editing mainly because it's a virtually borderless screen and its ability to provide you accurate colors and strong visuals even if you view it from wide viewing angles. With features like Dell Easy Arrange, you can arrange your projects to best suit your screen space.
You can display and edit content from two different PCs with a single KVM feature. It comes with TUV certification and the use of flicker-free technology whose purpose is to prevent blue light emission from causing eye strain. Therefore, if you ever purchase this monitor, you'll assure yourself of what a professional-grade monitor looks and feels like.
Check out these Monitor Arms for Ultrawide Monitors.
Alienware AW3418DW
The Alienware AW3418DW is a top-notch curved gaming monitor that's been in the market for a couple of years but thanks to its performance even now it's widely used by hardcore gamers. The design of this monitor is fascinating. The front view looks premium because of its thin bezels and smooth surface.
The LED strips give it a futuristic look to this monitor. Performance is excellent given its WQHD resolution, the aspect ratio of 21 : 9 and up to its response rate of 4 milliseconds as well as the refresh rate of up to 120 Hertz. With AlienFX you can personalize the colors of RGB lights, which makes your monitor reflect your style and deliver deeper immersion in the game.
Once you start gaming your gaming experience will never be the same because visuals are overwhelming and you can boost them even more by enabling the G sync technology. It will minimize the distortion, broken screen frames and tearing effects precisely as you'd like. To summarize the AW3418DW, it is definitely a spectacular option for every gamer who wants to own a premium looking and performing gaming monitor. It'll offer you a competitive advantage over your enemies during your gameplay.
Also Read: Portable Gaming Monitors for Consoles
MSI Optix MPG27CQ
The MSI Optix MPG27CQ can be easily named one of the best out there. It is a 144 hertz curved monitor combined with a fast response time and a wide color gamut. That's exactly what every gamer needs. This unit boasts a solid gunmetal grey cabinet that utilizes RGB lighting zones around the rear and bottom.
A very sturdy ergonomic stand that will keep this unit stable as you're making height and swivel adjustments. MSI Optix MPG27CQ has a great look, and you'll love it. What you will like even more is the performance. Ultra-narrow bezels make this model an ideal choice for multi-monitor setups for your gaming desks. Its response time of one millisecond, the aspect ratio of 16 : 9 and the refresh rate of 144 Hertz are more than suitable for gaming.
To be more precise, the visuals are very smooth and who won't deal with the annoying screen tearing and unstable frame rates. Overall the MSI Optix MPG27CQ deserves your attention because it costs less than $400 and its performance is strong enough to compete with some of the mid-range price monitors.
Asus Designo Curve MX38VC
The Asus Designo Curve MX38VC is strictly meant for designers who would like to ease their work-related tasks. This monitor outputs truly fascinating colors which are unbelievably accurate on one hand whereas, on the other, its aesthetics are flawless.
This unit has a frameless 37.5-inch construction with 2300R curvature, which is impressive. If you pair it with another curved monitor, your working space will be incredibly vast. On the bottom, there's a handsome-looking circular stand that will keep this monitor fixed in place. It also features 1 x DisplayPort 1.2, 2 x HDMI 2.0 and USB Type-C.
Stereo 10W Harman Kardon speakers and ASUS SonicMaster technology provide rich, spacious sound while eliminating the need for external speakers. Embedded wireless 15W Qi charging pad with status-monitoring lighting. The performance is undoubtedly the most prominent highlight because this ultra-wide monitor has an aspect ratio of 21 : 9 and resolution of 3840 by 1600 pixels.
MX38VC has the IPS technology which will offer you vibrant visuals even if you view it from a 178-degree angle. Asus has implemented their eye care technology to prevent your eyes from getting fatigued also if you work for too long. When we combine all these features into one, then I can undoubtedly say that MX38VC is one of the best option available.
P.S. A monitor light can be a great addition to your curved monitor. Check it out here: Gaming Desk Accessories
Acer Predator X34 BMIPHZ
This monitor is exactly what you're looking for in a gaming monitor. Although this isn't the most affordable curved monitor for gaming. Because it's ultra-wide g-sync compatible and outputs truly fantastic visuals, I think it's worth every penny spent. Design-wise X34 radiates with aggression because every inch is designed to match the preferences of the gamers.
The combination of the matte black color with a glossy black coated stand is definitely satisfying. The stand is made of pure metal and looks great. The performance is insanely good due to the fact that the X34 supports up to 100% of the SRGB color space. It has a native refresh rate of 60 Hertz that can be overclocked to a hundred Hertz and its aspect ratio of 21 : 9. Its IPS panel is more than adequate for gaming because visuals will be indeed stunning.
Finally, the predator X34 is a must-have curved monitor whose capability will change the way you perceive what gaming does mean.
Also Read: Curved vs Flat Monitors
BenQ EX3501R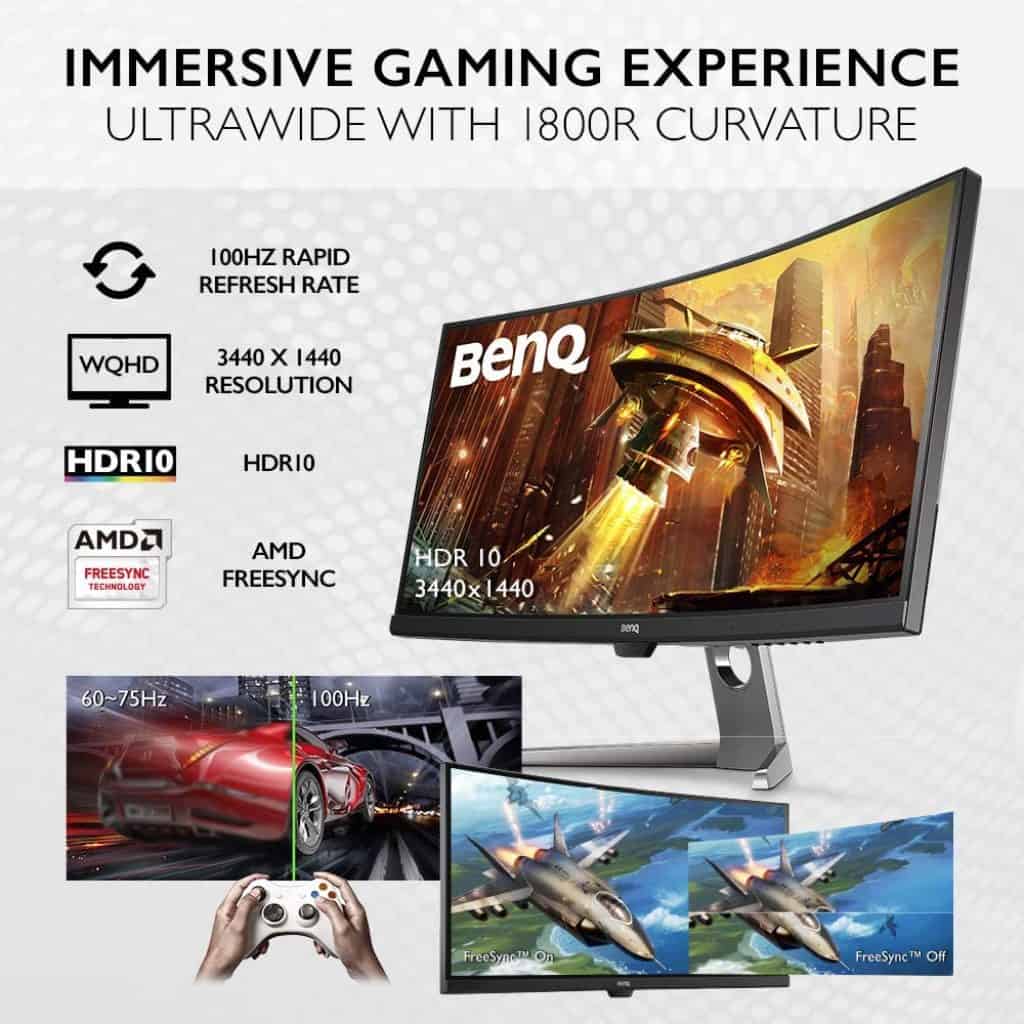 BenQ EX3501R is an extremely versatile 35-inch curved QHD monitor that has received dozens of positive reviews by the users on the market. The design and specs are good enough to offer you a truly satisfying experience. Aesthetically speaking this model has handsome-looking silver-coloured construction that's accompanied by ultra-slim bezels.
A 1800R curvature flexible and the firm stand that will help you make tilt and height adjustments. The EX3501R is a VA monitor that uses zero flicker and low blue light technology to prevent your eyes from getting tired even if you've been working or gaming for a considerably long period. Its aspect ratio of 21 : 9 and its 1440p resolution is more than adequate to satisfy all your demands.
Another great thing about this unit is its refresh rate of 120 Hertz, the response time of 4 milliseconds and the HDR support, which means that the colors will be superb. In the end, I'd suggest you give the EX3501R a try because it performs as good as it looks.
Also Read: Guide to Monitor Arms & Triple Monitor Stands
Samsung C32HG70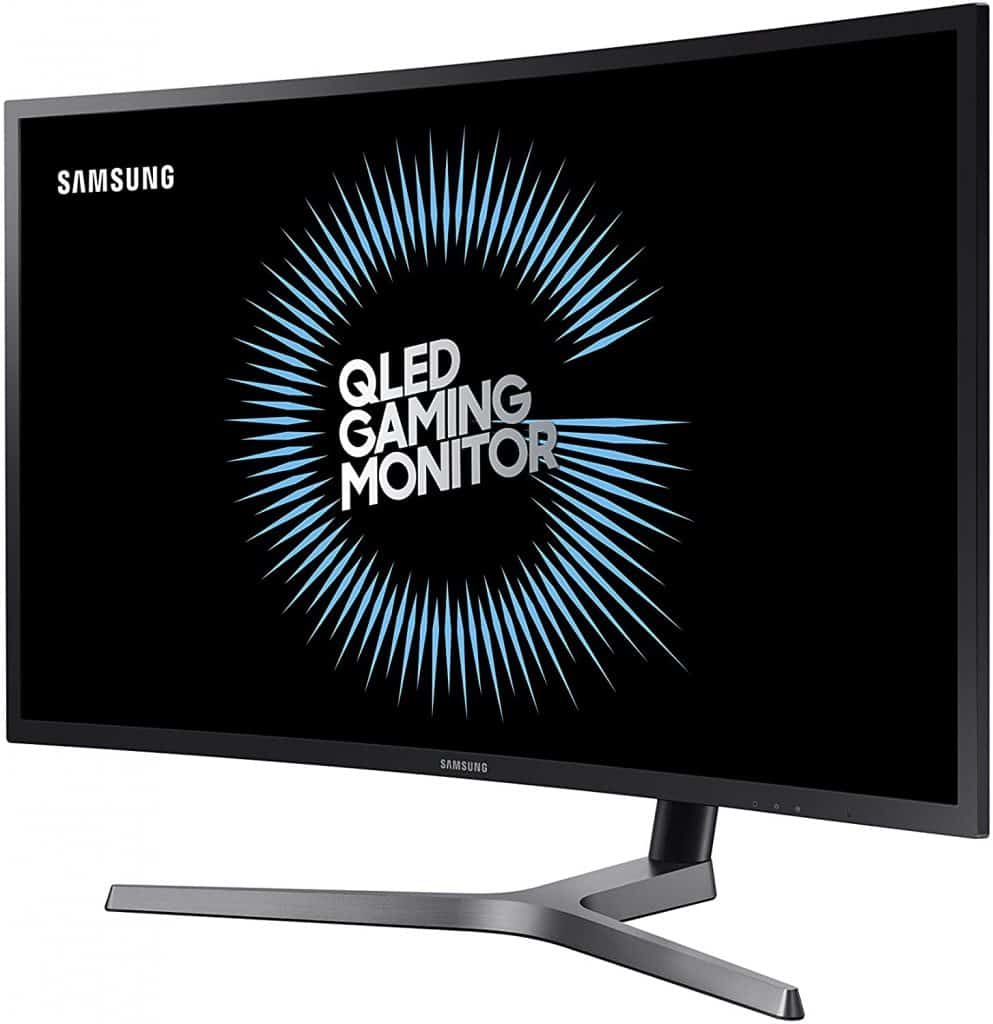 The Samsung C32HG70 is fairly big 32-inch 1440p monitor that's based on the quantum dots technology whose purpose is to drastically enhance the color accuracy and definition so you can see what you haven't before. In terms of the design, this model has an elegant matte black construction that consists of a dual-hinge arm that stretches to the back of the chassis and a Y-shaped metallic finish that will help you make height tilt and swivel adjustments.
On the rear, you'll notice a lighting feature that'll boost your gaming ambience, which looks incredible. Thanks to its 1800R curvature you can make a dual monitor setup. On the other hand, it has a refresh rate of 144 Hertz and the response time of one millisecond.
The monitor support for HDR is fantastic because you'll see plenty of details. Smooth action scenes for your ultimate user experience. In conclusion, the Samsung C32HG70 offers great value for its cost. So give it a try and assure yourself of its potential.
Acer ED273
The Acer ED273 is yet another free sync enabled 27-inch monitor that's really well-made whether you view it from the front or the back. The ED273 has an attractive silver finish cabinet that employs a 1800R curved widescreen VA display.
The monitor is supported by a curved aluminum stand with an embedded tiny hole that will drastically improve your cable management and ensure a higher level of stability. Its response time of 4 milliseconds, the Full HD resolution and its refresh rate of 75 Hertz you can easily move from your ordinary 60 Hertz monitor and have your gaming experience improved.
Better refresh rate means better gaming experience. This monitor is what you need, especially if you have a limited budget. The color accuracy and the overall visuals are well defined, and according to Acer, the contrast ratio is 100M: 1. The rapid response will make your gaming experience fantastic. The ED273 is worthy of considering because it's affordable and performs pretty well.
Samsung LC27F398FWNXZA
The Samsung LC27F398FWNXZA is free sync enabled monitor that sports an ultra-slim compact construction that's less than 0.5 inches thick. It's ideal for small spaces because it doesn't take a lot of space. Also, the monitor is supported by a decent looking stand. Its 1800-hour curvature provides the user with a truly immersive viewing experience regardless of whether you're working or gaming.
This unit has a contrast ratio of 3,000 to 1, the refresh rate of 60 Hertz, the response time of four milliseconds. It is based upon Samsung's active crystal color technology which means that from the moment you turn on the monitor, you'll feel deep blacks and very bright whites. Your viewing experience will be great, indeed.
The free sync technology will eliminate any potential tearing, and by default, this means that your gaming experience will be delightful. If you want to have a good quality monitor, then the Samsung LC27F398FWNXZA would be the right choice.
Buying Guide & FAQ
Advantages
The main reason people buy a curved gaming monitor is that the slight curve makes things more realistic. With an ultra-widescreen, you can see a wider field of view, which helps you more aware of your surroundings. Also, a curved monitor is better for multitasking as it provides more screen space, and you can open multiple windows at the same time.
Buying an ultra-wide curved gaming monitor with a 21:9 display ratio will give you more immersive visuals and a wider field of view. Unfortunately, there are no other inherent advantages, so buying a curved gaming monitor at a very high price is not always worth it. Other than that, a standard 16:9 sized curved gaming monitor will not give any extra benefits as compared to a flat-screen monitor.
Disadvantages
The biggest drawback of curved gaming monitors is the huge price. These monitors tend to be very expensive than simple flat-screen monitors. Most of the people who have used curved monitor agree that these monitors are only worth if they are ultra-wide 21:9. Smaller than 21:9 ratio curved monitors have no real benefits above flat-screen monitors.
Other than being very expensive, these curved monitors can affect the in-game performance if your gaming PC is powered by a mid-level graphics card.
Conclusion
So, taking everything into consideration, are curved gaming monitors worth it?
Well, for me, curved gaming monitors are only worth the price if you can spend that kind of money on a monitor alone. The pros these monitors have are minimal compared to the counterpart flat-screen monitors, and it depends on the user whether the few extra advantages are worth the money or not.
So, if you can buy one without any budget issues, then go for it. But you have a limited budget, and your gaming PC needs an upgrade, then spend your money on your PC first and buy a curved gaming monitor when you can afford it easily.
Whatever the case is and if you are in a mood to buy a curved gaming monitor, check out the list above and buy one.