12 Cool Gaming Desk Accessories Every Gamer Should Have
If you are a gamer than most probably you want a fully loaded gaming desk setup. Some gaming accessories are quite useful but some are just for the enhanced look. Here we will discuss both types of the accessories.
In this article we are going to take a look at some of the best and must have gaming desk accessories. These gaming desk accessories will surely take your gaming setup on another level.
Govee RGBIC strips
Govee RGBIC strips are budget friendly and create an immersive gaming environment. These lights are a nice addition to heavily upgrade your gaming desk setup. These are super cheap and easy to install.
RGBIC means that you can have multiple colors along the actual line of RGB's rather than typical RGB's with just a single color. It means that you can have different shades colors at the same time.
It can either be yellow, purple, red, teal or whatever colors you want to light up. This RGBIC can have teal that forms into red that forms into yellow and creates a much cooler effect than a single color RGB.
Govee is a well known brand and their RGBICs are brighter and more vibrant than other brands. There are many modes, settings and customization available that you can do through their mobile app.
You can select different segments of the actual strip and change the color of each segment to whatever you want. There's a lot of stuff that you can do with the app and it's all Bluetooth.
PhoeniXeries RGB Wireless Charging Mouse Pad
A mouse pad with a built in wireless charger! How cool is that? This is an extra large gaming mouse pad that comes with wireless charging. The wireless charger lets you charge your QI devices, like phone, ear buds and watches etc.
It has a decent size for a large mouse pad. You can have your phone on the charging pad, keyboard in the middle and still get enough space for your mouse to game.
It also comes with a bright RGB light on the edges. You can change colors and modes with a single touch button. You can choose from seven different colors and 4 different modes. This mouse pad can be a great addition to your gaming setup that will also keep your devices charged without the need of extra wires.
Also Read: Best & worst mouse pads
Glorious Mouse Bungee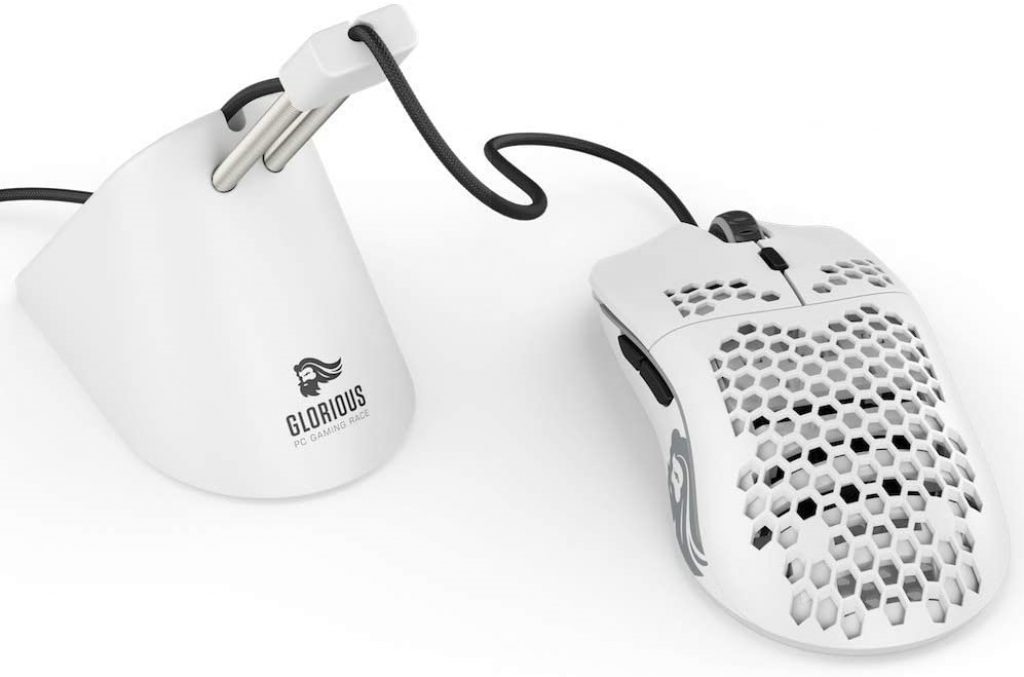 You can get a Glorious mouse bungee in an affordable price and keep your mouse cable in place. The spring adjustable arm is adjustable for different heights and hold cables of different sizes.
This is made for those who love a clean desk with maximum cable management. This thing will keep your mouse cable from pulling and getting snagged on things.
The wire is lifted in the air, which looks good and it feels like you are using a wireless mouse because that mouse cable is not dragging across the desk.
Also Read: 16 Ways To Manage Cables
It is for the pro FPS gamers who doesn't want to use a wireless mouse to avoid any lag during competitive games. It is also annoying when your mouse cable just pulls a little. So, in both these cases, a mouse bungee is a perfect addition to your gaming desk setup.
If you are into RGB then check out Uncrowned Kings Mouse Bungee.
EppieBasic LED Monitor Light
This is a no glare monitor light. It looks amazing but a little bit expensive. An LED monitor light is a great way to light up your desk without the need of an actual lamp, which can also save up some space.
Most of the people doesn't only use their desk for gaming but also for work or school. An actual lamp is going to take more space and and it's probably going to cause some amount of glare onto your monitor which can be really annoying.
If you want the lamp on while you're gaming or some other activity then a monitor LED light is going to be a great addition to your setup. For me it works well at night during gaming or work when the lights are off.
You can easily clamp it onto your desk and adjust according to your choice. You can also fine tune it with tons of different color temperatures. So, you can do warm at night and cool tones in the morning.
There are a bunch of different brightness settings and also an auto mode. It's a luxurious item for those who won't compromise on the look of their setup. It's pretty epic if you can afford one.
Govee Glide Wall Lights
Here is another great product from Govee. These are the Govee glides RGBIC lights. These lights are awesome but expensive. These wall lights are super big and incredibly bright. The gradients are great, vibrance is good and provides beautiful accent to any gaming setup.
These lights are compatible with Amazon Echo and Google assistant. The integration with those smart assistants is the best as you you can tell them to change different modes, colors and settings.
It looks amazing when one one color fades into another in a fluid way. It just look awesome. These RGBIC lights can have many different colors at the same time.
TuparGo Headphone Stand
At the time of writing this headphone stand by TuparGo is available at a limited price of just $9.99. It has a simple design to hold your headset but the RGB at the base makes it way more cooler.
It is made of plastic and the design is pretty basic. A headphone stand upgrades the look of your setup because instead of just laying your headphones on your desk or PC you can have them elevated, which looks nice.
It keeps your headphones in place and give a clean look. It is a cool accessory to have but if you want something a little bit more premium then checkout BENKS headphone stand. It has a minimalistic look with premium aluminium finish and a wireless charger for your QI devices. However, it is a bit expensive.
TORRAS Monitor Fan
This product is for those living in areas where the weather is hot. Just like the monitor light you can place it above the monitor. However, the light mounts on the table using clamps and this fan uses clip function to fit on the monitor.
So, it is possible to use both of these accessories at the same time. This monitor fan is also expensive but quite useful. It won't let you sweat in those sweaty moments in competitive gaming sessions.
Just clip the fan on top of your monitor and enjoy the cool breeze. The clip is compatible with 0.2 to 0.8 inches (5mm-20mm) monitors. It is not chargeable but powered through a USB port.
If your monitor has a USB port then you can also power it though that. It has three different fan speeds and the maximum speed is very good. The fan is also vertically adjustable.
When you're gaming in a hot room and this fans gives you some nice and cool air blown right on your face, it's pretty luxurious.
Kokovolta USB Hub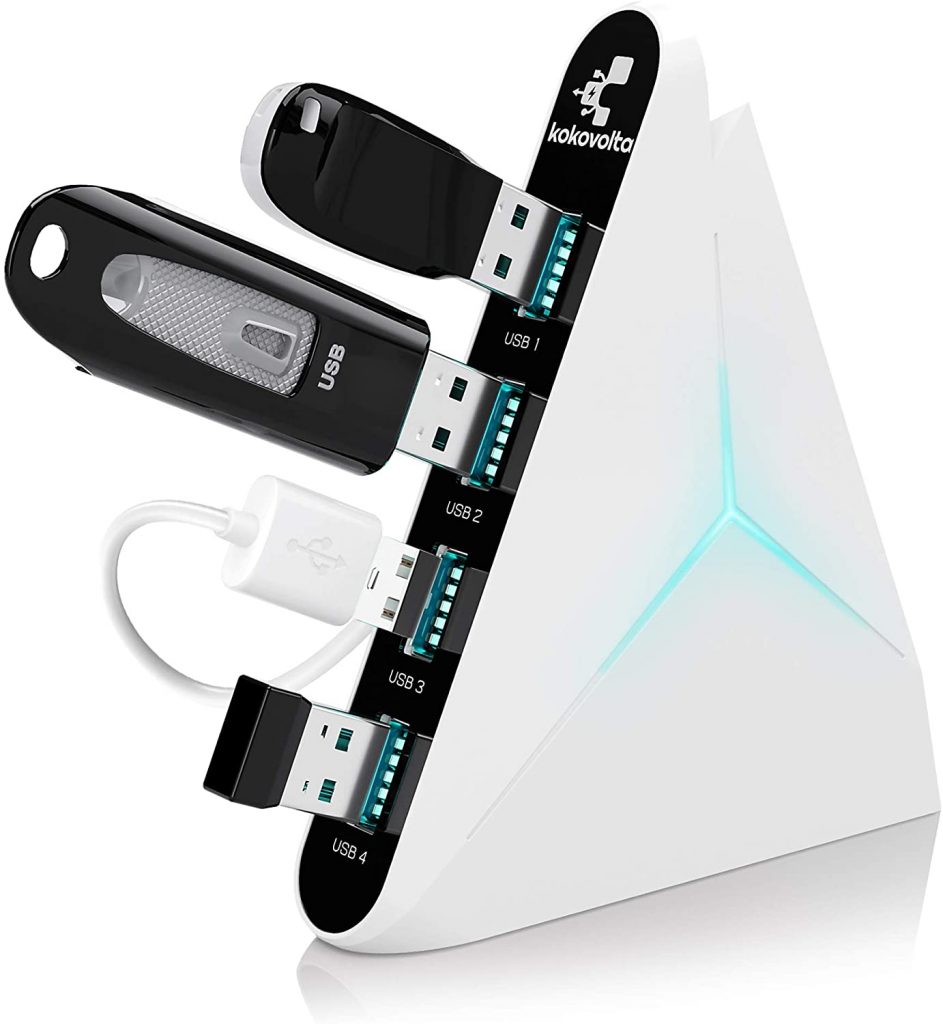 I have seen many USB hubs but there is none like this one in the looks. This is a vertical RGB USB is very budget friendly and looks way cooler than most of the USB hubs in the market.
It comes integrated with RGB and the vertical design is a treat to look at. Kokovolta USB hub comes with a sticky bottom.
The sticky part is good and you can place it onto the desk so it won't move when plugging in the USB. With the sticky part you can even place it under the desk. I have stuck and unstuck it multiple times and it still works.
It is a great way to charge or plug in your devices without having to go over your PC. There are fours USB 3.0 slots.
Govee Table Lamp
This Govee table lamp is one of my favorite new smart accessory for the desk. It is very budget friendly for what this product is. The colors are amazing and so far the best I have ever seen on any smart lamp.
The RGB looks great and is very consistent. You can choose any color you want from the Govee app again. Besides the RGB colors you can also do white and different color temperatures using the app.
It functions as a typical lamp as well as throwing RGB light everywhere in the room. The RGB colors are super bright unlike some other lamps. Overall its an awesome upgrade, which makes your setup way more cooler to look at.
HUANUO Monitor Arm
A monitor arm is one of the best upgrade that you can make to your gaming desk setup. Here we are talking about HUANUO monitor arm. It is available in an affordable price coming and the quality is high.
I've tested many different monitor arms but in this price range HUANUO is my favorite. It can fit a monitor of 13-30 inch size. The weight capacity is 4.4lbs to 14.3 lbs but I would suggest you to keep it under 13 lbs.
Check out this Guide to Monitor Arms for more information. If you have an ultrawide monitor then visit Best Monitor Arms for Ultrawide Monitors.
There is no drilling in the process. Just take this thing out of the box, put it together and clamp it to your desk. Its a great way to clear up some space under the monitor as well as increasing the overall look of your gaming desk setup.
Razer Tartarus Keypad
It's a unique gaming keypad made by Razer. Razer Tartarus Keypad has 32 keys, all are programmable and ready for action whether it's gaming or productivity tasks. On the right side there's a thumb pad that allows smooth motion control with a detachable palm rest.
With this thing you can play for hours without feeling uncomfortable. The built-in lighting system makes each key individually backlit. With the Razer Synapse software you can individually change the color of each key.
There is also a pro version of this keypad that features pressure sensitive keys, which provides precise control over each movement. You can even set different functions for partial press or full keystroke. Isn't it amazing?
Kensington Fingerprint USB Dongle
Fingerprint sensors are now a common thing. Most of the mobiles devices have built-in fingerprint sensor for unlocking the device.
If you are gaming on a laptop or you have a laptop other than your gaming PC then Kensington fingerprint device is surely a great thing to have because only a few laptops comes with built-in fingerprint sensor.
This little dongle looks just like a usual Bluetooth receiver for your mouse and connects via USB after a quick installation process it is ready to go. It works extremely fast with a 0.15 second recognition time.
You can add up to 10 fingerprints for your family, friends or colleagues at work. This device is not only for unlocking the device but you can also lock and unlock files or folders and protect any personal data you want.
I have tested this on my device and its a cool concept but not fully matured. I had difficulties putting protection on some of the applications. I hope future updates will resolve these issues.