Best price
Top 12 Best Cheap Gaming Desks under $100
Are you looking for a cheap gaming desk under $100 to buy? Do you want to get a good-quality gaming desk to set up your battle station without an extra burden over your budget? If yes, then you have landed on the perfect article.
A durable, good-quality and well-equipped, gaming desk can make all the difference in the overall gaming experience. Few inches of extra space, right places to hold your accessories and better positioning can make a difference between win and defeat.
In this guide, we have made a list of comprehensive reviews of best gaming desks you can buy under $100. There are lots of desks available under $100, and the biggest mistake you could make is buying the wrong one. You will have no trouble finding a desk on the list that matches your needs. Finding the perfect gaming under budget is never easy.
We looked into around 50 cheap gaming desks and have narrowed the list to 12 best ones that you can purchase. With a very few good options under $100 we have decided to include some desks with a price range of $115 to $130.
You can check the price on Amazon by clicking on the button below every product Image or the image itself.
Best Cheap Gaming Desks Under $100 List
AmazonBasics Gaming Computer Desk
SEDETA T1-G gaming desk topped this list with its modern-looking design and great build quality. Only on look at this desk will tell you that it is specially made for gaming. The tabletop has a sleek carbon fiber texture specifically made for gamers. SEDETA T1-G distinguishes itself from other gaming desks in this list because of its fantastic and stylish design. Every aspect of Sedata gaming desk is planned and developed for the better gaming experience.
The structure of this gaming desk is constructed by T-shaped metal legs. This is a pretty basic but durable design. Metal tube legs are 3.15" thick which makes it sturdy enough to hold all the weight of your gaming hardware. There are adjustable leg pads that ensure the steady and sturdy position of the gaming desk on uneven ground without wobbling. The tabletop is made of durable MDF.
Features of this desk include headphone hook and 2 cable grommets to keep the battle station look neat. Uniquely designed plastic trim takes this gaming desk to another level. You can even remove these trims to have extra space for your gaming hardware. This gaming desk comes in two different colors, black and grey.
Assembly of this desk is pretty easy if you follow the instructions and use the hardware that came along. Their warranty policy is great. They will replace the damaged unit or send you the missing part if any. They even offer a partial refund if any issue occurs with desk.
back to menu ↑
Lazzo Stylish 41.7" Multifunction Computer Gaming Desk
The way this gaming desk is designed is pure gold for gamers. With the beautiful design and tons of features, you can't go wrong with this cheap gaming desk. Lazzo stylish is available in three different colors so you can choose the one that fits your theme.
Features of Lazzo includes speaker stands in both rear corners, a cup holder, headset holder, a cup holder and a monitor stand that can hold up to 30 inches of monitor. Good thing about the monitor stand is that you can detach it as per your need. There is charging station with a built-in groove for your mobile and tablets. You can put your phone in an upright position and stay up to date with the notifications.
The structure is very sturdy and made of two 2.5cm iron pipe. The surface has a carbon fiber texture like most of the latest gaming desk. The tabletop is made of high quality MDF PVC lamination which is fairly easy to clean. Cable management helps you keep a cleaner look of your gaming station.
The installation is very easy and quick.
back to menu ↑
YIGOBUY Gaming PC Desk
Very simple and minimalistic Z-shaped design of this cheap gaming desk will give your gaming station a cleaner look. Although it is missing many features but it has the most important ones. There is a cup holder on the right side and a headset holder on the left front. There are two cable grommets and a shelf for plug board in the rear for better cable management.
The steel made solid Z-shaped legs are sturdy enough to hold 220lbs of weight. Tabletop is made of sleek carbon fiber with a diamond shaped texture. The surface gives you 42.12 inches x 26.57 inches of ample space for you gaming hardware. You can easily fit a full-size gaming mouse pad. The front side of the tabletop is rounded and smoothed for comfortable position. This helps you stay comfortable while gaming for longer period.
It comes with a 2 months worry-free warranty. Assembling this desk is fairly easy.
back to menu ↑
Mosunx Gaming Desk
This desk is made with very high-quality materials in a cheap price. With Mosunx gaming desk you won't have to worry about buying a gaming desk again soon. This desk will last you for years if taken proper care of.
The minimalistic design is very simple but eye pleasing. The K-shaped structure is made of metal pipes which makes it sturdy. The tabletop is high-end MDF with enough room for your hardware. You can easily use a large gaming mousepad. Features of this desk include a headphone hook and two cable holes.
Front side of this desk has rounded edges and aesthetic design for a comfortable gaming session. There are colored stickers on the legs and if you don't like them you can peel them off. The assembly is very easy and won't take much of your time. The overall design is very elegant and decent.
back to menu ↑
YODOLLA Gaming Desk
YODLLA is a perfect gaming desk that meets most of the necessary gamer needs. This desk fulfills your different gaming requirements. It is specifically designed for your gaming accessories. The tabletop has full carbon textured PVC laminated surface. This gives it a stylish look and makes it waterproof and easy to clean without running the look of the desk. It has enough space for your dual monitor set up. This desk can also be used as a home office desk.
YODLLA gaming desk comes with a cup holder, headphone hook and cable management holes. This makes things easier for any gamer. The surface of the gaming desk has a slight ergonomic curve for a comfortable position for your forearms. This provides you with a better gaming experience when you are playing for a longer time without hurting your forearms.
The R-type shape of frame provides better stable support preventing it from wobbling. Four adjustable levelling feet ensure that the desk stays in a steady position even on an uneven floor. Overall this gaming desk is made of high-quality materials.
Assembling this desk is quite easy with instructions and tools that are available with the package. This is a perfect choice for a gaming desk under $100. You can get this desk in four different styles.
back to menu ↑
Atlantic Gaming Original Gaming Desk
This gaming desk by Atlantic is specifically made for gamers and their gaming gear. So you can focus only on gaming. If you have a small space for a gaming desk, then this is a great choice. This desk has the most features than any gaming desk on our list. The design is not so stylish, but it gets the job done.
The tabletop is made of sleek carbon fiber laminated top. It comes with an elevated shelf which supports up to 27-inch monitor. This featured rich desk include headphone stand, DVD storage, charging stand for your tablet or smartphone, speaker stands, under-desk basket, controller stand, built-in wire-management, rear power strip holder, and cup holder. Cable management slots are very useful for keyboard and mouse wires. It makes the desk look clean and clutter-free.
This gaming desk has a lot of features within the price of $100. There is a speaker holder on each side of the desk. Controller holder can be used to charge your controllers when not in use. The phone stand is a great addition for a gamer who wants to keep an eye on the latest notifications while playing games. These extra features help you keep the valuable space clear.
The desk has round smooth corners to look more sleek and stylish. The desk has round smooth corners to look more sleek and stylish. The drink holder is further down the leg so you can play without the fear of spilling any liquid. Under the surface, there is a retractable storage area made from durable metal wire. This desk has a place for everything. It can hold all your gaming accessories with ease.
This is an excellent gaming desk with almost every possible feature that a gamer might need. The desk is fairly easy to assemble. Atlantic is a much-known brand and is in the business for a long time. Their customer support is great, and they will be happy to help you with any issue you get into or if you need any help.
back to menu ↑
Atlantic Eclipse Space Saver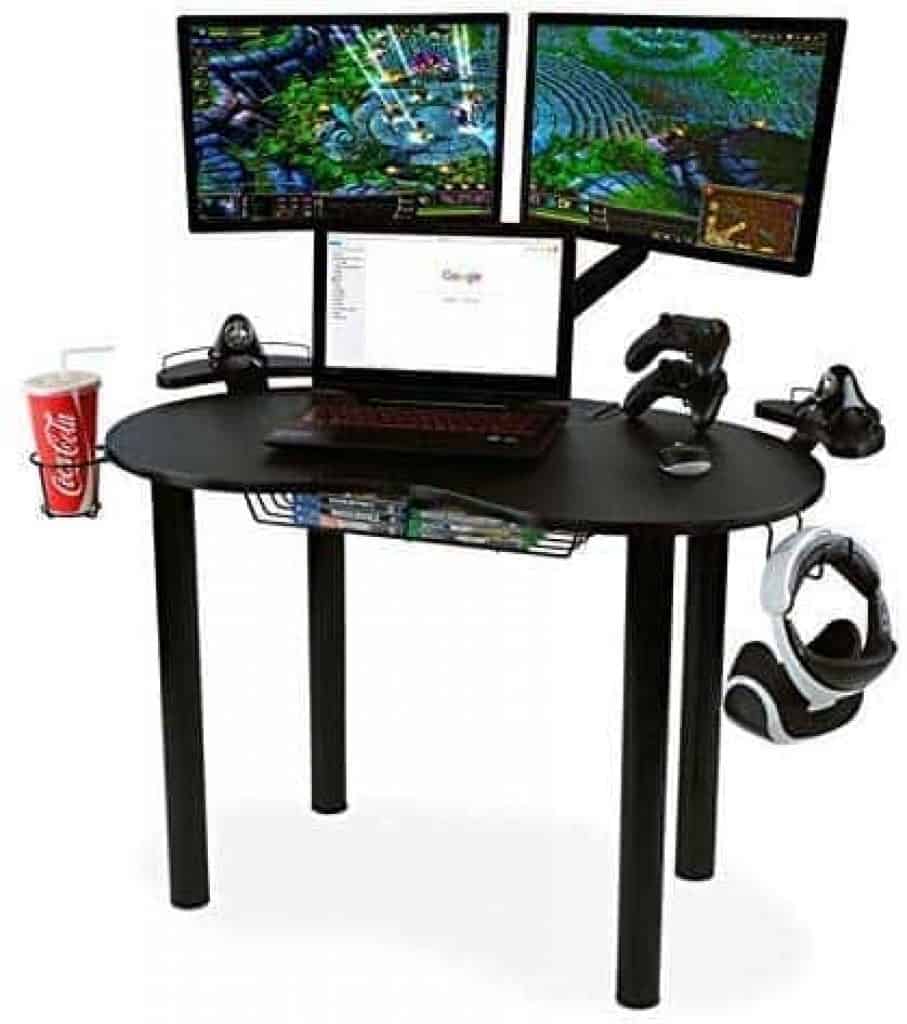 Atlantic has made quite a few gaming desks under budget. Eclipse space saver is another cheap gaming desk under $100. If you have a smaller space and need a compact desk with as many features as possible, then this desk can be an excellent choice for you.
While keeping a small size, it still has most of the features that Atlantic gaming desk pro has. The curved oval-like design makes it more compact while providing a maximum area for your gaming hardware. Ergonomic curve provides a comfortable long-lasting gaming experience. You can even set up dual monitors by attaching a dual monitor arm.
Features of this gaming desk include under-desk storage, speaker stands, controller stand, cables management grommets, rear power strip holder, a cup holder and headphone hook. Eclipse gaming desk got everything you need to get in the game. All these slots for your gaming gear help you focus more on gaming.
This carbon fiber laminated tabletop and the powder-coated cylindrical steel legs give this desk a sophisticated look. Customer service is good and quick if you have any issue or queries just call them and they will be happy to help.
back to menu ↑
Homall Gaming Desk
Homall made some of the best gaming furniture and this desk is one of them. There is a plenty of space for all of your gaming accessories. The carbon fiber surface looks quite appealing and the front red colored legs look amazing.
It can easily fit a full-sized gaming mouse pad on top. This desk is packed with many good features which includes a cup holder, a headphone hook, controller stand with DVD storage. It has adjustable feet which makes it less inline to wobble. The metal legs are strong which makes it very sturdy.
This gaming desk is fairly easy to assemble and a single person can assemble it in under 30 minutes.
back to menu ↑
HOMCOM 55 Inches Gaming Desk
If you are looking for a large gaming desk in a cheap price then go for HOMCOM 55. HOMCOM 55 has a very simple and minimalistic design which looks pretty decent. It has by far the biggest surface area among the other gaming desks in our list. You won't have any problem adjusting your gaming accessories.
Features of this desk include a cup holder built into the surface, cable organizer and a headset hook. The ergonomically curved tabletop design helps to reduce tiredness during long plays. The 4 legs can be slightly adjusted to enable the desk to stand freely even on uneven floors.
back to menu ↑
Mr IRONSTONE Gaming Desk 41.7″
Create the perfect gaming station with the Mr IRONSTONE gaming desk in a cheap price. The monitor stand saves the space for your other gaming accessories. Everything fits perfectly on this desk's surface. Ergonomically curved front side of the desk help you get comfortable and more focused.
It comes with most of the necessary features like cup holder, headset hook, speaker stands and cable management. The solid structure is made of steel with an anti-scratch powder coating. Adjustable leg pads ensure the table keeps a sturdy construction even on uneven ground without wobbling.
The monitor shelf is of perfect height which gives a comfortable viewing and helps relieve the sore neck to protect cervical spine health. Table length perfectly matches an adult's arm length and you can reach everywhere without standing.
back to menu ↑
Ergonomic Small Computer Gaming Desk by OKL
Unfortunately, this gaming desk does not have any reviews on Amazon but it surely looks good. With three sharp yellow orange and red colors it can be a great option for kids gaming desk.
It has most of the necessary features a desk could have. It includes two speaker stands, a cup holder, headphone hook, a phone charging station and a under the desk basket for storage. It can be a great option for people who play on consoles. The stabilizer bar attached to both legs give enough stability and the four adjustable feet keeps it in even position on uneven floor.
There is a monitor stand which can hold a 30" monitor. Two cable grommet and a power cord storage ring make cable management very easy. The curved and rounded front keeps you comfortable in long gaming sessions. The surface is made of carbon fiber design which gives it a modern look.
back to menu ↑
Best Choice Products Modular Wooden L-Shaped Gaming Desk
This l-shaped gaming desk by best choice products is an excellent choice if you want a large gaming desk. It can fit all your gaming gear and hardware easily. This gaming desk has sufficient space for your triple monitor set up. If you are a pro gamer and also a content creator who needs a large surface for gaming and work on, then this might be the best desk for you under $100.
This gaming desk includes a slide-out keyboard tray and a Tower CPU stand. This makes it a perfect choice for a gaming desk. Design of this desk is very modish and will look good anywhere you place it. You can get this gaming desk in two colors, black and white. The modular design lets you set up this desk in different ways according to your requirements.
Tabletop is made of MDF wood, and the frame is made of durable steel which gives it a stylish modern look. Quality is good with respect to the price of this gaming desk. The desk is fairly easy to assemble if you follow the instruction accordingly.
The downside of this gaming desk is that this desk does not have cable grommets, so you have to be a little creative to manage your cables. We highly recommend sliding some zip ties in between the top of the frame and the bottom of the tabletop before tightening the screws and leave the zip ties loose so you can pass cables thru them.
Other than that this l shaped desk can be a perfect choice for a large gaming desk under $100. Visit here for more l-shaped gaming desks.
Cheap gaming desks FAQ & Guide
What to Look For in Cheap gaming Desk?
Most of the high-end gaming desks start from $150 and finding a cheap gaming desk under $100 can be difficult. When you are looking for a gaming desk in a tight budget, then make sure the first thing you do is compare the materials. Materials used in the making of any desk should be good quality.
Anything made in a low price is not build to last. So try to buy a gaming desk that is sturdy and good quality that will last for a long time. If you buy a gaming desk with low-quality materials, then the probability is that you will have to buy another gaming desk soon.
Another thing to consider before buying a gaming desk is surface area. The size should be according to the space you have for your new gaming desk. If you have sufficient space where you want your setup, then go for a larger gaming desk so it can fit all your gaming hardware and accessories.
Think ahead, if you ever made up your mind for a multi-monitor set up then the gaming desk you are buying should have enough space for it. So you don't have to look for a new gaming desk all over again.
Check out best multi-monitor gaming desks 2020 where you can set up your multi-monitor gaming battle-station.
Final Thought
That was our list of top 12 best cheap gaming desks under $100 out of many other options available in the market. All these gaming desks are good quality and have good reviews from customers.
We did the hard work in making this list, so you don't have to waste your precious time in search for the best desk under $100. Now it all depends on your style and requirements in choosing the perfect desk for your gaming station.
Check out gaming desks under $200 if your budget is flexible.