7 Best PC Gaming Speakers 2022

GPCD
is reader-supported. When you buy through links on our site, we may earn a small commission at no extra cost to you. Thanks for the support! Learn more.
It doesn't matter whether you are playing on PC or consoles, good PC gaming speakers are must-have items in your gaming setup. No excellent gaming experience is possible without a good sound system. Great gaming speakers let you hear every leaf crunch sound made by enemies footstep.
Gaming headsets are excellent, but in my opinion, listening sound on gaming speakers is superior. You can feel the music by the bass produced by PC gaming speakers. Choosing the best sound system depends on a few factors like budget, space, and connectivity.
In this article, I'm going to review the ten best computer speakers for gaming available in 2020. This list includes all the options in different budget range.
Title
Best Overall
Logitech G560 PC Gaming Speaker System with 7.1 DTS:X Ultra Surround Sound, Game based...
Best 5.1
RAZER Leviathan: Dolby 5.1 Suround Sound - Bluetooth aptX Technology - Dedicated Powerful...
Best Selling
Creative Pebble Plus 2.1 USB-Powered Desktop Speakers with Powerful Down-Firing Subwoofer...
Best Value for Money
Bose Companion 2 Series III Multimedia Speakers - for PC (with 3.5mm AUX & PC Input) Black
Thumbnail
Best Overall
Title
Logitech G560 PC Gaming Speaker System with 7.1 DTS:X Ultra Surround Sound, Game based...
Thumbnail
Best 5.1
Title
RAZER Leviathan: Dolby 5.1 Suround Sound - Bluetooth aptX Technology - Dedicated Powerful...
Thumbnail
Best Selling
Title
Creative Pebble Plus 2.1 USB-Powered Desktop Speakers with Powerful Down-Firing Subwoofer...
Thumbnail
Best Value for Money
Title
Bose Companion 2 Series III Multimedia Speakers - for PC (with 3.5mm AUX & PC Input) Black
Thumbnail
Logitech G560 LIGHTSYNC PC Gaming
The Logitech G 560 gaming speakers have built-in light sync RGB lighting that blasts game-driven colors and effects by the audio. This adds a whole new level to your gaming and music listening experiences. These gaming speakers feature a 240-watt peak power and a genuinely unique driver designed for a very large and impressive overall soundscape.
The integrated DTS: X ultra-surround sound renders 3D positional audio allowing you to hear your games from every angle. This gives you a distinct advantage in each of the games you play.
You can quickly and easily customize four-speaker lighting zones with Logitech family software for both front and rear light projection. There are 16.8 million different colors for you to choose from. You should have no problem whatsoever with achieving the perfect aesthetic for your gaming.
You will be able to switch seamlessly between up to four different devices with Logitech easy switch. The 3.55-millimeter audio input allows you to use headphones, so you don't disturb when everyone is sleeping. There's also a USB input that will allow you to plug in a headset for communicating with other players during online gameplay.

3D surround sound design of these speakers provides you with a full audio experience. There are four RGB color lighting zones that change according to the audio being played. The wide-angle drivers used by these gaming speakers will give you crystal-clear audio at all times. The 240 Watts peak power of these gaming speakers delivers a full and loud sound that will help you get even more into your games. You can switch between up to four devices with Logitech "easy switch." The built-in Bluetooth technology allows you to sync up to a variety of compatible devices to enhance your audio.
There's no independent volume or bass controls, which can be a bit inconvenient.
The Logitech G 560 speakers give you everything you could possibly need. When it comes to PC gaming, there are many different connectivity options to help match your needs exactly.
Also Read: Gaming Chairs with Speakers
Razer Leviathan
The Razer Leviathan surround-sound bar features cutting-edge Dolby technology and superior sound drivers. There's also a dedicated subwoofer that will give you nicely balanced audio with some real bass. These gaming speakers use award-winning aptX technology, seamlessly connecting via Bluetooth 4.0. This provides you with the same quality as a wired connection but without all the tangled mess. The NFC technology allows for fast pairing and even remembers recently paired devices. This will enable you to connect to your favorite devices with just the tap of a button.
The subwoofer provides you with deep and immersive bass sound without distortion. We really like the 5.25 inch downward firing subwoofer with two full-range drivers and tweeters. It gives you distortion-free distortion lower frequencies and impressive highs.
This ultimately results in a perfectly rounded out sound that will really add to your gaming experience. This gaming soundbar has an extremely versatile design that allows it to be repositioned as needed. You should never have any issues with finding the perfect place for it in your gaming setup. Dolby technology that these speakers use will give you immersive surround sound for better gaming.
The small compact design of this soundbar will help you save quite a bit of space. The preset equalizers are already tuned for gaming, so you can expect the best performance every time you sit down. These gaming speakers offer NFC technology for fast pairing with a variety of compatible devices.

The surround sound performance is a bit limited, so you shouldn't expect a whole lot from it.
The deep bass of these gaming speakers gives you a powerful sound that you will be sure to appreciate when gaming. They use Dolby technology to always provide you with high-quality audio that sounds absolutely amazing.
Also Read: Gaming Desk Accessories
Creative Pebble Plus
At this price range, Creative Pebble outperforms most of the speakers. It delivers an outstanding 2.1 sound quality and details. These speakers are very affordable if you are on a limited budget. Unlike simple Creative Pebble, this variant comes with a subwoofer. The only problem is that it includes so many wires that it makes a mess.
What the creative did that other expensive speaker companies failed to do is the upward angle of 45 degrees. This design helps the sound get straight to your ears instead of the chest area. Both speakers provide watts audio power and the total sound frequency being 50Hz to 20KHz.
Other than so many wires it lacks a bass level knob and has only one input. Check out the creative pebble 2.0 (without subwoofer).
Logitech Z906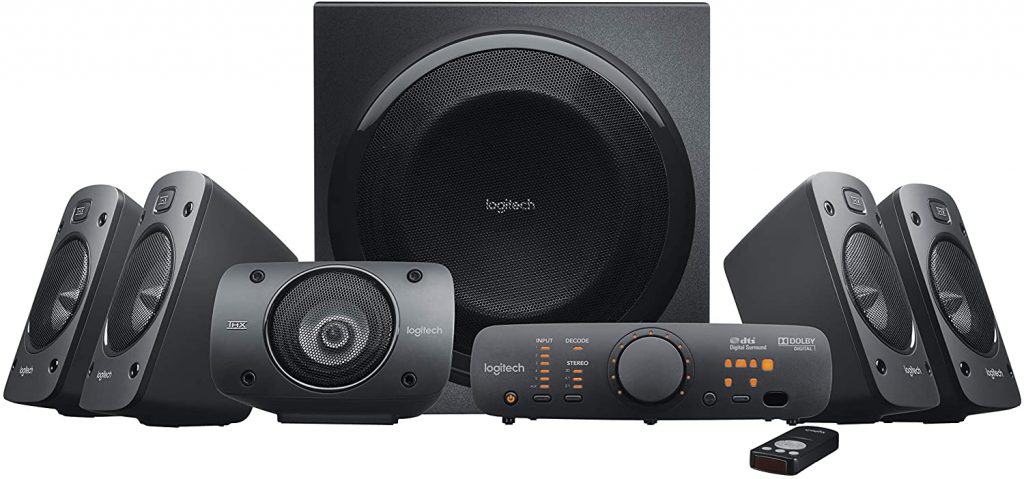 If your main concern is surround sound, then look no further. The Logitech Z906 has the best immersive surround system. It offers true 5.1 channel surround sound with all the minor details. With powerful and crisp audio, these speakers make your gaming experience outstanding. The sound coming from the Z906 has all the little details that your movie or soundtrack includes.
With a multitude of inputs, six different devices can be connected at the same time. The given control box lets you control which and how many inputs it should play at any given time. It also comes with a Bluetooth adaptor which enables you to connect devices wirelessly.

Z906 delivers a continuous 500 Watts of power with the ability to go as higher as 1000 watts. You can individually control the volume of various sides of the speakers, like rear speakers or subwoofer separately, in addition to the overall volume.
Cyber Acoustics CA-3602
For a price like this, CA-3602 delivers decent sound quality and power. You can't expect outstanding quality at this price, but if you're on a tight budget, then these PC gaming speakers are good enough. The 2.1 speaker has far better sound than the built-in speakers of TV or monitors.
It also comes with a circular connector with a master control dial, an off/on button, bass control, 3.5mm audio jack and a 3.5mm auxiliary jack that lets you connect your PC, phone or tablet with it. CA-3602 also has the most demanding feature, LED lights. You can choose your favorite to match with your other accessories or set it on auto, and it will change color to the tune of music.
You can easily connect these speakers with your PC, phone or any other compatible device via Bluetooth. It also comes with a one-year manufacturer warranty.
Razer Nommo Chroma
Not everyone has a lot of space to utilize, and if you are one of them and have a very little room to put your speaker, then these compact speakers are the right choice. Razer Nommo Chroma gives you the best performance without taking much space. These speakers don't have a dedicated subwoofer, but they still pack a punch in a smaller size.
Both speakers have a built-in rear-facing bass port that fulfils the bass requirements. There is a brass knob with auto gain control to tune to the ground shaking bass to a low frequency. Optimized sound drivers provide extremely clear sound.
You can download Razer's Synapse software and tweak the EQ settings to where you like them. The software can also be used to change the RGB color and style. If you want to save money and lighting is not what you wish to then opt for the other standard variant without lights and $20 cheaper.
Bose Companion 2 Series III Multimedia Speakers
Bose companion 2 series III is one of the top-rated PC gaming speakers. The design of these speakers is very clean and simple looking. The small-sized speaker should not be underestimated as the power they pack inside. These speakers don't have a dedicated subwoofer which makes them a little tight in bass.

If you want a cleaner look, then know that there are a lot of wires with these speakers that can create a messy look. All of the connection ports are found on the right speaker. There is a 3.5mm audio jack on the front for easy and quick connection with the headphones.
How we test computer speakers
Since we were searching for the best gaming speakers, we limited our testing to only games. We tested these speakers with many games like Apex Legends, COD Warzone and Overwatch for the performance. Speaker was tested for the in-game sound coming from the surrounding, footsteps approaching and the game music.
Later we also tested them with techno music and ran Daft Punk's tracks. We tried the most important feature of left/right balance to see if we were able to detect enemy approaching from the left or right side.
Best PC Gaming Speaker FAQ & Guide
What are the best-reviewed gaming speakers?
The list above includes most of the top-selling gaming speakers.
What speakers should I get for gaming pc?
If you are on a budget, then go for creative pebble plus. If you are short on space, then go for Razer Nommo Chroma. Logitech G560 for gaming look. For high-quality sound go for Razer Leviathan. Go for Logitech Z906 for best surround system.
What to look for in gaming speakers?
Think about the budget and the features you need in a PC gaming speaker and then make a choice. There are some points that you need to consider before making a purchase.
Most of the people buy a 2.0 or 2.1 channel speaker system for their gaming setup.
The most popular connection type is RCA 3.5mm audio input.
You cannot connect surround sound gaming speakers using RCA cable.
Built-in sound cards do not always produce quality sound.
Specially made speakers for gaming generally include USB sound cards.
Budget
You can keep looking at all the gaming speakers, but you will only get what's in your budget. 2.1 channel speaker is right in the budget, but 5.1 and 7.1 are at the higher end of the price range. You can find some good quality 5.1 sound systems at a reasonable price.
Features
If you are upgrading from a built-in monitor or TV speakers, then a left and right speaker is usually enough. But if you want better sound quality then go for a 2.1 with a subwoofer. Keep in mind that subwoofer will take extra space. If you want a loud surround system with plenty of bass coming from then go for gaming speaker with higher wattage.

A sound system without a remote control is fine for playing on PC. But if you are gaming on a console then look for gaming speakers with a remote so you can easily adjust the volume while sitting back enjoying your game.
Space
If you are living in a smaller room in an apartment with some sensitive neighbors, then consider buying 2.1 instead of 5.1 speakers. It may not give you the best surround sound, but it won't disturb anyone around. Also, if you have a smaller gaming desk or very little space to put your gaming speaker, then 2.1 will be okay.
If space is not an issue and there are no complaining neighbours nearby then without a doubt buy a 5.1 surround sound system.
PC Specs
Almost all the latest PCs support 5.1 but be sure and recheck if your PCs motherboard supports the 5.1 channel.
Now use these tips and look at the list above to make a choice that fits your criteria.