Top 8 Best Gaming Chairs for PS4 and Xbox One
As gamers, we are always focused on improving the hardware. We want the high-performance graphics card or the latest console with the highest resolution. But let's be honest; because of our attention on acquiring the best hardware, gamers tend to forget the crucial component they use to rest our asses.
This is where high-quality, premium gaming chairs come into action. Not every chair you sit on to play games becomes a gaming chair. Gaming chairs should be comfortable and gamer-friendly for an excellent gaming experience. Without a proper gaming chair, longer sessions of gaming become very tiring.
In this article, we bring you the top 7 best gaming chairs for PS4 and Xbox One. Gaming chairs will help you play your console games while sitting back in a comfortable position. If you are a serious gamer, then we know that you won't be playing for just an hour. These gaming chairs will help you sit in a comfy position in longer gaming sessions and keep you comfortable.
You can check the price on Amazon by clicking on the button below every product Image or the image itself.
Top 8 Best Gaming Chairs for PS4 and Xbox One
Respawn-900 Racing Style Gaming Chair
Are you ready to take your gaming to the next level? RESPAWN-900 Reclining Gaming Chair is something you won't be able to say no! If you want maximum comfort and level up your gaming experience then look no further. This is hand down the best gaming chair for PS4 and Xbox. The design of this gaming chair includes many gaming friendly features.

It comes with a comfy removable headrest pillow for neck and segment padding for an ultimate gaming experience. Just lay back in Respawn 900 and enjoy gaming on your console. There is a removable side pouch to store your controllers and headphones, and a cup holder built on the left side for your drinks. These features are very gaming friendly and creates amazing gaming environment.
Respawn 900 also has a continuous footrest with no open gaps like traditional recliners, but operates independently. The seat can be reclined up to 135-degrees. The 360-degree swivel base provides sturdy support for both the extended footrest and reclining back. The maximum weight limit of this gaming chair is 275lbs. The RESPAWN gaming chairs have a lifetime warranty and support.
back to menu ↑
X Rocker 51396 Pro Series 2.1 Vibrating
This premium rocking chair has durable faux leather seating. The ergonomic seat is equipped with armrests and a full wireless stereo sound system. It comes with a separate volume and bass control option. X Rocker Pro keeps you comfortable in longer gaming sessions.
This gaming chair takes your gaming, listening to music, relaxing, or watching movies to a whole new level. X Rocker 51396 includes two side facing speakers for an outstanding gaming experience. It comes with additional vibration motors that sync with the audio to create a fantastic gaming environment.
The design of this gaming chair is ergonomic and has lumbar and neck support for exceptional comfort. The right quality materials used in the making of this chair makes it very durable. There is a built-in wireless/Bluetooth system for PS4 and Xbox One connection. It is also a compatible mobile and laptop. Padded armrest and pressure-relieving base provide extra comfort. The base of this gaming chair is tilt and swivel supportive for a better posture.
It is foldable, portable, and easy to store when not in use. This gaming chair can support up to 275lbs of weight. X Rocker 51396 is an excellent option as a gaming chair for PS4 and Xbox One.
back to menu ↑
X Rocker 51259 Pro 4.1 Audio Wireless Gaming Chair
X Rocker 51259 Pro is one of the top models made by X Rocker. This is a multi-purpose gaming chair that can be used for playing games on consoles, watching Netflix and TV, listening to music, reading, and relaxing. 51259Pro is a complete media chair for an outstanding gaming experience.
This chair can also be connected to your PS4 and Xbox One. It includes four forward-facing speakers and a subwoofer for full immersion in your games. This comfy gaming chair lets you game all day. Durable vinyl makes cleaning easy.
If you want to play games on your phone, then there is a side control panel for the personal headphone jack to connect your phone. This chair is foldable for portability and storage. Fixed gun-stock armrest gives you extra stability. The lumbar and neck support helps you sit in a better position.
The control panel has a separate volume, bass, and vibration controls. Keep in mind that this chair requires extra cables to run directly from a PS4, Xbox, or other consoles with an HDMI out or a digital optical out. The maximum weight limit is 275lbs.
back to menu ↑
Ficmax Ergonomic High-back Gaming Chair
Ficmax has become one of the most reputable companies today. This gaming chair by Ficmax is an upgraded version of the previous model. You are lucky that we found an almost perfect gaming chair for you with lots of useful features.
Ficmax has some great features, and outstanding racing-inspired ergonomic design with premium-quality dirt and fade resistant PU leather. Features include footrest, lumbar support pillow, and a neck pillow with the Ficmax logo printed on them.
This gaming chair has all the features you would find in premium gaming chairs. The design of this gaming chair ensures a maximum comfortable sitting experience. Extra padding and support to essential areas, such as the neck and lumbar region, make it more comfortable.
There are no second thoughts with the Ficmax gaming chair. The premium structure has an explosion-proof gas spring frame made of heavy-duty metal. Ficmax gaming chair gives you the best gaming experience that you deserve. Thanks to the sturdy frame, Ficmax gaming chair can bear a maximum weight of up to 300 pounds.
Gaming chairs should be comfortable, and the Ficmax gaming chair is one of the top comfortable gaming chairs we have tried in the market. The padded footrest can be extended to support your feet, which is excellent for you to be in a resting position. Chairs with footrest are unique for PS4 and Xbox.
The USB powered massaging lumbar pillow is the icing on the cake; it helps with the back pain and improves your posture. The seat can be tilted to 180 degrees, and you can even sleep in it. The customer support is also very responsive and will contact you in under 24 hours.
back to menu ↑
GTRACING Music Gaming Chair with Bluetooth Speakers
Every gamer needs a comfortable environment for a better gaming experience. There is no fun in getting tired and starting to feel pain in the back while gaming. That's why you should consider getting a gaming chair specially made for comfort in long sessions of gaming.
This chair also includes two speakers on the shoulders that you can connect with your console. GTRacing is a renowned brand and makes excellent products. The surround sound system provides you with the best sound. This Bluetooth enabled chair can be connected to any of your devices.
Ergonomic design gives you maximum comfort for longer game time. The distinct features of this chair include footrest, waistrest, armrest, and seat height adjustability. Armrests can be adjusted in height for a better position according to your height. There is a lumbar cushion to support your neck and provide extra comfort.
The retractable footrest lets you sit back, straighten your legs and play games while relaxing. The seat can be reclined at 90 degrees to a maximum of 170 degrees and can be locked at any position. The chair is made of high-quality materials. The chair's structure holds up very strong, and it can bear a maximum weight of 300lbs. This is one of the best gaming chairs for PS4 and Xbox One.
back to menu ↑
Furmax Racing Chair with Footrest
This ergonomic chair is built of a metal frame that makes it very sturdy. This chair comes with lumbar support, removable headrest with a bucket seat that provides ultra-comfortable experience. The footrest of this new model gaming chair is thicker than the previous models, making it more comfortable. The armrest is also made thicker than before for a better user experience.
The design of this chair lets you rock swivel or tilt according to your style and need. Adjustable backrest with a 90 to 180 degrees angle is best for napping like a bed. The seat is made of 4.8-inch thick memory foam for better comfort in longer gaming sessions. Quality is very high with this gaming chair, which makes it very durable. The sturdy structure of this chair can bear a heavyweight of 310 lbs. This gaming chair is best for PS4, Xbox, and used by many gamers.
back to menu ↑
X Rocker 5172601 Surge Bluetooth Gaming Chair
If you are looking for a gaming chair without armrests, then X Rocker Surge can be an excellent choice. It is excellent for gaming on consoles. You can sit back and enjoy playing on your PS4 or Xbox. The comfortable seating is made of bonded faux leather.
It is a multi-purpose chair and can be used for gaming, watching movies and TV, listening to music, reading, and relaxing. This chair includes two forward-facing speakers with a powerful subwoofer, which makes your gaming experience excellent. Built-in Bluetooth lets you connect the chair with multiple devices.
Speakers also have the AMF enables, which magnifies the sound for the more intensifying gaming experience. It can also be an excellent choice for mobile gaming. This gaming chair is foldable and easy to move so you can take it anywhere and play games on your phone. You can connect your phone to the built-in headphone jack.
This is a stylish and comfortable gaming chair. Fully immerse yourself into the world of gaming with this chair. High tech sound system provides you with exceptional audio quality, and the ergonomic design keeps you comfortable for an extended time.
back to menu ↑
X Rocker SE 2.1 5127401 Pedestal Gaming Chair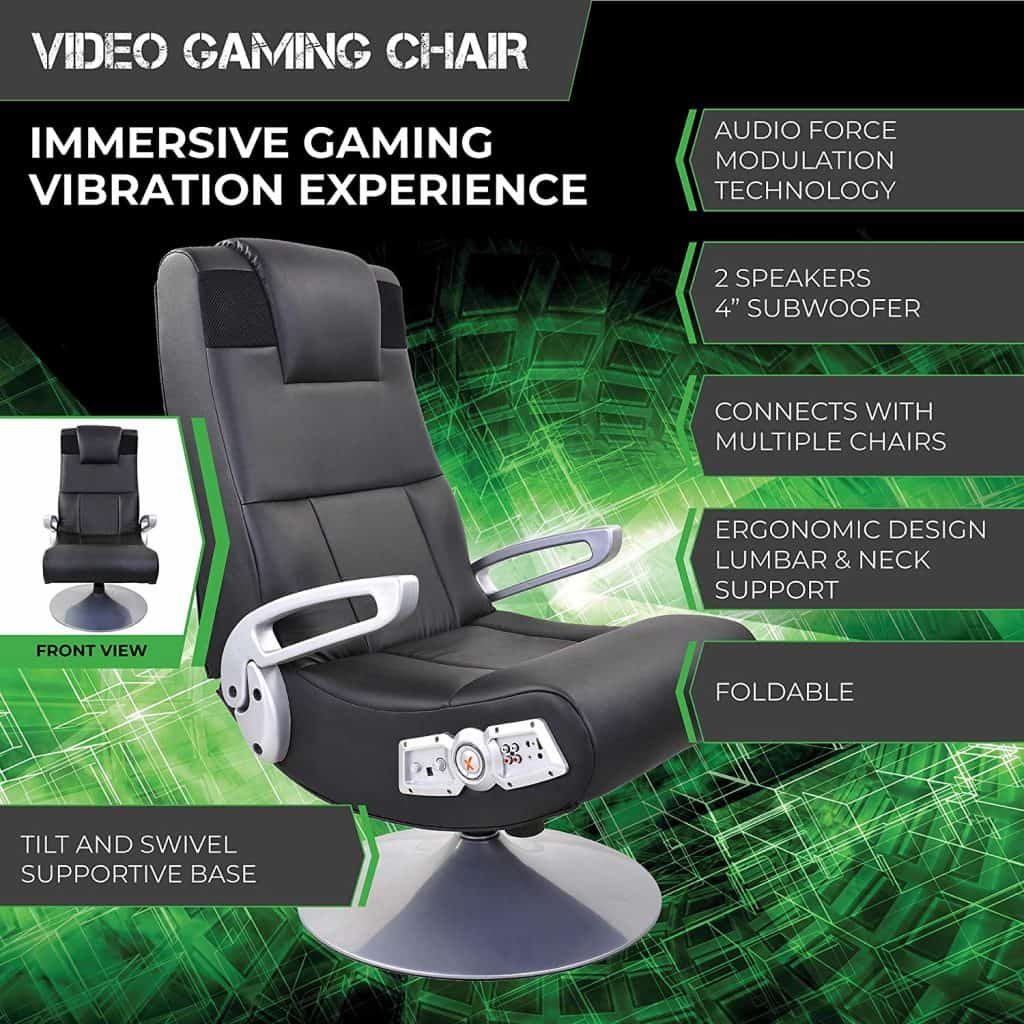 X Rocker 5127401 is a neat modern looking gaming chair with speakers. This gaming chair is built for the best comfort as well as entertainment. It is an all-purpose gaming chair with a pedestal. The material of the chair is leather. It includes two speakers near headrest and subwoofer in the back for the exciting gaming. There is a headphones jack for personal use. This chair is compatible with consoles. However, you will need extra cables for devices that use the HDMI connection.
The tilt and swivel mechanism helps you maintain a comfortable gaming session. There are two speakers near the headrest for an immersive sound experience. A subwoofer is positioned at the back for heavy bass that intensifies your gaming. The silver armrest makes it look neater.
This chair has a wireless system that lets you connect with all your devices. The ergonomic design enables you to sit in a comfortable position for longer gaming sessions. You can play for several hours and not get tired of this gaming chair.
This chair is effortless to assemble and very comfortable even for a tall person. You can connect it with your phone using the headphone jack, and it will drown you in fantastic surround sound. The only disadvantage is that this chair requires an adapter for your PS4 and Xbox one to connect with.
What is the difference between a PC gaming chair and Console gaming Chair?
Getting the right type of gaming chair will help you in better gameplay. Not all the gaming chairs are the same, but they are made for different use. There can be few differences in console and PC gaming chairs, which can be a little confusing. We will tell you the differences and why you should opt for console gaming chairs if you are a console player.
PC gaming chairs are mostly of high back executive looking office chairs. On the other hand, console chairs are bulkier, and you can rest them directly on the floor. These can let users rock back and forth easily. There is a variety of pedestal chairs too to raise the gamer off the floor. In console gaming, you are not attached to the desk; that's why these rocker chairs are excellent for console gaming.
Pc gaming chair should be of enough height with respect to the gaming desk, so your elbows are straight to use the mouse and keyboard. They are built for a better posture for a more extended gaming period. These PC gaming chairs are useful when you are using a desk. PC gaming chairs are smaller in size as compared to chairs for the console.