Editor choice
10 Best Gaming Mouse for Fortnite 2023
GPCD
is reader-supported. When you buy through links on our site, we may earn a small commission at no extra cost to you. Thanks for the support! Learn more.
The perfect Game mode is on! So, are you up to ace the Fortnite championship this year with full potential? But you need agreat mouse for Fortnite? The Battle Royale ever since has been on board and has enthusiastically involved several gamers worldwide.
To let you gear up with your squad's ultimate potential, we have analyzed good fare for Fortnite. Typically, you have to switch many weapons in this game. All of that you can do with an ergonomic mouse having extra press-up buttons and top tier sensors. As a shooter, you are solely accountable for your handy grip over the mouse.
Also Read: Gaming Mice Buying Mistakes
Title
Best Selling
Razer DeathAdder V2 Gaming Mouse: 20K DPI Optical Sensor - Fastest Gaming Mouse Switch -...
Best Premium
Razer Viper Ultimate Hyperspeed Lightest Wireless Gaming Mouse & RGB Charging Dock:...
Best Performance
Logitech G Pro Wireless Gaming Mouse with Esports Grade Performance, Black
Lightest
Cooler Master MM710 53G Gaming Mouse with Lightweight Honeycomb Shell, Ultralight...
Thumbnail
Best Selling
Title
Razer DeathAdder V2 Gaming Mouse: 20K DPI Optical Sensor - Fastest Gaming Mouse Switch -...
Thumbnail
Best Premium
Title
Razer Viper Ultimate Hyperspeed Lightest Wireless Gaming Mouse & RGB Charging Dock:...
Thumbnail
Best Performance
Title
Logitech G Pro Wireless Gaming Mouse with Esports Grade Performance, Black
Thumbnail
Razer Viper Ultimate Hyperspeed
To fulfill all B's Razer Viper is our editorial pick for today. Starting with it's basic in shot quality of being wireless yet lightest of all. It's suitable for every esports existing. What you need is an instant click and guess what this product is all-pro in it. Its low-latency wireless transmission delivers light-speed transmissions as you swipe.
Additionally, it's cool to experience 70 million clicks with an optical mouse switch. The sensors are ultra-workable and can hunt your opponents within seconds. Light-weight provides a better grip. The light beam-based actuation is what a gamer wants to experience. This is among one of the most ergonomic mice for Fortnite. Just charge the mouse for a total of 10 minutes to experience flawless 5 hours playtime.
Read our guide on Best Razer mouse for gaming.
| Key Specifications | |
| --- | --- |
| Brand | Razer |
| DPI | 20,000 |
| RGB | Yes |
| Type | Wireless |
| Buttons | 8 programmable buttons |
Positive
Lightweight & good grip
Both for right and left handed users
Top selling
8 programmable buttons
Nice braided cable
RGB lights
Negatives
Expensive
Side buttons are a bit harder to reach
Ambidextrous shape may not be comfortable for everyone
Razer DeathAdder V2
DeathAdder is in the top list, for it offers nicest mouse sensitivity for Fortnite through 20K dpi optical sensor. We are fully impressed by its sleek design offering a better grip for gamers. Updated specs add on to the ergonomic mouse type. Furthermore, accurate speed can be fit well with an optical mouse switch.
Weighing about 82grams is likely to reduce your reaction time and pulls you towards winning the internal insurgency of the Fortnite. Combating can never be easy without 100 PTFE mouth feet, which provides a legit fit to the mouse pad. The chroma enabled peripherals are the distinctive mainstream feature among high and low-quality Fortnite mice.
What makes it unique from our editorial pick is changing the mouse's setting. You need to install Razer synapse 3. It, too, offers onboard memory up to 5 profiles. The clicks are silent and don't make a lot of noise. You can also get it in white color. PS: You can also checkout these white gaming mice for a white gaming setup.
| Key Specifications | |
| --- | --- |
| Brand | Razer |
| DPI | 20,000 |
| RGB | Chroma RGB |
| Type | Wired |
| Buttons | 8 programmable buttons |
Positive
Easy to use software
Beautiful RGB lights
Great build quality
Silent clicks
Fast and easy to move
Rubber grips
Negatives
DPI buttons are a bit too easy too press while using the scroll click.
Wired
Rubber grips can fall off after 6 months or a year
It gets dirty in a short time
Logitech G Pro
Logitech is a known brand used by many esports gamers conjugating Lightweight design with tech adaptability. G-pro is well known for its ambidextrous mouse design with supportive modular buttons. These buttons will give an edge to left-handed gamers and the state of having the nicest experience overall. Its overall report reaction time is about 1 second.
These 80grams wireless mice come with accurate latency with no sputtering issues. The mouse can go on working for two days by opting for power-play technology with the pro. Many pro players use it in the esports competitions as the aim is great.
A 16k sensor is among the leads and guarantees you the most fantastic experience with your counterparts. It comes with a 32-bit ARM microprocessor improving it's responsiveness and sensitivity to a greater extent.
| Key Specifications | |
| --- | --- |
| Brand | Logitech |
| DPI | 16,000 |
| RGB | Yes |
| Type | Wireless |
| Buttons | Four removable side buttons |
Positive
Long battery life
Responsive
Lightweight & Solid build
Amazing sensor
Four buttons, two on either side that you can customize and get rid of with the included plastic covers
Negatives
Expensive
Not great for larger hands
Logitech G305 Lightspeed
Logitech has already won several hearts, but this one is a bit different. It's also among one of the good mice for Fortnite because of its sensitivity and wireless gaming adaptability altogether. Coupled with next-generation dpi system with 12k dpi, adopt an efficient power system with accuracy. Furthermore, it offers a reaction time of about one millisecond, which is superb. Two hundred fifty hours long battery time lets you experience unbreakable playing altogether.
This lag-free gaming experience in the neatest rates is what our gamers look for. Logitech never compromises on players' expectations and offers advanced gaming properties. It comes with onboard memory and six compatible gaming buttons. Adjustable dpi is the primary spec of this one.
| Key Specifications | |
| --- | --- |
| Brand | Logitech |
| DPI | 12,000 |
| RGB | No |
| Type | Wireless |
| Buttons | Two side buttons – One DPI button |
Positive
Great Price
Six programmable buttons
Long battery life
Prevents unwanted friction between itself and the mouse pad. 
Lightweight & durable
Negatives
Uses AA batteries
No RGB
Poor weight distribution
Cooler Master MM710
Another mouse incorporates in itself the ability to provide you the best gaming experience through its superb portability and efficiency. Designed uniquely, a honeycomb surface makes it durable and encourages the users to go on with their game without any stress and issues.
The ultra weave cable boosts your gaming experience even more as it minimizes the weight and cable hindrance leaving hurdles and obstacles away from your way. Moreover, this gaming mouse is also equipped with feet made up of PTFE, letting you control your game with absolute ease by reducing the friction between the mouse and pad, allowing the user to adjust the mouse according to the situation.
You can also checkout these ultralight gaming mice to increase your response time and act before the enemy does.
| Key Specifications | |
| --- | --- |
| Brand | Cooler Master |
| DPI | 16,000 |
| RGB | No |
| Type | Wired |
| Buttons | Two side buttons – One DPI button |
Positive
Lightweight & Durable
Great Price
Decent cable
Pixart 3389 optical sensor
Ability to assign actions to each of the 6 buttons
Negatives
Side buttons are a little uncomfortable
Material feels cheap
Not great for large hands
Redragon M801
Are you not happy gaming with a wired mouse? Then here it is the Redragon gaming wireless rechargeable mouse. Enjoy continuous gaming as the mouse won't go down before 35 hours if the light is on, it can even go on for around 70 hours if the RGB LED is not on.
Moreover, the sensors that it consists of gives you increased responsiveness and leads you to take actions precisely while through your game. Likewise, few other gaming mice are even designed ergonomically, letting you take control of your game and provide comfort to your wrists. Nonetheless, different brightness levels, lightning effects, number of sides, programmable and rapid-fire buttons, macro recordings, and memory profiles let you dissolve in the game and put aside your enemy.
The mouse is compatible and portable with any types of Windows and Mac operating systems. Enjoy this game on any of your gaming laptops and go counter your enemies.
| Key Specifications | |
| --- | --- |
| Brand | Redragon |
| DPI | 16,000 |
| RGB | Yes |
| Type | Wireless |
| Buttons | 9 Programmable Buttons |
Positive
Great price
Suitable for large hands
Braided cable
Durable
Negatives
Plastic feels cheap
Can't turn off the led
Razer Mamba
Razer Wireless is all up for revival when compared to other models of the same generation. This wireless mouse offers 50hours playtime just after a single charge. Additionally, it comes with 16k dpi letting it ace the race for best mouse dpi for Fortnite. It probably allows easy access to personalized setting modes through cloud storage options.
It comes with adaptive frequency tech offering stability in the greater array.
The mouse produces faint coil winding noise, which is annoying at times. Have your best experience with Fortnite while using ultra fast and ultra light Mamba mice. All these features add up together just to provide you with all the necessities to overcome your opponent, letting you escape stress, tension, and injuries.
| Key Specifications | |
| --- | --- |
| Brand | Razer |
| DPI | 16,000 |
| RGB | Chroma RGB |
| Type | Wireless |
| Buttons | 7 Programmable Buttons |
Positive
Great Price
Lightweight & Durable
Performs well in FPS games
Very responsive
Negatives
Low battery life
Cannot use while charging
SteelSeries Rival 600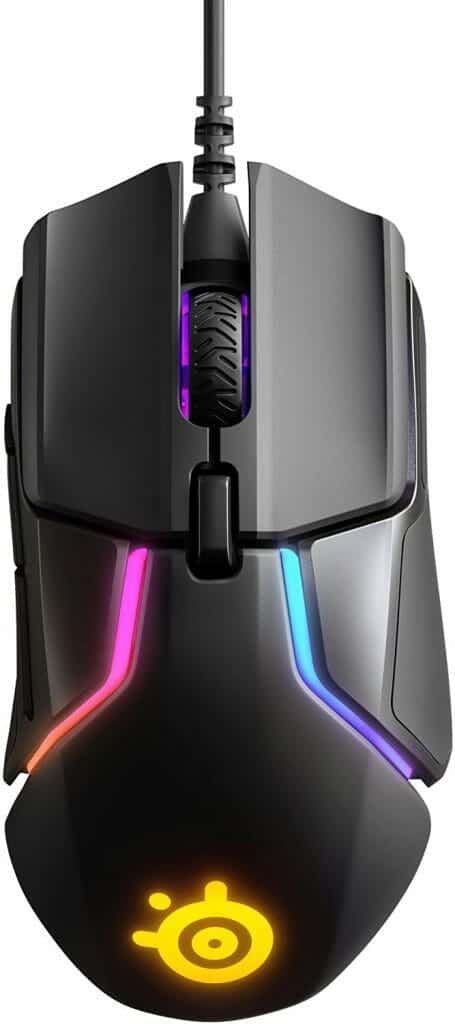 SteelSeries tend to be a serious rival of several counterparts because of its efficient manipulation and creation by the makers. Its sensitivity can be rated to as high as 12K CPI with 350 IPS speed speaks out itself. Out of amazement, it can record about 60 million clicks and comes with a total of 7 programmable buttons.
It let your experience all the best perception with ultimate customization in either case you pull the mouse up or keep it down. I bet you won't suffer any stability issues with this one of the good mice for Fortnite. You can choose your weight type in this pro, letting you have greater accessibility to the grip. I must say, it's software is even hands ahead, adding on to the customization of the product.
| Key Specifications | |
| --- | --- |
| Brand | SteelSeries |
| DPI | 12,000 |
| RGB | Yes |
| Type | Wired |
| Buttons | 3 side Buttons – one DPI button |
Positive
Perfect weight management
Amazing sensor & software
Beautiful RGB
Highly customizable
Truemove 3+ records better depths and strains 
Negatives
Terrible side-pads
Third button is hard to reach
Razer Basilisk X HyperSpeed
A product of NDP Group Inc ranks it to be the top-rated product in the market and on Amazon. Hyperspeed, as in name suggests known to provide 25% greater efficiencies when compared to rivals. It comes with Bluetooth availability and six programmable buttons. Its gameplay of about 2.4GHz Dongle offers stable wireless connectivity. Precision is achieved with high-class sensors which are put into.
This mouse offers a total of 450 hours of playtime. It can record up to 50 million clicks supported by its durable mechanical switches, which are laid into. The complexity of the functioning can easily be altered through Razer 3 Synapse, just with few clicks. Minimal latency and disruption depict its wireless functionality on the point. It somehow brings gentle moves while you play without letting your whole hand shuffle during the play.
| Key Specifications | |
| --- | --- |
| Brand | Razer |
| DPI | 16,000 |
| RGB | Yes |
| Type | Wireless |
| Buttons | 6 Programmable Buttons |
Positive
Great build quality
Adjustable mouse wheel resistance
Customizable lightning
Long lasting battery life
Good grip
Negatives
No weight management
You need Synapse to turn off the LEDs
Logitech G502 LIGHTSPEED
G502 is a favorite for many pro gamers. It's ultra-fast playing regimen can help you win any battle around. It comes with power play so that you may charge it while at play or rest. But yes, you need to purchase it separately, which is a significant flaw. It is designed in an ergonomic way to protect your wrists and hands from aching and minimize the chances of different injuries like RSI.
Additionally, it comes with a stable scroll wheel and with a total of 11 customized buttons. You can just input it with some customized marks by assigning shortcut commands. Furthermore, 16.8 million chromatic RGB lightning effects will probably make your animations outlook everyone. It has no latency or connectivity issues letting you avail core depth of primary gameplay availability. It is a great mouse for MMO games.
| Key Specifications | |
| --- | --- |
| Brand | Logitech |
| DPI | 16,000 |
| RGB | Yes |
| Type | Wireless |
| Buttons | 11 customizable buttons |
Positive
Fast & accurate
Great build quality
RGB lightning
Very responsive
Cordless power play charging during the play
Negatives
Expensive
Right-handed only
Handling many buttons can be difficult at times
FAQ
What are the best mouse settings/sensitivity for Fortnite?
You can't just rely on the default mouse settings which it comes up with. When you can avail more by just altering the settings a bit, so why not? Your sensitivity settings include several things like your mouse's acceleration, right dpi settings, and your PC settings. To get the proper acceleration settings, just scroll down a bit. We'll be sharing a detailed account for the rest of the two settings enlisted.
DPI defines the number of pixels recorded every inch every time you swipe your mouse. Like if your mouse specifications say 1000 dpi, this eventually means it is going to record 1000 pixels per inch. This much dpi is most suitable among all and offers the nicest precision.
You may even choose your settings between the range of 400-1000 dpi. Particularly, with a higher dpi setting, you need to put in fewer efforts to move your mouse than low ones. Opting for lesser dpi can be even advantageous to record measured mouse movements without greater alterations.
To change DPI settings
● DPI on-the-fly buttons mice need to be accessible via the same name. A new setting bar will appear. Set up the DPI setting following your needs.
● Without DPI on-the-fly buttons, click on the same button after accessing the Microsoft Mouse and Keyboard Centre. Locate sensitivity of your choice.
To boost your mouse through PC settings, search for settings. Head in for the game tab and search for sensitivity options. Alter key settings like mouse sensitivity, mouse ADS sensitivity, and mouse scope sensitivity to pull down your opponents in a better means.
Is mouse acceleration good for Fortnite?
A great 'No' to this. Probably, if you've never jumped into the setting panels and left it to work all by default and having outclassed troubles, then you should check it out immediately. Pointing to the most adverse part is its interference. When you left your mouse acceleration on, it will surely bring you to a random point every time you swipe on your mouse pad.
Maybe you'll be getting some notifications to tweak it with the PC's window, but this will even not turn out to be adequate. Acceleration will eventually not allow you to achieve precision when hitting close shots. This demarcates the key difference in themes when acceleration is 'on' or 'off.' When you just turn it off, you'll realize the absence of interference you've dealt with from great times.
To turn off your mouse's acceleration, follow out these following simple steps:
● Just search for 'Mouse settings' in the search bar of your Windows.
● Alter the mouse settings according to your needs.
● Search in for additional mouse settings.
● Head towards to pointer tab.
● Uncheck the 'Enhance Precision Option.'
● And here's your mouse's acceleration turn off.
What mouse is best for Fortnite?
Our editorial pick answers this all well. Razer Viper Ultimate Hyperspeed Lightest Wireless Gaming Mouse is perfect for Fortnite, according to us. It is lightest, and wireless drives a lot of export gamers crazy. It shoots in well, records, and plays well! Above all, it requires less of your hand gestures to he recorded, ultimately not driving your muscle for greater recruitments. It is known for flawless, uninterrupted playtime for 5 hours on a charge of 10 minutes.
It fulfills all the buyer's guide requirements, ultimately letting you pick one easily without wasting much time. It's ambidextrous and ergonomic design appeal a heat number of players. It has a nice scroll wheel lets you have a better grip. Furthermore, you'll get used to this in no time. Without wasting much time, have this favorite product of ours if you are an enthusiast.
What mouse does ninja use for Fortnite?
And here comes the story of Ninja. You'll indeed find many people following this best Fortnite player named Ninja to gain some excellent position in the gaming regime. This popular Fortnite streamer uses the mouse, namely Finalmouse x Ninja Air58 – Cherry Blossom Red, which is known to be the perfect esports gaming mouse worldwide.
This corded mouse is super responsive though its among one of the corded mouse in our list. It has an inbuilt Phamtomcord, which prevents it from entangling during the play. Many of NInja's followers follow him closely, and when this mouse was launched first, it stayed out stock for an oner period.
I was amazed to read this comment on amazon by the die-hard Ninja's fan, namely Danny L.
I'm posting it here to let you know the love people have for him and his suggestions. It says:
I just sold my left lung to a surgeon for this, and I'm only disappointed that I didn't do this sooner. And for this sweet deal, I was also able to buy an RGB bedsheet from Razer great deal!!!
As this mouse gained popularity, so does Ninja's suggestions. People started keeping a close check at Ninja's key settings, sensitivities, and a lot more. You may find several articles suggesting such valuable inputs.
What is the best mouse pad for Fortnite?
We are up with a professional gaming pad called Extended Size Custom Professional Gaming Mouse Pad. Why do we need a mouse pad? Of course, from preventing our mouse from slipping while we use it. An extended pad can work out well for anyone around.
It offers a unique shape with large size to allow extended movements. All evident in its supportive clutch movement ability without letting your mouse fall. Its large size will comfy you without gaining much finger and hand strains.
Additionally, it comes with the Battle printer style to improve the pad's aesthetics. Rubber padding prevents it from slipping off any time you lose control. It's all up for later or optically gaming mice delivering high-level accuracy. End to end stitches even prevents it from fraying and curling at the edges.
What are the best grip styles for the Fortnite mice?
Grips styles are indeed necessary to keep you safe from extensive hand strains during and after the play.
There are three major grip styles, and in general, you should pay attention to these styles. You may opt for any one in light of your preferences.
● Palm Grip style is one of the most common grip styles keeping your hands in the most relaxed state. Your palm covers the overall surface area of the mouse lets you have a precise grip over it.
● Claw Grip style is functionally reparable to impart perfection in the clicks. Adapting this is a bit hard, as it needs a bit greater effort.
● Fingertip grip style is activated with your thumb and finger moments in affiliation to this. It imparts a series of precise movements but is the least common among the players.