6 Best Silent Gaming Mouse in 2022

GPCD is reader-supported. When you buy through links on our site, we may earn a small commission at no extra cost to you. Thanks for the support! Learn more.

The sound of constant mouse clicking is annoying. With a noisy mouse, you might end up disturbing everyone around you with the constant clicking sound of a mouse.

You can stop the sound coming from speakers by using a headset, but what about clicking the noise of the mouse? For this matter, you need a mouse with silent clicks that won't make any annoying clicking sound.

Before someone complains about the annoying sound your mouse is making and disturbing them, you need to buy a silent gaming mouse for a quiet and peaceful environment.

You can also use these for office use, so you don't annoy your colleagues while working. In this article, we're reviewing six best silent gaming mice that you can buy.

Also Read: Gaming mice buying mistakes before you buy a mouse

Table could not be displayed.
VEGCOO C9s
VEGCOO C9s is my top choice on the list. It has 2.4Ghz wireless transmission for lag-free reliable connection up to 10 meters. Say goodbye to loud clicking noises, the left and right-click buttons are made silent for quite gaming experience.
There are built-in LED lights that change colors randomly, but you can't customize LED lights yourself. You can turn off the lights if you don't want them on.

Vegcoo C9s is rechargeable and has a 600mah battery that can last for about 30 days on a full charge. The buttons are tested for 10 million clicks. The charging port is in the front, so you can easily use it while charging.
The design is not so appealing and looks cheap, but the overall quality of this mouse is decent. However, the good thing is that you don't have to spend a lot on this mouse.
| Key Specifications | |
| --- | --- |
| DPI | 3 Levels /1200/1600/2400 |
| RGB | Changeable Breathing Led Light |
| Power | 600mAh Lithium battery |
| Connection | 2.4 GHz Transmission speed |
| Type | Wireless |
| Buttons | 2 Side Buttons |
Positive
Great battery life
Aggressive gaming design
Great response
Negatives
Noisy side buttons
No low batter indicator
Logitech M330 Silent Plus Wireless Mouse
This extremely quite gaming mouse is great for a quiet and peaceful gaming environment. You can enjoy your gaming or do your work in complete silence without disturbing anyone else. A continuous clicking sound can annoy anyone, but with this silent gaming mouse, say goodbye to those disturbing clicking sounds. It does not have a gamer-friendly look, but it works pretty well. Logitech M330 is a small-sized mouse with a dinky dimension of 105.4 x 67.9 x 38.4mm.
I don't like that it comes with only three necessary buttons and built for only right-handed people. If you are buying this mouse for quietness, then do ahead you won't be disappointed, but for gaming, it lacks a few features. The overall performance of the Logitech M330 is awe-inspiring. This mouse has a sensor with DPI sensitivity. The 2.4Ghz connection provides a range of up to 10 meters without any lag.
| Key Specifications | |
| --- | --- |
| DPI | 1600 |
| RGB | No |
| Power | 1 AA Battery |
| Connection | 2.4 GHz Transmission speed |
| Type | Wireless |
| Buttons | No Extra Buttons |
Positive
Compact
Quality brand
Excellent battery life
Negatives
Old design
Lack of features and extra buttons
Scettar Wireless Quite Gaming Mouse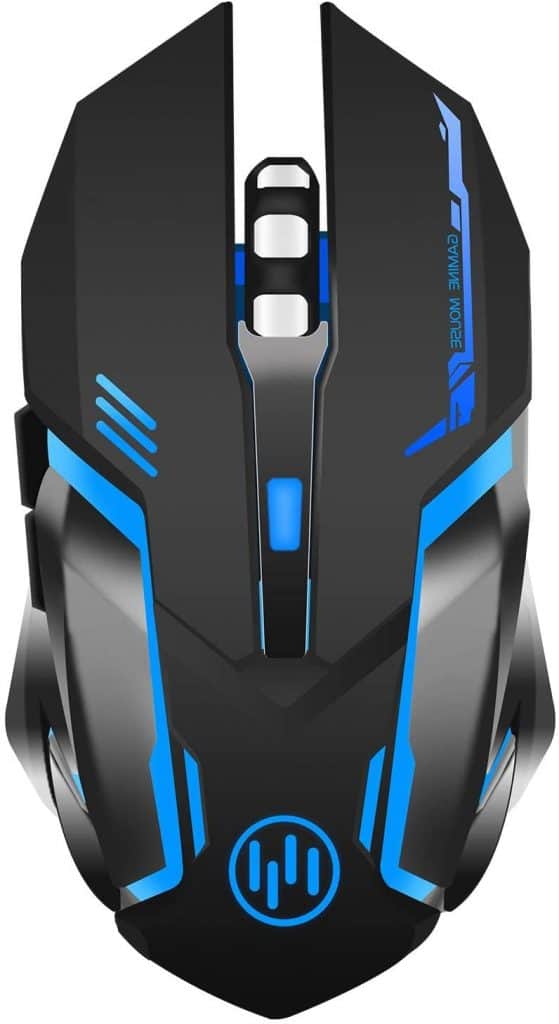 This wireless silent gaming mouse by Scetter is also very budget-friendly. You can get it around $15-$16. You might have used a lot of expensive gaming mice, but his one is a real deal. It comes in small minimal packaging. But once you plug it in and start playing, you will get your money's worth and a lot more. This mouse feels premium and the materials are good enough.
It has RGB lighting, but you cannot control or customize it. There are seven different color that changes from time to time. The battery life is good, and the mouse can last a month of regular use. With charging cable, you won't need to change batteries again.
Scetter has an auto turn-off feature, and it will go to sleep if not in use for eight minutes. You can click any button to wake up the mouse. Both the left and right buttons are silent, preventing clicking noise from disturbing you. Enjoy a peaceful environment while gaming or working. For a price like this, you should definitely give it a try.
Another good thing about scettar products is that you will get a 45 days money back and a one-year care-free warranty.

Also Read: Best Aimbot Gaming Mice
| Key Specifications | |
| --- | --- |
| DPI | 3 Levels /1200/1600/2400 |
| RGB | Changeable Breathing Led Light |
| Power | Rechargeable |
| Connection | 2.4 GHz Transmission speed |
| Type | Wireless |
| Buttons | 2 Side Buttons |
Positive
Nice Textured Feeling
Light Weight
Metal Bottom Plate
Long Battery Life
Negatives
Not a perfect sensor
Not long lasting
Cheap buttons
Emopeak Silent Wireless Mouse
This is a well-designed ergonomic silent mouse with noiseless clicks. Most of the mice in our list comes with only two silent buttons, left and right. The best thing about E2Pro is that it has six buttons, and all of them are silent. It has two buttons on the left and one under the scroll wheel to change DPI settings.
There are three different settings for DPI from 1000/1200 to 1600, so you can have the desired DPI according to your needs. The surface of this mouse has snake grains making it sweat-proof and anti-slip. Both sides of E2Pro has a large soft rubber surface for a comfortable grip. Buttons are tested well over five million keystrokes for a longer lifespan.
All silent buttons help you keep the surrounding noiseless and less annoying. The auto-sleep feature helps save batteries, and it will go to sleep after eight minutes of no activity. You just need to click any button for it to wake up. No matter if you are gaming or working, this mouse is suitable for any kind of usage.
If you are looking for mice with lots of buttons then check out these MMO gaming mice.
| Key Specifications | |
| --- | --- |
| DPI | 3 Levels /1000/1200/1600 |
| RGB | No |
| Power | 2 AAA Batteries |
| Connection | 2.4 GHz Transmission speed |
| Type | Wireless |
| Buttons | 3 Extra Buttons |
Positive
Ergonomic comfortable design
Two batteries included
Cheap price
Good size
Negatives
Noisy side buttons/scroll wheel
Seenda Noiseless Wireless Mouse
It doesn't have a gamer style or looks to it, but Seenda wireless mouse is the best-selling white mouse on this list. Don't worry about the RGB lights or killer looks, Seends is available in twenty different color combinations! You can choose any color that matches your other gaming accessories. It only comes with two buttons, and if you want more buttons than this might not be the one.
Besides having so much color option, this silent gaming mouse is quiet as a mouse (no puns intended). The portable size is great for the smaller hand and carrying along with you. This mouse runs on a single AA battery. The auto-sleep mode put this mouse in sleep after ten minutes of inactivity to save battery.
No more obnoxious clicking, have fun playing your favorite games with this mouse without disturbing anyone. If you have any problem with the mouse, just send it back, and the manufacturer will take care of it and send you a replacement.

| Key Specifications | |
| --- | --- |
| DPI | 1600 |
| RGB | No |
| Power | 1 AA Battery |
| Connection | 2.4 GHz Transmission speed |
| Type | Wireless |
| Buttons | No Extra Buttons |
Positive
Best-Selling
Available in 20 Colors
Compact size
Highest positive reviews
Negatives
No extra buttons
Not best for gaming
Shhhmouse i440 – Silent Portable Wireless Mouse
Shhh, don't disturb. It's right in the name of this silent mouse. If someone is complaining of those annoying clicks that your mouse is making, then it's time to get it and get this mouse. This noiseless mouse will help you work or game in silence with no annoying clicking sound. This mouse is available in 4 different color combinations, and you can choose whatever matches your gaming station the most.
Shhh silent gaming mouse features a 90% reduction of clicking sound. So, you can stop worrying about disturbing anyone. The compact size is great for smaller hands and traveling. 2.4GHz wireless connection provides a stable connection up to 39ft. It consumes very little power and goes to sleep after eight minutes of inactivity to save energy. It is powered by two AAA batteries, included with the package.
This mouse is also very cheap and budget-friendly. The streamlined design helps the surface sweat-free to long gaming sessions. It also comes with a one-year warranty.
| Key Specifications | |
| --- | --- |
| DPI | — |
| RGB | No |
| Power | 2 AAA Battery |
| Connection | 2.4 GHz Transmission speed |
| Type | Wireless |
| Buttons | No Extra Buttons |
Positive
Batteries included
Looks great
Affordable
Compact size
Negatives
Durability issues
Scroll wheel issues – squeaky or clunky
Buying Guide and FAQ
Finding the right mouse can be challenging for you, but in this guide, we will help you choose the best silent gaming mouse. We are going to share some tips below that will help narrow down your choice because you don't want to waste money on a mouse that you will regret buying.
Tip #1: Customizable silent gaming mouse
In the world of gaming, customization can be an important factor in maximizing your in-game performance. You can customize your gaming mouse with features like extra programable keys to LED lights and weight management.
Imagine wasting those milliseconds in getting a headshot or performing in-game action that you can save with customizable buttons. Every second counts in the online gaming world, and if you want to win matches, then you can't even waste precious milliseconds. The competition in online gaming is high, which makes customization essential.
Customizable mice are little pricier than simple ones. So, make sure before buying that if you want a customizable mouse or not.
Tip #2 Weight Management
Some people want a lightweight gaming mouse, but some prefer a little heavy mouse for a comfortable gaming experience. But what to do when you are playing games for hours, and the heavier mouse starts to get uncomfortable? This where mouse like Logitech G502 with weight management comes. You can attach and detach weights as per your comfort level.

The perfect mouse should be comfortable moving around. Weight of specific mouse can be ideal for one person, but for others, it can cause discomfort. So, consider the weight according to what you prefer before buying. Mice with weight management come in handy when you are not sure how much weight is perfect.
A mouse can look good with its stylish design and LED, but if it's not comfortable, then it's no good. There are many mice available in the market with a removable weight feature. A mouse that is too heavy will become a drag, and a mouse that is too lightweight can cause your mouse pointer away from the target.
Tip # 3: Laser or Optical
Buying a mouse that gives the perfect combination of sensitivity and pinpoint accuracy seems difficult. Mice with laser technology offer high accuracy, but they tend to jitter. On the other hand, mice with optical technology have lower sensitivity but higher accuracy.
Did you know that all the modern mice are optical and act like a camera? They continuously take pictures of the surface and convert data to track the current location on a surface. It is also known as a CMOS sensor. These mice capture more than 10,000 images every second for a precise location.
If you are a serious gamer, then laser mouse will help you get better results in gaming.
Both types of mice collect data using the irregularities of the surface to track location. But a laser mouse gets better results because it can go deeper in the surface hence collecting more information for the sensor. The data collected by the laser can be too accurate sometimes, and it can pick up useless information from the depth of the surface, which can cause jitter at the slow movement of the mouse.
If you look at the mice manufactured by Logitech, most of the time, they use LED technology. The reason is that when someone buys a mouse for gaming, they are probably sitting at a desk using a mouse pad that is specially designed for the best possible tracking. Gamers want the best result possible with absolutely no lag, which makes sense.
Tip #4: Which Software Works for You?
Each software has its pros and cons. Choose a mouse which comes with a software that is easier to work around and lighter for your gaming PC. If you already have a Razer mouse, then my suggestion is that you go for Razer mouse again. Because you already know how to use the software and switching your mice will also be more manageable.

You don't have to install multiple software if you have mice of the same company. Installing different software's for different mice can slow down your PC.
Tip #5 Wired mouse vs wireless mouse
In general, a wired mouse is a little bit faster, more responsive, and cheaper than the wireless mouse. On the other side, a wireless mouse looks good, and you have the complete freedom to move it around without any issue. Wireless mice have a higher price, and they also need batteries to run, which adds to more cost. Batteries of a wireless mouse can cause you a match if they die while playing a competitive online game.
You don't need an expensive wireless mouse to win matches. A cheap wired mouse can win you matches if you know how to play. But if you have the budget, then I recommend a wireless gaming mouse as it is easier to handle.
End Goal: Having the Right Mouse
The perfect mouse that you will end up buying might not have all the features, but it will include important ones that matter the most. The best silent gaming mouse is which makes lesser noise because the main reason you are buying a silent gaming mouse is that you don't disturb anyone with the annoying clicking noise.
For me, I prefer a wireless gaming mouse because it is easier to move around. Now you can narrow down your choices to what matters the most to you regarding features and price.