Reviews
Editor choice
Finally, the AMD's new RX 6700 XT graphics card has arrived, but how does it compare against the next level 6800. Which one is worth buying? I've ...
The Gigabyte's Aero series laptops are a perfect fit for people that do a mixture of content creation and gaming. Let's check out the differences in the new ...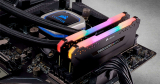 I am very excited today because I was able to get my hands on brand new Corsair Vengeance Pro series RGB memory. I have always been a fan of Corsairs memory ...
If you're looking for memory for your latest build or upgrade your current one, which of the available products is the right one for you? Corsair Vengeance VS ...
Dominator Platinum is Corsair's top-of-the-line DDR4, and for a good reason, the memory makes use of a custom ten layer PCB with handpicked ICs and Corsairs ...