Editor choice
The Razer Naga Pro Review – MMO King!
GPCD
is reader-supported. When you buy through links on our site, we may earn a small commission at no extra cost to you. Thanks for the support! Learn more.
I'm super excited about writing this review because I love MMO games. I am playing MMO games since the birth of this genre, and I have spent thousands of hours playing MMOs.
Before MMO mice came, I had to use the keyboard buttons for in-game skills and abilities. I had always wished that there would be a better way. I was very excited when Razer first announced the Naga back in 2009. I bought the Naga, and how I played games was changed forever.
Since then, I've had different versions of the Naga, but in 2020 I started using the Corsair Scimitar Elite instead. In September 2020, Razer had released the Naga Pro wireless but was it worth bringing me back to using The Razer Naga? Let's find out.
Check out this complete guide on How to choose Best Razer Mouse & 5 Gaming Mice Buying Mistakes & How You Can Avoid Them
Overview
I've always loved the Razer Naga, and the last variation that I owned, The Trinity, was exceptional despite my concerns about the removable side panels. The Naga Pro wireless is essentially a Naga Trinity but with a couple of extra tweaks.
The price tag is very high but let's just try and justify it. Maybe it is because of the three interchangeable side panels that we are getting it with. It's a three-in-one mouse. You will get a whole new look and functionality with each side panel.
Features
| Specifications – Quick View | |
| --- | --- |
| Connectivity | Razer™ HyperSpeed Wireless | Wired – Speedflex Cable | Bluetooth |
| Battery Life | 150 Hours |
| Sensor | Optical |
| DPI | IPS | G | 20,000 | 650 | 50 |
| Switches | Optical – 70M clicks (Lifecycle) |
| Mouse Feet | 100% PTFE Mouse Feet |
The box includes an OG 12 button MMO panel, an FPS panel with simple forward and back buttons, and finally, a new panel aimed at Battle Royal games. This new panel replaces the circular MOBA panel found on the Trinity.
It has a six-button design, which looks a bit odd when you first look at it, but it's comfortable to use and easily accessible. It also comes with a 1.8-meter braided Speedflex cable so that you can use the mouse in wired mode.
This is a USB-A to micro USB, and I'm quite disappointed that there's no USB-C. It's 2021 already, and it's a premium mouse with high. However, the cable itself is of excellent quality, insanely flexible, with little to no kinking at all.
For me, if a mouse can be used wirelessly, then I would not use the wire. Those who like using the wire will enjoy the Speedflex upgrade because Trinity's cable was pretty stiff, in my opinion.
Charging & Dock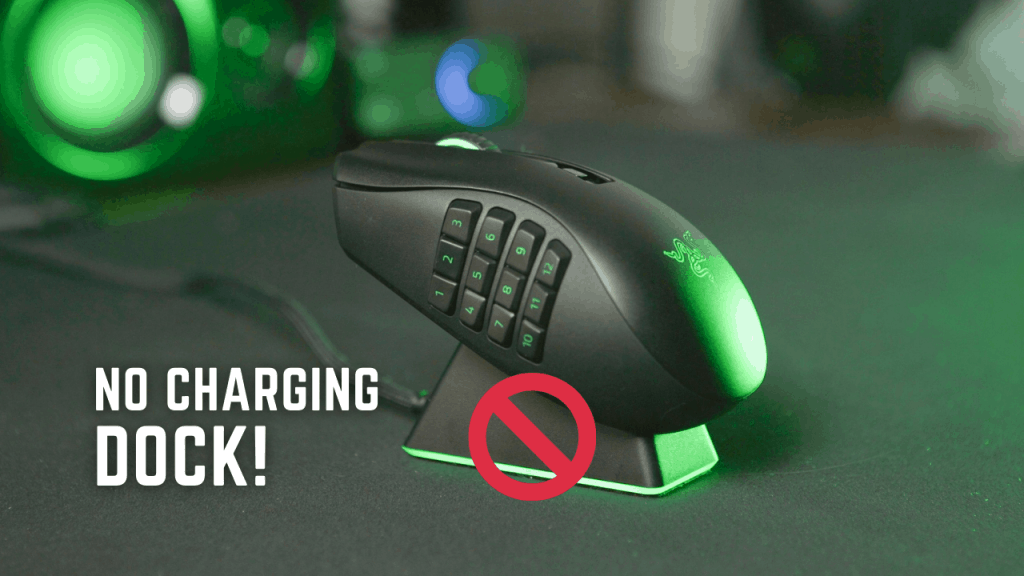 It also comes with a USB dongle adapter, which lets you place the wireless dongle into the adapter and then use the Speedflex cable as an extension lead. I'm glad that they've included this because it's suitable for those with PCs out of the way.
You can also disconnect the adapter and then plug the cable straight into your mouse to charge it. It is also chargeable with the charging dock, but it is not included in the box, and you will have to buy it separately. The charging dock alone costs $49.99.
I didn't like this because Basilisk ultimate and Viper Ultimate both come with a charging dock. For a $150 mouse, I think they should have included the charging dock.
Also check out these gaming desk accessories.
Design
The Naga Pro is big and suitable for large hands. It's a heavy mouse with 117 grams of weight. The dimensions of Naga Pro are 119 x 74.5 x 43 millimeters. For me, it's not an issue because I have always used large mice.
Despite the large size, it's still smaller and lighter than the Corsair Scimitar RGB Elite, which I'm currently using. It's pretty much identical to the Naga Trinity in aesthetics and design. It has a right-handed only ergonomic design that slopes down to the right-hand side.
The top shell has a slightly coarse texture, and the shell extends to the primary buttons with comfort grooves on. We have a smooth plastic texture and considerable pinky support with small textured rubber grips on the right side.
The same smooth plastic can be found on both the FPS and Battle Royale interchangeable side panels along with rubber grips. The Corsair Scimitar Elite suffers from being a total grease magnet due to the rubber coating over the top of the shell, but the Naga Pro luckily doesn't suffer from this at all, and it doesn't attract fingerprints either.
From the side, we see it has a large hump towards the back palm rest. On the front, it has a simple design with plastic caps and a micro USB port. At the top, it has a tiny strip with the scroll wheel and dpi buttons.
The scroll wheel is heavily textured with rubber, and the grip is fantastic. It moves in tactile increments that aren't too loose or too stiff either. There's definitely more resistance in this one compared to the Scimitar Elite, but I do prefer this.
The Naga lets you click the scroll wheel from left and right as extra buttons, which the Scimitar Elite lacks.
RGB
RGB zones can be found on the back with Razer's triple-headed snake logo, scroll wheel, and numbered buttons on the side panels. These can be customized via the Synapse software.
Bottom of the Mouse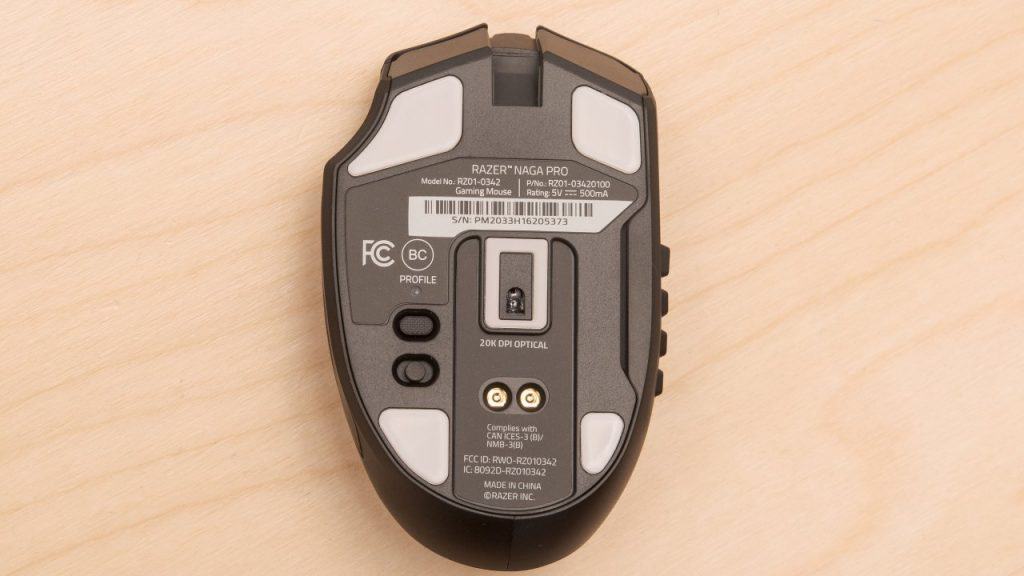 On the bottom of the mouse, you can see just how wide this mouse is. There's a lot of information written below, but the important bits are five-zone 100 PTFE glide pads in each corner and around the sensor.
There is a small cutout, so you can easily remove the side panels. There's also a Profile switching button and a connectivity switch.
Comfort & Grip Style
In terms of comfort, I absolutely love it. It's my favorite large mouse design. It feels incredibly natural in my hand, as if it is specially made for it.
I use palm grip for everyday PC usage and claw grip for gaming. Both grips are comfortable, and the claw grip helps me reach the back row of buttons on the MMO panel.
I don't use fingertip grip because it's a large mouse and ruins my accuracy since I have to lift my thumb entirely off to get to the button that I want to use. On the other hand, if I have the FPS side panel attached, then fingertip grip is excellent because there are only two buttons to worry about instead of twelve.
The only negative for FPS players is the heavyweight. The Naga Pro is perfectly fine for me but for gamers who prefer ultra-lightweight mice, this isn't for you.
Side Panels
Changing panels is easy using the notch on the bottom to pull the panel off. This takes a bit of force because the panels are held on via strong magnets, making it feel like a solid construction when any panel is attached.
Once the panel is removed, you'll find the USB-A dongle hidden in the pocket, which is convenient for travel. You can also see the sixteen-pin connectors for the panels. The panels themselves have the same magnets and connector points on the inside.
Build Quality
Build quality is excellent, and there's no flex at all on the top shelf or the side panels. When the FPS and Battle Royale panels are attached, I can't actuate the buttons by squeezing hard. Shaking the mouse hard also doesn't cause any rattling from the buttons, even when the MMO panel is attached.
There are no sharp edges, and none of the panel buttons are loose. So, running your finger across them doesn't cause any rattling or noise whatsoever. Overall, it is a good quality mouse, and for the high price tag, I'd honestly expect no less.
Both primary buttons suffer from mild pre and post-travel, but it's pretty much like the Scimitar Elite. There's no pre or post-travel on the scroll wheel click until you get to the left and right clicks of the wheel with a slight post-travel.
The two top DPI buttons are nice and clicky without any travel either. Jumping over to the panel buttons, I instantly noticed a difference from when I owned the Trinity. The Trinity's buttons were slightly inconsistent in feel, with some of them being clicky, whereas others felt spongy to me, and it always bothered me.
The Naga Pro panel buttons are infinitely nicer than before. Every single button is clicky with instant feedback and no travel. This is consistent across the MMO and Battle Royale panel, but the FPS panel does suffer slightly from post-travel.
Connectivity
Connectivity-wise it has wired, Bluetooth, low energy, and Hyperspeed 2.4 gigahertz wireless that can be easily set by the switch on the base of the mouse.
Bluetooth is great for general use as it uses less power giving you 150 hours of battery life, but you also get less performance here with a slower polling rate.
Hyperspeed wireless is the main selling point for Razer. They claim to have technology that offers 25% faster speed than any other wireless technology. This gives you 100 hours of battery life but also no crippling performance at all.
It automatically jumps between available signals to ensure that a stable connection is always there, even in congested areas.
I love these new wireless capabilities, and just like Corsair's slipstream wireless, it performs excellently. I had no lag, cutouts, jitter, or anything at all during my testing, and to me, it's just as reliable as wired.
Switches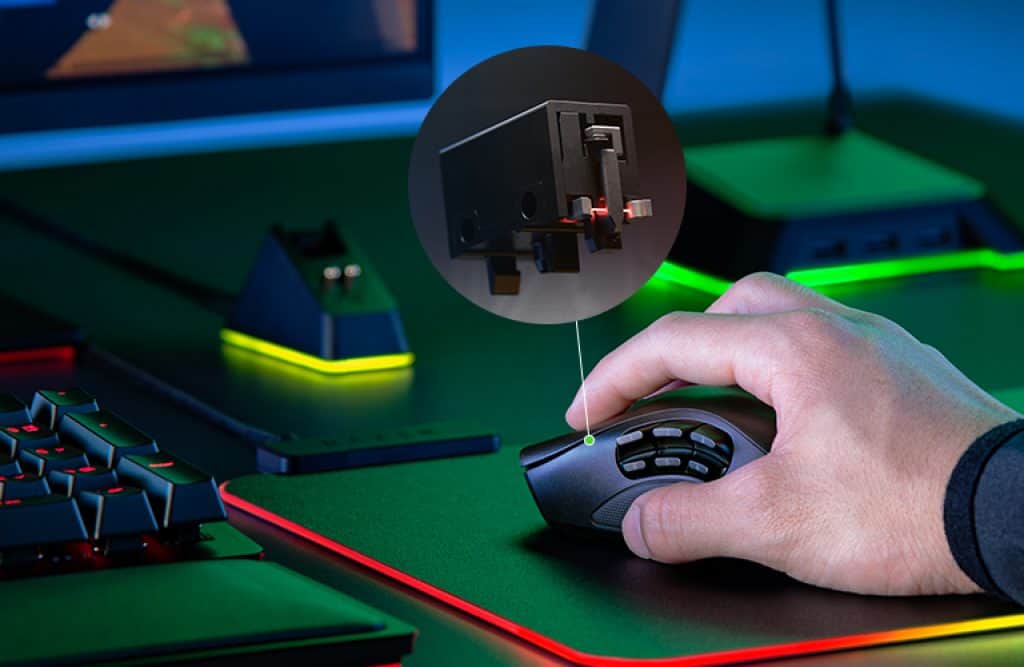 The primary buttons feature Razer's optical mouse switches. This uses an infrared light beam rather than a physical contact switch which could also be found in Razer's Viper range. The older Naga Trinity had mechanical switches, so that is another change.
According to Razer, mechanical switches have an average of 50 million click lifespan, whereas these have 70 million clicks. That's a significant increase in durability.
As there's no physical switch, this also means Razer's optical switches don't suffer from debounce delay. So, the response time is 0.2 milliseconds or three times faster than a mechanical switch.
In terms of use, they feel snappy, super-fast, and responsive. It could be a placebo, but they feel quicker and more accurate to me. The Naga Pro has Razer's focus+ optical sensor made alongside Pixart with tracking speeds up to a whopping 650 IPS, max of 20 000 DPI, and acclaimed 99.6 resolution accuracy.
This is an improvement over the Trinity in all areas, but the focus+ sensor has a few extra features, including smart tracking that automatically calibrates your mouse surface to improve lift-off distance, asymmetric cut off to set landing distance of one millimeter, and motion sync that synchronizes the data sent and received by your PC for more consistent tracking.
Usage
All these specs look good on the paper, but how does it perform? First off, the glide pads feel amazingly smooth, and they've definitely helped me with the feel of the mouse during my testing, especially in elder scrolls online, which is my current go-to MMO.
It also performed well in Apex Legends, and I felt confident that I'd have no issues with a focus+ sensor with those optical switches paired with Hyperspeed wireless.
I was right. The mouse performed excellently no matter what DPI stage I set; it was super responsive with no issues. Each panel also led to accurate inputs without any delay either.
Software
Razer's Synapse 3 is what you'll need to take full advantage of the Naga Pro along with up to 5 onboard profiles saved to the mouse. This can be switched via the Profile button on the base of the mouse.
Customize tab shows you which panel you have attached and lets you fully take advantage of the assignable buttons on the mouse and all the panels. Click the button on the mouse or the panel that you want to change, and you'll see options for remapping keyboard functions, launching Programs, shortcuts, and more.
The performance tab lets you enable or disable DPI stages and polling rate. The lighting tab allows you to change brightness when to turn LEDs off and change effects. The power tab lets you set sleep mode when idle and low-powered modes.
Finally, calibration lets you manually calibrate your surface, or you can enable smart tracking. Being able to change the tracking manually is absolutely excellent. It lets you customize your usage and exactly how you want to use it.
This lets you set the lift-off distance from one, two, or three millimeters. Asymmetric cutoff lets you set landing distance from one to three millimeters with a lift-off distance of two millimeters.
The Naga Pro vs Corsair Scimitar
I've mentioned the Corsair Scimitar Elite throughout this article. So, which one should you get? Remember, the Naga Pro is $150, whereas the Scimitar Elite is half the price at $80.
So make sure to check my review of Corsair Scimitar Elite first. The Scimitar is an excellent wired only mouse with an adjustable side panel that lets you place the number pad further forward or backward to aid comfort.
Check out my favorite mouse pads.
If you're on a tighter budget, get the Scimitar. If you're only after a dedicated MMO mouse, get the Scimitar. If you're like me, who has a separate mouse for FPS and MMO gaming, get the Naga Pro because it does everything you need for any gaming style.
If money is no issue and you prefer wireless or just want the best bet, 100% get the Naga Pro.
Conclusion
So, in conclusion, there's nothing really bad to say about the Naga Pro. As a Product, it ticks all the boxes of a high-end gaming mouse, and it really is your one-stop shop for whatever your gaming preference is, as neither of the panels feels like an afterthought.
As I mentioned earlier, lightweight mouse users won't be fans, but you will love it if you like a larger, heavier mouse.
It has an excellent build quality, great design, aesthetics, and superb performance across the board without any compromises.
My only disappointment is that it is insanely pricey and doesn't come with a Razer dock, but other than that, it is excellent, and Razer has won me back with the Naga Pro.