13 Best MMO Gaming Mouse for The Lead
A massively multiplayer online game, often referred to as MMO, demands several players, including hundreds or thousands, competing on a web server.
Players opt for an unconventional key binding setup, and in the meantime, adjusting to the side buttons. Well, in that case, the best MMO gaming mouse typically employ a wider array of controls and buttons and have designs that radically differ from traditional mice. These can be assigned to macros (i.e., for executing programs), especially those designed for real-time strategy games.
Ergonomic quality is a crucial factor, as extended gameplay times may render further use of mice to be exceptionally uncomfortable. Gaming manufacturers have brought in the ability to customize the weight of the mouse by adding and subtracting weight for handy control.
These mice have been designed to have adjustable features such as elongated palm, and horizontal thumb rests.
In this case, we've narrowed down some leading MMO gaming mouse for you, experimented under high-end raiding circumstances. We promise, whether you're a StarCraft of Dota2 player, this list of highest user-rating, best-seller gaming MMO mouse has you geared up!
We have categories these MMO gaming mice in three different price ranges so you can easily find a suitable mouse that fits your budget. The three price rages are under $50, under $100 and under $150.
Best MMO Gaming Mouse Under $50
1. Logitech G600 MMO Gaming Mouse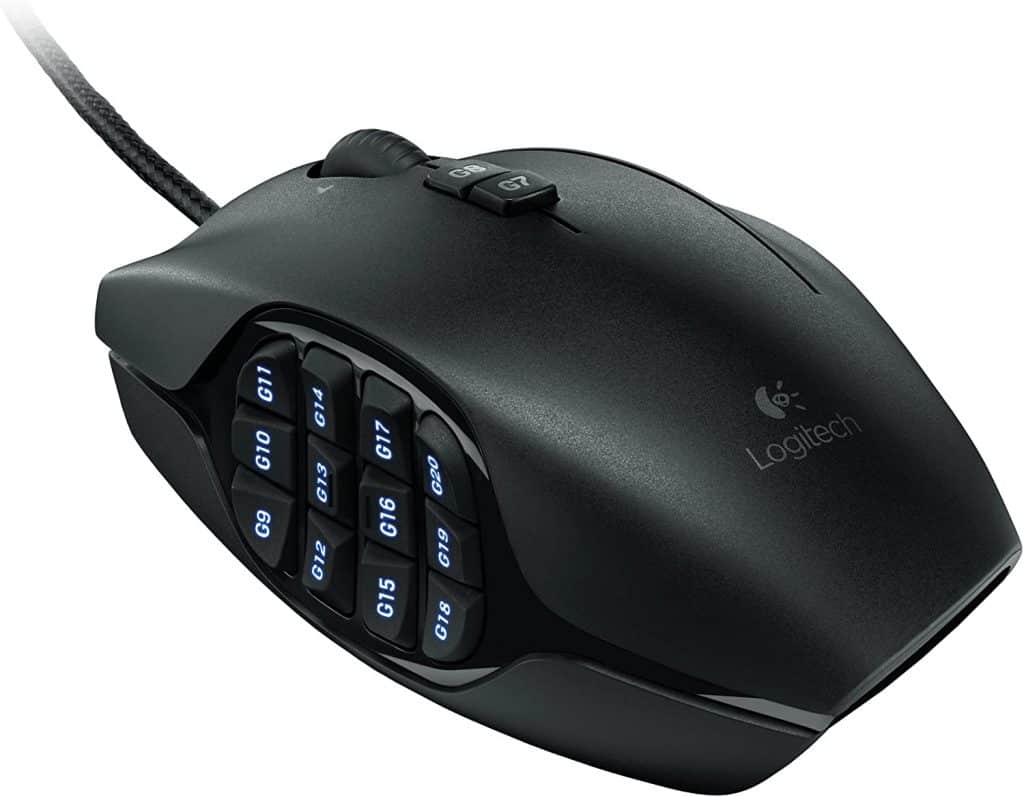 First up on the list, is the Logitech G600 MMO mouse that includes 20 MMO tuned buttons, and a quick-witted 12 button thumb-panel for no-look navigation. Logitech has provided the ability to customize your mouse relatively to other models. The low friction polytetrafluoroethylene feet eliminate friction, ensuring smooth motion and improved accuracy. The laser sensor can track up to 8,200 DPI should you find yourself of ability.
The best characteristic of the Logitech G600 is that the software does not have any necessity for MMO mouse information settings if you opt for playing on computers. The G600 features a few advantages over the competition, starting with an additional three buttons.
In addition to 12 buttons on the right side of the mouse, the left and right mouse buttons, and two additional buttons up top, the G600 sports an extra button that sits below your pinky. Perhaps, the best-noted feature of the Logitech G600 is the 'G-shift ring finger button' which gives the user access to add up actions you can perform with every button.
The fine whittled mouse and tuned buttons reduce click fatigue during multi-player sessions. If you're looking for a multi-functional gaming mouse, the Logitech G600 is a hard mouse to beat.
If you are into white colored mouse than good for you. It is also available in a beautiful white color.
| Key Specifications | |
| --- | --- |
| Brand | Logitech |
| DPI | Gaming-grade laser. 200 – 8200 DPI |
| RGB | Yes |
| Type | Wired |
| Buttons | 20 buttons |
Positive
Logitech G600 gives you access to multiple buttons and a separate interface.
It also features an easy and user-friendly customizable software for gaming use.
Negatives
Additional buttons can be difficult to reach overtime.

Ergonomically, the mouse can prove to be uncomfortable, thus, the user may have to face problems when resting palm over its surface.
2. UtechSmart Venus Gaming Mouse RGB Wired
Gear up for the ergonomic and sleek, sculpted gaming MMO mouse: UtechSmart Venus RGB Wired Gaming Mouse. The Venus MMO mouse is an adjustable weighted mouse with 12 angled buttons, which can be positioned slightly. These mice are available with durable TEFLON feet pad, to form your mouse to slip with smooth motion, and are also susceptible to bringing the last word gaming experience for users.
The mouse holds power for 16400 DPI, a polling rate of 100 Hz, acceleration rates of 30g, and a high precision Avago sensor categorizing it as the most dynamic mouse for interface and in price ranging. Venus MMO wired gaming mouse, with multiple programming buttons, and 5 LED RGB color modes, for quick identification of profiles.
Venus gaming mouse can map the 18 programmable mouse buttons (total 19 mouse buttons) and assign macros to match your game, allowing you to simply organize the key binding and character capabilities of any game to satisfy multiple needs. Then, the Special Setting Switch button, situated on the rock bottom of the Venus MMO mouse, allows you to execute switch profile command efficiently. Omron micro switches provide gripped firm clicks.
Talking forth about ergonomic design, the frosted painting surface is susceptible to reduce hand sweat and slippery. A 6ft braided- fibre cable with a gold-plated USB connector ensures smooth motion and maximum durability. While it's apparent that this is not a high-end mouse and that a few corners were cut to keep the price low, this mouse is easy to recommend to budget gamers. If you've been looking for a nice upgrade from a super-cheap mouse to something a bit more designed for gaming, you can't go wrong here.
| Key Specifications | |
| --- | --- |
| Brand | Utech |
| DPI | 5 Levels up to 16,000 |
| RGB | 16 M colors – Full customization |
| Connection | 2.4 Ghz |
| Type | Wireless – Rechargeable battery |
| Buttons | 16 Extra programmable buttons |
Positive
12 button grid is ideal for MMO gaming
Ergonomic designing impacts palm resting
Durable, affordable, entry-level pricing for high-end performance
Negatives
The finger rest needs to be polished to reduce rough edges
3. Redragon M908 Impact RGB LED MMO Mouse
Redragon M908 Impact RGB LED MMO Mouse features impeccable design and 12 programmable side buttons. The MMO mouse comes attached with a 6ft braided- fibre cable with a gold-plated USB connector, ensuring maximum durability. The Redragon MMO mouse handles up to adjustable 12,400 DPI, poll rates of 1000 Hz, and 30G acceleration, and high-precision Pixart, giving you a greater edge on the contrary.
The ergonomic structuring naturally fits under your palm, reducing stress with excellent efficiency. There are perpetual customization options, better adjusted for LED colors, weight adjustments, and user-friendly, comprehensive software.
The Redragon MMO mouse stores up to 5 memory profiles for LED light color for quick identification. Unlike other clunky and large-spaced mice, this MMO mouse can grasp a smooth grip, making it relatively comparable to other mice in general. If you're opting for a laser one, then you might want to play on with this!
| Key Specifications | |
| --- | --- |
| Brand | Redragon |
| DPI | 100 to 12400 |
| RGB | Yes |
| Connection | 2.4 Ghz |
| Type | Wired |
| Buttons | 19 Programmable Mouse Buttons |
Positive
The price and quality structuring might have you buy one
The Redragon M908 has efficient palm grip for any gameplay
Negatives
The software doesn't feature advanced adjustments. There is nothing special relatively compared to other mice.
4. Corsair Nightsword RGB
The Corsair Nightsword RGB is structured with a contoured and definite shape, with a high-performance rubber that perfectly grasps the grip of your palm. The Corsair Nightsword RGB mouse comes handy with ten programming buttons, giving the user access to fully adjust customize their gaming interface and the powerful in-game advantage of macros.
The Corsair Nightsword comes handy with a store of an 18,000 DPI optical sensor, ensuring accurate tracking, sensitivity, and customization. The Corsair Nightsword MMO mouse offers different weight and balance configurations for a calibrated game interface. The Corsair special 'key slider system' gives users access to position the buttons and lock them at a place. There are 12 side buttons situated mainly to be programmed with the custom macros, and DPI matrices.
The most specific issue with these mice is that the large and clunky positioning of the buttons does not quite fit ergonomically. Therefore, quit using the traditional mice as this Corsair Nightsword might move as a durable MMO mouse.
| Key Specifications | |
| --- | --- |
| Brand | Corsair |
| DPI | 18000 DPI |
| RGB | Yes |
| Type | Wired |
| Buttons | 10 fully programmable buttons |
Positive
The Corsair 'key slider system' is definitely perfect in-gaming experiences
16,000 DPI sensors ensure maximum efficiency
Negatives
 The software might turn up as complication to program for beginners
The button positioning is compact and might result in uncomfortable palm and thumb rests.
Best MMO Gaming Mouse under $100
1. Razer Naga Trinity Gaming Mouse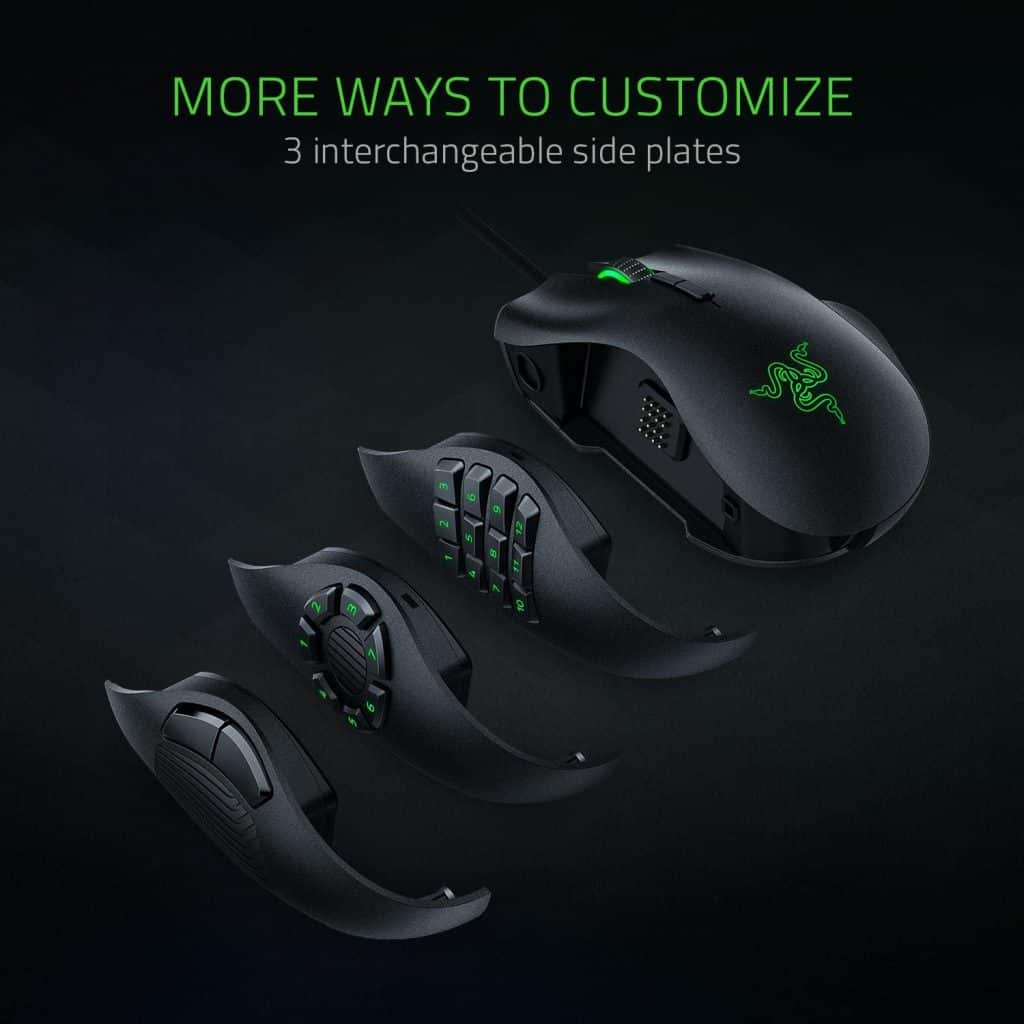 Razer Naga Trinity, a classic mouse that has it all. This gaming MMO mouse comes in with 12 side button configurations and sums up 19 programmable buttons in all. Just like any other mouse, this is a power-packed MMO mouse, supporting 16.8 million color combinations. The ridged scroll wheel ensures maximum accuracy. Besides, the Razer Naga Trinity MMO mouse allows button remapping and assignment of macros, through the Razer Synapse.
The Razer Naga Trinity MMO gaming mouse had always been clunky for a fit. But the new design features a one-fit-for-all design, which makes it a perfectly ergonomic and sleek structured MMO mouse. Thankfully, the Razer Naga Trinity MMO mouse is backed up for a 2-year warranty, ensuring complete durability, efficiency, and controlled strolling in high-stakes gaming experiences.
Razer has brought in the latest advancements to this classic: the 'Trinity side plates,' which enable the users to select between three layouts for a smooth interface: the regular Naga MMO layout, a rounded eight-button layout, and a standard two-button layout. Users can change as to their taste. This mouse is perfect for people who find complications while playing when the MMO layout grudges over the top.
The mouse can be personalized with different color profiles, and also features in-device synchronization. This mouse can be a great fix if you go out for your mouse appearance!
| Key Specifications | |
| --- | --- |
| Brand | Razer |
| DPI | 16,000 |
| RGB | Chroma RGB lightning |
| Type | Wired |
| Buttons | Interchangeable Side Plate w/ 2, 7, 12 Button Configurations |
Positive
The Razer Naga Trinity has options for customizable side panels.
The MMO features a wide array of 16.8 million colour options to choose from!
Negatives
The Razer Naga Trinity does not feature adjustable, weight, height, or balance.
2. HyperX Pulsefire Raid – MMO Gaming Mouse
The HyperX Pulsefire Raid MMO mouse is equipped with spectacular characteristics; a light-weight, balanced, and a Pixart 3389 sensor, ensuring maximum, durability, precision and efficiency, this mouse is simply classic.
The HyperX Pulsefire Raid is structured with 11 programming buttons, ergonomic designing; thankfully, this FPS-styled mouse certainly delivers premium functionality at a pretty cool price. The MMO mouse supports a standard right-handed shape, and a little hump for thumb resting, guided by standard rubber for your pinky ease. Ahead of where your thumb should be positioned, is a 'sniper' macro, which apparently doesn't drop to the default DPI, but again is a customizable input. The MMO mouse supports customizable RGB lighting.
Alas, the HyperX Pulsefire is pretty ergonomic and might be fit to work alongside users who wish for new additions in the MMO mouse, but still, the clunky shape might result in discomfort.
| Key Specifications | |
| --- | --- |
| Brand | HyperX |
| DPI | 16,000 DPI, speeds up to 450 IPS, and accelerations up to 50G |
| RGB | Customizable RGB lighting |
| Type | Wired |
| Buttons | 11 Programmable Buttons |
Positive
The HyperX Pulsefire Raid definitely has 11 programming buttons, ensuring complete efficiency
Wheel-tilting inputs
Strong and good value
Negatives
Apparently, the 'sniper' is out of reach, and it may take some time to get adjusted to it
The two macro sets may result as a complication in smooth user-interface
3. Logitech G604 Lightspeed Wireless Gaming
The Logitech G604 Lightspeed Wireless MMO mouse has a whopping 15 programming buttons- with 6 side thumb buttons, completely equipped with the G-hub software. Besides, this MMO features a Hero 16k sensor, ensuring accurate tracking, and a durable, metal scroll wheel which enables the user to switch modes in hyper-fast.
Thankfully, the programmable scrolling enables users to apply key binds. Although it is packed with some pretty cool features, its oddly humped body shape headlines issues that keep the Logitech G604 away from MMO stardom.
The top panel has two buttons, below the scroll wheel, practically for switching between wireless mode or pairing Bluetooth. Then the side buttons, the star of the show. There are 6 macro buttons, tightly clustered into two rows of three.
Practically, the gaming configuration software has played a significant part. This MMO mouse's setting can be reconfigured easily, including DPI, macros, and various assigning buttons.
| Key Specifications | |
| --- | --- |
| Brand | Logitech |
| DPI | 100-16,000 dpi |
| RGB | No |
| Type | Wireless – 1 AA battery |
| Buttons | 15 Customizable buttons |
Positive
The Logitech G604 Lightspeed wireless MMO mouse is offering a plethora of buttons, including scroll- wheel tilt inputs.
The price is decent for a wireless mouse
Impressive Hero 16K sensor
Negatives
The Logitech G604 Lightspeed wireless MMO mouse is powered by AA battery
The base panels are slippery
The high shape results in discomfort and unease
4. SteelSeries Rival 500 MMO 15-Button Gaming Mouse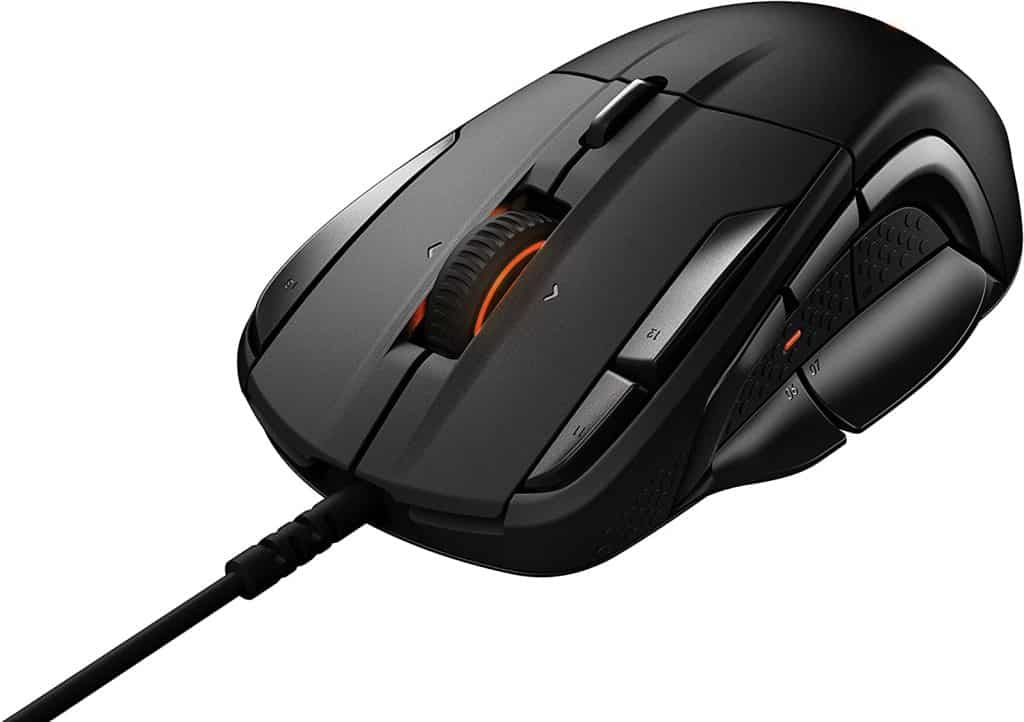 The SteelSeries Rival 500 MMO mouse is equipped with fully customizable, 15 programming buttons, and a 16,000 CPI sensor, ensuring complete precision and accuracy. As users say, the SteelSeries Rival 500 MMO is wide but very comfortable. The matte surface makes it sleek and an intuitive design. Your fingers can rest within reach of all 15 buttons, and your palm can rest above the MMO mouse surface.
Users can easily set up various profiles for a smooth interface, remap the programming buttons, and bring changes to the DPI through the Steel Engine software. All in all, the Steel series features a superb button layout.
The MMO mouse is comfortable for users with varying grip types, but it seems harder to get along with it. There is a lock feature for your thumb to rest on, even when you've stopped playing.
| Key Specifications | |
| --- | --- |
| Brand | SteelSeries |
| DPI | up to 16,000 CPI |
| RGB | 2 RGB Zone |
| Connection | 2.4 Ghz |
| Type | Wired |
| Buttons | 15 Customizable buttons |
Positive
The SteelSeries Rival MMO mouse has some cool thumb features.
Negatives
Users face complications in getting used to it
Best MMO Gaming Mouse Under $150
1. Corsair Scimitar Pro RGB – MMO Gaming Mouse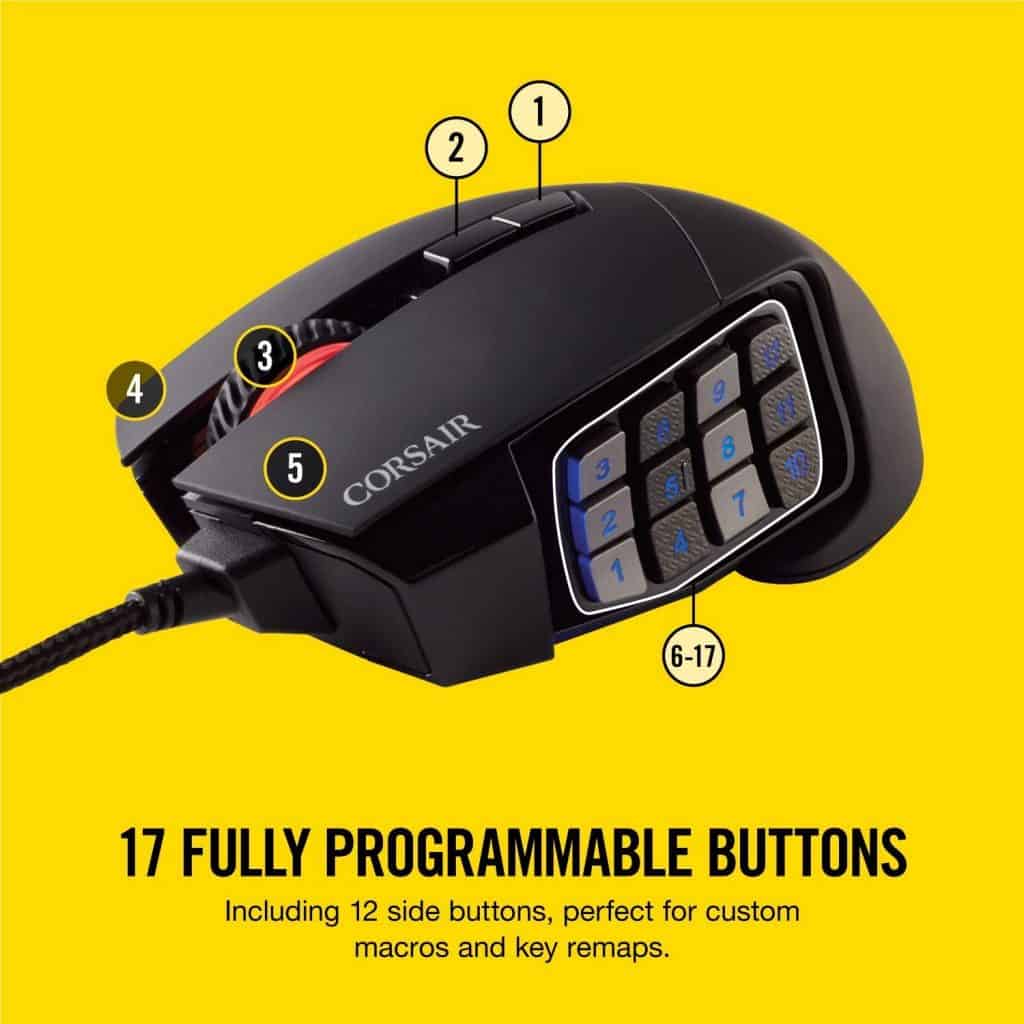 The Corsair Scimitar Pro MMO gaming mouse comes equipped with 17 fully programmable buttons, and efficiently executes macros. The MMO mouse features a key slider that allows you to reposition the 12 side buttons according to your grip ease. The Corsair Scimitar Pro comes handy with a store of an 18,000 DPI optical sensor- for accurate tracking and efficient, customizable tracking. It's not only a fast MMO mouse but accurate and durable; it is also backed by Corsair's iCUE software, which makes things even better.
The Corsair Scimitar is purchased along with a pentagonal-tip screw-driver, allowing you to loosen or retighten the button-block. Unfortunately, users have narrowed down some issues that show up while you're making use of it. Nothing can be done about the vertical-positioned 12 button grid, especially of the lower buttons, which tend to make things complicated during gameplays.
Talking about the surface grip, the ridged texture doesn't feel coarse, but it does a reasonable job of providing potent grip, while you concentrate on your macros.
| Key Specifications | |
| --- | --- |
| Brand | Corsair |
| DPI | 16,000 DPI |
| RGB | Yes |
| Type | Wired |
| Buttons | 12 programmable buttons |
Positive
The Corsair Scimitar Pro comes loaded with 17 programmable buttons.
Fine ergonomic design choice
2. Swiftpoint Z Gaming Mouse
Right off the mark, the Swiftpoint Z MMO mouse starts to score points for ergonomic designing and structuring. The left mouse button is raised above the right, which practically shows how the right-hand arches at rest. Then, there is a bulge, mainly provided to cushion your palm. Fully customizable, with at least three pressure buttons, ready to detect how hard you click. Another fantastic feature is that the mouse provides feedback, so you know every time how deep you've clicked.
The Swiftpoint Z comes configured with the default setting tuned to 1,500 DPI; however, you can adjust the settings according to your taste. Then, the OLED also has multiple options for getting information up. Easy and user-friendly, programmable software can be used to create game profiles.
Besides, there are several cool features in the Swiftpoint Z MMO mouse: users are provided with joystick control over gaming experiences. You can easily access multiple programs without using your fingers, thanks to the unique button positioning. The optical sensor, Pixart 3360, gave its reputation for excellence, precision, and accurate tracking.
This MMO mouse is sure durable, and be kept to gaming: you possibly can't deny it!
| Key Specifications | |
| --- | --- |
| Brand | Swiftpoint |
| DPI | 12,000 DPI |
| RGB | OLED RGB |
| Type | Wired |
| Buttons | 13 Programmable Buttons |
Positive
The Swiftpoint Z MMO mouse is ergonomically designed, with a top-notch optical sensor and multi-functional buttons
Easily customizable, with adjustable tilt feet and button caps
The Swiftpoint Z MMO mouse provides flight stick extenders as well
Negatives
Designed for the right-hand only
Extremely high-priced
3. ASUS RGB Laser Gaming Mouse – ROG Spatha
The Asus ROG Spatha RGB MMO mouse is structured with a wide array of quality materials, ensuring complete precision and accuracy. It comes fully-loaded with twelve programmable buttons, a two-level DPI switcher, and six hot-keys. With the fantastic angular structuring, you can get hold of the grips with ease. The ROG Spatha has three lighting zones, one positioned in the side buttons, the scroll wheel, and the logo.
The Asus ROG Spatha features an in-built flash memory fully customizable so that you can store multiple profiles. The mouse comes with left and right button switches that are for light-touches essentially rated for twitchy gameplay. On the other side of the coin, the mouse also comes with heavier switches made for more controlled movements. Complete with an 8,200 DPI Laser Sensor and 20 million Omron switches- the performance is top-notch!
The ergonomic design is bound to provide ultimate comfort and a comfortable grip. With 12 programmable buttons, the layout can be complicated to get used to. However, the button layout is easy to tell apart from one another, which is pretty cool. It comes with an option to switch between wireless and wired modes.
| Key Specifications | |
| --- | --- |
| Brand | Logitech |
| DPI | 8200 DPI Laser Sensor |
| RGB | Yes |
| Type | Wireless |
| Buttons | 12 programmable buttons |
Positive
Excellent build-up features
Great for large hands
Can be attached to a USB cable when you want
Negatives
High-priced
The Asus ROG Spatha MMO mouse does not feature adjustments for weight and balance
4. ROCCAT LEADR – Wireless Multi-Button RGB Gaming Mouse
The Roccat Leadr RGB MMO mouse has a pitch-black matte surface, with 14 programmable buttons. The braided USB cable, which comes with the mouse, is pretty flexible and durable; but, removing it is a chore involving a lengthy period of wiggling and pulling the cord back and forth. With a Pixart 3361 optical sensor with five DPI settings, this Roccat Leadr ensures complete, accurate tracking and precision.
A wide variety of prefigured macros can be accessed for 48 games and applications, such as Skyrim and Firefox. Otherwise, you have to make your own. Some options include selecting a fixed rather than variable delay for recorded entries, repeating macros X times, and inserting very simple mouse events (such as left-click) between entries. However, you can't launch profiles or applications within macros, pause macros until some condition is met, or create macros that have one effect when a button is pressed and another when it's released—all possibilities in CUE2.
The Roccat Leadr RGB MMO mouse comes with Omron D2FC-F-7N switches.
| Key Specifications | |
| --- | --- |
| Brand | ASUS |
| DPI | 12,000 DPI |
| RGB | Two level RGB |
| Type | Wireless |
| Buttons | 14 programmable buttons |
Positive
14 configurable, programmable buttons
Brilliant choice of button functioning, charges in two hours
Negatives
The Roccat Leader RGB MMO mouse does not feature side grips
Best suitable for the right hand only
Has a store of five profiles only
5. Logitech G502 LIGHTSPEED Wireless Gaming Mouse
Last, but certainly not least, the Logitech G502 Lightspeed RGB MMO mouse. Apparently, Logitech wants you to go all wireless. The new Logitech G502 Lightspeed MMO mouse comes with a cord-free controller. It's an 11-button right-hander, sturdy in matte and shiny shades of black plastic.
From the top-down, there are two primary buttons and a clickable scroll wheel with two buttons below it; one is a macro button, the other is mechanical, allowing you to choose between incremental and "endless" scroll-wheel feel. It offers a precise sensor of 16,000 DPI and 11 fully customizable and programmable buttons for ultimate gaming experiences.
Its slope is a little low for a right-handed device but compensates for it with a sizeable thumb-rest wing, which catches your hand and keeps it steady in a comfortable position. The Logitech G502 Lightspeed MMO mouse offers six weights, allowing you to add up to 16 grams of ballast in a few different configurations to alter the feel.
Thankfully, the Logitech G502 Lightspeed RGB MMO mouse offers up to 6 adjustable weights for personalized balancing. All in all, it is definitely the right-handed mouse you'll have to use for now.
| Key Specifications | |
| --- | --- |
| Brand | Logitech |
| DPI | 16,000 DPI |
| RGB | Lightsync RGB technology |
| Type | Wireless |
| Buttons | 11 programmable buttons |
Positive
Extended and great battery life
Best MMO Gaming Mouse Buyer's Guide
How to choose the best MMO gaming Mouse?
Sensor:
The sensor practically is the most important component of an ultimate gaming experience. There is no difference between 'optical' and 'laser' sensors, but of the technology gaming manufacturers use to set lighting.
DPI:
Dots-per-inch (DPI) is the foremost characteristic you should look for when choosing the perfect MMO mouse for yourself. The fact of the matter is that you simply got to find the proper DPI for you also as whatever game you're playing. Many mice today accompany extremely high DPIs, which is sort of extreme, seeing as most gamers do exactly fine with mid-range DPIs.
When it involves DPIs, another key feature is what surface you're using the mouse on and which mouse pad you've got. Both of those can certainly affect the performance of any mouse, so it's going to take a short time for you to seek out for the proper DPI for you and your gaming setup.
Grip Style:
Gearing up for an MMO mouse congenial to your hand grip and ease: figuring out your grip type helps you choose the right MMO gaming mouse for ultimate gaming experiences. Many people have a 'palm grip' meaning the entire palm grasps the mouse. Many people grip their mouse like a sort of a claw, which is peculiar because the fingers tend to arch up.
Another grip type might be classified as a fingertip grip, and at times, it becomes hard to get used to it because it means using the ideas of your fingers to maneuver the mouse at high sensitivities. All in all, you would like to fiddle together with your current mouse and determine your grip type before replacing it.
Button Position:
Button positioning is one of the fundamentals of enjoying gameplay to the utmost comfort. You should be able to use the mouse without sneaking a look at the mouse. People use their thumbs to click, resulting in deeper clicks and a new wide-spaced MMO mouse, while others can get along with pressing buttons using fingertips. You may also want to work out if the tactile distinction between the buttons is perfect for you. Some people can easily determine where one button ends and another begins; however, some people might not and will need a mouse to better distinguish between buttons.
Long-term Quality:
You might want to opt for a mouse that turns up to your expectations: last long without decreasing in performance. That said, just because a mouse is heavier does not mean it is sturdier and will last longer. Before making a purchase, hold the MMO mouse and test it out if possible.
Macros and Software:
It should go without saying, but an MMO mouse shouldn't be hard to program and handle. Thorough macros should be easy to make and use, so confirm you're buying one that has the macros abilities you would like. As far as software goes, make sure the MMO mouse you're buying has all of the sport profiles you're in need of. Mouse that can switch profiles or characters with an easy press of a button are great, but not all of them have these capabilities. The configuration software should even be clean and straightforward to use. Even the simplest gamers can struggle to fix fancy new mouse, so don't be afraid to flick through the manual.
Frequently Asked Questions:
What is an MMO gaming mouse?
MMO gaming mice are specifically designed for use in games. They typically employ a wider array of controls and buttons and have designs that differ radically from traditional mice.
How can we play an MMO with a gaming mouse?
Here's how to get hold of controllers during gameplays: ESDF for movement, AQWRTGVCXZ bound to abilities 1-10 on the hot bar (throw in Y and B if there are 12 slots). The second hot bar is Alt+the same hotkeys. The mouse is just for movement/camera and targeting.
How do we change DPI on a gaming mouse?
Changing DPI means you'll directly change the speed of the pointer to do particular tasks like photo editing or gaming efficiently. Some mouse models accompany separate buttons which will assist you to instantly change the DPI of the mouse. If you would like to vary the sensitivity of a mouse, then you ought to search for an option within the software or the sport you're using.
If the mouse features a dedicated DPI button, press it to change the DPI to the mentioned levels.
Is getting an MMO mouse worth it?
Yes, and no, it really depends on the player. If you're keen on maxing out your performance and luxuriate in playing complex playstyles that need a lot of macro-management, then it certainly is worthwhile. Since you'll maximize your potential with one among these mice. However, if you would like one 'because you play an MMO,' then the answers are probably no. Many individuals purchase it only because it has the MMO label thereon, and it's the genre they play. But ask yourself first, would you be ready to get an honest deal of use out of the additional buttons?