6 Best Gaming Gloves for Gamers
Back in early 2000, when Mario Party was first released for the N64, I remember an afternoon spent going head to head against my little brother, trying our best to win every mini-game.
Some of them required you to button mash, while others had you sit there and constantly spin the control stick over and over in a clockwise direction. Little did we know, we were spinning it so fast that by the time it was all said and done, we both had blisters on our palms for the next week or so.
If you are one of those who never had to experience one of those, consider yourself lucky. You never truly realize how much you use your hand every day. At least not until a 64 controller places hot coal directly in the center of it, reminding you it's there every time you move.
That was back in the dark ages, and lucky for us, technology has come a long way when it comes to gaming. Gamer Gloves, for example. These tight-fitting compression gloves allow ventilating air to flow through the fibers giving you both cool and warm temperatures. An added layer of protection without taking away any dexterity to annihilate your kid brother in a game of Mario Party is excellent.
There's a ton of different choices when it comes to Gamer Gloves, and we're here to help you decide which one is right for you with a top 6 list of the best gloves available.
Also Read: Gaming Desk Accessories
Best Overall – Ironclad Console Gaming Gloves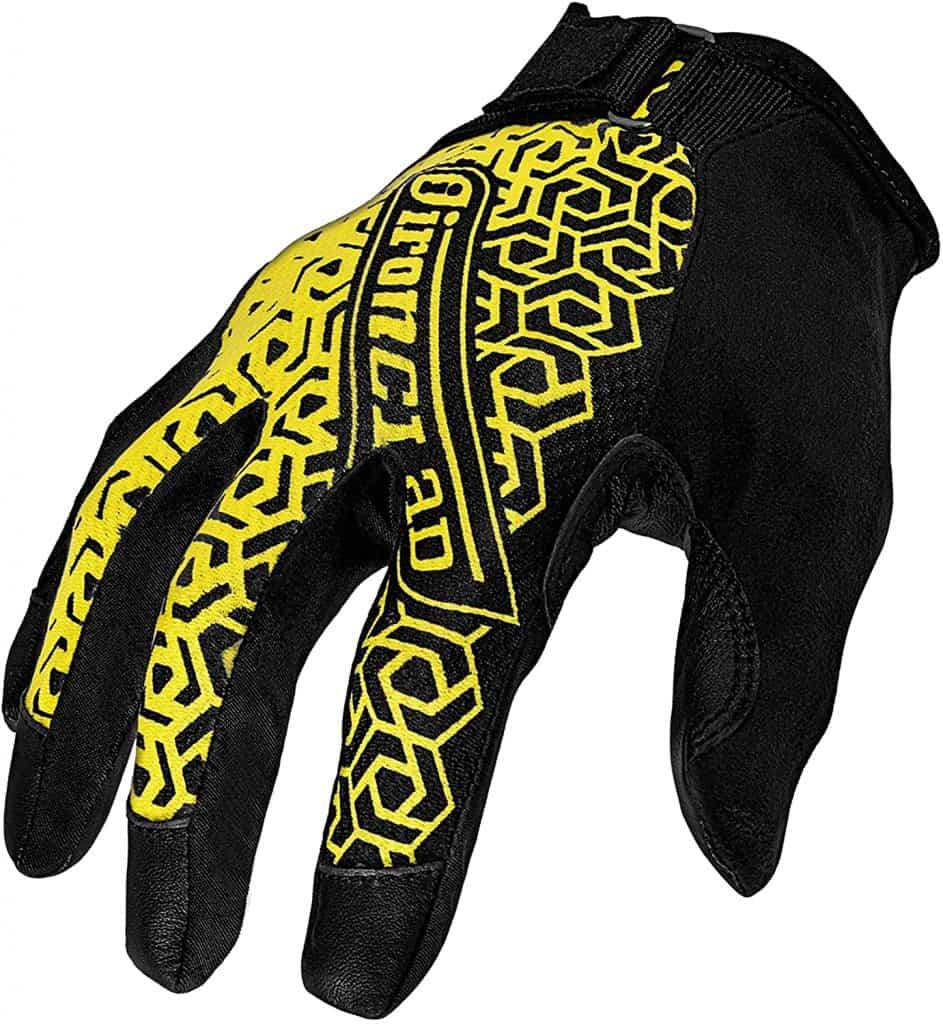 Living true to its name, the Ironclad Console Gaming gloves are on a whole other level when it comes to durability, almost enough to wonder, "is it really ironclad?.."
Okay, maybe not that tough. But pretty close, nonetheless. These bad boys are made with Precision Fit & Fingertips with a performance grip that keeps the controller secure and slip-free while you button mash to your heart's content.
The contoured pattern design lets you stay comfortable for hours, and in your downtime, their touchscreen compatibility allows you to brag about your winning streak to the world without having to take the gloves off.
Add some very breathable and moisture-wicking fabric to the mix to round things out, and you've got yourself one magnificent pair of gamer gloves.
As time passes, I see these being worn by more and more professionals and noobs alike. The Ironclad Console Gaming Gloves have rightfully earned the top spot on our list for an excellent mixture of gaming glove essentials, and if you're in the market for a new pair of gloves, then you may want to start with a pair of these. I highly doubt you'll be disappointed.
Best Fingerless Anti Sweat – Americ Empire Pro
When it comes to gaming and life in general, some of us can breeze right on through every difficult task without ever breaking a sweat, and then there are those of us who do the exact opposite and somehow sweat profusely before they've even had a chance to fire that first Red Shell.
Once you've sweat a little, suddenly it's hard to hit the right buttons when you need to, and the right breeze or slight twitch can send the controller flying out of your hand and into the abyss.
Okay, so that might've been a bit dramatic, but I think you get the point I was trying to get across. Sweating's no fun, and it can definitely damage your ability to perform. Luckily the Americ Empire Pro Gaming Gloves are here to save the day.
Featuring a triple-layer moisture-wicking fabric that eliminates slippage on even the sweatiest pals, an isometric rubber grip array to keep you from slipping with either joystick and an advanced fingerless design, meaning only your thumbs and index finger are left uncovered, allowing you maximum touch sensitivity while you game.
The hand compression also helps prevent carpal tunnel, which you see more and more every day in young and old gamers alike. Take it from a fellow carpal tunneler; do yourself a favor and take care of carpal tunnel before it becomes a severe and complicating problem down the road.
We're only given two hands, so be sure and keep their HP up whenever possible.
Best Glove for Arthritis – Comfy Brace Fingerless Compression
These gloves were a bit of a shocker for me. They advertise that the gloves can give you an instant hand and joint pain relief, but me being the pessimist, I seriously doubted it could be true.
I spent a few years boxing when I was younger, which did some damage to a few of my knuckles, which still bothers me on a daily basis. Couple that with the carpal tunnel symptoms that come from typing 2,500 characters an article, and you've got a pretty constant ache in my hands that I can promise you isn't very fun.
So far, the only relief I've found has been in the ointments, which usually have that menthol smell that takes ages to go away, or they leave a greasy residue on my keyboard. It's got way too much work ahead of it, so that's definitely a no Bueno.
I finally broke down and bought a pair of these, and right up until the moment I put them on, I'm sure I kept a constant "yeah, right" kind of look on my face. But they proved me wrong. Just a few minutes after putting them on, I noticed it wasn't as hard to close my fist.
A few minutes later, it started to help with the pain a little bit. Granted, these aren't prescriptions or anything, so don't expect a miracle cure.
That being said, just having a little more dexterity in my fingers throughout the day was and still is a massive deal to me, and also the reason why when I sit down to do my work each night, I'm wearing a pair of Comfy Brace Fingerless Gloves.
But that's just me. There's no telling what different effects, if anything like this, impact one person to the next. I just wanted to share my experiences, hoping it might help someone else, too. For those, it doesn't help? They offer a hassle-free lifetime warranty on each pair. Easy enough, right?
Best Glove for Carpal Tunnel – Copper Compression
For those of you lucky enough not to know how it feels for your carpal to kick in, be thankful. Your hands go from full mobility to moving like gears with no oil on them, basically making them lock up at random times and ache like crazy.
Many people who can't manage the symptoms end up either wearing a brace or getting surgery to try and repair it, so it's not something to hope for in your future. Not only does it cause all that discomfort, but they don't offer much to help alleviate the symptoms aside from pain killers, and that's not a route anyone needs to travel down unless necessary.
Luckily, Copper Compression came up with these and from personal experience and the different reviews available online, I can tell you that they're very good at what they do.
The entire Copper Compression line features some of the highest copper content available nowadays. Not only that, but instead of just spraying it on there and taking the easy way out, they actually infuse it into the nylon fibers. That copper-infused nylon makes up for 85% of the product, so they definitely did not cut any corners during production.
One great feature is that you can wash these repeatedly, and they won't lose any strength or quality. They're made to last, and the very few that don't due to whatever error happened to them along the way also come with a 100% happiness guarantee. Meaning, you get a full refund with no questions asked.
Best Gloves for Mobile Gaming with Cold Hands – Avon High-Sensitive
In the past few years, mobile gaming has really took off and captivated quite a large audience thanks to its huge selection of games and relatively easy access thanks to it being on the same phone you carry on you every day.
You've got RPGs, MMORPGs, Action games, shooters, clicker games, and a ton more to choose from. But if you're anything like me, they can be a bit uncomfortable to play.
I'm 6'1 and have pretty big hands, so it tends to feel a bit awkward, and the majority of the gloves I've tried didn't have the touch screen response I needed.
Most of them usually required an extra tap, and as we all know, most games aren't so forgiving, and that extra tap tends to mean a game over and a very irritated consumer.
Avon High-Sensitive Gloves were one of the first gloves I tried that actually gave me the response I needed to play some of the faster games like PUBG or Mario Kart. They fit your hand just snug enough to help without taking away any dexterity or movement, meaning you're playing you're A-game from start to finish.
These gaming gloves are comprised of silver fiber, spandex and nylon mixture that believe it or not, are some of the most breathable fabrics on the market. The Dot Silica Gel Palm non-slip Design keeps the phone from slipping out of your hand while also making sure it's still superconductive and susceptible, so no more missed button presses.
Anti-slip, Anti-fingerprint, and oil-proof design are complimented very well by the thin, soft, high elasticity fabric. Definitely, one I recommend to anyone in the mobile gaming community.
Best Thumb Sleeve – IUGGAN Thumb Sleeve
For those of you mobile gamers out there that just can't stand wearing gloves while you get your game on, there is an alternative. The IUGGAN Mobile Thumb Sleeve is a powerful piece of gamer engineering that comes in a teeny tiny thumb-sized package, allowing the rest of those fingers and knuckles the ability to breathe better. It allows better movements and prevents aches in the thumbs.
It may come as a bit of a shock to some, given the size of this thing, but it's actually packed full of different features. The finger sleeve itself is ultra-high sensitivity all over. Each part of it not only reduces friction on the screens but also restores your movements with a no mistake, no slide, no BS design.
The fabric is incredibly thin as well, making your well-protected thumb resemble the naked fingertip as much as possible. No blocking the screen, no sweating all over it and no fingerprints either. Couple that with a non-slip, anti-drop and oil-proof conductive fiber/spandex construction, and you've got yourself a wonderful accessory to add to your inventory.
Conclusion
Believe me, sweating sucks. Carpal Tunnel doesn't make things any better either. In all my years spent operating a Dualshock controller, Xbox controller, phone or keyboard, the word "arthritis" never once brought anything but painful thoughts to mind, and I think we can all agree it's best avoided.
Just about all of these gloves listed are relatively cheap, and In my personal opinion, a tiny drop in the bucket when you factor in just how much pain they could save you from later in life.
Please don't wait until something's broken to try and fix it. Instead, opt-in for some preventive maintenance and save yourself the stress down the road. You've only got two hands, ladies and gentlemen.
Don't think that protecting your health will hurt your ability either. These are made of top-tier material and designed by professionals, meaning the biggest majority of people won't lose any dexterity using them. Each individual has their own quirks and preferences, so ask yourself a few questions before you buy.
"Should I get a whole glove?"
"A fingerless glove?"
"Just the thumb sleeves?"
"Do they ache enough to make this kind the smart choice?"
"Or am I good to go the other route?"
In the end, the choice is yours. I just hope my brothers in arms get to enjoy whatever decision they end up making. Gaming can be a passion or a lifestyle, and either one is something you shouldn't have to give up early over things you could've avoided,
That being said, get your game on with a new pair of gloves like the six we've listed here today, and maybe then you can finally get into it again without having to worry about aching hands or sweat-covered controllers.
Hopefully, the ones we've listed here today can aid you in your search just a bit and give you that much more time to perfect your slip-free joystick skills so that you can beat your little brother "Pher" at every mini-game sweat and blister-free.