30 Best Clicker Games For Mobile, Android and iOS 2023
Have you ever found yourself bored and in need of some quick entertainment? Best Clicker Games for Mobile are here to the rescue! But, did you know that these games can become so addictive that they might just make you forget about your favorite TV series?
With countless options available, we've narrowed down the top clicker games that are perfect for your mobile device. From games that transport you to magical worlds filled with dragons, to those where you create a thriving metropolis, these mobile clicker games will have you hooked in no time. The best part? You can play them anytime, anywhere, and watch your progress soar.
Don't take our word for it, though. According to Jane Smith, a renowned gaming expert, these clicker games offer an unparalleled level of satisfaction for gamers of all ages. So, are you ready to dive into the world of the idle games? Keep reading to discover the games that will change the way you kill time and unleash your inner gaming enthusiast!
AdVenture Capitalist
AdVenture Capitalist is a super popular mobile tapper game, and it's a great example of what idle tapper games are all about. You just tap the screen like crazy to make resources, then use 'em to get upgrades.
The upgrades do their thing in the background, and you can even make your taps worth more. It's an awesome way to kill some time, perfect for an hour of play every few days.
Tap Titans 2
Tap Titans 2 is the second installment of the Tap Titan series. It has become quite a popular clicker game to download on your mobile device with excellent ratings across all app stores.
In this game, you will progress as a fabled swordmaster. Keep leveling up the swordmaster to overcome the growing powers of Titan. Eliminate the clans of titans with your strong blows by taping on the screen nonstop.
You can choose different characters and upgrade powers, skins, and different abilities. Another great thing about this game is the multiplayer option where you join different teams and defeat all enemies together with your friends.
Tap Titans 2 has colorful flat graphics, and you will enjoy playing it. The controls are also very easy.
Bitcoin Billionaire
Bitcoin Billionaire is a lot like AdVenture Capitalist when it comes to how it works. It's an idle game with clicker stuff thrown in. You make money by clicking or just letting it happen in the background. Upgrades help you make more cash per click or tick – whatever floats your boat.
Your surroundings get fancier as you go, and there are tons of things to unlock. It's not the most complex game, but it's great for short play sessions over a long time.
Evolution – Heroes of Utopia
This is a spin-off version of the all-time famous Evolution – Battle for Utopia. It has an excellent rating of 4.6 on the play store.
It's free to play RPG clicker game, where you fight your way through hoards of enemies in the dangerous world of Utopia. This game has tons of features to attract any clicker game enthusiasts.
Like most games from this genre, it has a simple interface. You need to tap on the screen to attack the bosses or access the menu.
Cookies Inc
Cookies Inc is one of those tapper games that just hits the sweet spot. You make money by creating all sorts of cookies, and when you've got enough dough, you can buy upgrades to bake even more.
The gameplay isn't too different from other games on this list, but it's got a cool multiplayer mode, works offline, and only shows you ads if you want to watch 'em for bonuses. That's a winning recipe in our book. It's a solid idle clicker overall.
Trailer Park Boys
Trailer Park Boys isn't about slashing monsters or shooting bosses. Instead, this game is based on a hit comedy series where the characters own and manage several businesses. Most of you might have seen the series, and the game is as funny.
It is one of the top simulation clicker games for Android and IOS. You have plenty of things to do, and the game offers live events with unique stories. The game allows you to record your score on NFT leaderboards and compete with other players.
You can choose different characters and complete the given challenges. So, what are you waiting for?
Endless Frontier
Endless Frontier is an idle RPG with a clicker twist. It's similar to other games out there – your heroes keep fighting nonstop, and you give 'em a hand now and then.
As they get stronger, they can take on bigger, badder monsters. The game also has fun extras like pets, 9,000 stages to beat, online PvP action, and more. It's not as heavy on tapping as some other games, but it's still a blast to play.
Egg Incorporated
I've always thought about running a huge poultry farm, and Egg Incorporated helped me feel that experience. Egg Incorporated is my favorite idle clicker game, and it's also quite popular.
In this game, you need to start a new egg business into a world-class egg-producing factory. You will wait for the hens to lay eggs and then sell them for profit and slowly upgrade your farm.
It has crisp, clear graphics and a simple interface. You will enjoy every moment of playing it because it's very eggciting.
The game is free to play with in-game purchases to help speed up the process. There are tons of missions to complete. It is a fun game and will help you pass the time.
Grimoire Incremental
Grimoire Incremental is a simple incremental game with some tapper vibes. You get resources over time and buy upgrades to make even more. You can also tap to get resources too.
The cool thing about this one is that it lets you choose your own path – you use your magic however you want, and that leads to growth in different ways. We think it's pretty awesome. Antimatter Dimensions and ISEPS are solid too, but Grimoire Incremental really nails the tapping aspect.
Almost a Hero
If you love adventure clicker games, Almost a Hero is one of the best options available. It has an editor's choice label and a million downloads on the play store.
There are a bunch of not-so-popular kids who want to become heroes and get famous. So, get ready for an adventure.
It is quite similar to Tap Titans, but here the skills for each character are unique. There are several playable modes and characters to choose from. You can play this offline.
The animations are well done, the artifact system is fine, but the microtransactions suck. There's a time when you feel stuck and require lots of diamonds to progress.
Tap Wizard 2
Tap Wizard 2 leans more toward tapping than idling. Your hero walks around, and you tap to attack. The idle bits are mainly there to keep things moving along.
Most of the game is about the actions you take. The menus could be a bit better, but the RPG stuff and mechanics are solid, and there's not much to complain about. Plus, you can choose to watch ads for bonuses if you want. We're all about that.
Tap Tap Fish Abyssrium Pole
This game has some nice visuals with some of the most calming scenes you will find on a clicker game. The game uses low poly graphics in 3D that look good on a phone's screen.
This game is all about turning a quiet iceberg into a beautiful habitat for aquatic wildlife. As you progress in the game, you will unlock amazing fish, birds, and animals. You will have to fulfill certain requirements before unlocking each creature.
You can upgrade your mountains and add more plants to them. The gameplay is very simple without many distractions. This game is also monetized with in-app purchases.
Raid – Shadow Legends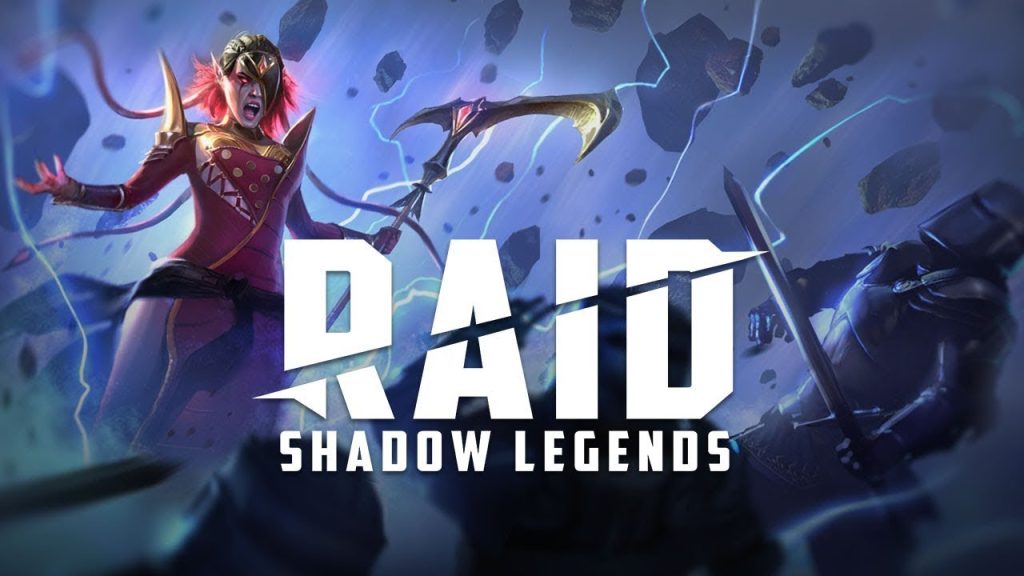 If you're into games that pretty much play themselves, Raid is where it's at. It's super famous for a reason – the visuals are amazing, there's a huge roster of characters, and there are loads of game modes.
You don't have to do much besides tell your team to take on a boss now and then. And that's just how we like it.
Clicker Racing
Do you prefer racing games? Well, Clicker Racing is one of the top racing games in this genre. Except it has very little to do with racing and more about cars. Since the launch, it has reached two million downloads.
In this game, you will select a car to race against different rivals. If you want extra speed, you can upgrade your vehicle by getting special cards. But you will need to save up some cash away for upgrades.
The 2D graphics look beautiful, and lots of upgrades make it fun to play. Although clicker racing is an online game, it also works offline. Are you ready to become the greatest race car driver by tapping on the screen?
Idle Apocalypse
Idle Apocalypse is a mix of an incremental idle game and a tapper game. You tap and wait for resources, then use 'em to build a tower and get upgrades to move forward. It's got more layers than some other games on this list, and there are different goals to shoot for.
It's not super complex, but we dig how it's got a nice sense of progression. It holds its own in the genre.
Clicker Heroes
Clicker Heroes has become one of the most popular clicker games in 2021. Thanks to the impressive features, it has millions of downloads and higher ratings. This game also became a success on PC.
It has a nice presentation with great animations. The worlds look amazing, the music is superb, and the clicks are very responsive, but the progress in the game is quite slow.
In this game, you will fight through various monsters and unlock rewards. If you want to play a clicker RPG game with your friends, then check the multiplayer mode. It's a good game but not amazing.
Hero Wars
Wanna go on a chill fantasy adventure? You gotta check out Hero Wars. It's all about creating a team of heroes and taking them through dungeons to face tough enemies. The more you play, the stronger your team gets, and you can unlock even more heroes.
Once you've got a nice collection, things get strategic. Every hero has their own fighting style, so you'll need to think about who to send out and how they match up with the rest of the team.
Cookie Clickers
This game is all about baking countless cookies. You will start with zero cookies, but you can click to make cookies. After successfully baking fifteen cookies, you can buy a cursor that will bake cookies on auto.
The cookie bushiness starts small, but it will grow exponentially with the help of grandmas, farms, and factories.
There is a leaderboard to record your score so you can compete against other players. You can download this game for free. It is also very easy to play. You might have to deal with ads and in-game purchases. So, if you want something to pass the time, you can try this.
AFK Arena
If you're into building a kickass team of fantasy heroes without breaking a sweat, AFK Arena is totally your jam. This idle RPG is all about quick progression and loads of loot, with your heroes fighting even when you're not playing.
It's an awesome setup that lets you focus on the good stuff, like getting new party members and decking them out with cool gear. Want some freebies to start off? Check out our AFK Arena codes list.
Tap to Riches
There are so many reasons why you should download and play this game. First of all, it has a simple interface and neat-looking graphics. Tap your way to become a billionaire. Who wouldn't like that?
This game allows you to conquer the business world by investing in different properties. You can also get advisors that can offer bonuses to your business endeavors.
With each tap, you can earn money, and the money you gain can be used to upgrade houses or bushiness, and you can also use it to buy more properties.
Tap to Riches is among the best simulation clicker games. However, as a free game, you will have to cope with the ads.
Fallout Shelter
You might remember Fallout Shelter launching alongside Fallout 4 back in 2015. Bethesda added new features over time, like wasteland adventures and exploration, but at its core, it's an idle game. You build your vault and then kick back as the overseer, waiting for explorers to come back and resources to pile up.
Its sequel-ish game, Fallout Shelter Online, also has auto-battle PvP – take a look at our Fallout Shelter Online guide for more deets!
Realm Grinder

Imagine starting with a tiny farm and building it into a full-blown realm, exploring the land and making alliances. Sounds like a lot of work, huh? Good thing all you have to do is tap in Realm Grinder. It's crazy what this game does with just tapping.
There's tons of depth, letting you choose a faction, unlock tech, build, and even engage in diplomacy. It's like an RTS town-builder, but it's actually an idle game.
Idle Oil Tycoon
Ever dreamt of being a laid-back oil tycoon, chilling in a mansion like Daniel Day Lewis in There Will Be Blood and shouting, "I drink your milkshake!"? Well, Idle Oil Tycoon won't get you all the way there, but it's a fun ride. Once you hit oil in your backyard, you're on the road to riches!
Just sit back and watch the cash roll in, and pop in now and then to upgrade your well and sell at the right time.
Clickpocalypse II
In this chill dungeon-crawling RPG, you put together a team of adventurers to dive into a monster-packed stronghold and wipe out every creature they find. Discover items, level up, and upgrade abilities, all while your crew does the hard work for you. Just sit back, relax, and enjoy the action.
Idle Miner Tycoon
Just like other tycoon games, Idle Miner Tycoon gives you a glimpse into the true heart of capitalism. Make your way into the millions by upgrading your mine and eventually hiring specialists, so you can kick back and watch the money roll in.
Your mine even keeps working when you're offline – though we're pretty sure that's gotta break some labor law or something.
Medieval – Idle Tycoon
In this tapping game, become the King of the castle by building a thriving Medieval town and taxing the heck out of the peasants to earn a sweet stack of gold. It lets you do all the usual tycoon stuff – build, gather, research – but its fun Medieval setting really sets it apart.
Also Read: Medieval Games for PC
Dungeon Inc
We've known managing a dungeon is serious business since Dungeon Keeper first came around. In Dungeon Inc, you just got promoted to Gold Production Manager – woohoo! Your job? Expand your dungeon, recruit monsters, and make more gold.
But watch out – greedy folks are after your loot, so you gotta defend the dungeon against those sneaky Tax Knights trying to steal your hard-earned cash.
Idle Theme Park Tycoon
Wanna manage a theme park without breaking a sweat? Idle Theme Park Tycoon's got you covered. Like other tycoon games, it's all about raking in the dough while upgrading and turning your park into the go-to spot for fun.
Game of Thrones – Tale of Crows
Ever wanted to be the boss of the Night's Watch? Well, now's your chance. As the big cheese, you send out scouting parties north of the wall, and the cool part is you get notifications throughout the day as ravens report back. Your teams keep moving in real-time, even when the game isn't running, so you can chill at Castle Black while they freeze their butts off.
Idle Police Tycoon
Fancy running your own police precinct and bringing justice to criminals? Idle Police Tycoon puts you in charge of a police station, managing staff and making room for all the baddies you catch.
It's a fun little idle game that gets more complex as you go. Need some help starting out? Check out our Idle Police Tycoon guide!