35 Fabulous Looking Pink Gaming Setup for Gamer Girls
If you are a gamer girl, then building a gaming setup in pink color is a must. I mean, you can build your gaming setup in any color you want, but for a girl gamer, a pink gaming setup looks way cooler than any other color.
Pink gaming setup is for girls who are serious about gaming. There's almost everything relating to gaming available in the Pink color, and you won't have any issue finding your favorite accessory in pink.
If you are a streamer and play games live on Twitch, YouTube, or Facebook and looking for ideas about how you can build your gaming setup in pink, then keep on scrolling. Below you will find images of pink computer setups to get inspiration to build your pink gaming setup or how to renovate.
Many gamers visited my other article on white gaming setups. A few gamer girls requested me to create an article on pink gaming setups. I have specially created this article for our gamer girls on special requests, and I hope you like it.
If you already have an all-pink gaming setup, then you can take a picture and send it to [email protected]. I will add your images to this article. Be sure to include the name of the items in your gaming setup.
Following are the links to our guides of the best pink gaming peripherals you can buy to complete your pink gaming setup. (I have only written one article, and it is on pink gaming chairs, but I will soon cover more items.)
Following are some of the best pink gaming products that you can buy for your pink gaming setup.
Title
Best Pink Chair
AutoFull Pink Gaming Chair PU Leather High Back Ergonomic Racing Office Desk Computer...
Best Pink Desk
AutoFull Pink Ergonomic Larger Gaming Desk 48 Inch Cute Computer Desk with Smart Built-in...
Best Pink Headset
Razer Kraken Gaming Headset: Lightweight Aluminum Frame, Retractable Noise Isolating...
Best Pink Mouse
Razer Viper Ultimate Lightest Wireless Gaming Mouse & RGB Charging Dock: Hyperspeed...
Thumbnail
#1
Keyboard: Razer Blackwidow tournament edition chroma v2
Desk: IKEA's Malm (w/ pull out panel)
Mouse pad: Razer goliathus extended chroma
Speakers: Audioengine A2+
PS4 Skin: D.va Pink PS4 Console Skin
Chair: IKEA Millberget 
Monitor: Prism+ f270ipro
CPU: Intel Core i5-7500 3.4 GHz Quad-Core Processor
CPU Cooler: CRYORIG R1 Universal 76 CFM CPU Cooler
Motherboard: Asus PRIME H270-PRO ATX LGA1151 Motherboard
Memory: Corsair Vengeance LPX 16 GB (2 x 8 GB) DDR4-2133 CL13 Memory
Storage: Seagate Barracuda 1 TB 3.5″ 7200RPM Internal Hard Drive
SSD: Samsung 850 EVO-Series 250 GB 2.5″ Solid State Drive
Video Card: Asus GeForce GTX 1070 8 GB Dual Series Video Card
Case: NZXT H440 ATX Mid-Tower Case                                                   
Power Supply: EVGA G1 650 W 80+ Gold Certified Fully-Modular ATX Power Supply
Monitor: Asus MX239H 23.0″ 1920×1080 Monitor
#2
Desk: IKEA ALEX
Headset: Razer Kitty THX 7.1 Spatial Surround Sound
#3
#4
#5
#6
#7
#8
#9
#10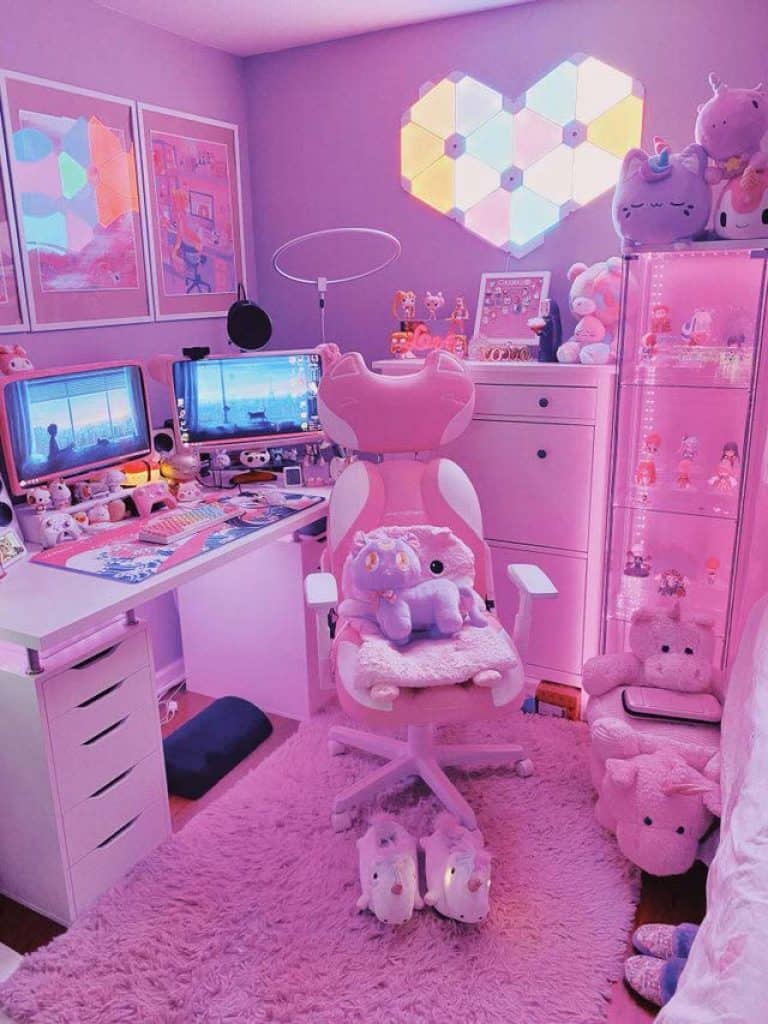 #11
#12
#13
#14
#15
#16
#17
#18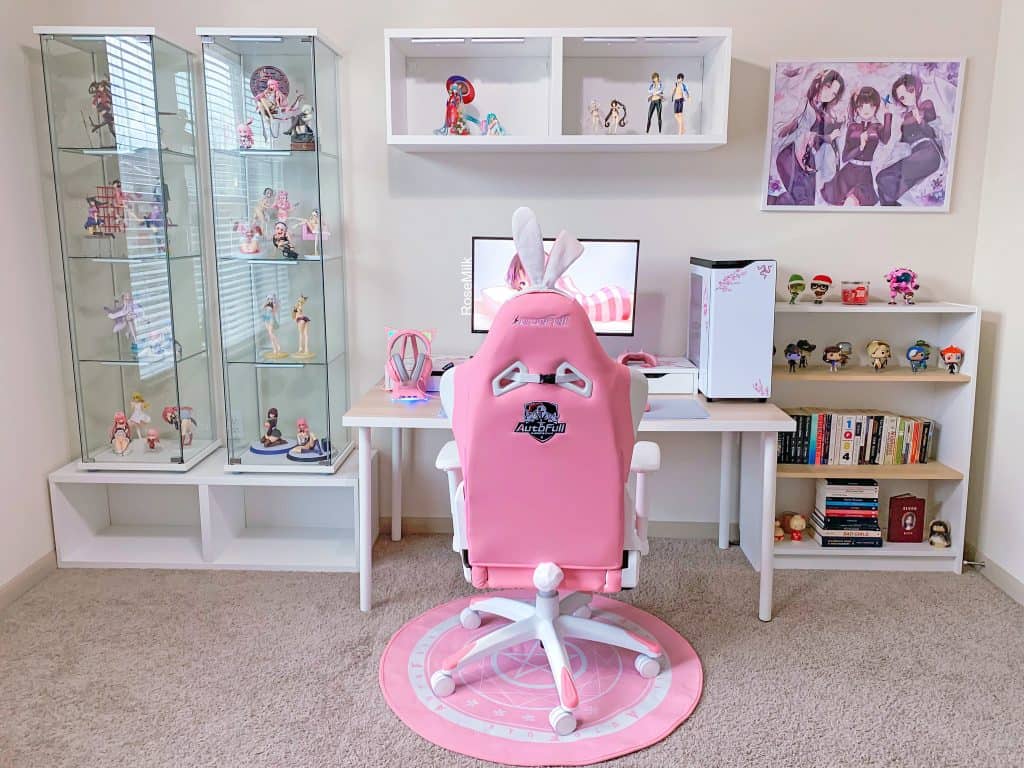 #19
#20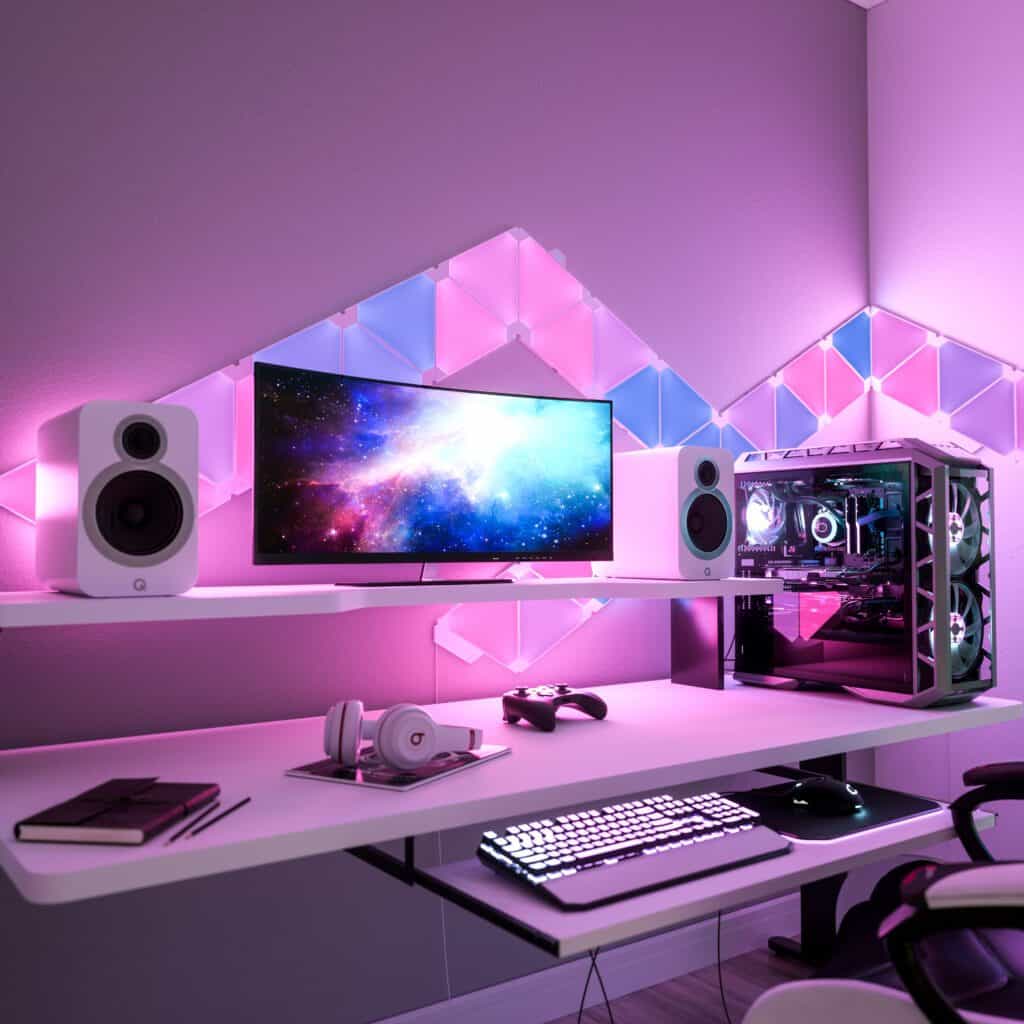 #21
#22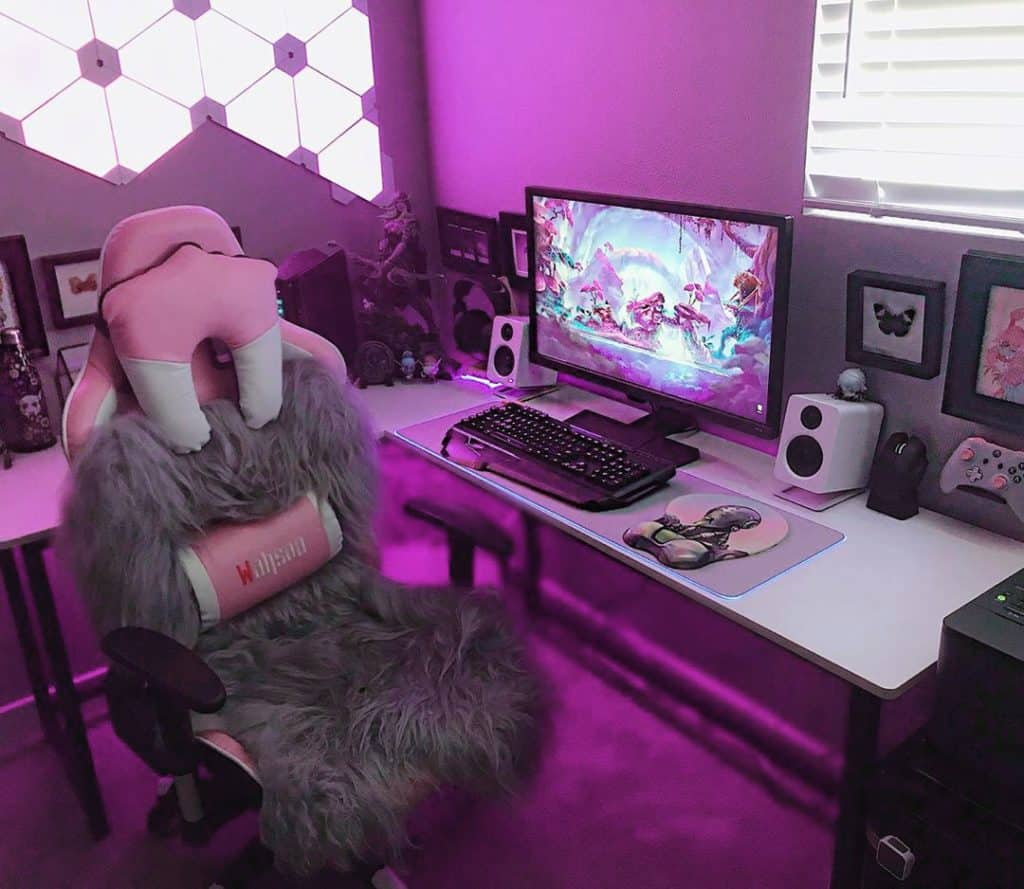 #23
#24
#25
#26
#27
#28
#29
#30
#31
#32
#33
Conclusion
Are you planning on building an all-pink gaming setup? Which one did you like the most from the above battlestations? These images are for gamers girls to get an idea about how to renovate their gaming setup.
I hope you ladies liked it. I will try to update the images with a list of pink gaming peripherals used in these setups.