11 Best League of Legends Build Sites
Have you ever found yourself wondering what item or spell to purchase or level up next in League of Legends? You're not alone. Many players scour the internet for quick answers to these questions, as their game progress depends on it.
When I played League of Legends, I would always have a build site open on my second monitor for guidance. Using a build guide was easier for me than building on the fly. If you also prefer to use build sites as a reference for building your champion, keep reading.
I have personally used and vetted the following 15 sites and apps, which have provided me with the best builds for every stage of the game. However, it is important to note that adapting your champion's build to the specific game is always optimal.
Improving your game sense is crucial to achieving this. Fortunately, the League of Legends community is a great resource for learning game sense quickly.
This list contains the top 10 best League of Legends build sites that will provide you with all the information you need. These websites offer statistics, guides, in-depth looks into Champions, counters, and matchups.
LoL Build Sites 2023
U.gg
Blitz.gg
Mobafire
Probuilds
Op.gg
Lolpros.gg
Mobalytics.gg
Champion.gg
Leagueofgraphs.com
Lolalytics.com
Rankedboost.com
1- U.gg
u.gg is a popular website for checking the current viability of Champions in a game, it's a go-to stop for many players. I use their tier list daily and it has helped me improve as a player.
It is an excellent tool for staying up to date with the meta and it is updated regularly. They also have a lot of guides, builds, and similar content that you can check out.
The website is best used for statistics rather than builds, but it is a dominant force in keeping players informed on the current meta.
2- Blitz.gg
Blitz.gg is a well-designed website that can help you with all of your League of Legends questions. It can be used to track your personal performance or that of your friends. Additionally, it offers builds and guides to help you improve your gameplay.
Compared to other websites like mobafire, Blitz.gg's builds may not be as extensive, but it is still a great resource to check out. Another great feature of Blitz.gg is the app, which is perfect for those who prefer to use their phone while playing.
However, if you prefer to stick to the website, it is also easy to navigate and has a minimalistic design. Overall, I highly recommend checking out Blitz.gg and taking advantage of all that it has to offer.
3- Mobafire.com
Mobafire is the top website for League of Legends builds, without a doubt. I have not ranked it as I want you to form your own opinion. However, I must express my strong recommendation for Mobafire.
Whenever you search for builds or guides for League of Legends, Mobafire will be the first website to appear. This is because it is widely used by players of all levels. The guides on Mobafire are comprehensive and written by the community, ensuring their quality is exceptional.
I personally use Mobafire regularly for all the champions I play. Eventually, you may not need it as much, but it is an excellent resource while learning. I highly recommend checking out Mobafire.
4- Probuilds.net
Probuilds.net is a well-known website among the League of Legends community, offering a detailed and up-to-date look at what professional players are using and building in their games.
The site provides a live feed of current games and information on what items are being purchased, making it a valuable resource for those who want to stay in line with the current meta.
However, the speaker personally prefers to deviate from the meta for a more enjoyable experience.
5- Op.gg
Op.gg is an amazing website for checking the performance of yourself and friends, it has a lot of features such as a detailed tier list, statistics, recommended builds, guides, and even a desktop app that can help you on the fly.
It's simple design allows for easy navigation and use, I highly recommend it as the default player-searching site as there's nothing that can rival it. You can even see as far back as season 1 with it.
6- LOLPros.GG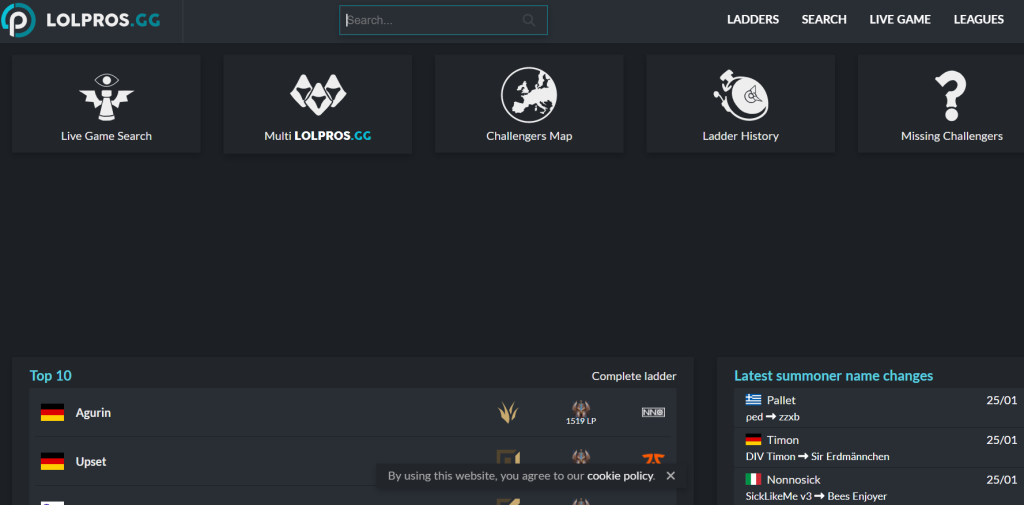 LOLPros.GG is your one-stop shop for all things League of Legends. The site is run by dedicated players who are passionate about the game and strive to improve our skills and knowledge.
Whether you're a beginner looking to learn the basics or an experienced player looking for advanced strategies, they have something for everyone.
The website features in-depth guides, tips, and tutorials to help you become a better player. They also have a forum where you can connect with other players, share your thoughts and insights, and even find a team to play with.
So, join them and conquer the Rift together!
7- Mobalytics.gg
Mobalytics offers a user-friendly website that is perfect for both new and returning League of Legends players. The game is known for constantly shifting its meta, so using Mobalytics to keep track of the most successful item builds and build orders is a great way to stay current.
The website provides a wealth of helpful information, such as match-up analysis, rune recommendations, and summoner spell suggestions.
Additionally, Mobalytics features clear and easy-to-understand graphs that display win rate, pick rate, and ban rate percentages for both current and past updates.
Knowing whether a champion has been nerfed and how they perform in the current meta is crucial.
Mobalytics offers valuable information in this regard. Another unique feature of Mobalytics is the "Time Target" in the build items section, which shows the recommended time to purchase items based on your skill level.
For example, the statistics suggest buying the first early item at the 5-minute mark and three core items within 21 minutes.
This can also help you keep track of your creep score (cs). Additionally, Mobalytics has a downloadable app that can be integrated into League of Legends, providing real-time information and syncing with your current game for convenient purchase decisions.
8- Champion.gg
Champion.gg is a website dedicated to providing players of League of Legends with in-depth information on each Champion in the game, including builds, ability guides, and statistics to help players master them.
It also offers matchup information and shows the toughest matchups for the current patch. The site's design may appear outdated, but it is easy to use and is regularly updated. I recommend checking out Champion.gg for quick and comprehensive information on Champions before starting a game.
While it may not have as extensive guides as other sites, it can still be a useful resource.
9- Lolalytics.com
Lolalytics is a website that offers similar features to other entries on the list, such as tier lists and guides. However, it also includes ARAM tier lists, which is a unique and enjoyable feature.
The site also provides updates on recent patch changes, including which champions have been nerfed or buffed. While the design may be outdated, in my opinion, with some improvements it could rank higher.
Despite this, it is still a useful resource and you won't miss out on much in comparison to other sites.
10- Rankedboost.com
Rankedboost is similar to other websites on this list in that they provide players with guides for various popular multiplayer games such as World of Warcraft and Diablo.
However, their League of Legends section could use improvement. Despite this, they do offer some helpful information and regularly update their site to keep track of recent patch changes.
They also provide tier lists, like many other websites on this list. However, the design of their site is outdated and in need of a significant change to be competitive with other sites that have more modern and user-friendly designs.
11- Leagueofgraphs.com
One of my go-to sites for checking my gaming performance is Leagueofgraphs. It offers a comprehensive analysis of my recent games, including areas for improvement and comparisons to players in my division.
The site also includes helpful guides, builds, and statistics. The user-friendly design is another standout feature, making it easy to navigate and explore the various categories and statistics.
Despite the availability of alternative sites, I always find myself returning to Leagueofgraphs for its ease of use and the enjoyment I get from exploring its features. I highly recommend giving it a try.
Final Words
It is evident that there are numerous websites available within the League of Legends community aimed at enhancing one's gameplay.
At this point, you should possess some effective strategies for enhancing your performance in League of Legends. Utilizing data can assist you in identifying areas where you need to improve and highlight your strengths.
Instead of solely relying on predefined builds, it's crucial to integrate your game sense and tailor your approach to suit your playstyle. If you have a unique method for selecting items for specific champions, please share it with us in the comments.
FAQ
Should I Build My Own Champion or Follow Build Guides?
Creating builds using your game sense is essential for success in League of Legends. Developing a thorough understanding of the game through personal experience will help improve your skills.
The ability to adapt to your opponents and build accordingly is crucial, especially in higher elo matches. While consulting build guides can be helpful, the ability to adjust on the fly will give you a competitive edge.