7 Best Gaming Chairs for Kids 2023
GPCD
is reader-supported. When you buy through links on our site, we may earn a small commission at no extra cost to you. Thanks for the support! Learn more.
Are you looking for a cool gaming chair for your gamer kid? Most of the kids like games and a gaming chair can be a perfect gift. Parents love to see their kids happy and they can do anything for them.
When it comes to gaming chairs for adults there are many options available in the market and fairly easy to choose. On the other hand, gaming chairs for the children can be hard to find, and choosing the perfect one can be difficult because they are rare.
We thought it might be a good idea to review some of the best ones available in the market for kids, and help you get the perfect gaming chair for your kid. You can also check out these gaming chairs with speakers, because kids would definitely love them.
This article will go through all the options available from bean bags, racing style chairs, rocker chairs to sofa type gaming chairs. So, you'll have enough choices to select the perfect gaming chair for your kids.
Also Read: Complete Guide to Gaming Chairs
SitRite Kids Gaming Chair
At number one we have the SiRite kids gaming chair with height control and adjustable seat. This is top of the line high-quality chair for kids with all the necessary features. SitRite is the most expensive gaming chair on our list because of its good quality fabric and construction. The design is very ergonomic and looks very modern.
Very few manufacturers make chairs like this for kids. SitRite gaming chair is designed for children in order to keep them company in all of their growth stages. Height can be adjusted from 16.7 inches to 19.6 inches with silent lift and 360-degree swivel. It comes with a detachable footrest and rounded armrest for extra support and comfort.
This chair is suitable for children above age 4 and can also be used by petite adults. The weight limit with this chair is 300 maximum weight which is more than enough. SitRite has the ability to slide 1.7" front/back cushion for different heights with a locking mechanism.
If you are a petite adult and struggling to find the chair that is suitable and comfortable enough for you then this can be the perfect working or gaming chair for you. The best thing about this chair is that it is available in many different colors so you can choose your favorite color or one that suits the interior.
Also Read: How to Make Gaming Chair More Comfortable
Homall Recliner Gaming Chair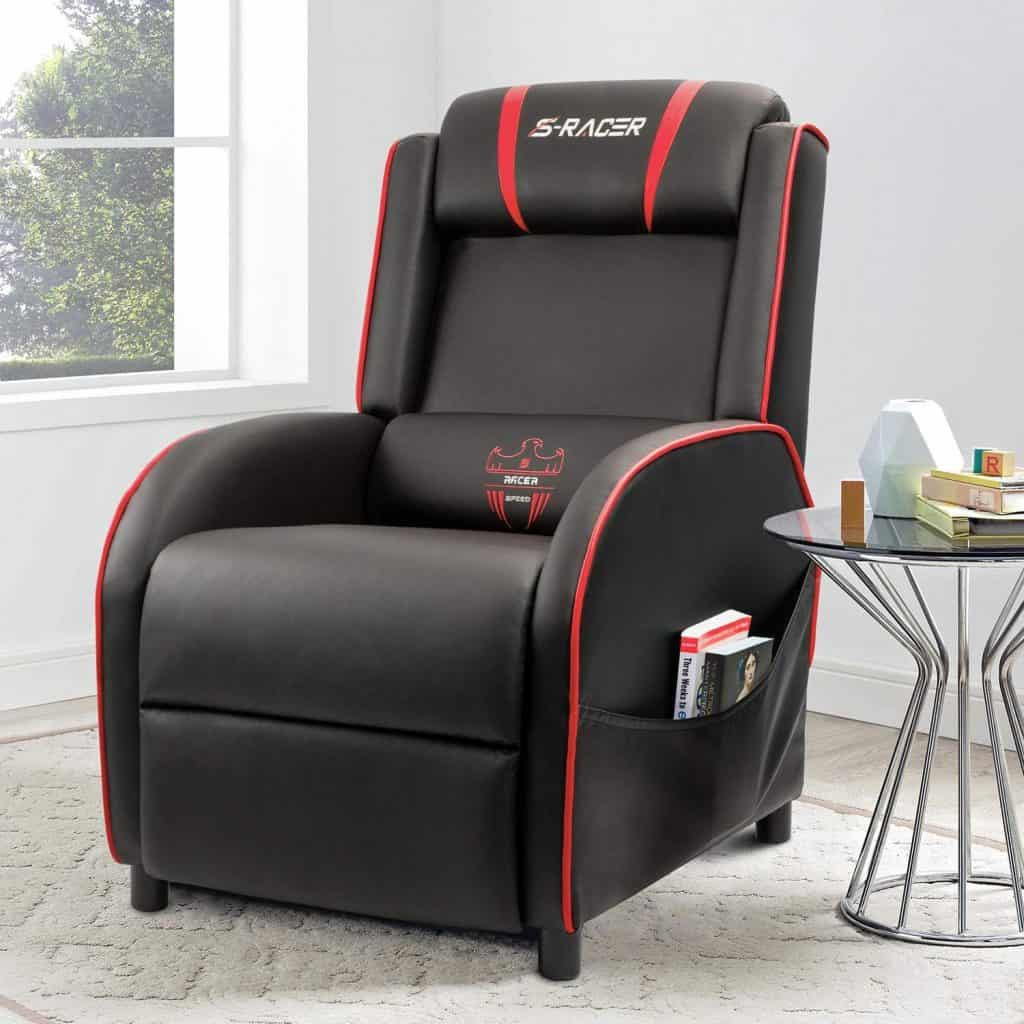 This Homall gaming recliner chair is worth all the money you are going to spend on. The design of this chair is simple and sleek and the black color with blue or red border looks good. The seat is very comfortable with high-quality PU leather on it, which makes it very easy to clean and skin-friendly. This chair has two logos, one on the headrest and one on the lumbar support making it look more stylish.
It comes with a side pouch where you can store your headsets, controllers, or any other gaming accessories. The chair also includes a footrest that can be adjusted from 90 to 180 degrees, which is perfect for console gaming. The maximum weight bearing limit of this chair is 265lbs. The legs have non-marking pads that protect the floor from any scratches.
AmazonBasics Kids Gaming Recliner
This one looks and has featured quite similar to Homall Recliner Gaming Chair but in a lot less price. The combination of black and red colors looks excellent on this chair and kids will love it. This chair is made for kids age 5 and up with 90 pounds weight limit, which I think is a lot less. It comes with a headrest and lumbar support for a better comfort experience.
Kids will enjoy the reclining feature when activated it footrest is pulled out for extra comfort and great gaming experience. This chair features ultra-smooth polyurethane LeatherSoft upholstery and supportive, durable foam filling. The leather makes it very easy to clean, simple with a damp cloth.
Feel confident about your child's safety with the CA 117 fire retardant foam filling. Overall, the chair is made with good quality materials and your kids will love it. The plus point is that this chair is bigger than the most of kids chairs available on Amazon. Extremely easy to assemble as you just have to slide the pieces together.
AmazonBasics Kids Gaming Chair
Another excellent gaming chair for kids by AmazonBasics with storage compartments under the armrests. Your kids will have extra space to store headrest, controllers, and other gaming accessories. Kids tend to put their stuff anywhere and forget but with this chair they have the storage right under their armrest and they won't be wasting time in looking for their accessories.
The design looks a bit different than the chair we reviewed earlier by AmazonBasics but the rest of the features and the build quality is as same.
Batman High Back Gaming Chair
When I was a kid, I always wanted the stuff related to superheroes. Normally kids don't really care about the comfortability or the ergonomics of the chair. All they want is a cool looking chair that will love to show off. Now if they grew up watching superheroes stuff like Avengers and Justice League then chances are, they will love a chair with a theme of their favorite superhero.
So, buying a chair with a superhero theme is a step in the right direction. Delta Children has many superhero-themed chairs available and you can choose whatever your child likes. These chairs are best for children aging from 3 to 10 years. It can bear the maximum capacity of 100 pounds which is fairly enough. The dimensions of this chair are 21.5 x 22 x 25 inches.
This is one of the most affordable gaming chairs for kids in the market. The leather is easy to clean and the chair is a favorite of many children. You only have to choose the right superhero-themed chair for your child.
Leather Kids Recliner Gaming Chair
Available in many different colors this comfortable chair by Flash Furniture will fulfill all your expectations you have from a kid's gaming chair. There is a cup holder built-in right armrest and incase of any drinks spilling, this chair is fairly easy to clean.
It comes with a footrest that is perfect for kids to be more comfortable while gaming. This chair is made of solid hardwood frame and plastic feet that will protect your floor from getting scratched. The design of this gaming chair goes with any kind of interior. The maximum weight limit of this chair is 90lbs.
The recliner makes it more comfortable in playing console games and your kids are going to love this chair!
Delta Children Cozy Children's Chair
This is a small cozy and comfortable Shark Chair by Delta Children. It will surely make your kid smile with its beautiful design. This chair is smaller in comparison with all the other gaming chairs for kids on our list. You can get it in four different designs which include shark, panda, puppy, and kitten. All of the designs look amazing and your kid will happy to have them. So, choose the animal theme that your kid loves the most.
This beautifully designed chair with a padded seat and faux leather fabric offers the perfect kid-sized spot for gaming, relaxing, or reading. The three-dimensional fin accent will make it your baby shark's favorite chair. Delta Children was famous for making safe, high-quality cribs affordable for all families. Now they're the largest family-owned company trusted by millions of satisfied customers.
What is important in a kid's gaming chair?
Features
So, there are a lot of factors when buying adult gaming chair but for kids there are only a few that we need to look for. Kids gaming chair should be big enough for your growing child. Some chairs are too small that they will only last a year and your child won't be able to sit comfortably after getting big.
Kids don't care much about the features, ergonomics, or the comfort but they love a chair that looks cool enough. They will love a chair with a superhero theme or some animal theme like we have suggested the shark and batman chair.
Recliner chairs with footrest are great for playing games on consoles. But if your child needs a gaming chair for PC then SitRite is a good option.
Easy to clean
Cleaning a chair should also be easy because it's a chair for kids and they will surely make a mess. Leather chairs are easier to clean and you just need a damp cloth, wipe it clean it.