5 Best Aimbot Gaming Mice of 2023
2021 was a good year in terms of gaming mice. There were many new releases with lots of interesting features. Choosing the right gaming mouse with convenient features like shape, weight, wireless implementation, how good the cable is, and the input lag is important.
However, this article will discuss my top five gaming mice, which allows you to aim in FPS games. (List is in descending order)
Also Read: Gaming Mice Buying Mistakes
Endgame Gear XM1
There are many good options, but my number five mouse on this list is an old favorite, The Endgame Gear XM1. This mouse was my main for quite some time.
I modded mine with a paracord cable and some core pads on the bottom. They have also launched a more updated model called the XM1R. This is the only mouse in this entire top five list with a cable.
Regarding the shape, I think this is still one of the best gaming mice out there, specifically for claw grip gamers. It's a very exaggerated and well-formed shape that fits really nicely in hand. All of the tapers and grooves feel like they're in the perfect spots.
Main mouse buttons are low and give you direct pointing and aiming experience. The result of input lag is reasonable. It is not at the top but pretty close to the top position with 15.6ms mouse click latency and 18.8ms mouse sensor latency. The scores are pretty good for a small company.
The weight is 70 grams, and the updated model comes with a PMW 3370 sensor and Kailh GM 8.0 switches. It's a great option for a mouse with excellent shape.
Also Read: Best gaming Mouse pads
Pwnage Ultra Custom Symm 2
At number four spot, we have the Pwnage Ultra Custom Symm 2. I'm a big fan of this mouse, and it resembles the Razor Viper Mini wireless in shape. It is pretty much one to one to that mouse shape.
The original Pwnage Symm had some software issues and input lag with the clicks. However, both of these issues were fixed on Symm 2. The click input lag is, and now there is completely new and improved software.
You have the option to choose black and white color, but more importantly, you can also choose between a honeycomb shell or a completely solid shell. I prefer the solid shell as compared to having a mouse with a bunch of holes to save a few grams.
If you prefer the honeycomb design, I recommend you get the variant with sides completely solid and not honeycombed. It will make the mouse a lot nicer to grip.
The Symm 2 comes with Kailh GM 8.0 switches, which feel pretty good upon clicking. The scroll wheel is very light and chunky, making it perfect for tap strafing and bunny hopping.
Overall, the build is good. The feel and the in-game performance makes it feel like a top gaming mouse. I'm a big fan of the Viper Mini shape, but for something that's wireless, I am happy to pay a bit more for Symm 2.
However, If you are okay with the wired gaming mouse, Viper Mini is the better option. Also, If Razor comes up with a Viper Mini wireless in the future, I would defiantly recommend that instead of Symm 2.
The reason is they are the original creators of the shape, after all. So, it feels more sensible to recommend that instead.
Glorious Model D Wireless & D-
At the number three spot, we have two similar mice, Glorious Model D & D-. They are pretty much the same with only a small size difference. When it comes to an ergonomic, lightweight wireless mouse, I don't think you can go wrong with either of these two options.
At this moment, I would consider them among the best ergonomic gaming mice. Both mice have around 69 grams of weight. They feel super comfy in the hands, have good buttons, a great scroll wheel, and the pricing is also good.
Usually, I'm not a big fan of ergonomic mice as they feel very oversized and heavy. It's like holding an oversized brick. That's just me and not the same case for everyone.
However, these two mice feel comfortable to use as they're lightweight, balanced and wireless. If an ergonomic gaming mouse is what you are looking for, these are my recommendations.
Logitech x Shroud G303
We have the latest Logitech x Shroud G303 gaming mouse at the number two spot. I like it, and I've been using this as my main for a couple of weeks. At first, the shape was a bit uncomfortable, but now I'm used to it.
It's a good mouse, and I will be using this as my main for some time. The shape of this mouse is suitable for medium to large hands, and if you use a claw grip, then it's a perfect mouse to get. The grip is good, and the hand gets well locked in.
It is the fastest mechanical switch mouse that I've ever tested in terms of input lag. The buttons feel incredible as they are light and crispy. The battery life is also insanely good. The more I use this mouse, the more I like it.
If the shape weren't so polarizing, this would easily be number one on this list. What makes the new G303 is the intention behind grip style and shape. Logitech has optimized the grip style design for a certain group of users, which is medium to large hands.
Logitech G Pro X Superlight
The number one gaming mouse on this list might not be a surprise to anyone. This is the Logitech G Pro X Superlight. It is the most used mouse when it comes to competitive gaming. Most pro gamers use it for games like Valor, Fortnite, and Apex Legends, etc.
It's an achievement for Logitech that even after a year of Pro X Superlight, no other company has managed to match this mouse. It's a medium-sized 60-gram solid shell with no cutouts and a completely balanced mouse.
The medium-sized shape is perfect for most gamers to play comfortably. The only side was that the scroll wheel started to show a bit of age over time and gradually ended up not sounding that great.
Honorable Mentions
Razor Viper Mini
I want to give a shout out to Razer because they have improved their mouse game a lot. They're experimenting with an 8,000hz polling rate and implementing optical switches, making a measurable difference.
Technically speaking, Razer's mice are right up at the top, but shape-wise, I'm not a big fan. For example, the Viper shape does not give much support, especially for claw grip.
In terms of the button feel and the build quality, Logitech is a bit ahead. I'm a big fan of optical switches when it comes to performance, but for now, I don't feel that they're as light and crispy as many of the other mechanical switches that are out there.
But if you are looking for a small budget gaming mouse around 30 dollars. I don't think the Razer Viper Mini is beatable. It is the king in that price range.
Xtrfy MZ1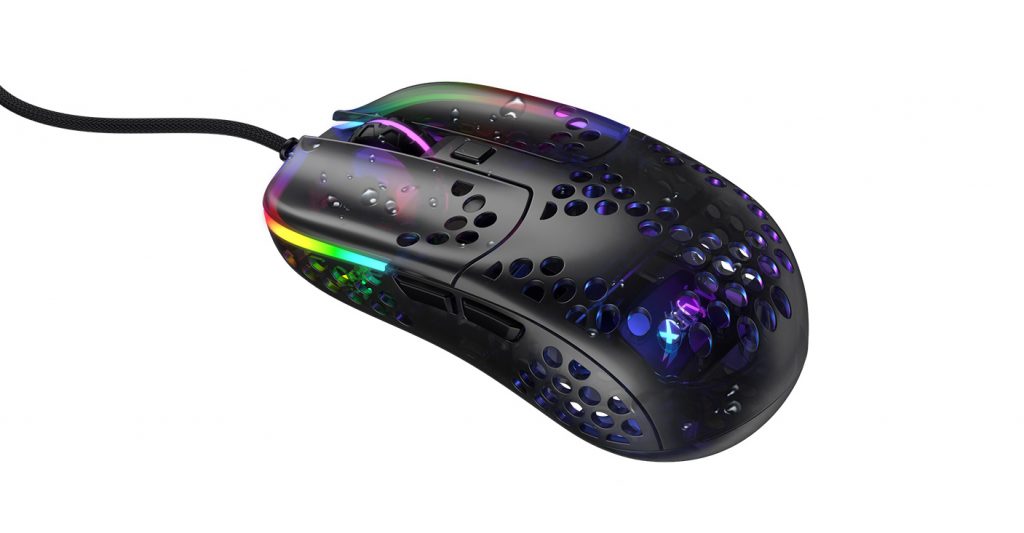 Xtrfy MZ1 is a collaboration between Xtrfy and Rocket Jump Ninja. The highlight for me in MZ1 is the super contoured and low buttons, which feels nice to use. Under the buttons are the Kailh GM 8.0 switches.
It is not in the top five because of the polarizing shape that some people don't like. My first copy had a stiff scroll wheel, which was unfortunate. I think the quality control could be improved here.
For me, the cable was pretty noticeable. Besides these few drawbacks, it's an amazing mouse to play games with. I'm looking forward to the possibility of a wireless version of MZ1.
The Logitech G305
The G305 is super light, and it would be a bit of a crime, not to mention this. It's a nice mouse with a price under 50, which shares a lot in common with the top Aimbot gaming mice on this list.
However, it's not as premium as those newer models. The coding is not as grippy, the glides are pretty rough out of the box, but performance is solid.