18 Best Purple Gaming Chairs in 2023
GPCD
is reader-supported. When you buy through links on our site, we may earn a small commission at no extra cost to you. Thanks for the support! Learn more.
Purple gaming chairs are high in demand due to the beautiful look they add to a gaming room. Various gamers give particular importance to the color of the chair. Color plays a vital role in alleviating the mood and enhancing a person's ability to function.
Apart from the color, design, comfort, size, and durability also play a vital role in determining a chair's efficiency. You should know all the details about the product you are about to buy because some gaming chairs might not tick all the boxes for you.
There is a considerable number of chairs in the market that meet the user's demand. The soft padding on the arm, reclining feature, and USB massager is a cherry on the top. There are different purple shades, and each shade provides a different kind of luster to the chair.
Also Read: Complete Guide to Gaming Chairs
Title
Best Value for money
Dowinx Gaming Chair Ergonomic Racing Style Recliner with Massage Lumbar Support, Office...
Best Overall
Ficmax Massage Gaming Chair with Footrest Ergonomic Gamer Chair for E-sport, Reclining...
Best Premium
Vertagear S-Line 2000 Racing Series Gaming Chair, Large, White/Purple
Thumbnail
Best Value for money
Title
Dowinx Gaming Chair Ergonomic Racing Style Recliner with Massage Lumbar Support, Office...
Thumbnail
Best Overall
Title
Ficmax Massage Gaming Chair with Footrest Ergonomic Gamer Chair for E-sport, Reclining...
Thumbnail
Premium Purple Gaming Chairs $300+
Secretlab Titan Evo 2022
The Secretlab Titan Evo Fortnite is a new limited edition for the fans of Fortnite. This chair is designed same as the other chairs in the lineup but with a Fortnite logo on the front and the signature purple color.
The Secretlab Titan Evo boasts a wide backrest with comfortable wings on each side that allow users to maintain a comfortable position without sacrificing support.
It's available in two finishes: Neo Hybrid faux leather and SoftWeave Plus fabric, both of which are more resilient than previous models. The SoftWeave finish is breathable and features a grey speckled design on a primarily black body.
Constructed with a sturdy steel frame, the chair is equipped with a remarkable hinge that allows the backrest to lay almost completely flat while retaining its center of gravity. Additionally, the chair's height and tilt are both adjustable with the use of a lever.
The metal 4D armrests are adjustable in every direction, including up, down, left, right, forward, and backward, allowing users to find the most comfortable position for their arms. The CloudSwap armrest padding can be easily replaced using magnets, making it simple to replace when necessary.
The chair also includes a built-in lumbar support system that can be customized to fit the user's preferences.
Overall, the Secretlab Titan Evo is an exceptional gaming chair that provides both comfort and adjustability, making it a top choice for serious gamers seeking durability and support.
AKRacing Masters Series Max Gaming Chair
The AKRacing Masters Series Max Gaming Chair is a solid choice for big gamers who need a chair with a high weight capacity. With a seat width of 15.3 inches and a maximum weight capacity of 400 pounds, it's a perfect fit for generously proportioned users. However, if you're on the smaller side, the Max may feel too roomy for your liking.
Putting the Max together is fairly simple, but due to the size of the parts, it's recommended to have someone assist you. The chair comes disassembled, with the seat, back, wheeled base, upper base, pneumatic cylinder, castors, and plastic handles and covers all separate.
Once assembled, the chair is generously padded, particularly around the seat and lower back. The material feels soft and supple, and notably less vinyl-like than other chairs we've tested.
While the Max is an extensively adjustable gaming chair with a pneumatic cylinder that can raise and lower the entire chair, a tilting mechanism that can lean the chair back, and a reclining function that unfolds the back of the chair from the seat, it's the first one we've tested that can recline to a completely flat 180 degrees.
However, it's not recommended to lean back this far since the balance of the chair feels precarious in this position. Overall, the AKRacing Masters Series Max Gaming Chair is an excellent choice for big gamers who need a chair with a high weight capacity.
AKRacing California XS Purple Gaming Chair
The AKRacing California-inspired gaming chair is a smaller gaming chair designed to fit slim/petite body types with a maximum weight capacity of up to 150kg and height of 5'6″.
It features a standard mechanism, a recline angle of up to 180° and 3D-adjustable armrests. The chair is built with a nylon-composite base featuring 60mm wheels, premium PU leather, mould-shaping cold foam padding, and neck/lumbar pillows.
The chair comes in three pastel colour variants, Napa (pastel purple), Laguna (clean white), and Tahoe (vibrant blue). The Masters Series Max, on the other hand, is a wider gaming chair with a maximum weight capacity of up to 181kg and a maximum height of 6'7″.
It has an advanced mechanism that allows you to tilt-angle lock, extra heavy-duty gas lift, and 4D-adjustable armrests. The Max chair has a high-tensile aluminum base with 63.5mm wheels, premium PU leather, mould-shaping cold foam padding, and neck/lumbar pillows.
The AKRacing California is perfect fit for gamer girls and their small body type. Overall, this is a great looking comfortable chair. Also, I loved the purple and white color of this chair.
Vertagear S-Line 2000 Racing Series Gaming Chair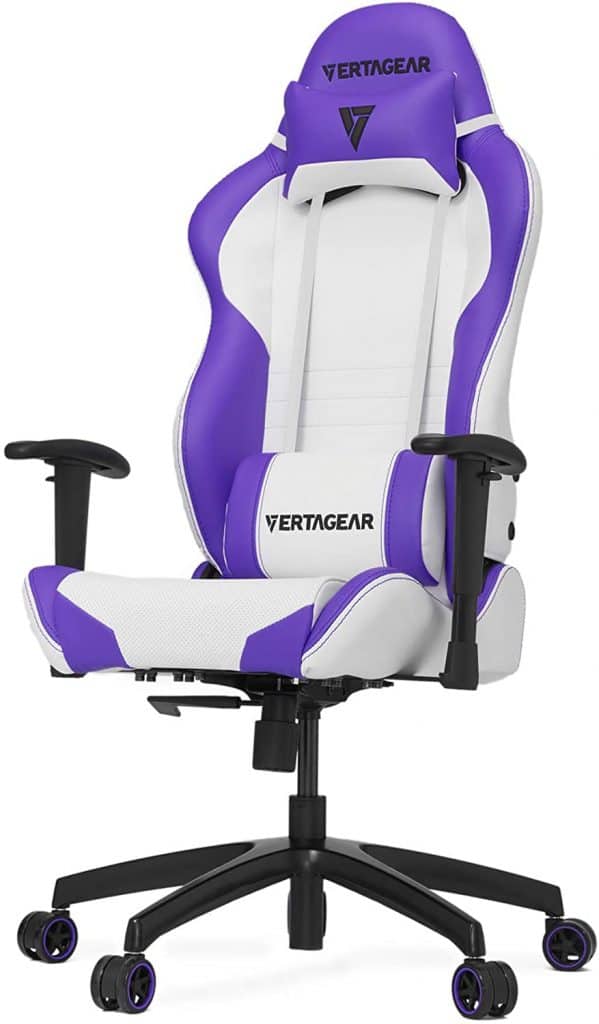 The Vertagear SL2000 gaming chair features a high backrest designed to give excellent neck, shoulder, and lumbar support. It has premium flexible and recline options to offer the best comfort in any resting position, with a max recline angle of 140 degrees.
The chair is easy to assemble and use, with a stable structure to protect your posture and provide support. The SL2000 has a strong metal frame and a cover made of solid PVC leather that is easy to clean. It has a racing-style design, with sleek lines and two-tone coloring, and comes with casters underneath for a soft and smooth roll on any surface.
The chair has dense foam padding with resilient memory foam and an open-cell breathing structure to prevent heat from being trapped inside. The reinforced 5-star base is made out of heavy-duty alloy, and the chair weighs a little over 40 pounds.
It also features armrests that are contoured and cushioned, adjustable to different levels for adequate support to your arms, elbows, and back. Finally, the backrest is adjustable, giving you a comfortable sitting position all through your gaming or working sessions.
Budget Purple Gaming Chairs Under $300
Dowinx Gaming Chair
The Dowinx is a good looking and comfortable chair to own. The ergonomic design with all the necessary features makes it worth the purchase. The linkage armrest is technically designed to provide comfort to the user. If you want to own a gaming chair with no missing feature, then Dowinx is the one.
Features of this chair includes a footrest, lumbar massage support, neck pillow, padded armrests and reclining ability. This is a multi-purpose gaming chair, that can be used for gaming, watching movies, reading books or even taking a nap. There are only a handful of chairs with all these features together.
The side wings of the chair spread perfectly and have thin cushioning to provide extra support and care. The padded armrests enhance the level of comfort. The high-density foam and good quality stitching are effective in ensuring the best quality.
If you are a large person then this chair for big and tall got you covered with a weight capacity of 350lbs. Underneath the hand sewed PU leather is five inches thick high-density foam that will hold you comfortably. Overall, this chair is indeed well worth your money.
Zeanus Massage Chair
The Zeanus gaming chair is an exceptional product highly recommended for both gamers and computer users. It boasts a sleek and modern design, available in various colors, and its black and white color scheme matches perfectly with the PS5.
The chair has a high-quality finish with impressive stitching and solid cushioning, ensuring optimal comfort.
The Zeanus gaming chair is incredibly adjustable, featuring a gas lift that allows users to customize the height to their preferred level. Its recline function can lock in any position, and it also comes with a footrest for added comfort.
Additionally, the chair features a massage lumbar that is powered by USB and has three modes to choose from.
Assembly of the Zeanus gaming chair is straightforward, and it is made of sturdy materials, ensuring both strength and durability. The swivel and wheels are smooth and easy to operate, while its weight limit of 300 pounds ensures that most people can comfortably use it.
In summary, the Zeanus gaming chair is an excellent investment for individuals who spend extended periods in front of a computer or console. Its exceptional quality and comfort make it a worthwhile purchase, and it comes with a one-year warranty, making it an excellent value for money.
GTPLAYER Gaming Chair
This is a gaming chair that is compatible with Bluetooth 5.1 devices. It has dual speakers that provide surround sound and can be connected to smartphones, tablets, and other Bluetooth-enabled devices.
The chair is designed to be ergonomic with a soft cushion to protect the neck and spine. It has a maximum tilt angle of 150 degrees and retractable foot pads and linkage armrests.
The chair is made with an alloy frame covered in hand-sewn PU leather and high-density foam. The LANT cylinders and mechanisms have been upgraded to extend the chair's lifespan.
The chair also features an exquisite dragon pattern embroidery with bright colors that give it a youthful and fashionable look.
The chair can be used for work, study, and gaming, and can connect to PS4/PS5/XBOX/SWITCH via a dedicated USB adapter (sold separately) with very low latency. The speakers are wireless and can play for up to 15 hours with the built-in battery and power-saving technology.
OFM Essentials Leather Gaming Chair
The OFM Racing Style Bonded Leather Gaming Chair is a medium to high-back chair that has a sleek racing-style design with the functionality of an office chair. The chair is easy to assemble and took only around 30 to 45 minutes to put together.
The armrests pivot up out of the way, and the rocking function is very nice for relaxing after a long day of work. The chair's integrated lumbar and neck support contour nicely against the body with the rest of the seatback. However, the chair doesn't have any support pillows, and the rocking function can make the chair swivel at the same time.
The chair's build quality is excellent, and it is lightweight but feels sturdy when sat on, and the rocking mechanism doesn't make one feel unstable. The chair's armrests are adjustable and one of the best features of this chair.
The chair feels well-padded due to its slightly contoured padding, and it's very comfortable to sit in for hours-long gaming sessions or working at the computer all day.
The large amount of memory foam padding on the seat makes it very comfortable to sit in for hours at a time, and the armrests are padded, which adds to the gaming chair's comfort.
The OFM Racing Style Bonded Leather Gaming Chair is an excellent chair that exceeds expectations in almost every way. The chair is durable, and the armrests and seat cushioning are effective at relieving joint pain and pressure.
The chair is not customizable as the lumbar support is not adjustable, but the integrated lumbar support padding works very well to relieve pressure and pain from the lower back. Overall, the OFM Racing Style Bonded Leather Gaming Chair is a great investment for gamers, as it's comfortable, sturdy, and stylish.
Darkecho Gaming Chair
The Darkecho Gaming Chair is relatively easy to assemble and comes with separate pieces that can be easily put together. The chair has a smaller pillow at the top and a lumbar pillow at the bottom, both of which can be removed if needed.
The chair also has a USB function that allows the user to enable or disable a low massage function in the back pillow. The armrests are adjustable, and they can be clicked in or out.
The chair has a firm seat, which may not be suitable for everyone. It also comes with an extra extension for a leg rest that can be bolted on as a separate piece, allowing the user to recline and use it as a full recliner.
The casters are fairly basic, with black wheels on the base, and the chair glides across the floor smoothly. There are basic adjustments that can be made to the chair, including the free and lock function, and the up or down adjustment for the back piece.
KARNOX Adjustable Gaming Chair
The Karnox Legend gaming chair is an excellent option for anyone looking for a comfortable and supportive chair for their gaming or work setup. The chair is available in a variety of materials and colors to suit your preferences.
One of the standout features of the Karnox Legend is its adjustability. The chair is recommended for individuals between 5'5″ and 6'2″ and less than 300 pounds, and it can be easily adjusted with a single lever for both height and tilt lock. The backrest can also be adjusted from 90 degrees to 155 degrees, and even at full tilt, the chair remains stable.
The chair's 4D armrests are also highly adjustable, allowing you to slide them up and down, backwards and forwards, from side to side, and twist them for optimal comfort. Additionally, the chair comes with an extended mouse mat, which is a nice touch.
The unboxing and packaging experience for the Karnox Legend is impressive, with each part individually packaged and plenty of padding in the box to prevent damage. The instruction manual is comprehensive and easy to follow, and the build process is straightforward and requires only a few screws.
After using the chair for a period of time, the reviewer found it to be one of the most comfortable chairs they have ever sat in, even compared to a more expensive Secretlab Titan. The fabric material is soft and warm to the touch, and the separate lumbar support cushion works well for optimal comfort.
Overall, the Karnox Legend gaming chair is highly recommended for anyone in the market for a comfortable and adjustable chair for gaming or work. Its ease of assembly, adjustability, and overall comfort make it a worthwhile investment.
JOYFLY Purple Gaming Chair for Girls
The Joyfly gaming chair is a popular choice among girl gamers and comes with a variety of features. One unique feature is the pair of bunny ears and tail that come with the chair, adding a fun and cute touch to the design. The chair is available in multiple colors, including a pretty baby blue shade, black, and pink.
In terms of comfort, the Joyfly gaming chair is highly rated by users. It provides a comfortable and supportive seating experience that allows gamers to sit for long periods without discomfort. The chair is designed to be ergonomic, with adjustable armrests and a tilt function that allows users to find the perfect angle for their needs.
Putting the chair together is also a straightforward process, thanks to the included instructions and tools. The wheels are easy to attach, and the white metal piece simply clips onto the bottom section. The bottom piece requires four screws to attach, which can be easily done with the provided screwdriver. The back piece slides in easily between the armrests and can be attached without the need for a second person.
Overall, the Joyfly gaming chair is a great option for those looking for a comfortable and stylish chair for their gaming setup. With its bunny-themed accessories and multiple color options, it's sure to add a fun touch to any room.
Cheap Purple Gaming Chairs Under $150
I would have loved to write about the following chairs but the article is already too long. So, I will just provide you with a list of cheap purple gaming chairs under $150.
Homall Racing Office High Back Computer Desk…
Life is a chain of moments of enjoyment, not only about survival.From this moment on, enjoying happiness with Shero.
Fashionable Chair: Cool patchwork,stitching,embroidery and contrast color created a stylish chair. And the main color in pink is only for you,…
Good Compaion: Wonderful computer chair will be with you, accompany you to work, accompany you to play, accompany you to relax, accompany you to…
Sale
OHAHO Gaming Chair Racing Style Office Chair…
➤Ergonomic Body Design makes it an ideal seat of choice for gaming, working and studying
➤Quality Material Premium PU leather (skin-friendly and clean easily), high-density thicker sponge (high resilience and more comfortable), Mute…
➤High Security Explosion-proof gas spring of international standards, metal frame makes a superb stable structure, heavy duty chair base with…
GTRACING Gaming Chair Racing Office Computer…
Perfect For Gaming: GTRACING is dedicated to make the best gaming chair for pro gamers. Choose us, and improve your gaming experience!…
Ergonomic Design: Strong metal frame designed to help promote a comfortable seated position, keeping you comfy after long hours of game or work….
Multi-function: Armrest and seat-height adjustable; 90~160°reclining and rocking; 360°swivel; 5-point base built with heavy duty;…
Homall Gaming Chair Computer Office Chair…
[Designed for Comfort] Homall gaming chair is made of high quality materials: The soft cushion is made of high-density sponge, and the entire…
[Modern Collocation] The gaming chair adopts ergonomic design, it can make your body fit the seat to the greatest extent, and achieve the effect…
[Stable & Robust Architecture] The entire gaming chair uses a steel frame as the main structure, the seat back and seat cushion are connected by…
Sale
Generic PUKAMI Gaming Chair High Back for…
【Selected Materials】Skin-friendly and clean easily PU leather,High resilience thicker sponge,that means sit Comfortable for a long time to…
【Ergonomic Design】Strong metal frame designed to help promote a comfortable seated position, keeping you comfy when long hours of game or…
【Easy Assemble】The package included everything that you need.Instruction with picture is easy to follow and assemble it. Easily and…
Modern-Depo Gaming Chair with Headrest and…
Ergonomic body-hugging high back, removable headrest pillow and lumbar cushion make it an ideal seat choice for working, studying and playing…
Made of PVC leather, iron frame and nylon base, butterfly mechanism, easy to adjust height
Ergonomic high-back reclining chair, removable headrest and lumbar support
Check out these article: PS4 and Xbox gaming chairs & gaming chairs with speakers.