How To Hide Cords On Computer Desks – 16 Ways To Manage Cables
Cable management on a desk is a must, if you want your setup to look neat, especially for those with small desks or using multiple monitors on large desks with lots of computer or gaming accessories.
All the wires of PC and desk accessories together, easily cover up the desk and makes your setup look ugly.
It is important to hide and manage all the tangled and messy looking cables for an aesthetic looking setup. These cables and wires don't look good and they can easily make your gaming station or workspace look cluttered.
However, you shouldn't worry because we are here to guide you step by step with simple fixes that will help you manage cables and hide wires on your desk setup without much effort.
Let's get started.
Also Read: 6 hacks to Hide Computer Wires on Glass Desks
Few Important Considerations To Hide Computer Cords On Desk
Before we get into how to hide cords on a computer table, you should take few things into consideration.
These points will help you determine what cable management solution would be ideal for your desk and what cable management kits you'll be using.
1. The Desk Placement in Your Home
The placement of your computer desk in your home is the most important factor that determines how you'll deal with the cables.
Suppose, you've placed your computer desk in the middle of your living room, then chances are, you'll get yourself into trouble managing the cables.
You'll have to travel the power cables a long way to the electrical outlet to plug in and this will make all the cables clearly visible to the eyes.
But if you set up the computer desk with the wall just near to the power outlet then hiding all the power cables will be much easier than before.
This way, neither you'll have to travel the wires a long distance to the electrical outlet to plug in nor they'll be visible to the eyes.
2. No. of Equipment You're Using
Managing the cables of one or two peripherals is not a big deal, but what is really frustrating is when you've lots of equipment on your desk.
As the more peripherals, you use in your setup the more cables are there on the desk plus more electrical outlets you'll require to plug them in to use.
But if the number of peripherals is more than the number of electrical sockets, you'll have to need additional power strip boxes to plug them all.
And this will ultimately create more power cables on your desk and create more difficulties for you to hide them from your desk.
3. The Type of Computer Desk You Use
Another consideration that can have a big impact on what cable management solutions you'll be using is the type of desk you have in your setup.
Just like the computer desk comes in different shapes and sizes, they also come in different materials like glass, metal, MDF board, and wood.
And based on the build materials, you'll get convenience in managing and hiding the cables behind, under, and on the surface of the computer desk.
For instance, if you have a computer desk with a wooden top and thick legs, hiding wires is much easier and more convenient on this type of computer desk.
You can very easily hide the wires underneath the desktop and behind the desk legs and can make your desk look neat and clean.
But suppose if you're using a glass computer desk or a desk with a glass top and sleek legs, then hiding the wires on this desk could be much harder.
You'll neither be able to hide the wire underneath the glass top nor behind the desk legs.
And whatever you do with your desk, the cables will be visible for sure due to the see-through tabletop and sleek table legs.
16 Fixes on How To Hide Cords On Desks
One more thing is that these fixes will require some kind of cable management products to make your home office aesthetically pleasing and look clean.
Below I'm suggesting some of the cable management products that are both functional and affordable and can be very useful in hiding the power cords and USB cables.
Just use any of the cable management products which is more suitable for your home office setup and under your budget.
1. Position Your Desk Near the Electric Outlet
The first thing you can do to hide the cords of the computer monitors and other peripherals is to position your office desk near the electrical outlet.
When your desk is at the nearest possible electrical outlet, you can connect the peripherals to the power source by using limited-length cords.
You won't have to route the long power cords of electronics all around the desk. A short power cable will be long enough to power up the peripherals.
By this implementation, very few parts of cable will remain visible and you don't have to keep them out of sight using any cable management products.
2. Hide Computer Wires on the Wall
If you don't find any nearest electrical outlet but the outlet is just above your desk and somehow, some part of wires are visible on the wall, this may impact your setup aesthetics.
But the good news is, you can very easily hide these hanging cables on the wall and make your setup aesthetically look pleasing.
All you need is adhesive, cable management raceway or cable management sleeves.
First of all, measure the path where the cord will go, cut the cord cover to the measured size, and stick them to the wall.
Now, put all the power cables inside the cord covers one by one precisely and run them to the power socket.
If there are multiple cords that do not fit inside a single cord cover, use another cord cover just next to the first one or use the wider cord cover and do the same process.
The best thing is that these cord covers come in various colors, plus they are paintable as well.
That means if the cord covers are in different colors to your room wall, you can easily paint them over to match with your room aesthetics.
3. Route Cables along the Desk Edges and Legs
No matter how precisely you've concealed the wires on the wall, there might be some cables visible on and under your desk that are reaching the wall outlet.
And these wires must also get out of sight properly if you want to make your desk look neat and clean.
The solution to this is very simple and the best way to hide the cords on the desk is to utilize your computer desk edges and legs.
If your desk have a big or wider frame, then you can easily utilize it to hide the cables along the way.
You'll only require some zip ties and cord clips which you can easily find online as well as at your nearby hardware store.
To conceal cords on the desk edges and legs, first of all, loop all the extra-long cables and hold them behind the desk legs using reusable zip ties.
Now stick some cable clips on the desk edges and legs, route the rest of the cables through these clips, and reach them to the power socket neatly.
4. Hide the Cables Under the Desk
You can easily hide the cords on the wall using cord covers but what about those situations when you're using an external power source under the desk
Managing the cords under the desk is pretty easy especially if you have a metal or wooden home office desk in your home.
Here, an under desk cable management tray is a smart option that can help provide you space to hold the power strip and hide the power cable underneath the tabletop.
All you have to do is get an under desk cable management tray like, attach it underneath the desktop with screws or nails, and hold the power strip on it.
Or if there are a bunch of wires under the desk going in one direction, you can also nicely manage them using cable sleeves or wire looms.
These cable protectors keep your messy cords well-organized at your home office, at the same time, they also protect them from damage.
All you have to do is group together all the messy cables and hide them inside the cord protector.
5. Hide Computer Cords on the Desk
In some cases, you might be using an external power source on the surface of the desk because you aren't able to attach them under the desktop for some reason.
In this situation, hiding the power strip and managing all messy computer cords could be effortless if you utilize a cable management box.
By using a cable box on the desk, you'll not only be able to hide the power strip inside it but also protect the cords from cats, mice, and other damages.
They offer ample space where you can keep the power strip and cords are hidden, plus store small desk items like pens, pencils, mobile, etc.
The good thing is, cable management boxes come in a range of colors and designs from plain color to grain of wood.
So, if you're a bit concerned about the aesthetic of your home office, then you can choose the one that matches your home office decor perfectly.
6. How to Hide Computer Cords on Desk in Middle of Room
If your office desk is in the middle of the room, odds are pretty high that wires are going all around the room since the electrical outlets aren't near your desk.
In this situation, the electrical wires running from the electrical outlet to your computer desk aren't safe for your health, your room floor, or your furniture.
And since wires can be a health hazard, it's very important to get these electrical wires covered as soon as possible, especially if you mostly work barefoot.
Here the simple and easiest solution to this problem could be to cover these power cables by using a floor cord cover protector.
The only downside of this solution is that this may look your floor ugly if the floor cord cover protector is in a different color to your floor color.
Or if there's a carpet in your room, you can simply cut a hole in the carpet and run the power wires beneath it from the power outlet to the desk.
7. Add Cable Management Features to Your Desk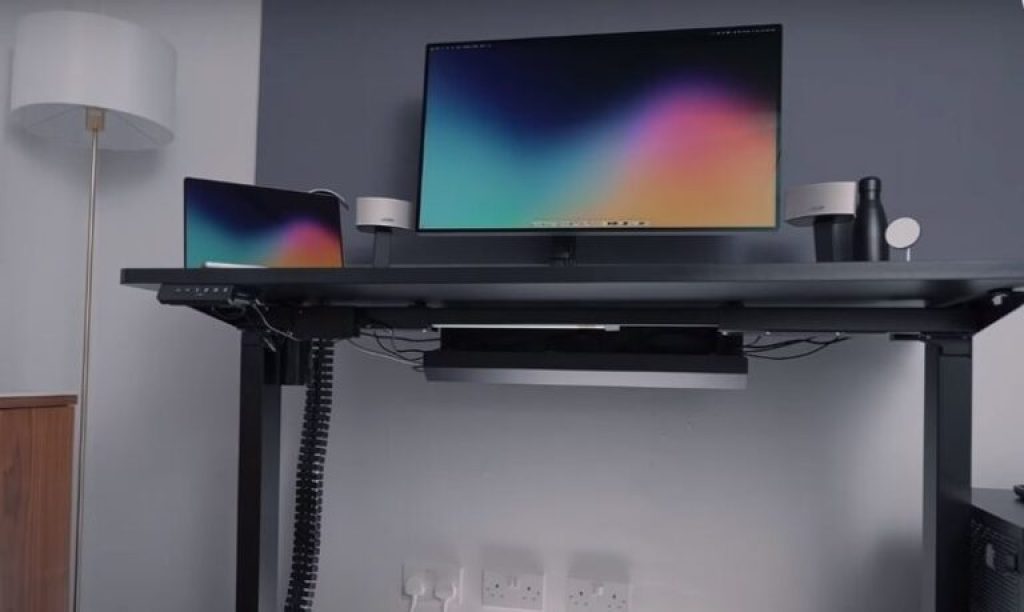 If your office desk doesn't have any cable management capabilities such as grommets, cable trays, or cable raceways, you can easily add one to your desk.
There are a wide range of cable management trays and J-channel cable raceway available that you can get and attach to your desk.
These cable management products are very easy to use as they come with self-adhesive tape or are mounted using simple screws.
So just get one which is suitable for your desk, attach it under your desk, and voila,… Your office desk has cable management abilities.
While drilling down a hole on your desk could also be helpful for managing the power and USB cords of your computer peripherals.
So, if you're not concerned about making any holes on your office desk, just make one of two holes and cover them with grommet covers.
It's worth having cable management holes on your desk for the sake of getting a clean and well-organized desk setup.
8. Use Fewer Peripherals as Possible
I know there is no way to completely hide all the cords on your office desk, there might be at least monitor cables visible for sure.
But, you can definitely minimize the number of computer peripherals that you do not necessarily use when you work at the desk.
For instance, if your office work does not evolve scanning or printing, you can remove the printer and scanner device from your office desk.
This way you'll certainly be able to get rid of 2 extra power cables and USB cables in total 4 cords from your office desk.
Plus, if you find yourself mostly working in daylight, you can even remove the desk lamp and avoid their cable trailing on your work surface.
9. Go for Wireless Office Setup
One of the great cable management ideas for an office desk could be if you can upgrade your USB computer peripherals to wireless ones.
There are many high-end wireless keyboards and mice available, which you can consider buying instead of using a wired keyboard and mouse.
By upgrading your wired peripherals to this wireless combo peripheral, you'll be able to limit 2 extra USB cables from your computer desk.
And if you're a minimalist kind of person, you'll definitely like to have a minimalist office setup by using fewer desk accessories, minimalist PC case and wireless peripherals.
10. Utilize the Drawer Cabinet for Storing Power Strip
If you have a computer desk with built-in storage cabinets such as pull-out drawers, they can do wonders for holding the power strip and extra cables.
You don't have to be so creative for this implementation, a little DIY can be helpful to make this change in the drawer.
Just drill a hole in the back of any of the drawers so that all the cables can easily come out through this hole without an issue.
Once you've made a hole, put the power strip in the drawer, plug all the cables into it, and route the rest of the cables through the desk frame to devices.
Or you can even use a docking drawer outlet and fit them into the drawer of your desk and you'll be able to hide all power cords inside the drawer.
11. Keep Unnecessary Extra Adapters Stored
You can also make use of the storage cabinets of your computer desk for hiding the cords on the desk by storing unnecessary power adapters.
Your office desk might have several adapters such as mobile charger, table charger, smartwatch charger, etc which you're not using more frequently.
And if these adapters are always plugged in even when you aren't changing any device, these cords can easily make your desk messy and unorganized.
So it's a good idea to remove all these power adapters from the power outlet of your desk and keep them stored in the drawer cabinet until you need them.
This way, you'll not only hide the extra wires on your desk but actually make your setup look minimal, which looks great.
And if you're using too many peripherals behind your desk, the cords of these peripherals can also make the backside of your desk look messy and cluttered.
One great way to solve this problem could be if you place a drawer unit like this IKEA drawer under your office desk.
You'll only have to bundle all the tangled cables together and this drawer unit will hide the cords behind it leaving organized space.
12. Manage the Cords in a Decorative Way
Sometimes, you don't have many opportunities to hide some of the cords on your office desk rather than to leave them on the desk but in an organized way.
And in this situation, the best way to hide the cords on desks is to decorate them so they don't look like a cord but a decorative item of your setup.
Replacing your keyboard's plain cable with a coiled cable could be a great way through which you can shorten the extra-long cords of your keyboard.
Or you can turn the cords of your keyboard and mouse into coiled wires with a simple DIY, it is very easy to make the upgrade.
Just watch this video about how to make a coiled cable in a few minutes.
13. Make Use of Desk Accessories & Decor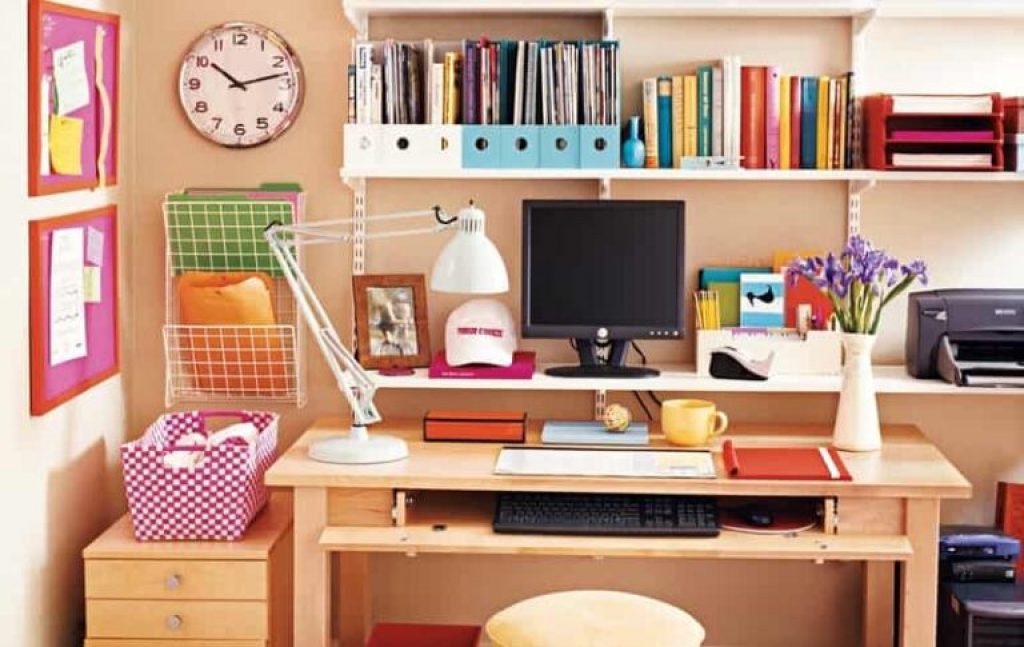 Believe me, accessorizing your desk not only makes your setup aesthetically pleasing but most of the time, they can prove to be useful for hiding cords.
You'll only have to be a little creative with your ideas for desk placement.
For instance, if you're using a bookshelf on your office desk, you can place it just in front of the power outlet and this will hide the power sockets and adapters behind it.
You can also route the cords along the edges of this bookshelf and hide the cords that look like they aren't even there.
Plus, you can position your monitor just in front of the power outlet, this way the cords and adapter will be completely hidden behind the monitor.
Apart from that, you can even use decorative plants, desk lamps, and other desk accessories and hide the adapter and cords behind them.
14. Mount Your Monitors Above the Desk
Another way through which you can minimize the obvious cords on your desk is by mounting your computer monitors above the desk.
This way, you'll not only be able to manage the cords of monitors but also free up more space on the desk to place other gaming accessories and work with ease.
You can mount your computer monitor(s) in two ways, either you can use a wall monitor mount or a monitor mount for the desk.
By mounting the monitor on the wall, you can have a floating monitor with concealed wire through the wall by cord covers.
While most desk monitor mounts come with built-in cable management functions that prevent cables from being scattered and tangled.
In this way, a desk monitor mount helps make your workspace look neat, clean, and more orderly.
Before you get a monitor mount, read this guide about Monitor Arms.
15. Get Handy with Aesthetic Desk Setups
You would be surprised how an aesthetic desk setup could help hide the cords on desks and make your home office more organized but it's true.
When it comes to aesthetic setups, the black and white color setups are the most common types for home office setup.
But make sure you stick with a single color scheme if you want to give your home office the most aesthetic appearance.
Consider getting all the office accessories, furniture, and computer peripherals in a single color no matter whether it's black or white.
This way hiding the messy and tangled cords will be much easier and they will be less noticeable even if they are on sight.
This idea works great especially when you're setting up your desk from scratch, but if you already have a setup, you'll get limited opportunities.
16. Use Desk That Has Cord Management Feature
If you're planning your PC setup from scratch, then there is no better option than having an office desk with built-in cable management capabilities.
And a desk like this one is one such option that has built-in power outlets at the back so you can easily plug in those extra cables.
With its clever back design, you'll be able to hide all the messy cables of peripherals that could lead to a cluttered workspace.
Video Tutorial on How To Hide Computer Cords On Desk
Conclusion
Managing the cords on the desk is pretty easy but it could be frustrating if you don't know how to deal with them properly and don't have the right equipment.
They can be managed as soon as possible when it's the matter of creating a productive workspace and you want to protect yourself from electric hazards.
In this regard, the above 16 cable management tips show how to hide cords on desks and create a neat and tidy workspace. These tips will also work on a standing desk.
Also Read: Pros and Cons of a Standing Desk
These cord management ways are simple as well as cheaper ones which cost you just a few dollars but will keep all the cables hidden and tangle-free.
Hoping that you've found this article helpful and learned how to hide cords on desks. If you are a gamer then check our our guide on How to Choose a Gaming Desk.