Top 10 Best Minimalist PC Cases for a Clean Look
If you are looking to build a new PC, then you surely need a PC case. A right PC case is as important as the hardware that is going to be inside it. You have to choose the PC case carefully according to your hardware because some cases might not fit the hardware you have.
While there are a lot of flashy gaming PC cases with RGB lights and aggressive designs, our primary focus in this article is the minimalistic design. Minimalist PC cases give a clean and decent look to your modern computer gaming setup.
These minimalist PC cases aren't flashy and are made to blend in with your computer setup without attracting a lot of attention. Despite looking simple on the outside, minimalist PC cases usually have all those necessary features that they should have.
We have reviewed ten best minimalist PC cases that you can check out below. Our main priority for the selection of these PC cases is the minimal design and value for the money.
10 Best Minimalist PC Cases
NZXT H510i Minimalist PC Case
NZXT is one of the leading brands when it comes to PC cases. They have some of the best available PC cases in the market.
NZXT H510i is the successor of famous H500. NZXT has kept all the useful little details of H500, plus some small noticeable improvements in H550i.
There are two series of this product, H510 and H510i with simple and elite version. The price of these variants varies, and you can choose according to your requirements. The elite version comes with built-in power supply and RGB lights. Here we are talking about the i-series simple version.
H510i is a mid-tower case with a tempered glass side panel to showcase the internal hardware. The upgraded features include USB type-c, vertical GPU mount, glass with single screw installation and upgraded smart V2 device with a faster microprocessor. V2 device provides control of two hue two RGB lightning channels, and three fan channels that support either voltage regulated or PWM fans.
Built-in vertical GPU mounting option is a great way to show of your high-end graphics card through the tempered glass. NZXT H50i comes with brilliant cable management. The enhanced cable routing kit is patented by NZXT, and the preinstalled channels and straps provide a very convenient cable management. The motherboard support includes mini-ITX, microATX and ATX.
Phanteks PH-EC416PTG_BK Eclipse P400 Steel ATX Mid Tower Case
Phanteks P400 is by far my favourite minimalistic PC case, considering the looks. It comes with a tempered glass side panel with four screws, and the rest of the chassis is made of steel. The brand name is written on the front side of the case with RGB light flashing on it from the top. There's a power button for RGB lights, and it's up to you to keep it on or off.
This is a mid-tower PC case and looks very decent with any computer gaming desk/setup. It is fully equipped with magnetic dust filters for easy cleaning. Phanteks P400 has an innovative design with 2x drop-n lock SSD brackets for easy setup (but you have to purchase them separately). It can support a long high-end graphics card with size up to 15.2 inches.
The build quality of this PC case is outstanding, and you will know it as soon as you open the box. Other than the led strip installed in the font, it comes with an additional led strip for the interior. Led strip has a connector at the end that you can use to connect more led strips. You can also purchase extra Led strips from Phanteks.
Phanteks P400 supports a full-sized PSU with an option to remove the HDD cage. The chassis has a clean management system using the preinstalled hoop-n-loop cable ties. For optimal airflow, it supports 1 x 120mm fan in front, 1 x 120mm fan in the ear and it also supports water-cooling radiators up to 360mm. Overall, it's one of the best mid-tower PC cases in the market right now.
Cooler Master MasterBox Q500L Minimalist Micro-ATX Tower
MasterBox Q500L is a micro-ATX tower with ATX motherboard support and a magnetic dust filter. The dust filters are easy to install or remove due to the magnets for easy cleaning. It offers a compact space for your ATX motherboard and power supply unit with a body dimension of 386mm (D) x 381mm (H).
Q500L is fully perforated for maximum airflow from all sides with various fan configurations. The chassis is very versatile and the built-in I/O panel is movable in 6 different positions. You can opt to install two 120MM fans at the bottom, two 140mm or 120mm fans at the top and one 120mm fan plus one radiator at the backside of the case. You can choose to have any layout you want according to your requirements.
There are two combos 3.5/2.5″ drive bays, and each bay can support one HDD or two SSDs. The power supply is placed on the top front side to utilize the space inside fully. Q500L offers a 27-30mm width of space behind the motherboard tray for better cable management. The side panel is made transparent acrylic with four screws.
AeroCool Cylon RGB Minimalist Mid Tower
If you are looking for a minimal PC case for your gaming setup with a little bit of RGB touch in front, then AeroCool Cylon can be your best bet. It has a clean design with a sleek RGB light that goes from the top right corner to bottom left corner. The unique RGB panel gives a great ambience to your gaming setup with 13 different lighting modes.
The side panel is made of transparent acrylic to showcase the internal components of your PC. AeroCool Cylon also supports liquid cooling with a 240mm radiator in the front panel. You can also add a 120mm fan on the top, three 120mm fans in the front, one 120mm in the rear to enhance the air-cooling function. It also supports 2 x 120mm VGA fans for maximum air cooling.
This case supports high-end graphics cards up to the size of 371mm. On the top, you will find a USB 3.0, USB 2.0, power button, audio ports and SD card slot. Overall, it is a beautiful looking minimalist PC case with tons of features and built-in RGB lights.
DarkFlash Micro ATX Mini ITX Tower
This is a micro ATX mini ITX tower with a clean, minimalistic look. It has a decent and straightforward outlook for your modern computer gaming setup. The good thing about the DarkFlash DLM22 is that it is available in four different colours with two or three different front designs.
What makes it unique from the other minimalist PC cases is the door opening styled tempered glass panel. Most of the side panels are removable using the screws while the side panel of DLM22 can be opened like a door to access the internal hardware. The only downside to this type of panel mechanism is that you need to have enough space on the left side for the panel to open. The glass is tinted black and keep the lights to minimal brightness.
Other than that, this case has a pretty decent minimal design that looks good. It is compatible with a 240mm water-cooler. DarkFlash DM22 can also support two 120mm fans on the top and two 140mm fans in the front. Overall, the build quality is good, and this PC case is very sturdy.
Thermaltake Versa H18 Tempered Glass Minimalist Gaming PC Case
Thermaltake Versa H18 is the upgraded version of H17. Thermaltake Versa H17 is a perfect minimalist PC case for office use, but It may be a dull looking for the gamers due to the steel side panel.
On the other hand, H18 has a 4mm thick tempered glass side panel attached with four screws, which enhances the look. Both variants come with the same front side with a brushed aluminium look. The front panel also has a built-in blue LED strip on the left side alongside the ports. The ports include 1 x USB 3.0, 2 x USB 2.0 and an HD audio port.
It comes at a reasonable price, which is excellent for entry-level gamers. H18 is compatible with AIO liquid cooling, has ample ventilation options, and it can also support the latest hardware and all the high-end GPUs. The hidden drive bays support two 2.5″ and two 3.5″ storage devices altogether.
Lian Li Mid-Tower Chassis ATX Minimalist Computer Case
Lian Li is one of the best minimalist PC cases in the market right now. It has an elegant looking design without any distractions. It has an all plain front with only the brand name printed on the front bottom. The side panel is made of tempered glass to showcase the internal hardware.
Lian Li is a mid-tower PC case with a dimension of 8.1 x 16.3 x 19.1 inches. There is plenty of space inside for all of your hardware and supports all type of motherboards like ATX, mATX and mini-ITX. Changing the hardware is very easy and with the removable SSD mounting brackets, swappable top and front fan brackets and bottom side panel PSU and HDD bay.
Lian Li comes with excellent cable management with extra space behind the motherboard tray to keep the cables hidden. It comes with magnetic dust filters for easy cleaning. There is side ventilation on both sides, a dust filter tray at the bottom and has two preinstalled 120mm fans for maximum airflow.
Rosewill Prism S Lite Minimalist PC Case
Rosewill ATX mid-tower has a neat and decent-looking design that will look good with any computer setup. Rosewill has two variants, Prism S and Prism S-Lite. Both cases have the same design, except the Prism S variant comes with RGB lights preinstalled inside the case.
Rather than the same plain look that most of the minimalist PC cases have, Rosewill Prism has a 3D angular shiny white design in front for a modern look. The side panel is made of tempered glass for a beautiful view of the internal components. It will definitely look great in an all white gaming setup.
Prism S lite comes with a built-in fan at the bottom that intakes cold air from below and sends it towards the components to keep the temperature low. It comes with plenty of options, and you can build any PC you want. You can even fit a radiator for liquid cooling. Prism S lite supports two SSDs in front, two in removable trays, and two more in a removable cage.
The cable management with this case is impeccable and efficient with the top PSU shroud, which keeps the cables tucked away and hidden from the eye. There is an excellent addition of GPU brace inside the case to hold the GPU tightly so that it won't sag. Overall, Prism Lite S is a viable option if you want a minimalist PC case that doesn't look too boring.
Fractal Design Define R6 Minimalistic PC Case
Suppose you can't compromise on the quality and wants to keep the noise of running hardware to a minimum then Define R6 is your best option. R6 is a solid yet minimalist PC case. But you have to pay a premium to get this case as it is almost triple the price of an average PC case. This case is for serious gamers looking to build a high-end gaming PC.
The entire case has a neat design with a scratch less tempered glass panel and a meshed front look. The side panel doesn't have any screws and works with a push-to-lock latching mechanism. It is highly optimized for silence with high-density industrial dampening on side, top and front panels. R6 comes with a ModuVent technology that lets the user choose between soundproof steel covers or filtered multi-fan ventilation system in the top panel.
It offers next-level cooling capacity with nine different fan positions and clear airflow paths. R6 comes pre-built with three silent, airflow-optimized Fractal Design Dynamic X2 GP-14 140 mm fans for efficient airflow via two intake fans and a single exhaust.
You can attach a large graphics card up to 465mm and a PSU with a maximum depth of 300mm. The interior of R6 is highly modular, including six universal drive trays that can be positioned independently according to the needs.
DEEPCOOL MACUBE 550 BK Full-Tower Case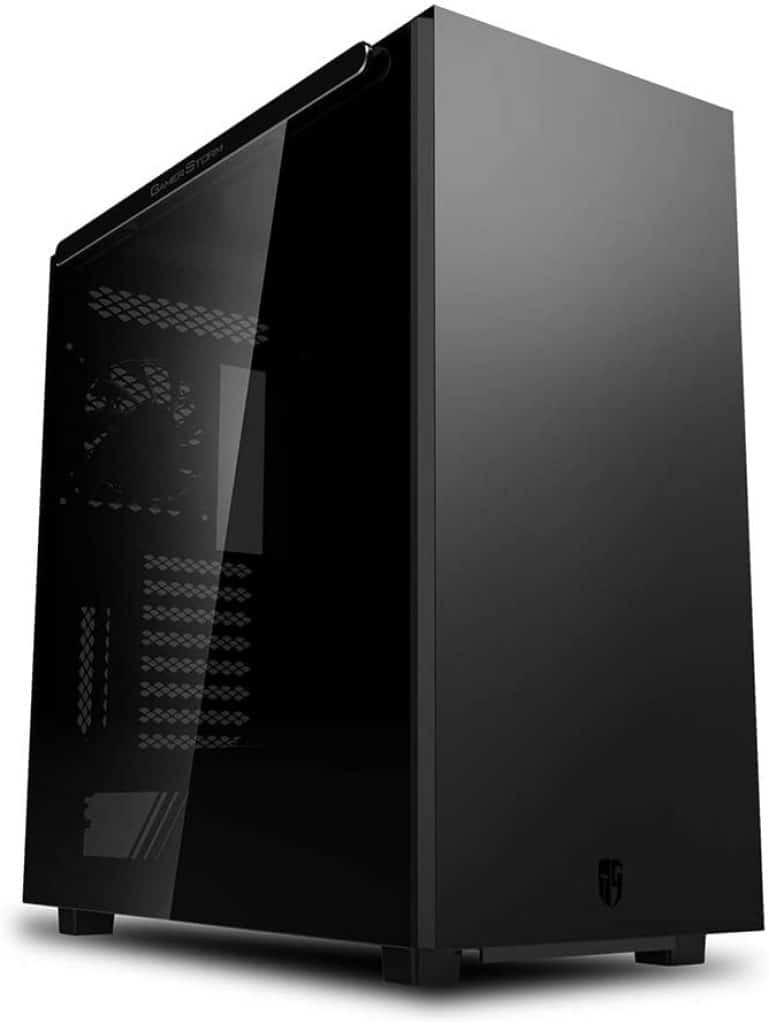 Macube 550BK is a premium minimalist PC case with an excellent all-black look. The side panel is a black tinted tempered glass and the steel front is painted black with a logo on the bottom. The dragon scale ventilation holes give this case a unique look and an optimal airflow.
This is a full tower case with a simple design and a capacity to hold anything you throw at it. The structure of this case is made with 0.800mm SGCC steel for sturdiness, and corrosion resistance. Macube 550 BK supports up to ATX motherboard and a 420mm GPU (vertical installation required). It has 8+2 expansion slots and supports 3x120mm fans in the front, 3x120mm/140mm on the side and 1x120mm/140mm in the rear.
The thing I didn't like is that it only comes with a single 120mm fan and the glass panel is heavily tinted, which obscures the visibility of internal hardware.
Final Thoughts
Personally, I like minimalist PC cases because they give a sleek modern look to your computer gaming setup. Unless you are a serious gamer with a room dedicated to gaming, a simple minimal PC case is better than a flashy one.
I hope you liked this list and found what you were looking for.