8 Best Silent PC Cases in 2023
GPCD
is reader-supported. When you buy through links on our site, we may earn a small commission at no extra cost to you. Thanks for the support! Learn more.
Did you hear that? Yeah, probably that's the sound your PC making, like a sports car. Over the years, the desire to have a silent PC case has grown. Before that, people used to show off their loud systems with high RPM fans, trying to justify how powerful their machines are.
Thanks to today's technology, we are now getting good looking cases that focus on noise cancelation. These cases include soundproofing solutions like noise-canceling material, insulation, isolating vibrating parts, and components to reduce the fan speed. The combination of all these features keeps your chassis from sounding like a jet.
The manufacturers are trying their best to create computer cases that produce minimal noise. They are applying different techniques to overcome the loud noises, and sometimes they sacrifice the airflow, which is obviously not a good thing.
In this article, we have listed some of the best available soundless PC cases with a balance of maximum noise-cancellation and minimum impact on airflow.
Check out more articles on PC cases.
Title
Best Overall
Fractal Design Define R5 - Mid Tower Computer Case - ATX - Optimized for High Airflow and...
Best Premium
be quiet! Silent Base 601 Orange Mid-Tower ATX Computer Case, two 140mm fans, 10mm extra...
Lowest Price
Corsair Carbide Series 100R Silent Edition Quiet Mid Tower Case, Solid
Thumbnail
Best Overall
Title
Fractal Design Define R5 - Mid Tower Computer Case - ATX - Optimized for High Airflow and...
Thumbnail
Best Premium
Title
be quiet! Silent Base 601 Orange Mid-Tower ATX Computer Case, two 140mm fans, 10mm extra...
Thumbnail
Lowest Price
Title
Corsair Carbide Series 100R Silent Edition Quiet Mid Tower Case, Solid
Thumbnail
be quiet! Silent Base 802
Positive
Suitable for silent or high-end builds with water cooling
Spacious interior
Numerous cabling options
Ability to install a GPU vertically
Two soundproof steel panels
Glass door looks good and closes securely
Negatives
No RGB
Vertical graphics card mount appears to have some sag
USB jacks on the I/O panel could be of higher quality
The be quiet! Silent Base 802 is a cutting-edge mid-range PC case that brings an unparalleled fusion of silence and performance to its users. Its distinguishing feature is the ability to switch between a silence-optimized front panel and a mesh front panel for enhanced cooling.
This duality addresses the needs of those torn between a mesh or closed-front chassis, offering the best of both worlds in a single package. The premium price tag of $210 for the tempered glass panel option may raise eyebrows, but the question remains: is it worth the investment?
The spacious interior and ingenious design features of the Silent Base 802 make for a hassle-free building experience. The innovative trays, covers, screw locations, and push-button sides render the case user-friendly and enjoyable to work with.
The ample room within the case ensures that builders are not limited in their choice of components, and the added flexibility makes assembly a breeze.
In addition to its functional benefits, the Silent Base 802 also boasts an aesthetic appeal. The white version, in particular, exhibits a sleek, minimalist sci-fi vibe reminiscent of Portal or the Citadel in Mass Effect. This design aspect, coupled with the case's acoustic intentions, conveys an air of calm and quiet that many will appreciate.
The be quiet! Silent Base 802's rich I/O offerings further enhance its value. Users are treated to two USB 3.0 ports, individual headphone and mic jacks, power and reset switches, an HDD activity LED, a USB 3.2 Gen 2 USB Type-C port, and a fan controller with three speeds and a PWM mode that detects the signal from the motherboard.
When put to the test under demanding gaming conditions, such as Call of Duty Modern Warfare 2 and The Hunter: Call of the Wild, the Silent Base 802 showcases remarkable results. With the solid acoustic front panel in place, the fans are barely audible, even as the hardware is pushed to its limits.
Comparatively, the mesh front cover contributes to better temperature management, leading to a noticeable 5-degree drop in both CPU and GPU temperatures. The trade-off lies in increased noise levels due to the absence of dampening material on the front of the case.
However, this issue could potentially be mitigated by incorporating additional fans to share the circulation load.
In conclusion, the be quiet! Silent Base 802 is a highly functional, versatile, and visually appealing PC case that justifies its premium price tag. The option to switch between silence and performance according to your needs and preferences makes it an invaluable addition to any PC enthusiast's arsenal.
With the Silent Base 802, you'll enjoy a case that adapts to your evolving requirements, making it a solid choice for those who seek both form and function in their PC building endeavors.
Phanteks Eclipse P600S Hybrid Silent
Positive
Suitable for silent or high-end builds with water cooling
Spacious interior
Numerous cabling options
Ability to install a GPU vertically
Two soundproof steel panels
Glass door looks good and closes securely
Negatives
No RGB
Vertical graphics card mount appears to have some sag
USB jacks on the I/O panel could be of higher quality
The Eclipse P600S is a standout mid-tower case that offers an impressive hybrid of quiet operation and high-performance computing. The case is an excellent choice for enthusiasts and builders looking to create a clean and efficient build.
Its glossy white finish and tempered glass side panel held in place by magnets make it a sleek addition to any setup. The case is also very well constructed, feeling more like a $200+ case as opposed to one priced at $150.
One of the most impressive features of the P600S is its versatility. The case accommodates air-cooled or water-cooled builds, single or dual systems, and various configurations. Its excellent cable management and included fan controller make it an ideal choice for enthusiasts and builders looking to create a clean and efficient build.
The case also offers plenty of room for expansion, with the ability to install up to a 420mm radiator in the front of the case and up to 3 x 120mm fans and/or up to a 360mm radiator on the top of the case. The P600S also has a vertical GPU mount, removable side panels, and all panels are magnetically attached, making it easy to access and maintain.
The P600S is well-designed and includes plenty of thoughtful features. The case's I/O panel includes two USB 3.0 ports, a single USB Type-C port, reset button, and two 3.5mm audio/microphone jacks.
The magnetic panel at the front of the case has three different configurations: fully closed, slightly open, and totally removed, each offering varying degrees of airflow and soundproofing. The case also has an included fill port located on the lower right side, perfect for water-cooled builds.
Another impressive feature of the P600S is its exceptional cable management. The case has multiple tiedown points and Phanteks branded Velcro straps, making it easy to keep the back of the case clean and tidy.
The included three 2.5" drive brackets and PSU shroud free of obstructions provide plenty of room to tuck away cables. The case's left side has two usable cable channels held in place with double-looped Velcro strips.
In conclusion, the Eclipse P600S is an excellent mid-tower case that offers an impressive hybrid of quiet operation and high-performance computing. It's a top-notch mid-tower case that offers everything you need for a successful build, making it a must-have for any PC builder.
With its excellent cable management, included fan controller, and versatile design, the P600S is an ideal choice for enthusiasts and builders looking to create a clean and efficient build. The case is very well constructed, feels premium, and offers exceptional value for the price.
| Key Specifications | |
| --- | --- |
| Type | Full Tower |
| Motherboard Support | ATX, uATX, mITX, (E-ATX* – up to 280mm wide) |
| Radiator Support | Top 140mm x 2, Front 140mm x 3, Rear 140 x1 |
| GPU Length Supported | 435mm |
| Drive Bays | 2.5": Three – 3.5": Four |
| I/O Ports | 1x USB 3.1 GEN 2 Type-C, 2x USB 3.0, Power button, Microphone, Headphone, Reset. |
| Dimension | 20.1 x 9.45 x 20.5 inches |
| Weight | 12 Kilograms |
Be Quiet! Silent Base 601
Positive
Very quiet at idle / daily desktop use
Great dust filtration
Build quality
Easily accommodates large system components
Negatives
Poor thermal performance under load
Higher-than-expected acoustics under load
No USB Type-C
Silent Base 601 is one of the most seamless and easy PC cases to build and one of the most silent, making it one of the best cases for beginners. It has two variants, one comes with tempered glass, and one comes without it. The tempered glass variant is $10 more than the simple one. It also comes in three different trims black, silver and orange. I'll be honest the orange trim looks surprisingly clean despite the dark contrast.
This is a mid-tower case but can accommodate EATX motherboards. The first thing I noticed about this case is its restriction of airflow. The front is completely closed off, with very little ventilation coming in from the sides and one minor air scoop on the front panel's bottom. Top ventilation is dictated with the small slits on the very top, and it has very narrow ventilation in the top panel grooves.
Thermals are going to be problematic with this case, but it'll get away with it. Despite the restriction of the airflow, this case has an excellent aesthetic all around. The texture on the panels is a sandblasted finish instead of the brushed aluminum found on most Be Quiet! cases.
The front I/O has USB 3.0 and 2.0 ports but no USB type-C. There's also the inclusion of a fan header that supports up to three fans and has three different fan setting speeds. The 601 also includes two 140mm pure wings two fans.
Dismantling the tempered glass side panel is as easy as a push of a button. There are two buttons on the back of the case, one for each side panel, and all you have to do is push it in to release it. The side panel pops right out and hangs on the hinge without falling over. This has to meet one of the easiest removal methods I have ever experienced.
From the panel, removal is another straightforward design. Just pop it off by sliding the panel up, and it comes right off. You also have access to the bottom dust filter, which spans the entire length of the case by pulling on the bottom of the front panel's scoop. The inside of this case follows a similar layout compared to the dark bass 700 and pro 900 Rev 2.
Key Specifications
Type
Mid-Tower
Motherboard Support
ATX, Micro-ATX, Mini-ITX
Radiator Support
360mm
GPU Length Supported
449mm (without HDD cage)
Drive Bays
2.5": Up to 14 (6 included) – 3.5": Up to 7 (3 included)
I/O Ports
2x USB 3.0, 1x USB 2.0, HD Audio ports,
3-step fan controller, HDD status LED
Dimension
20.9 x 20.2 x 9.4 inches
Weight
10.5 KG
Thermaltake Suppressor F31
Positive
Very quiet with lots of options for both air and liquid cooling
Spacious – Easy to work on
One 120mm intake fan and one 120mm exhaust fan included
Sound dampening material on top, side panels and front
Thermaltake made the case wider
Negatives
I/O panel on top harder to access when case is located under a desk
Bundled fans are very quiet but don't move a lot of air
Fixed Door Orientation
The Thermaltake Suppressor F31 is a mid-tower ATX case that comes with an elegant design and a minimalist aesthetic.
The case features a brushed metal finish on the front and top, while the side panels and back are made from high-quality steel. The sleek look is further enhanced by the absence of any flashy logos or branding.
The build quality of the Suppressor F31 is undoubtedly top-notch. The steel construction feels sturdy and durable, while the plastic components are of high quality and do not feel flimsy.
The overall construction exudes a sense of durability and longevity, ensuring that the case will be able to withstand the test of time and the demands of a high-performance PC build.
Sound Dampening Features:
As the name suggests, the Suppressor F31 is designed to provide an ultra-quiet computing experience. The case comes equipped with thick sound-dampening panels on the top, front, and both sides.
These panels are effective at reducing noise generated by your PC's components, ensuring a peaceful work or gaming environment. The panels are also removable, allowing you to customize the level of noise reduction to suit your needs.
Airflow and Cooling:
Despite being a sound-dampening case, the Suppressor F31 does not compromise on airflow and cooling capabilities. The case comes with a pre-installed 140mm front intake fan and a 120mm rear exhaust fan, which together provide ample airflow for your components.
Moreover, the front panel features a removable dust filter, which helps maintain a clean internal environment and prolong the lifespan of your components.
For those who require more cooling capacity, the case offers support for up to 360mm radiators on the top and front, as well as a 120mm radiator at the rear. Additionally, you can install up to six 120mm or 140mm fans to ensure optimal cooling performance.
Expansion and Customization:
The Suppressor F31 is designed with versatility in mind, offering ample space for expansion and customization. The case supports up to eight expansion slots and can accommodate graphics cards up to 420mm in length, ensuring compatibility with a wide range of high-performance GPUs.
The case also features a modular drive cage system, which allows you to install up to six 3.5″ or 2.5″ drives and two 5.25″ drives. This system not only provides ample storage capacity but also ensures easy access and cable management.
Cable management in the Suppressor F31 is a breeze, thanks to the generous space behind the motherboard tray and the numerous cable routing cutouts. This allows for a clean and clutter-free build, improving airflow and aesthetics.
Verdict
The Thermaltake Suppressor F31 is an excellent choice for those seeking a high-quality, sound-dampening case that does not compromise on performance, cooling, or expansion capabilities.
The case's top-notch build quality, versatile cooling options, and ample space for customization make it a fantastic option for any PC builder, whether you're a seasoned enthusiast or a first-time builder.
be Quiet! Pure Base 500
Positive
Three included Pure Wings 2 fans
Excellent thermal performance
Lots of RGB
Superbly easy to work in
Negatives
Loud performance under load
Just one front USB Type-A port
Front air filter difficult to access
The be quiet! Pure Base 500DX is a truly impressive ATX chassis that offers a plethora of features and excellent value at its $100 price point.
As an upgraded version of the 2019 Pure Base 500, this case incorporates RGB lighting, an additional fan, and an open mesh front panel, which not only enhances airflow but also gives it a modern look.
Available in both black and white color options, the case is aesthetically pleasing with its sleek tempered glass side panel that perfectly complements the overall design.
While the 500DX may not be as noise-conscious as some of be quiet!'s other offerings, its remarkable thermal performance and premium feel make it a formidable competitor in the budget market.
One aspect of the Pure Base 500DX that sets it apart from its predecessors is the inclusion of addressable RGB lighting, marking a first for be quiet! cases. The two front RGB strips and the internal strip above the tempered glass panel provide users with a customizable and eye-catching aesthetic.
The chassis itself is not only compact but also cleverly designed, featuring a magnetic fine mesh top cover, a vented PSU cover, and ample space for effective cable management.
The front I/O is well-equipped with a USB 3.0 Type-A port, a USB 3.1 Gen 2 Type-C port, separate mic and headphone jacks, a power button, and an RGB mode button. However, the inclusion of an additional USB-A port would make it even more versatile.
The interior layout of the Pure Base 500DX is both practical and efficient. It offers room for multiple drives and boasts effective cable management options, including Velcro straps and an embossed cover for hiding cables.
Cooling is provided by three 900 RPM Pure Wings 2 fans, which, while not featuring PWM control, are still of exceptional quality for the price range. Additionally, the case offers decent radiator support, with space for a 240 mm radiator at the top and a 360 mm unit in the front.
Users should be cautious about installing a 280 mm radiator at the top due to potential space constraints, especially with motherboards that have large VRM heatsinks.
Air filtration is also well-considered in the Pure Base 500DX. It comes with two air filters, one at the bottom of the chassis and another behind the front mesh. To access the front filter, users must remove the front panel, which can be easily done without damaging the RGB lighting, thanks to the contact points connection.
In conclusion, the be quiet! Pure Base 500DX delivers outstanding value with its numerous features, attractive design, and excellent thermal performance. For those seeking a premium case without breaking the bank, the 500DX is a solid choice that won't disappoint.
| Key Specifications | |
| --- | --- |
| Type | Midi Tower |
| Motherboard Support | ATX / M-ATX / Mini-ITX |
| Radiator Support | Front 360mm, Top 240mm |
| GPU Length Supported | 369mm |
| Drive Bays | 2x 3.5-inch, 5x 2.5-inch |
| I/O Ports | USB 3.1 Type C Gen. 2 connector is provided on the front |
| Dimension | 17.72 x 9.13 x 17.44 inches |
| Weight | 7.8 KG |
Fractal Design Define R5
Positive
Extra Room Behind The Motherboard Tray
Easy To Clean Removable Dust Filters
Great Water Cooling Support
Aesthetically Pleasing and Minimalistic Design
Good Cable Management
Sturdy Build Quality
Negatives
Needs Another 140mm Fan On The Front
Stock Fans Don't Move A Lot of Air
Quite Heavy For A Mid-Tower Case
With the release of the Define R5 almost six years ago, Fractal Design set the benchmark of how a quite a PC case should be built. R5 is available in titanium color, and for people who want a windowed version to admire the hardware can opt for Define R6. The exterior is a standard closed-off case, and it looks practically identical to the R6 and R7. With a steel side panel, it seems a little boring, but I appreciate the modest approach.
Unfortunately, the optional fan mount inside the panel is not dust filtered, so don't use it, but each panel is covered in noise dampening material, and they're really heavy because of it. The left panel removes both the thumbscrews and the latch mechanism for easier reinstallation, while the thumbscrews on the right panel stay attached.
The front panel has a matte finish with an excellent, brushed plastic that only peeks through under specific lighting conditions. The panel opens a little over 90 degrees with sound dampening material applied and has the ability to swap sides and open from the other side. There are two optical bays along with a three-speed three-fan controller that's accessible yet hidden.
Below optical bays, there is a practical dust filter that's easily removable. Also, this is the only spot on the exterior where we see any fractal branding. The vents are angled down to channel any noise that might escape, plus help with airflow and intake. While it seems a little bit closed off, there's plenty of spacing between the panel and the front fans for adequate air pressure to occur.
This front panel design is almost a staple for the Defined series, and it has never failed. There's only a single 140mm fan included, and for the price, I would have liked to see two. There is a massive dust filter at the bottom that spans the entire floor of the R5 but guess what? It is removable from the front, and you no longer have to wiggle your computer away from the wall to remove the bottom filter.
The I/O ports are at the top, including chrome-plated audio jacks, power and reset button with the power illuminated in dark blue with an activity light in the center, two 2.0 USB ports, two 3.0 USB ports. The top is interesting, as the three plate cover allows the use of only those spots that are needed exposing less of the internals and thus minimizing the noise.
There's over an inch of space to deal with any cable mess with a wide sleeve to tuck away any cables. It also has velcro straps that are so convenient to use with good strength to hold smaller cables.
| Key Specifications | |
| --- | --- |
| Type | Mid-Tower |
| Motherboard Support | Mini-ITX, MicroATX, and ATX |
| Radiator Support | Top 420mm, Front 360mm |
| GPU Length Supported | Up to 465mm |
| Drive Bays | 2.5": Eight or 3.5": Eight |
| I/O Ports | USB 3.0 x 2, USB 2.0 x 2, HD Audio x 1, Mic 1 |
| Dimension | 20.51 x 9.13 x 17.76 inches (LxHxW) |
| Weight | 10.70 kg |
Cooler Master Silencio S600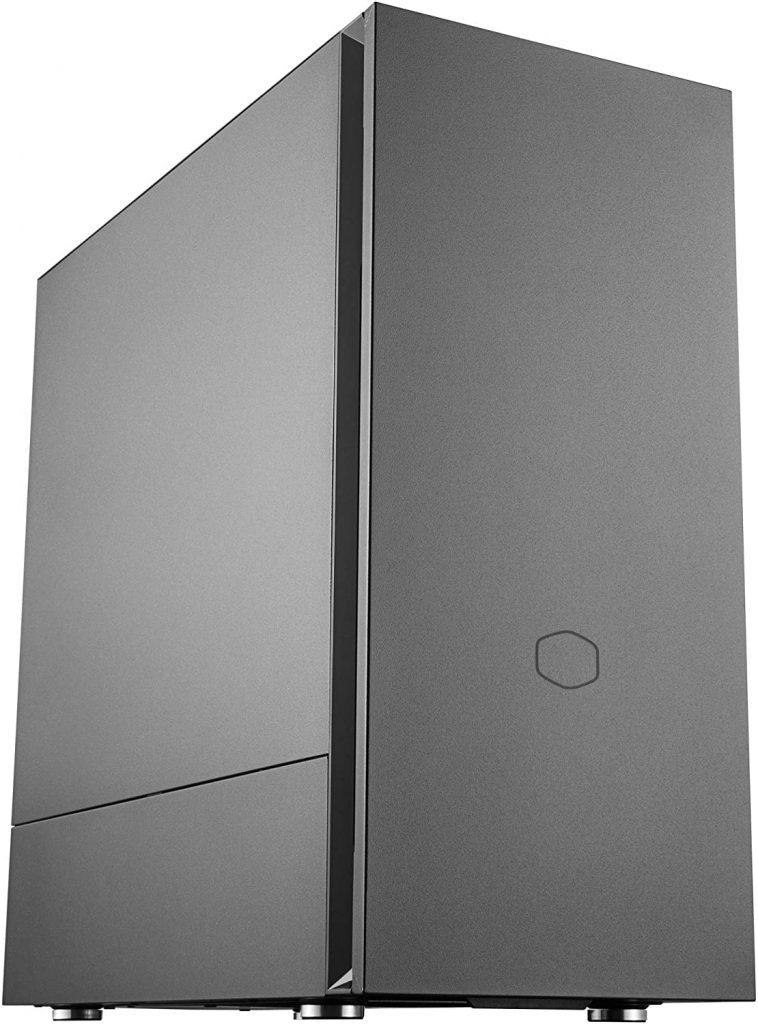 Positive
Fans included are good
Clean minimalistic design
Tempered glass option
Included card reader
Negatives
Internal panels are pretty thin
The Cooler Master Silencio S600 is a case that targets users in the most popular mid-tower segment and especially those who prefer a soundless PC. It is essential to know that it can get a little hot when running at full power, plus it would be great if it were a bit cheaper.
Looking at the case's appearance, it has a beautiful minimalistic design and is only available in black color. The most crucial feature of Silencio S600 is its slow acoustic echo and extremely low noise during intense use. In order to achieve these results, Cooler Master partnered up with another company that specializes in noise reduction.
It has a power button, a reset button, two USB 3.0 ports, a combined headphone and microphone jack, and an SD card reader at the top right side. There is also a large removable panel on top with sound dampening material where you can add two 120mm fans or a 240mm radiator.
The front panel has a Cooler Master logo, and when you open the panel, it has foam on the back for soundproofing. Behind the front panel and in the case, you will find an optical port and a dust filter below it. There is a single fan installed in the front that comes with the case. You will also have space for two more fans (for the third fan, you need to remove the optical port).
At the back, we've got a pretty standard layout. It can fit a 120mm fan, which can be moved up or down up to 15mm. On the side, it has a non-removable metal base that covers the power supply area, and above that, it has tempered glass. You can also get a variant with a full steel side panel, which reduces noise better than the glass version.
| Key Specifications | |
| --- | --- |
| Type | Mid-Tower |
| Motherboard Support | ATX, Micro-ATX, Mini-ITX |
| Radiator Support | Top: 120mm, 240mm(remove ODD cage) – Front: Up to 280mm |
| GPU Length Supported | 398mm |
| Drive Bays | 2.5": Five – 3.5": Four |
| I/O Ports | 2x USB 3.2 Gen 1 (formerly USB 3.0), 1x 3.5mm Headset Jack (Audio+Mic), 1x SD card reader |
| Dimension | 8.23 x 18.82 x 18.52 inches |
| Weight | 8.4 KG |
Corsair 110Q
Positive
The tower is very cleanly designed, inside and out.
Easy to work with and add your own fans.
Easy to install an ATX board.
Minimalistic Design
Negatives
Airflow is not very good.
The Corsair 110Q case is a mid-tower case is perfect for those of you who want a quiet and budget-friendly case. The Corsair 110Q comes with noise-dampening material on its four panels, making it the ideal choice if you're looking to hush those noisy components like fans and coolers.
On the top of the Corsair 110Q, you'll find the ever-so-clicky power button, two USB 3.2 Gen 1 ports (fancy, right?), a headphone and microphone combo jack, and a reset button. The front is clean and minimalist, featuring a sleek Corsair logo and a 5.25-inch bay for any optical drives you want to install.
Now, let's take a peek at the back! Here, you'll find a pre-installed 120mm fan (that's it, no sizing up here, folks), an I/O shield cutout, seven expansion slots, and a spot for your trusty power supply. On the inside of the case, there's room for two 2.5-inch SATA SSDs and two 3.5-inch hard drives or even more 2.5-inch SSDs if you need them.
The case also comes with a box of goodies, including zip ties and screws for your power supply and motherboard. But wait, there's more! The Corsair 110Q can fit up to a 360mm all-in-one (AIO) cooler in the front, making it a versatile choice for those of you with varying cooling needs.
Now, let's talk about cable management. While the space between the panel and the back of the motherboard tray might be a bit tight, the case does offer plenty of tie-down spots for your cables. You won't find fancy Velcro or cable channels here, but with a little creativity, you can make it work!
When it comes to the front panel, it comes off with a little bit of elbow grease. The panel is lined with noise-dampening material, which will help keep things quiet when you have fans or an AIO installed. The mesh on the intake side is a bit coarse, but it's better than nothing, right?
Lastly, let's talk about the power supply situation. The Corsair 110Q has rubber dampeners at the bottom, which help reduce vibrations and keep things extra quiet. Just be mindful that there's no power supply cover, so any cables will be exposed. But hey, who needs a fancy cover when there's no viewing window to see inside anyway?
So, what's the verdict on the Corsair 110Q? It's a fantastic choice for a mid-tower case if you're looking for something quiet and budget-friendly. With its noise-dampening material, support for up to a 360mm AIO cooler, and decent cable management options, this case is sure to please.