6 Best Silent PC Cases in 2023
GPCD
is reader-supported. When you buy through links on our site, we may earn a small commission at no extra cost to you. Thanks for the support! Learn more.
Did you hear that? Yeah, probably that's the sound your PC making, like a sports car. Over the years, the desire to have a silent PC case has grown. Before that, people used to show off their loud systems with high RPM fans, trying to justify how powerful their machines are.
Thanks to today's technology, we are now getting good looking cases that focus on noise cancelation. These cases include soundproofing solutions like noise-canceling material, insulation, isolating vibrating parts, and components to reduce the fan speed. The combination of all these features keeps your chassis from sounding like a jet.
The manufacturers are trying their best to create computer cases that produce minimal noise. They are applying different techniques to overcome the loud noises, and sometimes they sacrifice the airflow, which is obviously not a good thing.
In this article, we have listed some of the best available soundless PC cases with a balance of maximum noise-cancellation and minimum impact on airflow.
Check out more articles on PC cases.
Title
Best Overall
Fractal Design Define R5 - Mid Tower Computer Case - ATX - Optimized for High Airflow and...
Best Premium
be quiet! Silent Base 601 Orange Mid-Tower ATX Computer Case, two 140mm fans, 10mm extra...
Lowest Price
Corsair Carbide Series 100R Silent Edition Quiet Mid Tower Case, Solid
Thumbnail
Best Overall
Title
Fractal Design Define R5 - Mid Tower Computer Case - ATX - Optimized for High Airflow and...
Thumbnail
Best Premium
Title
be quiet! Silent Base 601 Orange Mid-Tower ATX Computer Case, two 140mm fans, 10mm extra...
Thumbnail
Lowest Price
Title
Corsair Carbide Series 100R Silent Edition Quiet Mid Tower Case, Solid
Thumbnail
Be Quiet! Pure Base 500
The Be Quiet Pure Base 500 is the company's first modern take on a compact mid-tower. There are two variants of Pure Base 500, one with the tempered glass and one without it. There is a slight difference in the price, as the variant with tempered glass costs a few bucks more. Regardless of the model, you'll find two 140mm pure wings two fans standard.
The layout looks great, but the airflow is likely lacking. What Be Quiet! done here is that it shrunk an effective Dark Base 700 chassis into a compact mid-tower format. It has seven PCI slots at the rear, a full-width basement, support for up to 360mm, and I/O upfront.
Both the right and front panels are fitted by default with sound damping material. The front panel is easily removed in the front I/O stays with the chassis, which means no dangling cables. Two top covers are included, and you have a choice at no additional charge.
Under the basement, we've got sufficient space for a full-length power supply. The cable management space is decent, not the best but definitely not the worst. Looking at the front I/O, there is no USB type-c inclusion, instead of two USB 3 type-A ports, a microphone jack, a headphone jack, and a power button. I've got to say Be Quiet! did a heck of a job with this one in terms of its design. Seeing as this is their first time dabbling in the mid-tower space.
| Key Specifications | |
| --- | --- |
| Type | Midi Tower |
| Motherboard Support | E-ATX / XL-ATX / ATX / M-ATX / Mini-ITX |
| Radiator Support | 360mm |
| GPU Length Supported | 369mm |
| Drive Bays | 2.5": Five – 3.5": Two |
| I/O Ports | 2 x USB 3.0, Mic + Audio & a Power Button |
| Dimension | 17.7 x 9.10 x 17.4 inches |
| Weight | 7.5 KG |
Phanteks Eclipse P400S Silent Edition
This version is called the silent edition or the P400S. There is also a simple version of this case called P400A, but here we will talk about P400S. Phanteks has done a great job at delivering a reliable, silent PC case at a competitive price.
Phanteks is diversifying your options with three colors available, black, gray, and white. Plus, you can choose between the silent window and the silent closed panel. You have $10 and $20 premium editions that all share a similar building experience and an identical frame.
The metal panels have a glossy look that unfortunately does not match with the plastic covers at the top, which are more matte, and you can notice the color difference. These top covers help with the noise and are magnetic, so they're effortless to place and remove. Phanteks also includes optional dust filters for the top.
The top supports dual 140mm or 120mm fans, and given the limited height of this mid-tower, radiator installation at the top is not recommended or most likely will be impossible with most ATX boards. The I/O is at the top with dual USB 3 ports, audio jacks, an illuminated power button with a reset switch, a three-speed two-fan controller. Inside we have two 120mm fans included, one in the front and one in the back.
There also an ambient lighting switch that illuminates the Phanteks logo at the bottom with ten colors available. If you're not feeling the LEDs, a long press will turn them off. There's a second connection for the Phanteks LED strip if you decide to add some extra ambient color on the interior with those LED strips, but you'll have to purchase them separately.
There is a dust proofing approach for the front panels. It has tiny mesh pieces, one at the top and one at the bottom, leaving everything super dustproof, and there's also a dust filter underneath the power supply. The silent Edition comes with sound dampening materials applied on all exterior pieces, including side panels, the front panel, and even the top covers.
At the back, Phanteks includes two SSD brackets and a dual hard drive cage in front of the power supply. At this price point, I think the storage options are totally fine. The verdict for cable management is okay. It has awesome velcro straps around the grommets but nothing in the front portion of the enclosure. So you need to get creative with how you secure some cables if they enter that area.
| Key Specifications | |
| --- | --- |
| Type | Midi Tower |
| Motherboard Support | ATX, Micro ATX, Mini ITX, E-ATX |
| Radiator Support | 360mm |
| GPU Length Supported | 386mm |
| Drive Bays | 2.5": Two – 3.5": Six |
| I/O Ports | 2x USB 3.0, Headphone, Mic, LED Control, Reset, 3-Speed fan controller |
| Dimension | 18.5 x 8.3 x 18.3 inches |
| Weight | 7 KG |
Fractal Design Define R5
With the release of the Define R5 almost six years ago, Fractal Design set the benchmark of how a quite a PC case should be built. R5 is available in titanium color, and for people who want a windowed version to admire the hardware can opt for Define R6. The exterior is a standard closed-off case, and it looks practically identical to the R6 and R7. With a steel side panel, it seems a little boring, but I appreciate the modest approach.
Unfortunately, the optional fan mount inside the panel is not dust filtered, so don't use it, but each panel is covered in noise dampening material, and they're really heavy because of it. The left panel removes both the thumbscrews and the latch mechanism for easier reinstallation, while the thumbscrews on the right panel stay attached.
The front panel has a matte finish with an excellent, brushed plastic that only peeks through under specific lighting conditions. The panel opens a little over 90 degrees with sound dampening material applied and has the ability to swap sides and open from the other side. There are two optical bays along with a three-speed three-fan controller that's accessible yet hidden.
Below optical bays, there is a practical dust filter that's easily removable. Also, this is the only spot on the exterior where we see any fractal branding. The vents are angled down to channel any noise that might escape, plus help with airflow and intake. While it seems a little bit closed off, there's plenty of spacing between the panel and the front fans for adequate air pressure to occur.
This front panel design is almost a staple for the Defined series, and it has never failed. There's only a single 140mm fan included, and for the price, I would have liked to see two. There is a massive dust filter at the bottom that spans the entire floor of the R5 but guess what? It is removable from the front, and you no longer have to wiggle your computer away from the wall to remove the bottom filter.
The I/O ports are at the top, including chrome-plated audio jacks, power and reset button with the power illuminated in dark blue with an activity light in the center, two 2.0 USB ports, two 3.0 USB ports. The top is interesting, as the three plate cover allows the use of only those spots that are needed exposing less of the internals and thus minimizing the noise.
There's over an inch of space to deal with any cable mess with a wide sleeve to tuck away any cables. It also has velcro straps that are so convenient to use with good strength to hold smaller cables.
| Key Specifications | |
| --- | --- |
| Type | Mid-Tower |
| Motherboard Support | Mini-ITX, MicroATX, and ATX |
| Radiator Support | Top 420mm, Front 360mm |
| GPU Length Supported | Up to 465mm |
| Drive Bays | 2.5": Eight or 3.5": Eight |
| I/O Ports | USB 3.0 x 2, USB 2.0 x 2, HD Audio x 1, Mic 1 |
| Dimension | 20.51 x 9.13 x 17.76 inches (LxHxW) |
| Weight | 10.70 kg |
Be Quiet! Silent Base 601
Silent Base 601 is one of the most seamless and easy PC cases to build and one of the most silent, making it one of the best cases for beginners. It has two variants, one comes with tempered glass, and one comes without it. The tempered glass variant is $10 more than the simple one. It also comes in three different trims black, silver and orange. I'll be honest the orange trim looks surprisingly clean despite the dark contrast.
This is a mid-tower case but can accommodate EATX motherboards. The first thing I noticed about this case is its restriction of airflow. The front is completely closed off, with very little ventilation coming in from the sides and one minor air scoop on the front panel's bottom. Top ventilation is dictated with the small slits on the very top, and it has very narrow ventilation in the top panel grooves.
Thermals are going to be problematic with this case, but it'll get away with it. Despite the restriction of the airflow, this case has an excellent aesthetic all around. The texture on the panels is a sandblasted finish instead of the brushed aluminum found on most Be Quiet! cases.
The front I/O has USB 3.0 and 2.0 ports but no USB type-C. There's also the inclusion of a fan header that supports up to three fans and has three different fan setting speeds. The 601 also includes two 140mm pure wings two fans.
Dismantling the tempered glass side panel is as easy as a push of a button. There are two buttons on the back of the case, one for each side panel, and all you have to do is push it in to release it. The side panel pops right out and hangs on the hinge without falling over. This has to meet one of the easiest removal methods I have ever experienced.
From the panel, removal is another straightforward design. Just pop it off by sliding the panel up, and it comes right off. You also have access to the bottom dust filter, which spans the entire length of the case by pulling on the bottom of the front panel's scoop. The inside of this case follows a similar layout compared to the dark bass 700 and pro 900 Rev 2.
Key Specifications
Type
Mid-Tower
Motherboard Support
ATX, Micro-ATX, Mini-ITX
Radiator Support
360mm
GPU Length Supported
449mm (without HDD cage)
Drive Bays
2.5": Up to 14 (6 included) – 3.5": Up to 7 (3 included)
I/O Ports
2x USB 3.0, 1x USB 2.0, HD Audio ports,
3-step fan controller, HDD status LED
Dimension
20.9 x 20.2 x 9.4 inches
Weight
10.5 KG
Cooler Master Silencio S600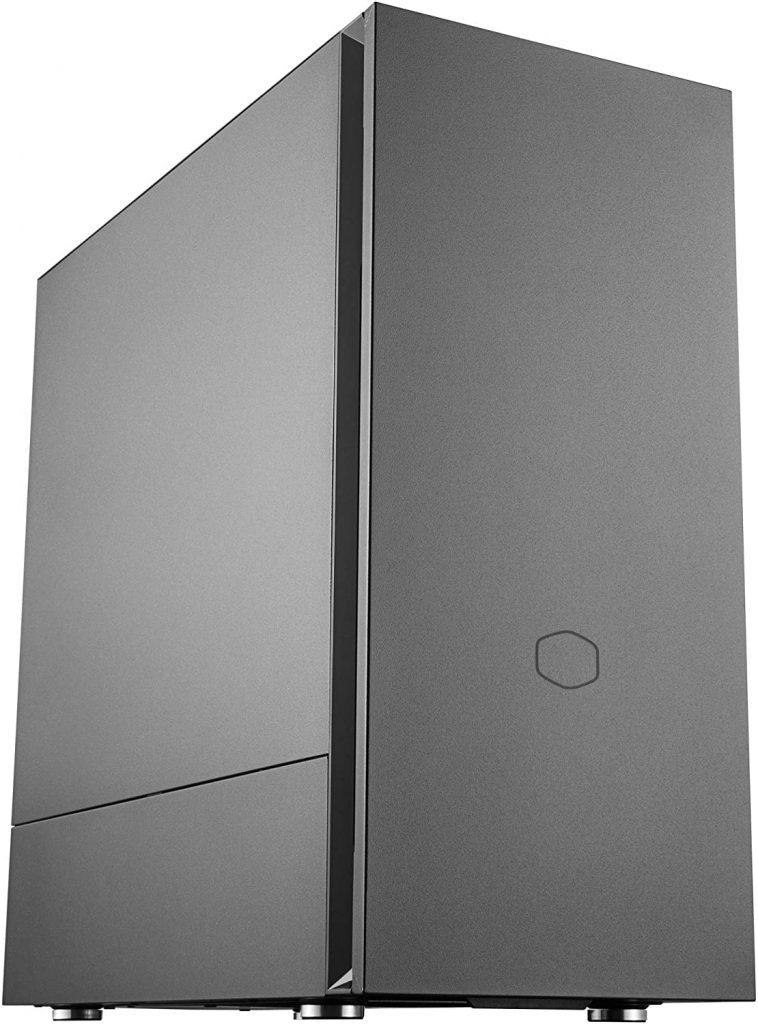 The Cooler Master Silencio S600 is a case that targets users in the most popular mid-tower segment and especially those who prefer a soundless PC. It is essential to know that it can get a little hot when running at full power, plus it would be great if it were a bit cheaper.
Looking at the case's appearance, it has a beautiful minimalistic design and is only available in black color. The most crucial feature of Silencio S600 is its slow acoustic echo and extremely low noise during intense use. In order to achieve these results, Cooler Master partnered up with another company that specializes in noise reduction.
It has a power button, a reset button, two USB 3.0 ports, a combined headphone and microphone jack, and an SD card reader at the top right side. There is also a large removable panel on top with sound dampening material where you can add two 120mm fans or a 240mm radiator.
The front panel has a Cooler Master logo, and when you open the panel, it has foam on the back for soundproofing. Behind the front panel and in the case, you will find an optical port and a dust filter below it. There is a single fan installed in the front that comes with the case. You will also have space for two more fans (for the third fan, you need to remove the optical port).
At the back, we've got a pretty standard layout. It can fit a 120mm fan, which can be moved up or down up to 15mm. On the side, it has a non-removable metal base that covers the power supply area, and above that, it has tempered glass. You can also get a variant with a full steel side panel, which reduces noise better than the glass version.
| Key Specifications | |
| --- | --- |
| Type | Mid-Tower |
| Motherboard Support | ATX, Micro-ATX, Mini-ITX |
| Radiator Support | Top: 120mm, 240mm(remove ODD cage) – Front: Up to 280mm |
| GPU Length Supported | 398mm |
| Drive Bays | 2.5": Five – 3.5": Four |
| I/O Ports | 2x USB 3.2 Gen 1 (formerly USB 3.0), 1x 3.5mm Headset Jack (Audio+Mic), 1x SD card reader |
| Dimension | 8.23 x 18.82 x 18.52 inches |
| Weight | 8.4 KG |
Corsair 100R Silent Edition
Corsair's Carbide case, the 100R, aims to close the gap between giving users the most value friendly but complete package at an affordable price. We don't have anything unique in the case, but what Corsair did here was to minimize the cost to create the most budget-friendly noiseless PC case.
The 100R looks very similar to previous carbide cases with a plastic front panel with a tiny brushed look only noticeable at certain angles. The rest of the case is a simple metal frame with a stamped side panels for extra rigidity. Above the two drive bays at front, it has dual USB 3.0 ports, a headphone jack, a microphone jack, and illuminated power and reset buttons.
Removing the front panel, it has noise dampening material applied, and being the silent Edition, Corsair made sure to cover both side panels and the top panel, so the entire top portion of the case is completely solid.
A total of two 120mm fans are included, one at the rear and one at the front. There are extra mounting holes outside of the frame for dual 140mm fans that can only be installed outside of the frame. The front panel ventilation is adequate, and the panel is spaced out enough for the fans to breathe.
Coming to the back of the case, we don't have anything unusual to talk about. It has 7 PCI slots, bottom-mounted power supply with a removable dust filter. The silent Edition also features a three-speed fan controller, which is not included in the standard edition. Unfortunately, the fan speed controller is at the back of the case and quite inaccessible.
| Key Specifications | |
| --- | --- |
| Type | Mid-Tower |
| Motherboard Support | ATX, Micro-ATX, Mini-ITX |
| Radiator Support | Up to 240mm |
| GPU Length Supported | 420mm |
| Drive Bays | 2.5": Four– 3.5": Four |
| I/O Ports | (x2) USB 3.0 ; (x1) Headphone Port ; (x1) Microphone Port |
| Dimension | 16.90 x 8.30 x 19.50 inches |
| Weight | 6 KG |
Conclusion
2021 is the best time to build your new PC or change the chassis as we have many good silent PC cases available in the market. I hope this guide helped you in making the decision. I have done my best to include quite PC cases that are worth your money and tried to explain all the necessary features to help you decide which one is the perfect PC case for you.