Corsair K65 RGB MINI Review – 60% Keyboard
GPCD
is reader-supported. When you buy through links on our site, we may earn a small commission at no extra cost to you. Thanks for the support! Learn more.
Corsair's first foray into the 60% mechanical keyboard market! Well, I don't think it's gone quite as smoothly as they'd hoped. Don't get me wrong, it's still a reasonable layout, and it's nice enough, but there are some things that I'd like to see improved before I could happily recommend it.
Before going into Corsair K65 RGB MINI Review you should know that I'm not a 60% mechanical keyboard nerd and also not the biggest fan of these 60% layouts in general. These are my personal opinions about the K65 RGB mini and you can have your own opinion.
For me, it slows me down in terms of productivity, and I use a full-sized cherry X brown keyboard for daily use. Let's take a look, and I'll explain what I think is good and what's wrong with the K65 mini.
You can also check out this guide: How to Choose the Right Keyboard Size?
Design
As for styling, I like the K65 mini. It has a minimalist design, which looks pretty cool, including the very subtle Corsair logo on the backside that you won't ever see.
I really like the keycap texture. It has a fine grit grain that is comfortable to use and a little bit grippy, which makes it nice and easy to hold.
I also like the space bar with its funky design and the RGB lighting behind that. Of course, it's full perky RGB backlighting, and it's customizable in the new iCUE software.
What is a 60% Keyboard?
First, for those of you who don't know, a 60% keyboard is one that's not only missing the number pad but the function keys (F1 through F12) and both arrow and home insert, end, page up, page down, delete keys, are also missing.
So, all you're left with is the very core of a keyboard. What you have is, at least in my case, a standard ISO layout. Although you can get it in whatever layout you fancy as well, and it's pretty much exactly as you'd expect.
Check out these keyboards:
Keys
You still have all of the usual CTRL, ALT windows keys. You have an FN key, as many of the newer mechanical keyboards do. But more importantly, this keyboard does allow you to use a lot of those missing functions by pressing FN, then whatever associated key has the secondary function you're looking for.
Those secondary functions are printed (called ninja printing) on the front face of the keyboard. For example, if you wanted to use the arrow keys, you would hold FN and press U, H, J, or K.
If you want to use one of the function keys, then you press FN and any one of the numbers corresponding to whichever FN you want. If you want to delete, then you press FN and backspace.
On the whole, Corsair has gone with a standard ISO layout with the very core of the keyboard. In terms of secondary functions, I'm happy with it. They've done a reasonable job here.
The arrow keys aren't perfectly lined up, and the fact that you have to hold FN to use them might get annoying. It has many extra functions, including media key functionality and even some mouse key functionality over the left-hand side.
Also Read: Keyboards with Programmable Macro keys
Key Sound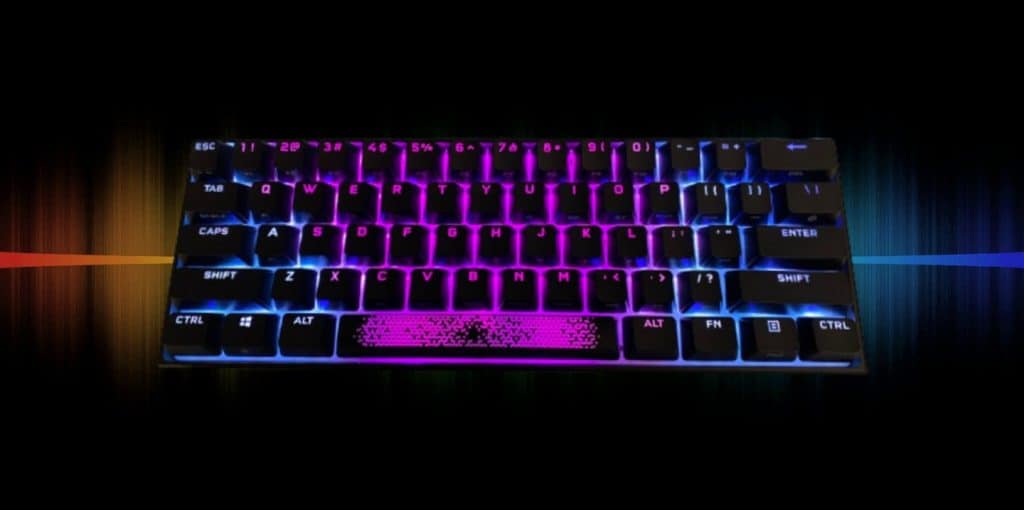 One of the things that I don't like about the K65 mini is the sound its keys made. Not only do the key switches or the keys themselves have a cheap sort of tacky clack to them, but they also ping.
The first thing that I noticed when I started typing on this keyboard was that ringing noise, and when I gave it to my friend to try out, she said the same thing.
No matter how lightly or hammer typing you press every single key, you will notice a ringing noise. Check out the sound below, so you would know what I mean.
As you can listen, the very first thing you'll notice is that ringing noise. It's not great and doesn't live up to its high price tag. On top of that, the space bar has a mushier sound, and the ringing is more prevalent.
It has an entirely different sound to a standard key switch which is strange because the overall keyboard flex is fantastic. Check out the sound difference between normal keys and the space bar below.
It also feels pretty hefty, which may make it a bit more challenging to travel with, but it feels like a solid board until you start typing on it.
Keyboard Height
The height of the Corsair K65 is also something that I couldn't get used to. It's a ridiculously high keyboard, and there are no adjustable feet. The height that you get is the height that it's staying at. It felt very tall and felt like my wrist was cranked backward at a fair bit.
I tried to write articles with this, but after just a couple of writing paragraphs, my wrists got fatigued to the point where I had to stop and do stretches. I had to put my wrist rest before I could continue.
Overall, If you can get past the comfort elements or if that's not a problem for you, then it is fine. It is the new brand of Cherry MX red switches. In particular, these switches haven't felt quite as smooth and feel mushy.
Gaming
As for gaming, it felt okay. One thing that's a bit of a disappointment in the gaming realm is misleading marketing. Corsair lists this as an 8000hz polling rate keyboard, and technically it is.
You can set it to run at 8000 hertz in their iCUE software. In practice, though, the controller only scans the keys at 4000 hertz, meaning the keyboard runs at 4000 hertz, but it's reporting twice per cycle.
They're using cherry MX red switches instead of optical ones, which means you still have to debounce these keys. So it's not going to register any faster than if it's running at 1000.
It doesn't matter, 8000 hertz is already something that I wouldn't generally care about on a keyboard. Anyway but that touch of misleading marketing is disappointing to see.
Conclusion
I can't say that I'm a massive fan of the K60 mini with its relatively high price tag. You can buy three or four non-brand 60% keyboards from Amazon for the price of one.
Plus there's a good chance that those will be potentially less clacky, less pingy, and will give you a more comfortable experience. At least for me.
Anyway, if you end up with one of these, I don't think it's going to be the worst experience especially if you do find it comfortable to use.
If you're someone who prides themselves in having a nice and fancy keyboard, then I'm not sure that this one is probably going to be for you as you can expect.