5 Best Keyboards with Programmable Macro keys
You can game on every keyboard, but gaming on a keyboard with dedicated macro keys gives you an edge over other players. These macro keys can save you much-needed time by quickly executing a series of buttons with a single click. This way, you can have an advantage in multiplayer games or even in single-player modes.
Gaming Keyboards with programmable macro keys are great for performing complicated combos with a single key. The keyboard I have reviewed in this article has five to six macro keys on the left end side for easy access. Other than the combination for gaming, you can program each key to whatever command you want.
Title
Best Selling
Razer Huntsman Elite Gaming Keyboard: Fast Keyboard Switches - Clicky Optical Switches -...
Best Budget
Redragon K596 Vishnu 2.4G Wireless/Wired RGB Mechanical Gaming Keyboard, 87 Keys TKL...
Thumbnail
Dedicated Macro Keys
No, you can program any key using Razer Hypershift
Best Selling
Title
Razer Huntsman Elite Gaming Keyboard: Fast Keyboard Switches - Clicky Optical Switches -...
Thumbnail
Dedicated Macro Keys
No, you can program any key using Razer Hypershift
Logitech G915 Wireless Gaming Keyboard
Design
You can tell by the first look that G195 is a low-profile mechanical keyboard. I feel that low-profile keyboards are a bit polarizing, and most people either like or hate them. But this is a flagship model that may even convert some of you that don't really like low-profile keyboards.
G915 is an ultra-thin keyboard with a minimalistic design. The side bezels on the three sides are very thin. The top side has some extra space, but it is accommodated by a bunch of dedicated buttons.
Also Check these thin bezel gaming monitors.
The overall look of this keyboard is sharp and classy. The cobalt blue brushed aluminum backplate looks really nice. But keep in mind that this type of design picks up debris and fingerprints a little bit easier than a matte finish.
I like how the backplate wraps around the sides of the keyboard and rounds it off to give a smooth look. Underneath the keyboard is two-step extendable legs which is great for a low-profile keyboard. Having two-step extendable legs is a big plus for users to angle the keyboard however they like.
Also Read: How to Choose the Right Keyboard Size?
Wireless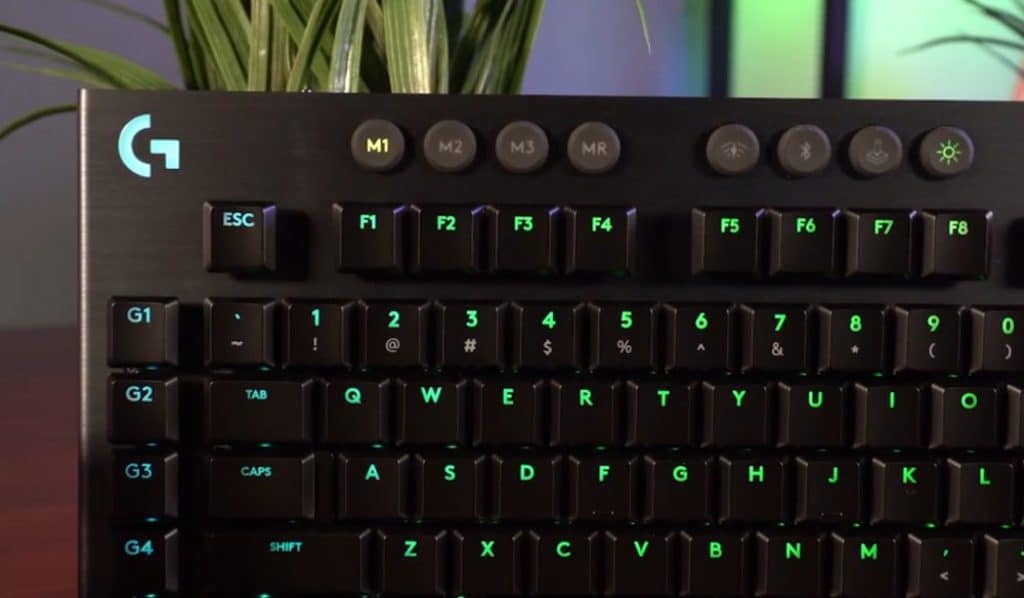 It is a wireless keyboard and uses Logitech's wireless LightSpeed technology. It comes with a USB dongle that can be plugged into your PC USB port. This connects with a super fast and reliable one-millisecond connection.
Logitech's Lightspeed devices are exceptionally good in terms of connection. You can also connect it using Bluetooth. There are dedicated buttons on the keyboard to connect to both Bluetooth and the wireless LightSpeed connection.
If you have multiple setups like a streaming PC and your regular PC both connected simultaneously, it'll keep those connections. You can seamlessly toggle between the two devices without having to re-pair the device and connect.
Battery
Good battery life is very important for a wireless keyboard, and this keyboard boasts some huge battery numbers. Logitech G915 can last for days and, to be more precise, a hundred and thirty-six days.
Using it for eight hours daily without the RGB lights can give you this much battery timing with a single charge. However, turning on the RGB lights will shorten the battery timing to just twelve days.
It uses lithium batteries, and you can't swap it with double AA batteries. You will need a USB cable to charge it.
RGB Lights
This keyboard has a couple of different lighting zones. It has an RGB illuminated G logo in the top left corner. The media keys also have RGB lights. All the other keys on the keyboard have per-key RGB lighting that can be customized using Logitech G hub software.
You can save up to three dedicated profiles directly onto the keyboard itself. There are three dedicated buttons (M1, M2, M3) on the top left of the board where you can toggle in between these profiles.
Switches
The best thing about this keyboard is the inclusion of Logitech's new GL switches. These GL switches are made with Logitech's own specifications, and they're offering this keyboard in three different varieties, clicky, linear, and tactile.
Logitech ensures that everybody out there gets a board that suits their style. These switches come with a 1.5mm actuation distance, 2.7mm total travel, and 50g actuation force. It will be about 25% faster than your average cherry switch in terms of distance.
I also like the form of the chocolate switches. They offer minimal key wobble and overall have a nice solid feel to them.
The only downside to using these types of switches is that the keycaps will not be universally compatible with something like Cherry MX switches.
Keys
The keycaps are made out of ABS plastic and have a low-profile design to them. The font looks nice, and the keys are well illuminated but not as bright and vibrant as the keyboards from Logitech that use Romer G switches.
One downside is that all of the secondary functions are not illuminated on this keyboard. I think this is because of the switches.
The key caps feel nice to use and have a comfortable contour. They have a super smooth finish to them which feels good to press.
It has five macro keys that you can set up using Logitech G hub software. You also have a macro recording button and a dedicated game mode button. It also has dedicated RGB media keys and a big metal volume scroll wheel on the top right.
Also Read: What are Macro Keys in Gaming?
Keys Sound
Final Words
The downside of this keyboard is that it is too expensive for an average gamer. But the good thing is that you can get a cheaper (not so cheap) wired variant of this keyboard, Logitech G815.
While you have to pay a premium to get this keyboard, I feel like this keyboard is loaded with quality features, and the build quality is absolutely superb in terms of low-profile mechanical keyboards. I can guarantee you guys from everything that I've tried so far. You will not find anything that comes anywhere close to this keyboard.
Corsair K95 RGB Platinum XT
Design
The K95 Platinum XT has the same 110-key layout as the original K95 and uses the same basic chassis.
The original K95 platinum came in with two color variants of the aluminum top plate, but the new one only comes with a black anodized brushed aluminum top plate. I don't see this as a big deal because the two different options of the old K95 looked quite similar.
There's still a little flex when pushing down on the board from the center. The overall build quality is the same as the old K95. Although, there are some changes in the detachable wrist rest. Now it has a simple foam padding wrapped in a thin leatherette finish.
Unfortunately, it is a downgrade for me, and the original wrist rest was heavy with a reversible magnetic pad that was versatile and gave a nice feeling of quality.
The new wrist rest feels cheap as compared to the old one. It's lightweight and offers less padding, and the leatherette is very thin. In my opinion, they should have stuck with the original design.
The bottom side of the board has the same cable channel as the original K95, which lets you run a standard-sized headset cable underneath your keyboard. The rubberized pads and rubberized extendable legs are the same as before.
Check out Corsair K65 RGB Mini Review
RGB
Lighting was always a plus point for the K95, and the Platinum XT has exactly the same per-key RGB lights. You can customize the RGB lights using their iCUE software. They introduced one minor improvement with the release of Platinum XT in the form of a debounce delay that reduces double strokes.
The nineteen zones light bar at the top of the board makes a return with the same RGB-enabled logo and media keys. The keys themselves are not as bright and vibrant due to the new keycaps.
Keys
The Platinum XT comes with double shot PBT keycaps, which is a notable increase in value over the original as Corsair charges $50 for a set of new PBT keycaps.
Corsairs PBT keycaps have thick sidewalls and a nice textured surface to them. Although, PBT caps have reduced permeability in the lighting on the keys. This is similar to what we saw with the Razer Huntsman's introduction of their PBT keycaps.
The spacebar has the same obnoxious diamond plate texture, and the infamous Corsair spacebar rattle is better on this model but not completely gone.
Switches
The K95 Platinum XT is available with Cherry MX brown, speed switches, and Cherry MX blues. So, you can now get this board in clicky, tactile, or linear variants, which is an excellent addition.
One thing to notice is that the switches are being advertised with a hundred million keystroke lifespan while Cherry's still advertises their switches on 50 million. So, I'm not sure what's going on here.
Keys Sound
Final Words
In terms of extras, the K95 XT comes with two sets of textured accent keys for WASD and QWERDF and six blue textured keys for the macro keys. Since macro keys already come with textured keycaps, I think a non-textured set would have been better.
It also comes with a Corsair logo keycap for the Escape button and a plastic keycap puller. The board has a full N-key rollover and a USB pass-through as well.
There are dedicated buttons for switching profiles, changing brightness, and activating Windows lock. The dedicated media keys with metal volume scroll wheel remain unchanged.
If you already have the original K95, upgrading to the XT version is not worth it.
Razer Huntsman Elite Gaming Keyboard
Design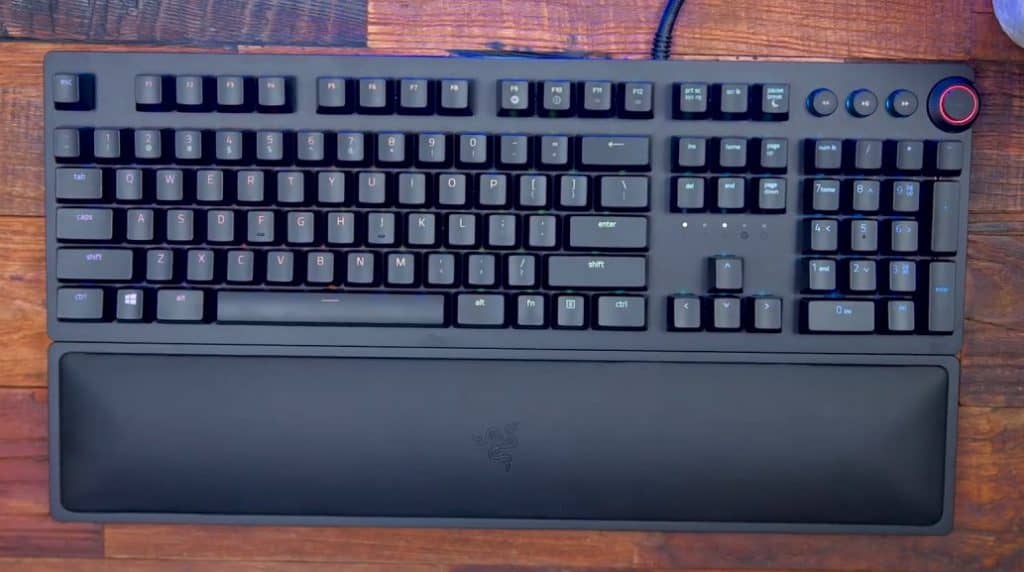 The look of Razer Huntsman Elite is very modern, with rounded edges. The top plate is made of aluminum. There is no Razer logo on the keyboard but only on the wrist rest. The attachable wrist rest is made of soft cushioning material that resembles leather.
Underneath the keyboard, there are six rubber pads to prevent it from sliding around on your desktop. It also has two flip-out feet with two different height adjustments to fit your comfort.
Keys
The font on the keycaps is simple, nothing aggressive, and I like it. There are dedicated media keys and a volume dial above the Numpad. Before this keyboard, Razer has always excluded the dedicated media keys.
The volume dial is not just for the volume, but you can use the Razer software to program it for anything you want. You can use it to scroll up and down, zooming in and out, you can make it a mouse function or bind this to certain keys on your keyboard, or even launch certain apps when you cycle through.
It has dedicated gaming keys, and you can disable the Windows key. You have an onboard macro recording with function f9. So, you can record all your macros on this keyboard without having to do it with software. Instead of an n-key rollover, it has a 10-key rollover.
RGB
There is a light strip around the entire keyboard that looks amazing. The whole keyboard glows once you plug it in. To match with the keyboard, the wrist rest also has the same light strip. The wrist rest is connected via pins, and once you attach it to the keyboard, the RGB will be turned on.
The effects are smooth and fluent. You have sixty-two lighting zones around the keyboard. You can customize them individually to how you like, but you need to have both USBs plugged into your PC for this to be powered.
You can save your settings on the keyboard itself because it has five onboard profiles that can also be synced to Synapse cloud.
Switches
One of the biggest addition to this keyboard is the OPTO-mechanical key switches. These are a first of their kind in the Razer keyboard lineup and differ greatly from traditional mechanical switches. They are activated by breaking an optical light beam inside the board, immediately sending a signal to your PC.
These switches feel identical to Razer green switches and share the same 45 grams actuation force with 1.5 millimeters to actuate with a 3.5-millimeter travel distance. So, you're getting a lightweight key that is 30% faster than a traditional mechanical switch, with zero debounce time.
Keys Sound
Corsair k57 RGB Wireless Gaming Keyboard
Design
There is a little housing unit for the wireless receiver on the back. Just take it out and plug it into your PC, turn on the switch, and it should automatically pair.
The keyboard is primarily plastic hence very lightweight but a little concerning to me.
It also comes with a detachable rubberized wrist rest, as we've seen on many previous Corsair keyboards. On the back are two flip-out feet to elevate its backside like most of the keyboards.
Also Read: Gaming desks with pullout-keyboard tray
Wireless
The best thing about K57 is that it is wireless, and you will have fewer cables on your desktop. If you have a multiple setup environment, then wireless is the future.
This is one of the first keyboards from Corsair that utilizes their newer slipstream technology, which helps consume less power, establishes a reliable wireless connection, and prevents any bandwidth issues when in range of wireless devices.
You can connect it via Bluetooth using F6 and F7 keys. It can be connected to two Bluetooth devices at the same time. However, if you don't want to use the wireless, you can use the wire included in the box. Although
The expected battery life on K57 is phenomenal and rated for up to 36 hours of use. I've been using it for a little over a week with one static color for the RGB lights, and I still have 30% remaining. So, it's pretty good, in my opinion.
If you are planning only to use the wired mode, then go for the Corsair K55. K55 is a wired keyboard and slightly cheaper too.
RGB Lights
The Capella X RGB lights inside this keyboard are supposed to be brighter with a lot more color saturation while being low-powered. Usually, RGB lights drain the battery quickly, but the battery lasts longer with these Capella X RGB.
The customization of RGB lights is the same by using the iCUE software, so I won't go into the details. You can also use the software to set up six macro keys. Use the macro recording button to make macros.
Keys
On the top right side of the keyboard, we have some familiar functions like the macro recording, brightness control, a Windows lock key, and dedicated multimedia keys.
There are six macro keys included without taking up a lot of extra space on the left side. Macros keys are great for gaming, photo editing, and video editing.
In terms of layout, it's a pretty standard design, but K57 is relatively low profile than most of the other keyboards I have used. The keys aren't as tall as some other gaming keyboards.
Switches
This is not a mechanical keyboard. Unfortunately, they are still using rubber dome switches in K57. I know most of the gamers won't like this.
At this price point, most gamers would prefer a keyboard with mechanical switches. Maybe, someone who does not know about mechanical keyboards might want to try rubber dome switches.
So, who are these rubber dome switches for? A tiny percentage of users new to PC gaming.
Also Read: Budget gaming keyboards
Keys Sound
Redragon K596 Vishnu
This keyboard comes with a lot of features with a decent price tag. The box includes:
A gold-plated braided detachable USB Type-C cable.
A keycap puller.
A switch puller.
Magnetized wrist rest.
A sample pack of different switches.
Design
The build of this keyboard is pretty good, and you won't notice any flex during typing or gaming.
It has a magnetized detachable wrist rest with a good grip. You can even lift the keyboard, and it will stay intact. There are two rubber feet on the wrist rest and two pop-out feet underneath the keyboard as usual.
Wireless
This is a wireless keyboard, and the dongle is stored underneath. Just plug it in the PC/laptop and give it a second, and it will pair up instantly.
As far as using the keyboard in wireless mode, I didn't notice any lag whatsoever.
Battery
Battery life is average if we compare it to the other keyboards on the list. You can get up to ten hours of battery life depending on RGB, brightness, and how much you use it.
RGB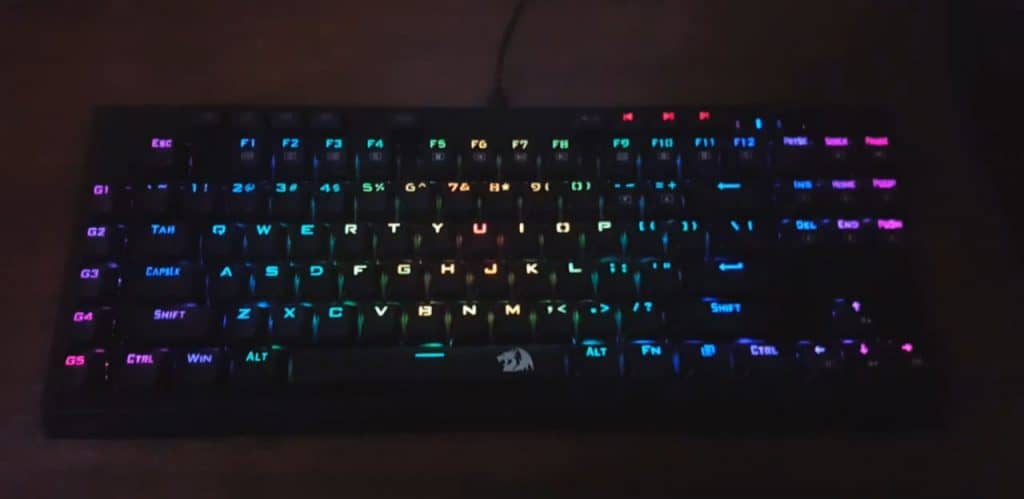 The RGB on this board is crisp and vibrant. You can compare it with the Logitech keyboard. It also has RGB on the side of the board, which can be adjusted as well. There are plenty of effects that can be controlled by the shortcut buttons. However, the sides can be adjusted to solid colors or a rainbow effect.
Keys
Like most other keyboards, you have your macros on the left side from G1 to G5. In addition, there are five more macro keys at the top left from G6 to G10. You can set up all the macro keys right from the keyboards, and no software is needed.
You have a volume scroll wheel on the top right which is also used to set the brightness of the RGB lights. There is a dedicated button that needs to be pressed to change brightness or the volume using the scroll wheel.
There are many shortcuts available on the keyboard for ease of use. The font on the keycaps is bold, you will either love it or hate it.
Keys Sound
Switches
This keyboard has Redragon red switches or Outemu switches. You can only swap Redragon or Outemu switches on this keyboard. I tried swapping with some other switches, but none of them fit. The Redragon reed switches use 40g of force with 2mm of actuation.
Final Words
I'm pretty bummed out because of the rubber dome switches inside. It's 2021, and the cost of using mechanical switches has come down so much over the past few years that it's just confusing that they have these in here this keyboard.
Another downside is that it is completely made out of plastic. The glossy forehead of the keyboard can be easily scratched or smudged.
I have used it for gaming, and it's okay, but you don't have an advantage at all with rubber dome switches.