20 Best Rainmeter Skins for Gamers
Do you have a professional-looking gaming rig with all those fancy RGB lights, but the inside of your PC looks boring as hell? If yes, then you have landed on the right page. Here we have some of the best Rainmeter skins for gamers.
There are hundreds of Rainmeter skins available online, and finding the perfect ones in the gaming niche can take up a lot of time. This is why I wrote this article to help you by putting the Rainmeter gaming skins in one place.
Without further ado, check out the best ones I was able to find below. (The list is in no particular order)
What is Rainmeter?

It is a software used to customize the look of your desktop. You can install various themes with many options to customize the look of your desktop. 
You can add multiple widgets to monitor hardware resources, weather forecast, date/time, music visualization, and lots of other cool information.
Iron Man is one of the most popular movies and what's also popular in the movie is J.A.R.V.I.S, an AI that functions as Tony Stark's assistant. If you are impressed by J.A.R.V.I.S and want to feel like Iron Man, this skin is for you.
Now you can get your own Jarvis from Rainmeter and feel like Iron Man. This theme is highly customizable, and you can display information like date/time, CPU, RAM, weather forecast with four days to come, audio visualizer with changing colors, music control, artwork, and much more.
For a complete list of features, visit the creator's link.
Avengers Shield OS
This one is for the fans of Avengers. It's a great-looking theme with plenty of features, including a clock, CPU Usage and monitoring, weather forecast, location, app drawer, connected drives, and many more.
There are two versions that I liked, Avengers Shield OS 1.4 and AVENGERS S.H.I.E.L.D. 2.1. Both of them look great, but the newer version has lots of customization available. It is also available in different resolutions.
I would have definitely applied this theme if I had an Alienware laptop. It has a clean and minimalist design with lots of customizability. You can add widgets like Date/time, internet download/upload speeds, RAM details, CPU details, drive details, notepad, and much more.
It's perfect for those looking for an elegant and clean theme.
Who doesn't like Spider Man? This skin is for all the Spider Man fans out there. It comes with an opening animation, and you can select between two resolutions 1366×766 and 1920×1080.
The wallpaper looks very cool, and the skin has an excellent minimalistic design. This skin includes time/date, shortcuts, CPU info, RAM details, power buttons, location, weather forecast, drive information, and many more widgets.
Introducing World's #1 Solitaire Game – Must Play here: solitaire-masters.com
Cyberpunk 2077 is one of the latest games right now, and if you are playing it, then this theme is a must to have. I tried it myself, and it looks fantastic, but the yellow color was too bright for me, so I changed it.
You will get the wallpaper in different sizes, including 1600×900, 1920×1080, 2K, and 4K. The theme features include my computer, documents, browser, music, System details, drive info, CPU details, RAM details, Power Info, Network Info, Time/Date, etc.
Overall, it is an excellent-looking Rainmeter theme for gamers.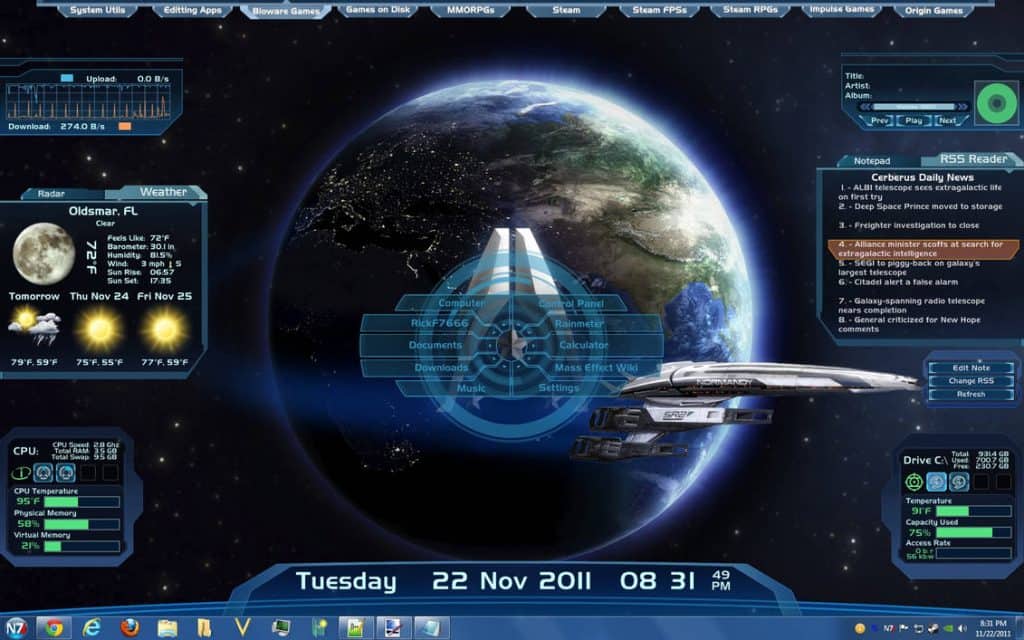 In Mass Effect, you can explore the universe and defeat powerful aliens. It is one of the best games that I have ever played. If you have also played this game, then I'm sure you will also want to have this skin. It is one of the best Rainmeter skin available online.
Mass effect skin changes your ordinary desktop to an advanced display of a spacecraft. You can have multiple widgets on the screen with details about your hardware, weather forecast, music, date/time and download/upload details, etc.
This theme is perfect for those who play Medival Era games. Your desktop will look the same as the menu of your typical Medieval Era game. Instead of the main menu with a single player, Campaign, Skirmish, settings, and exit, you will get desktop documents, music, pictures, videos, recycle bin, etc., on your desktop.
The large font on this theme looks really good, and it has a minimal design that won't crowd your desktop.
Just like the game, the Zelda theme is also quite popular among gamers. It has a beautiful-looking wallpaper with cool-looking custom icons.
This is a simple theme that focuses more on the icons than the widgets. So, if you are looking for a clean and minimal design, then Zelda is perfect for you. It has both day and night modes that you can activate.
Overall, it's a great theme with an excellent combination of wallpaper and custom icons.
This one is perfect for gamers with Razer laptops. I know Razer users will love to have this on their desktops with all the right widgets to monitor their system.
This skin has everything from drive details, weather forecast, shortcuts, CPU details, RAM details, and GPU details. The best thing about this theme is the colorful music visualizer.
For all the lovers of fantasy games, the Monster Hunter theme is a must to have. The design of widgets is inspired by the game menus. The header bar is full of features like battery health and an analog clock as the quest timer.
There is a window for all of your computer details, inspired by the in-game quest details menu. You can also add shortcuts in the widget that mimics the game menu. The music player is also designed based on item selection.
Overall, the whole theme mimics the in-game design perfectly.
Batman
Who doesn't like Batman? He is one of the most famous superheroes. This is the reason there are so many Batman Rainmeter themes available online. I couldn't include all of them but did my best only to have the popular ones.
RED BATMAN v 1.0 looks good with date/time at the bottom and hardware utilization details on the left with music player down below.
If you are also a fan of the hottest Harley Quinn, then "Batman and Harley" skin is for you. It has a clean design with customized icons which looks great.
Batman and Joker are staring into the eyes of each other. Now that is one romantic wallpaper. BatJokes is one nice-looking skin that will look good on any PC. It has a big digital clock in the middle and a music visualizer and system recourse details below.
Batman_Dark Night has some cool-looking widgets and nice wallpaper in the background. There are app icons on the left, drive info on the middle right, date/time on the top right, folder shortcuts in the middle, and drives on the middle right.
If you are looking for a Batman theme with a minimal design, this one is for you. Batman skin has an amazing wallpaper that has a center image with the rest of the wallpaper black. There is a clock in the upper right corner and a toolbar on the top.
Why so serious? Because I have recommended so many Batman skin? Don't be confused and go down another road and choose this one instead. TheJoker looks a bit dull to me because of the white background. But the overall skin design is good enough.
There is power, recycle bin, refresh, and settings buttons on top, app shortcuts in the middle, and a clock on the left lower corner.
Just like the Battlefield, this skin is also quite old but one of the best. The wallpaper is good enough, and the widgets are great too. There are app icons and shortcuts on the right, enclosed in a beautiful toolbar, date/ time on the upper left corner with weather forecast below, and drive details at the bottom.
So if you have ever played this game, then you might like too.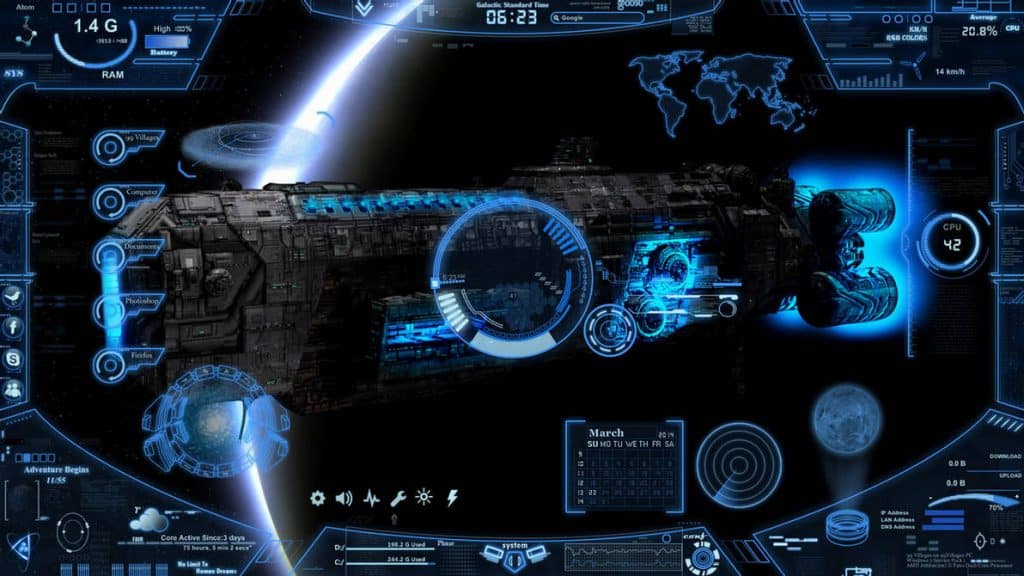 This theme has plenty of widgets to use. Neon Space makes you feel like you are sitting in a spacecraft traveling through space exploring the universe.
You can fill your whole screen with great-looking widgets with plenty of details for you. You will have to download the skin to see its full potential.
Feel superior to those console peasants by putting up this skin on your desktop. The design of this theme looks like a homepage to some website.
However, it looks good, and the simple yet elegant design of widgets looks good too. The widgets include date/time, CPU details, network details, and system hardware information.
This is one of my favorite skins out there. The beautiful wallpaper and a clean design look good all together. There is a date/time on the right upper corner and app shortcuts above the taskbar. You should definitely try this skin.
Just like the game, a lot is going on with this theme. There are plenty of widgets for you to try and customize on your desktop. You can almost fill your entire screen with different widgets full of information and shortcuts.
The game is one of my favorite, and this theme is too. If you are a fan of The Witcher 3, just like me, then you've got to try this.