8 Best Lightest Gaming Mouse for the WIN 2021
GPCD
is reader-supported. When you buy through links on our site, we may earn a small commission at no extra cost to you. Thanks for the support! Learn more.
If you are here reading this article, then it means that this is the time to replace your bulky, hefty mouse with a lighter one. Today we'll review some of the best lightest gaming mouse available in 2021. It doesn't matter if you are a gamer or a regular user, a lightweight mouse is good for prolonged use.
From the perspective of a gamer, it is essential to manage controls or move your mouse with extreme ease. A light gaming mouse can be quickly moved around and doesn't require much force. A lightweight gaming mouse can also minimize the chances of a wrist injury.
Lightweight gaming mice are a blessing in competitive online games. Even a few milliseconds can secure you a win.
While our primary concern here is the weight of mouse but what else can a lightest gaming mouse have? Not only the weight, but we have also considered some other key factors while making this list, which includes, sensor type, DPI, connection type, grip style and RGB lights.
Title
Best Overall
Glorious Model O- (Minus) Gaming Mouse, Matte Black (GOM-Black)
Lightest Mouse
Skoll Mini SK-S ACE 2020 Edition 50g Ultralight Weight Honeycomb Design Ergonomic Wired...
Lowest Price
Logitech G203 Prodigy RGB Wired Gaming Mouse – Black
Best Premium
Logitech G Pro Wireless Gaming Mouse with Esports Grade Performance
Thumbnail
Quick Comparison Table
| Brand | Weight | DPI | Type |
| --- | --- | --- | --- |
| Glorious Model O Minus | 59g | 12,000 | Wired |
| Cooler Master MM710 | 53g | 400 – 16,000 | Wired |
| Skoll Mini SK-S ACE | 50g | 16,000 | Wireless |
| Gwolves Hati | 61g | 12,000 | Wired |
| Razer Viper | 69g | 16,000 | Wired |
| ROCCAT ROC-11-730 | 66g | 16,000 | Wired |
| Logitech G203 Prodigy | 85g | 8,000 | Wired |
| Logitech G Pro Wireless | 80g | 16,000 | Wireless |
| CTBTBESE Z100 | 65g | 12,000 | Wired |
Glorious Model O Minus – 59g
This lightest gaming mouse by the Glorious PC gaming race is available in white and black color with a glossy and matte finish. It is an ultra-light wired gaming mouse that will surely make the gamers happy. There are two variants of this mouse, Glorious model O (67g) & Glorious Model O Minus (59g).
Glorious model O is a bit larger than the O Minus. You can choose the preferred size according to your hands. The ambidextrous design is suitable for any type of handgrip. The honeycomb appearance of the mouse looks good. With the design, it even assures the durability and comfort of use.
The lightweight and flexible cable just feels as though the mouse is connected wirelessly. The weights we mentioned are of the mouse only, and the cable weight is not added. Both of the models are similar with only the size difference. Both mice have six programmable buttons and customizable RGB lights, which can be customized through the software.
With a low click latency, the Glorious Model O is an excellent option to play FPS games. It has a dedicated 6-steps DPI button and a DPI indicator. DPI indicator can be set to any value and color, which makes it easier for you to recognize the settings.
Glorious O Model is equipped with the Pixart 3360 sensor which is perfect for playing competitive online games. It has a pixel-perfect tracking, zero acceleration, 1000Hz polling rate and only 0.7mm lift-off distance.
| Key Specifications | |
| --- | --- |
| Brand | Glorious PC Gaming Race |
| DPI | 12,000 |
| RGB | Chroma RGB lightning |
| Type | Wired |
| Extra Buttons | Two side buttons, one DPI button |
| Item Weight | 59g |
| Warranty | 2 years |
Positive
Ambidextrous design with good ergonomics
Great performance
Low click latency
Well-built and durable
Negatives
Wired, not the most portable 
Side buttons are useful for right-handed people only
Cooler Master MM710 Gaming Mouse – 53g
This is the 2nd lightest gaming mouse on our list with only 53g of weight. The honeycomb design makes it incredibly lightweight. A split second can cost you a win, and this is why you need the lightest gaming mouse to perform actions or aim at enemies quickly.
With a lot of hexagons holes to lose weight, it becomes one of the ugliest looking mice but not the most uncomfortable. Even the bottom side has plenty of holes in it. The performance of MM710 is as good as any other mouse on the list. This mouse is a good option if you can compromise on the looks.
Once you get used to the small size and lightweight build, it will easily let you overcome your enemies. Even though the company labelled the design as ambidextrous, it is slightly geared towards the right-handed players. There are two programmable buttons on the left side and nothing on the right side. There is a small DPI button, scroll wheel/button, one left and a right button.
The smaller size is suitable for small-handed gamers but not very comfortable for large-handed gamers. You can have up to five game profiles at a time. The software might be confusing when installing and updating for the first time, but it works fine afterwards.
From the gameplay perspective, it performs very well. I tried many different games, and it worked quite subtle, but you need to practice before getting used to the weight. The performance of MM710 is solid, and the sensor is good enough.
| Key Specifications | |
| --- | --- |
| Brand | Cooler Master |
| DPI | 400 – 16,000 |
| RGB | Yes |
| Type | Wired |
| Extra Buttons | Two side buttons, one DPI button |
| Item Weight | 53g |
| Warranty | 2 years |
Positive
Super flexible cable
Ultra-lightweight honeycomb design
Good performance
Gunk-resistant coating
Negatives
Not suitable for large hands
Side buttons are useful for right-handed people only
Not the best looking
Skoll Mini SK-S ACE 2020 Edition – 50g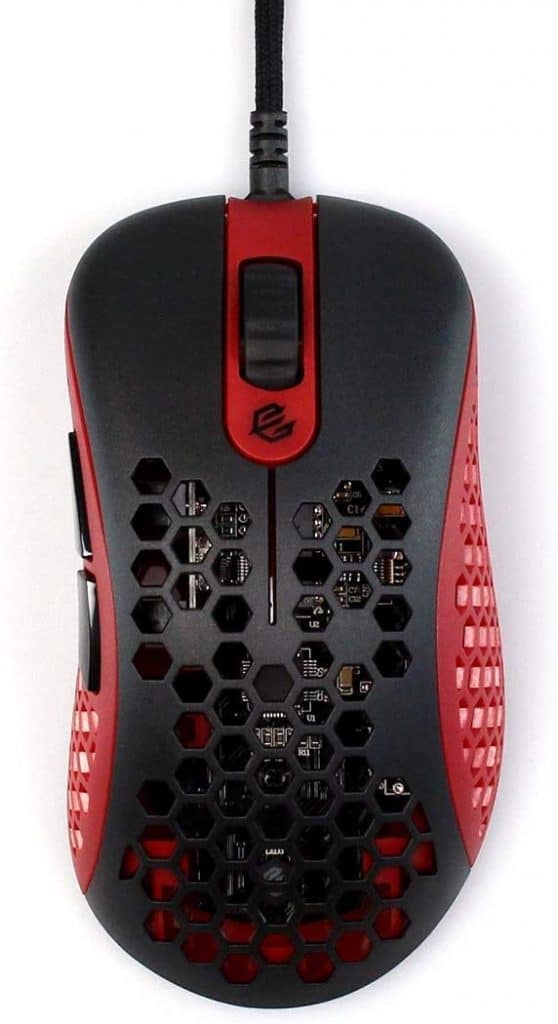 Skoll mini is the lightest and latest gaming mouse on our list with only 50g of weight. This is the 2020 SK-S wired/wireless edition with a honeycomb design.
This is the smaller and lighter variant of Skoll SKL wired gaming mouse. It is 10g lighter and available in red and white colors.
Skoll Mini has a detachable cable which further reduces the weight and makes it a good option if you have a cluttered gaming desk. The mouse's wireless connection is indeed a blessing for gamers as they can move it freely without the cable getting stuck anywhere. This is a right-handed mouse with two side buttons on the left.
Skoll Mini has an upgraded 3389 Pixart gaming sensor with 16000 DPI, 400 IPS and 50G max acceleration. It also provides a comfortable and smooth grip not to lose out the mouse between the game to carry on with full heat.
It is a small-sized mouse which makes it more suitable for small-handed gamers. If you want a slightly larger mouse, then go for Skoll SKL. Other than the mouse the package contains a collectible tin box, mouse grip tape, extra white PTFE mouse skates, a cleaning brush and a quick start guide. Both left, and right-click buttons are dustproof with more than 30M clicks life.
| Key Specifications | |
| --- | --- |
| Brand | G-Sevlow |
| DPI | 16,000 |
| RGB | No |
| Type | Wireless |
| Extra Buttons | Two side buttons |
| Item Weight | 50g |
| Warranty | Not mentioned |
Positive
Ultra-lightweight
Wireless connectivity
Good grip
Outstanding performance with 3389 Pixart sensor
Negatives
Only for right-handed people
No dedicated DPI button
Gwolves Hati 2020 Edition – 61g
Gwolves Hati 2020 edition weighs only 61 grams and is manufactured in a way to challenge the rival mice. The G-Wolve's capability shouldn't be doubted. It is available in aqua and red colors in a honeycomb design to keep it lightweight. Perform any type of action quickly, fire through the enemy ranks in Fortnite or move around in GTA, it is effortless to operate.
The Pixart sensor provides a 100-12000 DPI and a USB report rate up to 1000Hz. The mouse can accelerate with ease at a maximum speed of 250IPS. It has Omron Microswitches with 20M clicks life. So, there remains no uncertainty or hesitation that that G wolf is as sharp as a wolf itself.
The lightweight paracord cable provides agility and reduces drag. It comes with an extra grey paracord cable. The white PTFE skates are very smooth, which further reduces drag. Also, the mouse has six buttons designed in an ambidextrous way to certify versatility.
Gwolves software is straightforward and easy to use. You can easily use this software to customize your mouse. Gwolves Hati has all the necessary features a gaming mouse should have.
It is a few bucks more than the Cooler Master and Skoll mini, but it's well worth the price. The package also includes one rubberized mouse grip tape, extra white PTFE skates, and two TTC golden dustproof micro switches. The extra stuff in the box justifies its price.
| Key Specifications | |
| --- | --- |
| Brand | G-Wolves |
| DPI | 12,000 |
| RGB | No |
| Type | Wired |
| Extra Buttons | Two side buttons |
| Item Weight | 61g |
| Warranty | Not mentioned |
Positive
Extra paracord cable & two TTC golden micro switches
Ultralightweight
White PTFE skates
Good performance
Razer Viper Ultralight Ambidextrous Wired Gaming Mouse – 69g
Numerous gaming mice are available in the market, with a variety of qualities fastened in them. The confusion that arises is which one to purchase. Nearly every gaming mouse these days is equipped with top-notch features with only a minor difference.
Razer Viper ultralight wired gaming mouse is one of the most selling mice, that has everything a gamer wants to have in a mouse. It weighs only 69g and has a 16000 DPI sensor for absolute precision. Additionally, it uses a light beam based-actuation to register keypresses and for efficient control.
It has customizable Chroma RGB lights that you can customize through its software. Four extra programmable buttons on each side can also be customized using the software. The design is genuinely ambidextrous, making it suitable for left and right-handed gamers. Only a few gaming mice have side buttons on the right side.
The performance of this mouse is excellent with low click latency. It feels very accurate and precise. You can even change the polling rate between 125-500-1000Hz. There no onboard memory that is why you won't be able to save different profiles.
The low-profile design is very comfortable and perfect for gamers who prefer fingertip-grip. With extra four buttons it can also be used as a MMO gaming mouse. Now, It is your turn to purchase a Razer Viper gaming mouse that produces razor-sharp performance. It will be an unhidden secret to your success.
Also read: Best Razer Mice – Guide article for complete guide.
| Key Specifications | |
| --- | --- |
| Brand | Razer |
| DPI | 16,000 |
| RGB | Chroma lights |
| Type | Wired |
| Extra Buttons | Two buttons on each side |
| Item Weight | 69g |
| Warranty | 2 years warranty |
Positive
Excellent performance 
Very well-built design
Have four extra buttons. Two on each side
Highly customizable
ROCCAT ROC-11-730 Kone Pure Ultra Lightweight – 66g
Another best lightweight gaming mouse that can serve you in the best way is the ROC-11-730 Kone Pure. It only weighs 66 grams and is manufactured in a way to provide relief to hands and wrists. It is suitable for most of the hand sizes and grip styles.
The free swarm software is useful for customization, but it would be better if there were an option to turn down the brightness of RGB lights. However, there is only a single RGB lighting zone that lit up the Roccat logo. The logo will be pretty much hidden while using the mouse.
Roccat Kone Pure is available in black and white color with a matte finish. But this finishing can be a fingerprint magnet over time. Unlike the other mice, it has rounded corners, which makes it comfortable for a long period of use. There is a thumb rest on the left side, making sure that no accidental clicks occur on side buttons.
It has Omron D2FC-F-K(50M)-RT switches with a life of 50M clicks. The mouse buttons are tactile and give a clicking feel. Roccat Kone Pure is equipped with Owl-Eye sensor, which is highly responsive and performs very well in the FPS games. There are two up/down DPI buttons that help you quickly change the settings during gameplay for precise snipping or fast twitch shooting.
Overall, this is an excellent option in the market with an outstanding sensor. The button layout and the ergonomic mouse design is built for efficient movement and comfortable grip.
| Key Specifications | |
| --- | --- |
| Brand | Roccat |
| DPI | 16,000 |
| RGB | Yes |
| Type | Wired |
| Extra Buttons | Two side buttons |
| Item Weight | 66g |
| Warranty | One year |
Positive
Provides a comfortable grip
Feels light & compact
Two DPI buttons
Negatives
Can be uncomfortable for large hands
Very bright lights
Logitech G Pro Wireless Gaming Mouse – 80g
Logitech! Another master creator of gaming products. From headsets, racing wheels to keyboards to a gaming mouse, everything establishes embellishes as a pre-eminent product.
The G PRO wireless gaming mouse aimed to provide the PRO gamers with the best performance. It took around two years to assemble a G PRO gaming mouse that combines the valuable features that the best gaming mouse should have. To make it adaptable for the gamers, the Logitech spend a lot of time just to make sure that their users are not handed over the mice that can't be their friends forever.
This is the most expensive gaming mouse on our list but not the lightest with 80g of weight. The demands of wireless mice have grown slowly and gradually. The latest wireless technology in this mouse has put aside the latency issues and produces superior performance at meteoric speed.
This is one of the lightest mice available with outstanding performance and an ambidextrous design so both left and right-handed gamers can use it. The size and shape are excellent and comfortable to hold. It has two buttons on each side for left and right-handed users, but it lacks a DPI button.
There is a wide range of settings that you can change using the software. The maximum polling rate provides a smooth movement. Logitech G PRO is a perfect choice for the E-sports players and gamers that play online competitive games, especially during different tournaments and competitions.
| Key Specifications | |
| --- | --- |
| Brand | Logitech |
| DPI | 16,000 |
| RGB | LIGHTSYNC RGB |
| Type | Wireless |
| Extra Buttons | Two buttons on each side |
| Item Weight | 85g |
| Warranty | Two years |
Positive
Universal design
Excellent wireless latency
Excellent performance
Highly Customizable
The Hero sensor is incredible
The surface is perfect and ensures that the mouse is agile and not fragile
Negatives
Rubbery cable drags on the desk
It might be challenging for smaller hands with fingertip grip
Expensive
CTBTBESE Z100 Gaming Mouse – 65g
Last but not least, the 65g CTBTBESE Z100 has all those specs to rule the hearts of the gamers at an affordable price. Being one of the lightest mice, it is no different from others. It is crafted in a honeycomb way to enhance its look and as well as make it lightweight.
It is a wired mouse, and the braided cable is ultralight. The cable uses a pure copper line that allows the fastest transmission of data. The ultralight cable is so light that it doesn't cause any inconvenience during the game.
Moreover, to further elevate the Z100's capabilities, PTFE mouse features waterproof and used to reduce the drag. Z100 has equipped with the e-sports standard Pixart PMW3360 sensor with 12,000 DPI for maximum precision and responsiveness. It has an ambidextrous and straightforward design, suitable for both left and right-handed gamers.
The mouse has six programmable buttons, along with a dedicated DPI button. It uses Omron switches with 20M clicks life. There is a unique looking RGB ring which makes it quite appealing. Overall, it's an excellent choice at a reasonable price.
| Key Specifications | |
| --- | --- |
| Brand | CTBTBESE |
| DPI | 12,000 |
| RGB | Yes |
| Type | Wired |
| Extra Buttons | Two side buttons |
| Item Weight | 65g |
| Warranty | One year |
Positive
Available at a reasonable price
Beautiful RGB lights
Lightweight
Negatives
Many people say thats it's a Glorious Model O copy
Side buttons are not very durable
Buyer's Guide
How to choose the Lightest Gaming Mouse?
So then, if you have decided to purchase a gaming mouse, you must keep some crucial points in mind. You must invest in something that lasts long and surely be of benefit. The heavier and heftier mice are entirely different, and while buying, you must differentiate between the lightest and bulky mice.
As it is not easy to choose from the best gaming mice already reviewed in the list. It's our 1st priority that you purchase a gaming mouse that can serve the best. So, go through the several features mentioned below.
Sensor:
Two types of sensors are available, the laser and optical sensors. The majority of the mice have in themselves the Optical technology. The optical mouse is much more sensitive compared to laser use. The Optical sensor uses light, such as LED, to detect the movement and improve tracking capabilities. However, the laser sensor makes use of laser for its activity. Laser sensors do have some advantages over optical sensors.
The laser sensor uses laser light that's much better than an LED lamp. Laser mice can even be used on lustrous surfaces. Laser even provides a CMOS sensor that is much more superior for reflection. On the other hand, an Optical mouse has a much better DPI, and it even doesn't lag as compared to a laser mouse. And that's the reason that it accelerates better than a laser mouse. The mouse with an optical sensor and DPI of around 1000 will be a perfect choice. So prefer an optical mouse over a laser one.
Wireless technology:
It is evident that wireless technology is much better. The wires do act as a barrier in a wired mouse while gaming. However, a wired mouse is much faster, responsive and lag free than a wireless mouse. The wireless mouse offers more space and is bold and striking; well, it is recommended to choose a wired mouse as it is pragmatic to select a wired mouse rather than a wireless mouse.
Grip:
Grip matters a lot! There are two types of grips, Palm grip and claw grip, which are most popular amongst gamers. The grips tend to provide ease to your wrists and palms. Along with reducing health issues, the grips shape the game by giving a firm hold for smooth acceleration.
Moving on towards the palm grip, the palm grip provides a vast area that you can control the mouse comfortably by placing your palm only over the mouse. This is one of the most used grips, and it does authorize the user to move it and command the game freely.
On the other hand, the Claw grip is none less than a palm grip.
The Claw grip only allows contact of fingertips and a little part of the palm. It is much more compact and portable than a palm grip. The Claw is faster and rapid. Also, it can be used for flick shots as well. Well, in comparison to the palm grip, it is far better in accuracy and precision but doesn't offer tracking capabilities that can compete with a palm grip. Besides this, the palm grip seems much more comfortable as the palm can easily rest upon the surface.
Well, as a friend, I'll direct you towards the palm grip as it better no to sacrifice health for the quality. The palm grip will provide you with both the comfort of use and effectiveness for gaming controls.
Weight:
The main focus is on the lightest gaming mice. The lightweight gaming mouse is quite efficient and effective. The lightest gaming mice en routes the way towards what it is known as excelling in the gamers zone. With sturdy quality, multiple features, and the sensor won't be enough, the other essential to be watchful is the weight. Taking an example of a human being would rather be useful as a rotund and overweight guy is less energetic plus less active than a slim one.
A mouse with around a weight of 50g to 80g is reckoned as more reasonable and productive. So, its time to relish the lightest gaming mouse ever.
Rates:
What does matters is how many dollars your pocket carries? On average, the gaming mouse cost around 70 dollars. There are mice available below $50 as well and even over $100. It is based upon the budget you have set. This decision is purely yours. The lightest gaming mouse must have all the necessary characteristics mentioned in the buying guide. If a mouse has all this and suits the budget, then surely have a go.
FAQ
What is the lightest gaming mouse?
A mouse with lower weight than an average mouse is a light gaming mouse. It helps you get better and easy movement to dominate in the game. A light gaming mouse keeps your wrist safe from any injury that can be caused by playing games for a long time.
The weight reduction further enhances the acceleration and deceleration of the mouse. These lightest gaming mice are best for competitive online games. They are highly responsive and improves the skill making it evident, amongst others.
Ruling the E-sports industry is what you dreamt of? It's time to achieve your goals with the support of the lightest gaming mouse.