Acer Predator Helios 300 Review – RTX 2060 Laptop!
GPCD
is reader-supported. When you buy through links on our site, we may earn a small commission at no extra cost to you. Thanks for the support! Learn more.
Over the past few months, a lot of really good laptops came out in the low to mid-range market. Most of them being Ryzen laptops but some of them like the HP Omen 15 had other big improvements like thermals that could maintain full 90 watts of Intel turbo boost indefinitely or a 4k 120 Hertz screen on a laptop.
Though, that's not very practical. It would destroy your battery life and you'd need some serious performance to actually run games at 4k 120 frames per second. But as tech enthusiasts, it's nice to appreciate the tech even if it's not something that we would purchase.
The laptop I'm going to review in this article is the Acer Predator Helios 300. It doesn't have anything crazy that makes it stand out from everything else but I think this is going to be a very good option for a lot of people.
Because gamers and enthusiasts primarily care about performance and upgradeability, and this thing does exceptionally well without being overly expensive. It's around $1500 for the configuration I'm reviewing, which is also the one that I would recommend.
Also Read: Gaming Laptops Under $1500 & Gaming Laptops Under $800
Build Quality
The build and construction remain the same as last year. I believe the screen is made of plastic because of how soft it is. But the only thing that I would look out for in terms of build quality is poorly designed hinges.
Hinges like Dell G3 and HP Pavillion 15T are known for completely breaking after a couple of months. Good build quality is something nice to have on any product, it makes it feel more premium.
The keyboard deck is made out of aluminum and feels well built. Through the surface it's an anodized finish because first it feels pretty nice and doesn't feel like cheap paint and second, there's like no extra thickness when you transition from the unfinished chamfer.
If you take a closer look you will notice that the top case is a thin sheet of aluminum that they bend over for the sides. It's not a deal-breaker but it's good to know how manufacturers implement metal into the construction of their laptops.
You may also like: ASUS Scar 15 2021
Price
Check price of the latest Variant.
Hinges
The hinges are a bit on the looser side so there is a fair amount of screen bubble. There's no option for a touchscreen or anything so I don't consider this a concern but it is something that I noticed.
Keyboard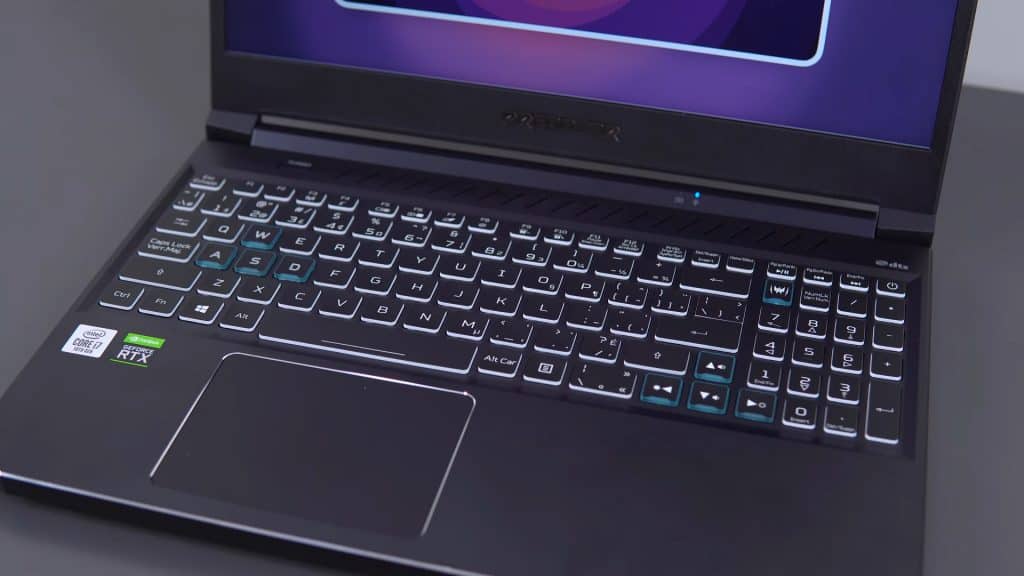 For the keyboard, Acer Predator Helios 300 uses a 96% layout. So, you have a number pad to the right and everything is shifted over to the left. The Triton 500 which is their next tier up, it's their premium gaming laptop that uses a 65% layout but the switches, keycaps, and spacing between each key appear to be identical.
In terms of typing experience the key travel is about average for a laptop, and not like a gaming laptop. It's not particularly shallow or deep and the tactility is a little bit soft. If keys were any softer then I'd probably call it mushy.
I type with both hands and I also type fairly fast so I don't press the keys with a lot of force and I've noticed both while typing and gaming that sometimes the keys just don't register.
If I press the keys too lightly or press near the edge of the keycap then this issue might occur but it doesn't happen often. I have experienced this issue with few other laptops so maybe it's the way I type. That's just my experience.
Gaming Benchmarks
Track Pad
The trackpad on this is pretty good. If I had to throw a number on the tracking accuracy, I would give it 8 out of 10. It suffers most from small movements. So for the most part I haven't had any issues with the tracking.
I'm not sure what material the surface is made of but once you give it just a little bit of finger oil, it becomes very smooth. You'll still get a bit of the sticking effect when you try and use drag-and-drop but for the most part, the friction and resistance do go away.
Screen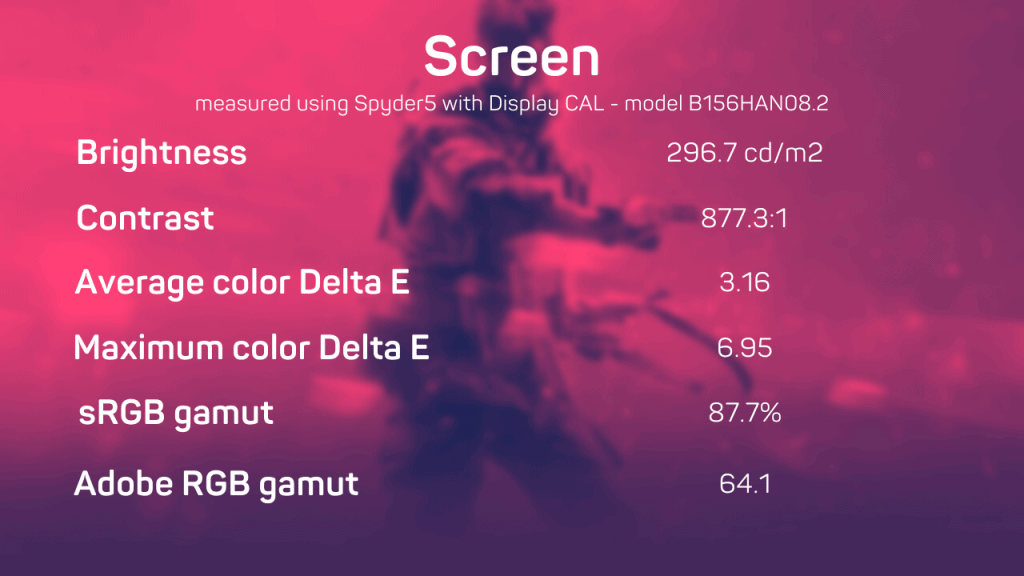 The unit that I'm reviewing is configured with a 1080p 144 Hertz panel and there's nothing exceptional to note about it. It's pretty much the same as any other 15-inch 144 Hertz panel.
In terms of image quality, it's a fair bit brighter than the panel from last year. I measured 215 nits with the old one and 300 nits on this new one. It's bright enough for indoor use but not where there's sunlight.
The color accuracy is pretty good but it didn't change much after I calibrated it. I also tested for ghosting, no issues there. It's a decent-looking 144 Hertz panel.
Speakers/Sound
There's a pair of downward-firing speakers on this laptop. I don't think they sound very good to be honest and that's definitely an area Acer chose to cut costs with. The bass response is pretty much non-existent and it sounds very hollow.
Listening at full volume the treble gets a bit too aggressive and it starts to pierce my ears kind of like claws on a chalkboard. If you drop the volume around 70%, they sound fine for YouTube videos and gaming.
Ports
On the left side, it has an Ethernet jack, two USB-A's, a headphone jack, and on the right is a mini Display port, HDMI 2.0, a third USB port, a USB-C port that does not support Thunderbolt 3, and on the back is your charging port.
Insides
Getting the bottom panel off was a bit of a pain because there's a bunch of clips holding it down and there's very little room to slip a pic or a credit card into. But once you get it off, you will have access to two RAM slots, two M.2 slots, a 2.5″ drive slot with an included SATA connector, and the Wi-Fi card.
I just find it a little bit strange that they made it so difficult to get inside when there's so much expandability.
Thermals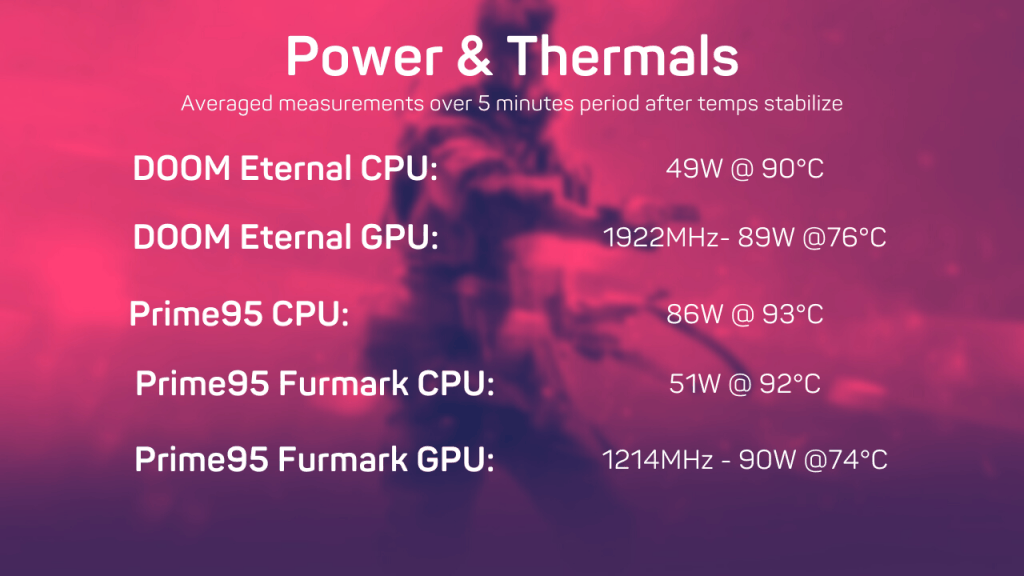 The thermals on this are also pretty good. It's a little bit better than similarly-sized laptops like the Lenovo Y740 and the Blade 15. Those will do about 75 watts at 95 degrees give or take about 5 watts but Acer Predator Helios 300 can dissipate 86 watts at 93 degrees.
The battery inside is 60-watt hours. A little bit on the smaller side and you should expect like four to four and a half hours of battery life. That's a compromise you have to make for that 2.5" drive slot but it's something that I would personally take.
PredatorSense
Acer has included a built-in app, "PredatorSense," in their Predator lineup for customization and to monitor your laptop hardware. To open the PredatorSense application, you can press the PredatorSense key on your keyboard.
The home tab is the first thing you'll see when the application opens up. Here you can see the temperature of your CPU, GPU, and system by default. The fans are set to auto, but you can set them to max speed or custom speeds.
Below the temperature monitors, you can also quickly change your lighting profile and GPU overclocking.
The lightning tab is where that you can customize and create new lighting profiles for your keyboard. You can make changes to the default profile, or you can create new profiles. There are four zones on the keyboard, and you can change the color of each zone separately.
You can choose from a static or dynamic mode with five different styles, including Breathing, Shifting, Wave, Neon, and Zoom. You can also change the brightness level and speed of dynamic styles.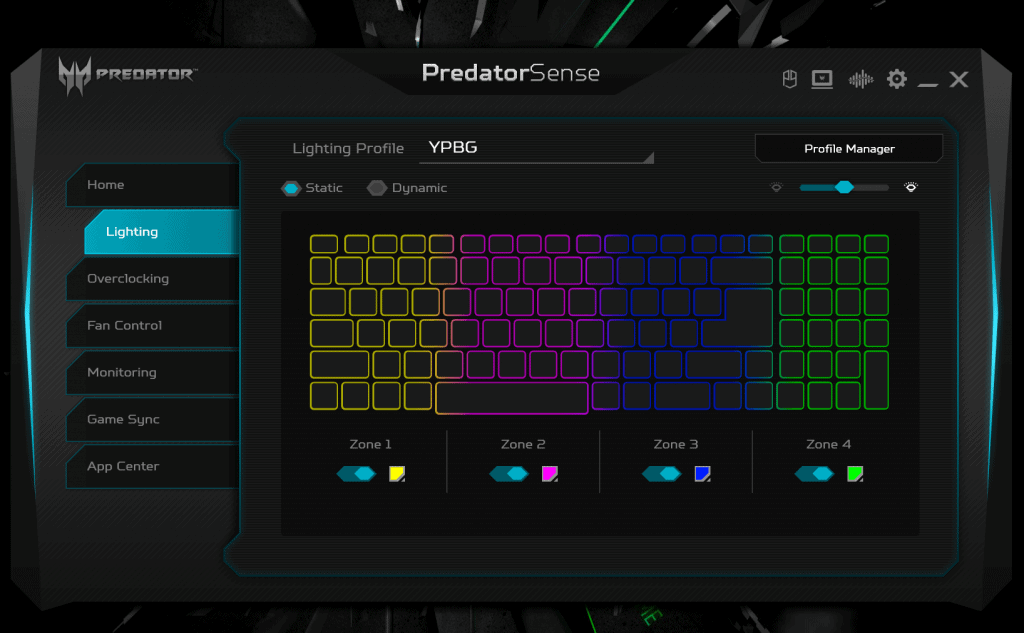 Overclocking tab is for overclocking your GPU. There are three settings available, and you can choose from normal, fast, and extreme. Each mode raises the maximum core clock of the GPU.
The fan control tab lets you control the fan speeds. Here you also have three options. The auto mode takes care of the fan speed for you by adjusting the fans based on thermal temperatures. If you turn on the CoolBoost, then auto will increase the fan speeds even further when needed.
Max mode sets the fans to full speed all the time, and custom lets you specify the fan speeds that you want.
The monitoring tab lets you see the temperature and load percentage variations for your CPU and GPU, along with your fan speeds, frequency, voltage, and core clock. Under the system, you can also see your system's temperature, RAM frequency and usage, and Ethernet and wi-fi speeds.
The next tab on the left is Gamesync. This is where you can add games and customize which settings you want them to use when you play them. You can choose between lighting profiles, fan control mode, GPU overclocking settings, and True Harmony sound profile.
The last tab is the app center, where you can add and launch different apps right from the predator sense utility and also manage the apps installed on your computer.
The last couple of things are in the upper right corner. The settings icon has a few different options that you can customize for your computer. Next to that is the Acer True Harmony icon, where you can set the default profile that you want your computer to use.
Besides that, you can customize the logo that your computer will use when it boots up, and last is a shortcut to the Planet9 website where you can learn from fellow gamers scrimmage or play tournaments.
Final Words
Overall, I like this laptop for the same reasons I like the previous model. For gamers and enthusiasts, you get a six Core i7 and an RTX 2060 for around $1500. The previous model had a 1660Ti at the same price. So, this is even better in terms of performance per dollar.
There's very little to dislike about this laptop and it excels at performance, thermals, and upgradability for a reasonable price.