Best value
10 Best Gaming Desks Under $200 2022
GPCD
is reader-supported. When you buy through links on our site, we may earn a small commission at no extra cost to you. Thanks for the support! Learn more.
We know every gamer needs to spend his money wisely because there are lots of gaming accessories to buy to create an ultimate gaming station. High-end gaming desks are way too expensive for an average gamer who is on a limited budget.
Every gamer wants the best looking gaming setup but not everyone can spend hundreds and thousands of dollars on their ultimate battle station. We wrote this article for those who wants a good quality gaming desk on a certain budget.
In this article we have covered the mid-ranged good-quality gaming desks. Gaming desks in this price range are better than the cheap gaming desks under $100. All of the desks in our list are of high quality and best-selling.
So, if you are one of those gamers who don't want to spend too much money on a gaming desk but still want a decent looking desk then keep on reading. We have reviewed some of the best options under $200 that you can buy.
Title
Best Selling
EUREKA ERGONOMIC Z1-S Gaming Desk 44.5" Z Shaped Home Office PC Computer Desk, One-Piece...
Best Design
MOTPK Gaming Desk 60 inch Z Shaped Home Office PC Computer Gaming Desk Table Carbon Coated...
Best Latest Edition
EUREKA ERGONOMIC Gaming Desk with RGB Lighting Gaming Table 44.5'' PC Desk Easy to...
Best 60+ Inches
VITESSE Gaming Desk 63 Inch, Ergonomic Gamer Computer Desk with Mouse Pad, PC Gaming...
Thumbnail
Dimensions
44.49 x 24.21 x 30.51 inches
60.00 x 23.70 x 36.80 inches
24.18"D x 44.5"W x 30.5"H
Best Selling
Title
EUREKA ERGONOMIC Z1-S Gaming Desk 44.5" Z Shaped Home Office PC Computer Desk, One-Piece...
Thumbnail
Dimensions
44.49 x 24.21 x 30.51 inches
Best Design
Title
MOTPK Gaming Desk 60 inch Z Shaped Home Office PC Computer Gaming Desk Table Carbon Coated...
Thumbnail
Dimensions
60.00 x 23.70 x 36.80 inches
Best Latest Edition
Title
EUREKA ERGONOMIC Gaming Desk with RGB Lighting Gaming Table 44.5'' PC Desk Easy to...
Thumbnail
Dimensions
24.18"D x 44.5"W x 30.5"H
Best 60+ Inches
Title
VITESSE Gaming Desk 63 Inch, Ergonomic Gamer Computer Desk with Mouse Pad, PC Gaming...
Thumbnail
SEVEN WARRIOR Gaming Desk 55 INCH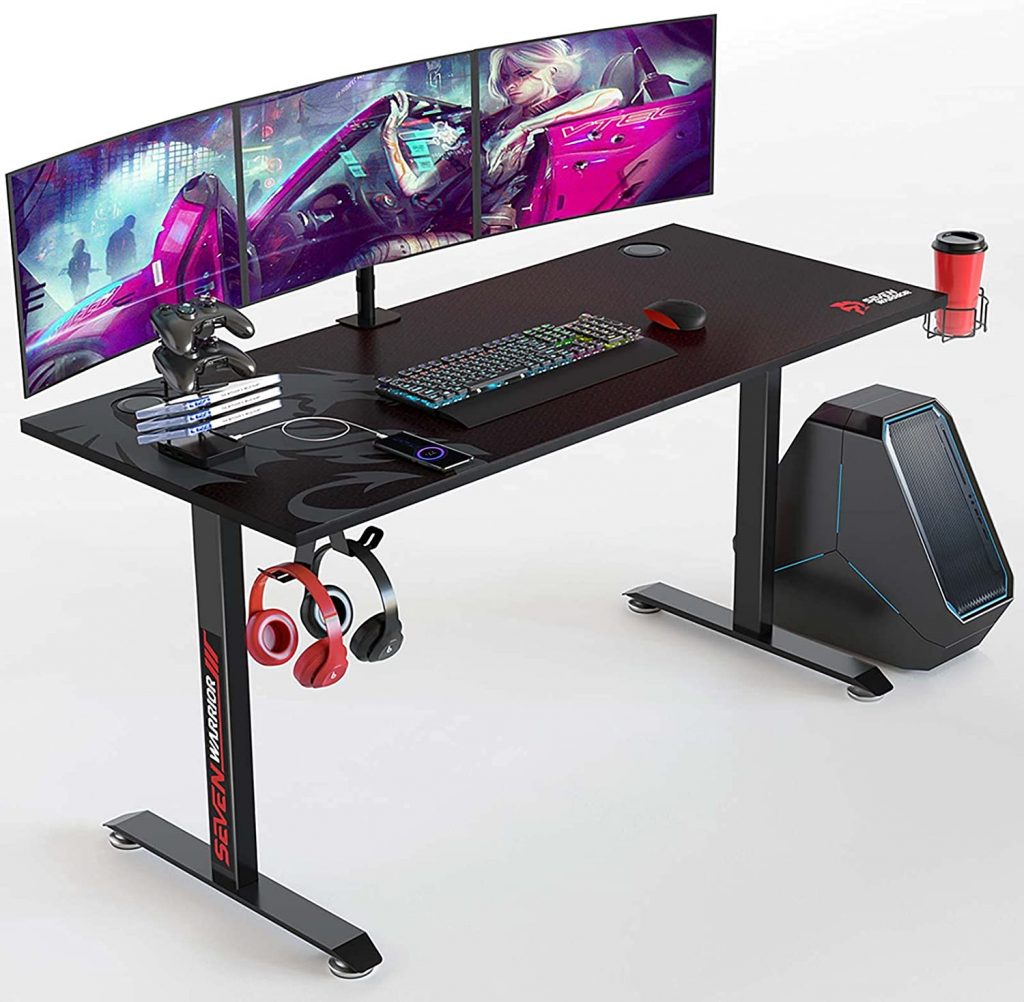 Eureka Z1-S was my number one gaming desk for a long time. After two years I made a change and bought Seven Warrior gaming desk. The reason for a change was the bigger surface area for my dual-monitor setup.
This desk is not too big like 60 inch gaming desks and not too small. The 55 inches table top is a perfect size with enough space. At least for me. This desk also comes in 44 inches and 60 inches size.
The T-shaped design is pretty standard but sturdy. It has a weight bearing capacity of 300 pounds, which is more than enough for even a triple monitor setup. The build quality is good too.
The features of this desk include a dual headset hook, a cup holder, DVD/controller holder with 4 USB charging ports and a full surface mouse pad with a cool looking dragon printed on it. I liked how the dragon is printed in a dark grey color to keep it stealthy.
| Key Specifications | |
| --- | --- |
| Brand | SEVEN WARRIOR |
| Cable Grommets | 2 |
| Cup Holder | Yes |
| Dimensions | 55″D x 23.6″W x 29″H |
| Headphone Hook | Yes |
| Max Load | 300 pounds |
| Mouse pad | Full surface |
| Warranty | 3 years warranty |
Positive
Large Surface
Sturdy T shaped design
Dual Headset Hook
DVD/Controller Holder
Eureka Z1-S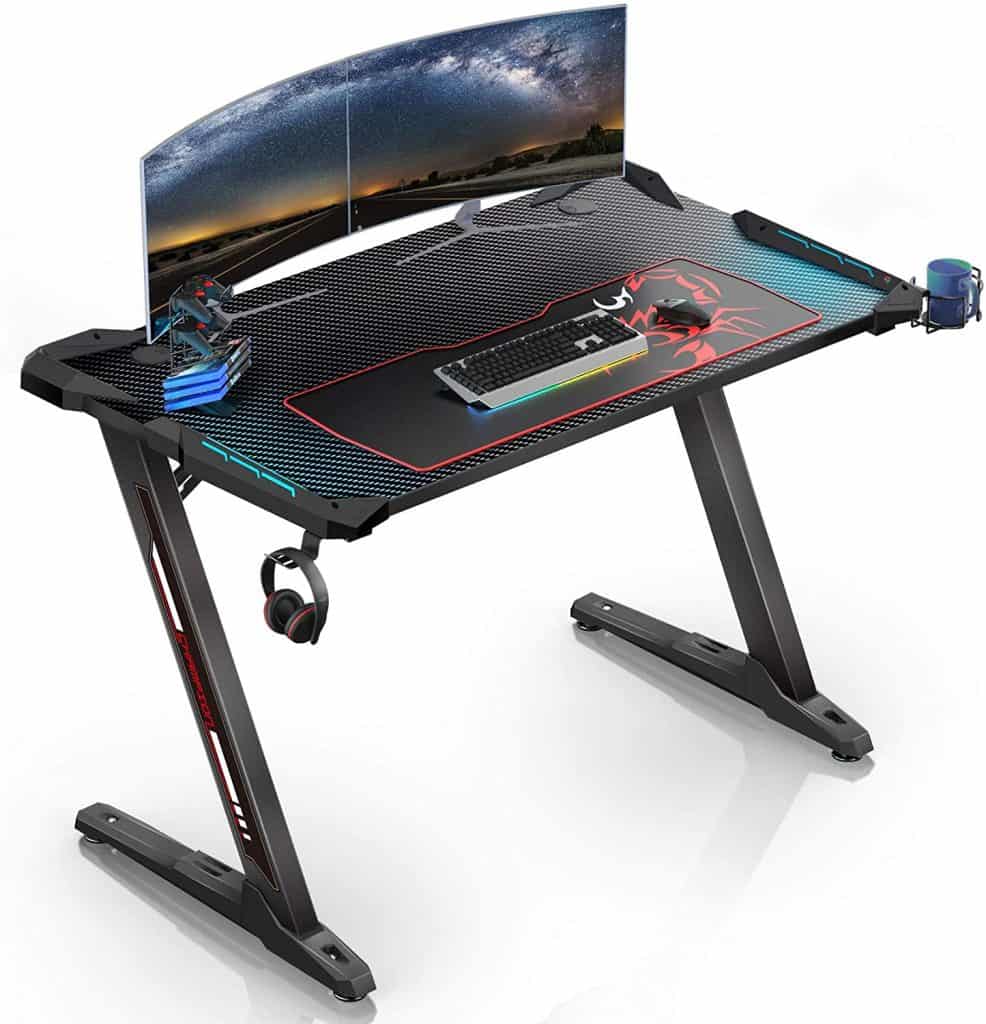 Eureka Z1-S was my top choices among all the gaming desks. The only drawback is that it is a bit smaller with 44 inches wide tabletop. Z1-S is a sturdy and stable desk with all the good looks. It can be a great addition to your battle station. 
Previously, Eureka Z1-S topped our list because of its modern looking design, good build quality, and necessary features.
The tabletop is not the biggest, but you will be able to set up dual monitors. You can also increase the space by attaching a keyboard tray under the desk (sold separately).
This desk comes with essential features like a cup holder, headset hook, controller/DVD stand, and an extra-large mouse pad, meeting most gamer needs.
The base structure is made rock-solid with a Z-shaped leg design. Each leg has a leveling foot for maximum stability on uneven surfaces. For a beautiful finishing touch, it has built-in blue LED lighting, making it beautiful for gamers.
If you are looking for a larger tabletop you check out EUREKA ERGONOMIC 63 inches gaming desk.
| Key Specifications | |
| --- | --- |
| Brand | Eureka |
| Cable Grommets | 2 |
| Cup Holder | Yes |
| Dimensions | 43.31"x23.62"x29.84" |
| Headphone Hook | Yes |
| Max Load | 220 pounds |
| Mouse pad | Large size |
| Warranty | 2 years warranty |
Positive
LED lights
Excellent customer reviews
Controller/DVD holder & Mouse pad included
Latest design
Sturdy and stable
MOTPK Gaming Desk 60 inch Z Shaped
MOTPK is my favorite desk on the list for consoles because of its design, extra shelf, and features. This 60 inch gaming desk comes with a monitor shelf, which increases the overall space on the desk. The monitor shelf is a good addition but it isn't very sturdy and it is not made to bear the weight of large monitors due to the design.
You can remove the monitor self if it is not needed. There is plenty of space for a triple monitor setup. The carbon fiber surface looks great and it is scratch resistant and waterproof too. The front end of the tabletop has a slop to it to make it comfortable for the user.
This desk comes loaded with all the necessary features to accommodate the gamers. It includes a headphone hook, cup holder, cable grommet, and a socket holder. Cable management is made easier and the headphone hook and cup holder keeps your important stuff within arms reach.
| Key Specifications | |
| --- | --- |
| Brand | MOTPK |
| Cable Grommets | 1 |
| Cup Holder | Yes |
| Dimensions | 60″D x 23.7″W x 36.8″H |
| Headphone Hook | Yes |
| Max Load | 330 pounds |
| Mouse pad | No |
| Warranty | — |
Positive
Huge Carbon Fiber Design Surface
Monitor Shelf
Latest design
Sturdy and stable
Negatives
Monitor shelf is suitable for a single monitor
GTRACING 47 Inch Pro Racing Style
GTRacing has launched yet another gaming desk and discontinued the previous model. This one looks promising and the price is also quite reasonable. The design of this desk is very latest and the front side is made ergonomic with a curved shape with rounded edges.
The tabletop includes plastic trims for the looks. It also has a monitor shelf, which provides extra space on the desk. The monitor shelf is also very ergonomic and adds to the beauty of this desk. The t-shaped legs are sturdy and holds the desk in its position without any wobbling.
GTRacing gaming desk comes with two headphone hooks on each side of the desk. It also has a power strip holder to keep a clean look and easy access to the power strip. One thing that this gaming desk lacks is the cup holder. They should have included the cup holder one side instead of two headphone hooks.
| Key Specifications | |
| --- | --- |
| Brand | GTRacing |
| Cable Grommets | No |
| Cup Holder | Yes |
| Dimensions | Tabletop 47.2″x25.5″ |
| Max Load | 200 LBS |
| Mouse Pad | No |
| Warranty | One year warranty |
Positive
Latest design
Controller/CD holder
Monitor Shelf
Ergonomic front
Negatives
No cup holder hook
No cable grommets
Vitesse 55 inch Gaming Desk
VIT 55″ is an allrounder with a perfect size and all the necessary features. The table top has an ideal size that is not too big or not too small . You can easily set up dual gaming monitors using a monitor arm. The top is covered with a full-surface mouse pad so you can freely move your arm during gaming.
The sturdy steel frame has a 250 pounds of weight-bearing capacity and the T-shaped legs provide maximum stability. Each foot has a leveling glide to achieve maximum stability on uneven floors.
There is a cup holder on the right and a headphone hook on the left. It also has a single cable grommet on the right side to manage cables. It also comes with a gaming handle rack that can be used to place controllers and DVDs.
It's a perfectly balanced gaming desk in a decent price. Anyone who wants all those extra features will love it.
| Key Specifications | |
| --- | --- |
| Brand | Vitesse |
| Cable Grommets | Single |
| Cup Holder | Yes |
| Dimensions | 55″D x 23.6″W x 29.5″H |
| Max Load | 260lbs |
| Mouse Pad | Full-Surface |
| Warranty | — |
Positive
Sturdy design
Gaming Handle Rack
Full-Surface Mouse Pad
Cup Holder & Headphone Hook
Respawn 1010
Respawn has delivered a pretty decent looking and one of the most durable gaming desk. It sports a progressively streamlined and stripped-down frame that can hold as much as 200lbs of weight on top of it. This desk can be the right choice for any gamer with a price tag just above $100.
The main features of this desk include cup holders, headphones hook, a durable raised shelve for your speakers, and a monitor shelve for your curved monitor. The structure of this desk is very ergonomic. Eye-level action is achieved by the raised desktop monitor shelf measuring at 28. 75″ L x 8. 625″ D.
With a large tabletop, this desk has enough space for your PC/console and all the accessories. This desk has a steel tube frame, contoured support, adjustable Glides, and a beveled front edge that alleviates forearm stress to help you level up in comfort
Another good thing is, this desk is available in different colors so you can match the colors of Respawn chairs to complete the look of your gaming station. This desk is an excellent gaming desk at a reasonable price.
| Key Specifications | |
| --- | --- |
| Brand | Respawn |
| Cable Grommets | No |
| Cup Holder | Yes |
| Dimensions | 23.63 x 52.63 x 34.63 inches |
| Headphone Hook | Yes |
| Max Load | 200 pounds |
| Mouse pad | No |
| Warranty | Respawn limited lifetime warranty |
Positive
Stable & sturtdy
Speaker holder
Ergonomic front
Wide monitor shelf
High quality
Negatives
No mouse pad included
No cable management
Sedeta Gaming Desk
This is an upgraded version of SEDETA 47 inches gaming desk. has a good-looking design and excellent build quality. T1-G distinguishes itself from other gaming desks with its large monitor shelf, which increases the space for your gaming accessories. You can put a monitor in the center and the speakers on the sides. Other than the monitor shelf, it has a cup holder and a headphone hook.
The structure of this gaming desk is sturdy and long-lasting. This design is pretty simple, but it gets the job done. There is another shelf below where you can rest your legs, CPU, or the woofer. This extra shelf can keep your CPU and Woofer above the floor, saving it from dust and scratches. The smooth surface is effortless to clean.
SEDETA is constructed by E1 MDF with PVC surface and coated steel tube frame for maximum strength and durability. It has a grommet power strip with 3-Outlet & 2 USB Ports, which makes things very convenient and gives a neat look to the setup.
Assembly of this desk is pretty easy if you follow the instructions and use the hardware that came along. They provide 3 years of warranty, which is more than any other desk.
| Key Specifications | |
| --- | --- |
| Brand | Sedeta |
| Cable Grommets | 2 cable grommet |
| Cup Holder | No |
| Dimensions | 23.6″D x 55″W x 59.3″H |
| Headphone Hook | No |
| Max Load | 550 pounds |
| Mouse pad | No |
| Warranty | 3 years warranty |
Positive
Stable & sturtdy
CPU shelf
Multi-function Sockets & sockets
Wide monitor shelf
Buying Guide & FAQ
What to look for in a gaming desk under $200?
The most important thing to look for in a gaming desk is its maximum weight capacity. If the desk is not capable of holding all your gaming hardware then what is it good for? You should get a desk with good weight capacity because in the future your gaming gear can increase and your desk not be able to withstand all the weight.
Another good thing for consideration is build quality. A solid gaming desk can last you for years if taken good care of. But if you try to save cash and bough a poor quality gaming desk that you are going to have a problem soon. We recommend a desk with sturdy steel or metal frame instead of MDF particleboard.
You should consider the surface area of the desk too. As in the future you might add a new monitor with your existing setup and the new monitor can use the extra space you got. Your desk should hold all your gaming accessories so you can reach out for them easily.
Last but not least a gaming desk should look excellent in your place. A good looking desk can increase the overall gaming experience of any gamer.
Things to avoid
The first thing you should know is that you are trying to buy a gaming desk under a specific price, so manage your expectations. Premium gaming desks can be very expensive. Don't go and buy the first gaming desk you see. Try to compare all the options in your price range and then make a decision. Try to buy a desk with high quality structure and avoid the glass desks.
Gamers who take gaming very seriously are also content creators. So there enough space for their cameras and AV gear for when they film their content. We have tried to review some of the best gaming desks available to assist you with finding a magnificent gaming desk.
Which desks are popular among pro gamers?
There are different brands used by pro gamers. Most of the gamers use DXRacer and Arozzi Arena. Both of these desks are premium quality and high in price.
How Do I Maximize My Gameplay Ability?
The most excellent method to increase the playability with your desk is to find a desk that suits both your style and your intended usage. It should be comfortable and ergonomic too. The computer gaming desk should be suitable for your wrists, right eye level to avoid neck strain. Height adjustable desks are best for this. You should have an ergonomic and comfortable gaming seat to sit on, grip for keyboard, right mouse pad, and some extra space to move around under the desk.
Having a modern-looking desk that is not the right size or height will be disappointing and will leave you feeling miserable.
The size of the gaming desk should be considered as it is crucial. A desk too big or too small will affect the overall experience of gaming. Ensure that you take measurements correctly where you need your desk to go before you order any desk. You should always be 100% certain that your new gaming table is going to fit into your place.
What is the Right Position for Sitting at a Computer?
An excellent method to sit at desks is with your back well supported and in a straight position that doesn't allow you to slump. Having this right posture can spare you from back pain, neck strain, and poor breathing method. So desks that advance this postural practice are best.
Not taking satisfactorily deep breaths will prompt weakness and lack of focus during your gaming sessions. So it is always advised that you sit in a good position before starting a long gaming session.
Ensuring that your monitor is at the right level with your eyes is vital to staying away from the neck and eye strain. Desks that are height adjustable are the best gaming desks.
What Makes a Good Gaming Desk?
This is a question you should be asking yourself before making a purchase. There is no single desk that will be perfect for everyone. Everyone has their own requirements when it comes to buying a perfect gaming desk for them. A suitable gaming desk is one that offers a player both a steady surface on which they can play their games as well as providing comfort and ergonomics as well as good looking design. It will all depend on the situations like your place, space available for desk and budget etc.
Comfortable
The nature of gaming is, players spend numerous hours in the same sitting position without getting up. This implies that the position they are sitting in should allow for comfort and safety to avoid any damage while playing games. Keeping your stance and wrists in a good position is very important. So ensuring that your desk sits at the right height and position is very important.
Well Organized
Another thing to consider is excellent organization. Many of these gaming desks have built-in racks, proper cable management, accessory holders, drink holders, wooden drawers, and phone holders. Some of the best gaming desks even take a player's hydration levels into thought and offer cup holders for their drinks.
Surface Area
If you want to setup your 3 monitor gaming station then you need a large table with maximum surface area. But if your living space is small then you should opt for a smaller desk so it can fit easily. The worst mistake you can make is buy a large expensive desk only to find out later that it is too big to adjust in your place.
Maximum Load Capacity
You should consider the maximum load capacity before buying a gaming desk. Many gamers have heavy setups that can weigh a lot. Maybe if you have a big TV as your monitor then you will need a gaming desk that can handle that kind of weight. Most of the manufacturers have mentioned the maximum load capacity of the desk so you can easily check.
Stability
Stability of a desk is very important. There is nothing worst then a wobbling gaming desk during intense gaming sessions. A desk that wobbles can disrupt your precise movements. Make sure the desk you are buying is stable and less incline to wobble.
Material
You should always check the material of any desk before buying. Most of the new desks are made of MDF or particleboard. MDF has become very high quality in the previous few years. It's solid lightweight and durable material. Some desks even has PVC laminated MDF which is waterproof. Glass desks look great but they are tricky to clean. Most of the glass desks don't have cable management.
Warranty
The last but not least thing to consider is warranty of the product. Preferably, you would get a desk that has at least one year of warranty. Be careful in reading the warranty terms as some of the warranties are limited to specific issues.
Assembly
Always read the instruction first before assembling the desk. Sometimes it is difficult to assemble desks if you don't read the manual. Most of the desks are easy to assemble by one person only. But sometimes large desks even require two people to assemble.
Now it depends upon your taste, space at your place, and style that which gaming desk will be perfect for you. We have tried our best to share all the pros and cons of the best gaming desks we can.
How to choose the best multiple monitor gaming desk?
There are several factors you need to consider before buying a multi monitor gaming desk. We have discussed these factors down below.
How many monitors should my desk hold?
You should consider the space for several monitors you own or intend to hold soon. The general rule of thumb is that you should always overestimate when it comes to available space on your desk. So if you ever want to include more monitors to your gaming setup, you won't need to proceed to purchase another desk and figure how to manage your current one.
Type
There are two types/designs of multi monitor gaming desks that you can consider depending on the space you have available. One type is straight rectangular and the other is l shaped. Most of the straight designs are 60 inches wide and are good for dual or triple monitors. These desks come in beautiful aesthetic designs which takes your gaming area on another level.
While l shaped gaming desks have more space and you can even set up two different systems like one side for PC gaming and one for console gaming or work station. L shaped desks are suitable for users who want maximum space for gaming as well as working. But only few l shaped desks have gaming looking whereas there are many straight 60 inch gaming desks available in the market.
Another downside about l shaped desks is that they have very few gamers friendly feature. The only things that make l shaped gaming desks lucrative is the amount of space and quality they provide in a reasonable price
Dimensions
In this list of multi monitor gaming desks, we have included desks that have 55 inches or above width. Straight desks are mostly 55 or 60 inches wide whereas the L shaped desks have different dimensions. Sometimes one side is longer than the other side and sometimes both sides are equal. All of these l shaped gaming desks are longer than 60 inches in total length.
You should measure the area where you are going to put the table before ordering to avoid any inconvenience.
How long do computer gaming desks last?
The life of even the best gaming desk will rely mostly on how it is handled. Other than that, it depends on the materials from which it has been built, and what kind of workload that it has been exposed to. It is feasible for a desk to last for many years to come if it is taken good care of and not manhandled with over the top weight burdens, and corrosion to any unprotected metal desks and equipment.
Desks should be durable, practical, and sturdy for players to get the most use out of them. It is, in this way, significant for gamers to find out about the materials used to build a desk and construct quality that has gone into before focusing on a specific desk.
Final Thought
All of these desks in our list are high quality and well-designed. We have discussed all the features of these desks that you should know. Prices vary from the start of $140 to $200. Now the choice is yours to make according to your style and requirements.