New Gift Ideas for Tech lovers and Gamers
It's the holiday season, and most of you would be buying gifts for your loved ones. In this article, I will give you guys some ideas of what I think might be good gifts for tech enthusiasts and gaming nerds in your family.
I think most of you know how hard it is to find or buy gifts for somebody that's very tech-minded is very difficult because they can be very picky, and there's a lot of personal choices. So, in this list, I put together some of the stuff I use and think it will be a useful gift.
I have not made this guide with a certain price in my mind, like under $50 gifts, under $100 or $150 etc. I have made this list with the usefulness of the gifts in my mind. There are cool gifts that you can give like a moon lamp, which looks like the moon and it's a lamp, but other than that, it's just not necessary.
The gifts I recommend have function, form, and everything to be perfect. None of the gifts I will recommend is sponsored. Now, let's start with the list.
Elgato Stream Deck
The name makes people think that it's not for them because they don't want to live stream. But the thing about the stream deck is it's extremely customizable and also supports IFTTT. In my home office room, I have two of these setups. One specifically set up for my streams and one for my IFTTT and smart controls in my room.
I've got a Philips hue, a Nano leaf, and lights attached with a desk set up through Amazon to allow me to control my voice. But it was slow, and I wanted this process to be quick and easy. I like automatic lighting that can be changed according to the mood.
This is where the stream deck comes in handy. The fact that you can control anything in your home using this device and setting up IFTTT integration makes it the perfect device for anyone into automation.
The cool thing about that is you don't need to have a smart assistant to make this work because many people like the idea of automation, but they don't like using microphones because they are always listening to you and spying. Controlling the setup with stream deck lets you manage things without dealing with any of those microphones or voice-activated stuff.
The cool thing about the stream deck is it does come in three different sizes, including a mini, the standard stream deck and the XL. The only difference between them is how many buttons are on there. Another cool thing is that you get different profiles, which allow you to set up different folders and subfolders.
So, even if you get the mini, which has only six buttons. You can customize those buttons to be folders per button depending on what you want them to do, and they can open up to broader things. You keep going down the menu tree or the window tree if you want, or you can go with the XL and have all kinds of buttons to control all sorts of things.
If you have a smart device, whether it's lighting, a pool pump, grounds lightning, Christmas lights or whatever, you can control all of them through a stream deck. Lots of customization is why you see this device as number one on this list.
Crucial P2 500GB SSD NVMe
Usually, I don't recommend buying PC parts for someone as a gift because most of the time, that person wouldn't want or need that item, or maybe that's not what they like. This is like me trying to buy my wife's shoe right or a handbag. You just don't try and buy without guidance.
PC parts are pretty much the same way. You wouldn't know what part to buy somebody. Not to mention that the current pricing is so volatile, and availability is slim.
However, the fact that storage is something PC enthusiasts or gamers can always use more of and fortunately, at the time of writing this article, we have got a crucial P2 500 GB NVMe SSD under $45 on Amazon.
The latest games are taking more and more space on PCs, and storage is one of those things that you can always have more. Who couldn't use an extra 500 GBs in their PC? If you want to scale that up a bit to one terabyte, you can get it under $85. NVMe's are very cheap as compared to when they were initially released.
If the person doesn't have an M.2 slot available in their system, you can get an external M.2 slot drive. They can just connect it using USB-C and have their game library available when they move.
So, this component is best if you are looking to buy a PC component for someone without fear of it being completely unusable or unnecessary.
A few months ago, I bought myself some new lights for my gaming room to make the background more interesting, and I took a chance with a brand I had never heard of. However, It turns out they're quite popular.
The company is called Govee, and they have all sorts of different lighting and smart functionality. I have purchased two of the Govee Lyra floor lamps. They are smart app-controlled and do work with smart assistance like Alexa.
You can easily control them using the app on your phone or set up IFTTT on your stream deck. The lights are bright, but they are not the cheapest lights out there. In terms of their integration, they are easy to set up.
The connection with the app is great, and they suddenly don't drop connection to the app like the LIFX lights. Those were some of the worst lights I've ever used in the software. The software was constantly forgetting and dropping off the network.
So far, the Govee lights have worked amazingly, and I also have the Govee wall lights, which can be used to make designs on your wall. They also have screw-in Edison style bulbs, which I will be using to replace my hue.
They also have edge lighting that you can put up in coves or on the edge of your desk. They have floodlights for outside, ambient immersion lighting that could go on your TV and go through an HDMI creating lighting around the TV that matches the HDMI scene.
Kasa Smart Plug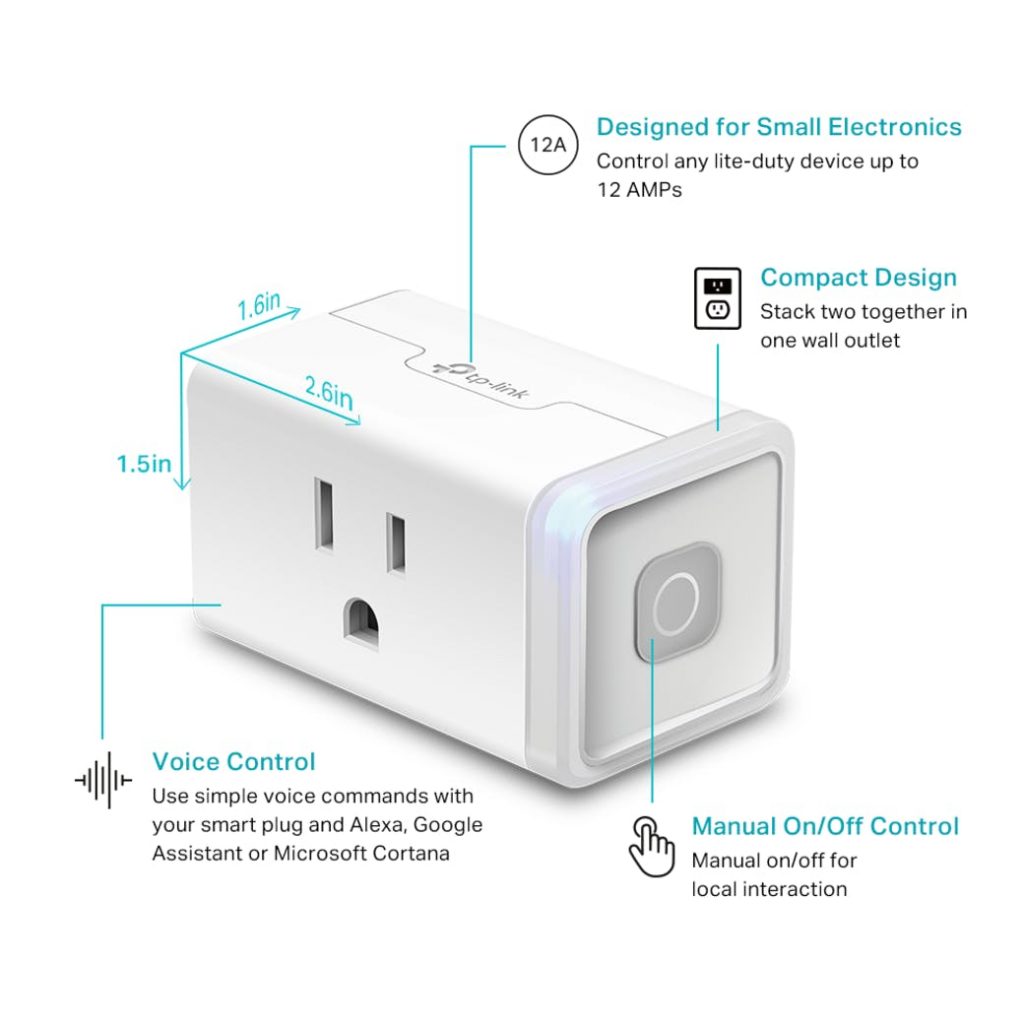 This is a dumb switch, and it doesn't do anything other than turn on or off. It can be controlled through app or voice command if connected to either Google Home, Alexa or IFTTT. You can set it up to turn the lights on and off.
For example, it's the holiday season, and people have inflatables and Christmas trees in their front yards with lightning. You can have this hooked up to a regular timer, or you can have them turn on and off on a certain schedule or manually turn them on and off with your app.
They also have outdoor versions, so you can use them outside stream lights and have them smart controlled. But if there's anything you want to have turned on and off of the schedule and you don't have a smart device plugged into, you can turn it smart on a schedule by using these smart switches.
It also helps if you're going on vacation or leaving the house for a bit. You can have these hooked up to various lamps throughout the house and have lights turn on and off at a certain time, so it doesn't look obvious when you're not home.
You can do a lot of useful stuff with these inexpensive switches. You can buy them in multi-packs.
PhoeniXeries Wireless Charging Mouse Pad
We came out with a Wireless charging gaming Mouse pad. It's 35.4 inches by 11.8 inches, which gives you plenty of room for your keyboard and your mouse. It has a 15W fast wireless charger to charge all your wireless devices.
The high-quality microfibre cloth is prone to any wear and tear. The mouse is going to move around super smooth on the surface. The edges of the mat are stitched with transparent material, so the lights shine bright.
The rubber material on the bottom makes sure that the mouse pad doesn't slip while gaming. I think any gamer would love to have it on their desk. The wireless charger keeps your devices charged without any extra cables on the desk, or you have to get up and put your phone on charge.
Also Read: Top Aimbot Gaming Mouse
Teresa K Magnetic Charging Cables
Lots of cables look messy on a desk. The look of your gaming PC setup is compromised, and finding the right cable for the right device can be an issue. I redid my PC setup and bought some magnetic charging cables to avoid this complete nightmare.
What makes cable management difficult is that you have multiple plugs for everything. For example, if you have a wireless keyboard, a wireless mouse, wireless headphones that need a charge now and then, a single magnetic cable can charge all these devices.
Magnetic detachable cables can definitely make life easier. I will recommend you guys get the pack with four cables. With each magnetic cable, you get a USB-c, a micro USB and an iPhone charger that you can plug into your device.
The cool thing is that you stick the end in the device, and there's a magnetic side to it, and then you have a magnetic cable with a magnetic end, and when they both touch, they're held together by magnets and complete the circuit.
Also Read: Gaming Desk Accessories