Top 10 Best 60 Inch Gaming Desks
60-inch gaming desks are excellent for your multi-monitor setups. If you have plenty of space in your room, then go for a larger desk, which can be handy in the future too.
You might be using a single monitor setup right now, but maybe in the future, you want a dual or triple monitor set up. In that case, it would be great to have already a large gaming desk that won't need an upgrade for your new gaming set up. Large gaming desk is excellent for holding all your gaming hardware and accessories at one place.
The standard size we choose for a large gaming desk is 60 inches or above. 60 inches desks are excellent for holding three monitor set up. Finding a suitable gaming desk, especially for gaming, can be a little tricky. To assist you in finding a tremendous large gaming desk, we have reviewed ten top of the line 60 inch gaming desks in this article.
You can check the price on Amazon by clicking on the button below every product Image or the image itself.
Top 10 Best 60 Inch Gaming Desks
EUREKA ERGONOMIC Z60
The Z60 is a larger variant of Z1-S 44.5 inch gaming desk. Z60 is one of the best 60-inch gaming desks. It can hold a computer, console and all your gaming accessories that you use for gaming. This desk gives an excellent gaming look because of the design and dynamic RGB lighting. It is a stable fixed height gaming desk.
Carbon fiber desktop surface and six color dynamic RGB lights make this desk look great. You can match these lights with the LEDs you might have in your gaming accessories or PC case. All the design innovation increases the cool-factor. The textured carbon-fiber pattern feels excellent under your fingertips. Z60 comes with an extra-large mouse pad, which increases the beauty of this desk.
Eureka is a China-based company, and the manufacturing process is robotic for consistent quality. The Z shaped design adds stability to the desk. Tabletop is made of laminated MDF. The tabletop comes in 2 pieces, which does not look good but the mouse pad covers the seam if you put it in the center.
The structure of this gaming desk is made of metal, which offers stability. The side armour pieces are made of lightweight plastic, but actually pretty strong. You can easily attach a triple monitor set up using a monitor arm on this gaming desk.
Z60 comes with all the necessary instructions and tools and is fairly easy to assemble but takes a little time. If you want a 60-inch large gaming desk with good gaming looks, then Eureka Z60 is a great option for you.
back to menu ↑
Mr. IRONSTONE Large Gaming Desk 63″
This larger variant of Mr Ironstone 45.3″ has a surface area of 63.1 inches. This can be a great option for your multi-monitor gaming desk. You can set up your triple monitor gaming station easily. It has enough space to carry all your gaming hardware and your gaming accessories.
The design of this large gaming desk is very gamer-friendly and has plenty of features for the gamers for a better gaming experience. Features of Mr Ironstone include a headphone hook, cup holder and three cable management grommets. Good cable management makes this desk look neat and ready for hardcore gaming.
The structure of this desk has a rock-solid construction. Tabletop is made of PVC laminated MDF, which makes it waterproof and easy to clean. Legs are made of durable metal and can hold all the heavyweight of your gaming peripherals.
There are four adjustable leg pads under every leg for maximum stability. This large gaming desk is pretty easy to assemble and will not take much of your precious time. Package includes the necessary instructions and tools.
back to menu ↑
RESPAWN-1063 63″ GAMING
Make your gaming experience limitless with the RESPAWN 63″ gaming desk. This gaming desk comes with a full surface mouse pad. Wide surface of this table has enough space for three large monitors. The whole surface is covered by black colored 5mm thick mouse pad.
The T-Shaped structure is made of a steel tube frame, which provides great stability to the desk. Both legs have two adjustable levelling glides, which provide more stability even on uneven floors. The strong structure is capable of supporting 200lbs of weight capacity. Full black-colored desk gives a beautiful look. Dust is more visible on the black color than any other color, but it is fairly easy to clean and maintain.
The design of this gaming desk is very ergonomic, which lets you sit in a comfortable resting position. The distinct feature of this desk is that the tabletop comes in three different pieces with cable grommet on each piece. You can assemble this desk in two ways, short version or the long version.
The short version of the desk does not include the center part. Include the middle part for the full version of the desk, which leaves so much room for your gaming gear. The desk is very sturdy and does not wobble while gaming.
This is a great choice for any serious gamer, but the downside is it does not include a headphone hook and cup holder. Respawn is a renowned brand, and the quality of their products is always great.
back to menu ↑
Respawn 2000 L Shaped Gaming Desk
Respawn is a well-known brand for gaming products. They have quite some options for a gaming desk, and you can choose anyone according to your needs. Respawn 2000 is a large l shaped gaming desk with enough space to hold all your gaming hardware and accessories. There are not many options available in l shaped gaming desk.
This desk has the largest surface area among all the desks in our list. You can easily set up four monitors on this desk after removable elevated shelf. Respawn 2000 comes with a cup holder and headphone hook. The latest ergonomic design makes it very comfortable.
The structure of this gaming desk is made of a steel tube frame with contoured support and adjustable glides. The front part of this desk has beveled edges, which increases the comfort level for your forearms. You can attach the elevated shelf for an eye-level gaming action if you are happy with a single monitor setup.
The structure is overall durable and sturdy and can hold up to 200lbs of weight. This desk comes in contrasting colors that match the chairs they produce so you can have a perfect gaming station.
back to menu ↑
Arozzi Arena Height Adjustable Gaming Desk
This is a huge gaming desk with a surface area of 14sq.f and available in six different color combinations. So you can match your desk with the rest of your gaming accessories or your room's interior. The structure of Arozzi Arena is made of steel to ensure that it can easily hold up to 176lbs of weight. Metal legs are powdered coated, which gives a great black finish. There is a silver metal logo embedded on each leg. The tabletop is made of MDF.
The design of this gaming desk is ergonomic and minimalist. The curved front part of the desk lets you still in a comfortable position while gaming for those long sessions. With the right gaming chair to sit, you can game for many hours without tiring yourself.
Large surface area provides you with enough space for triple monitor setup or large 50″ inch TV. The best feature about this desk is height adjustment. You can manually adjust the height up to 10 cm. Arozzi Arena is overall a sturdy and solid gaming desk. There are three cable grommets for best cable management and a neat look.
The whole surface of this desk is a mouse pad, so you don't have any difficulty aiming at your enemies. Huge red-colored logo is printed on the surface, which looks cool enough. The good thing is that the mouse pad is water-resistant and very easy to clean. There is a cable management net under the desk, so even the underside of the desk doesn't look messy.
Arozzi Area is used by many pro gamers, and it is a great choice if you take gaming seriously. This is one big gaming desk and built for handling heavy gaming hardware. Arozzi Arena is a high-quality gaming desk specially made for gaming. So you can choose this desk without hesitation.
back to menu ↑
60″ RGB Gaming Desk AuAg Z Shaped Gaming Table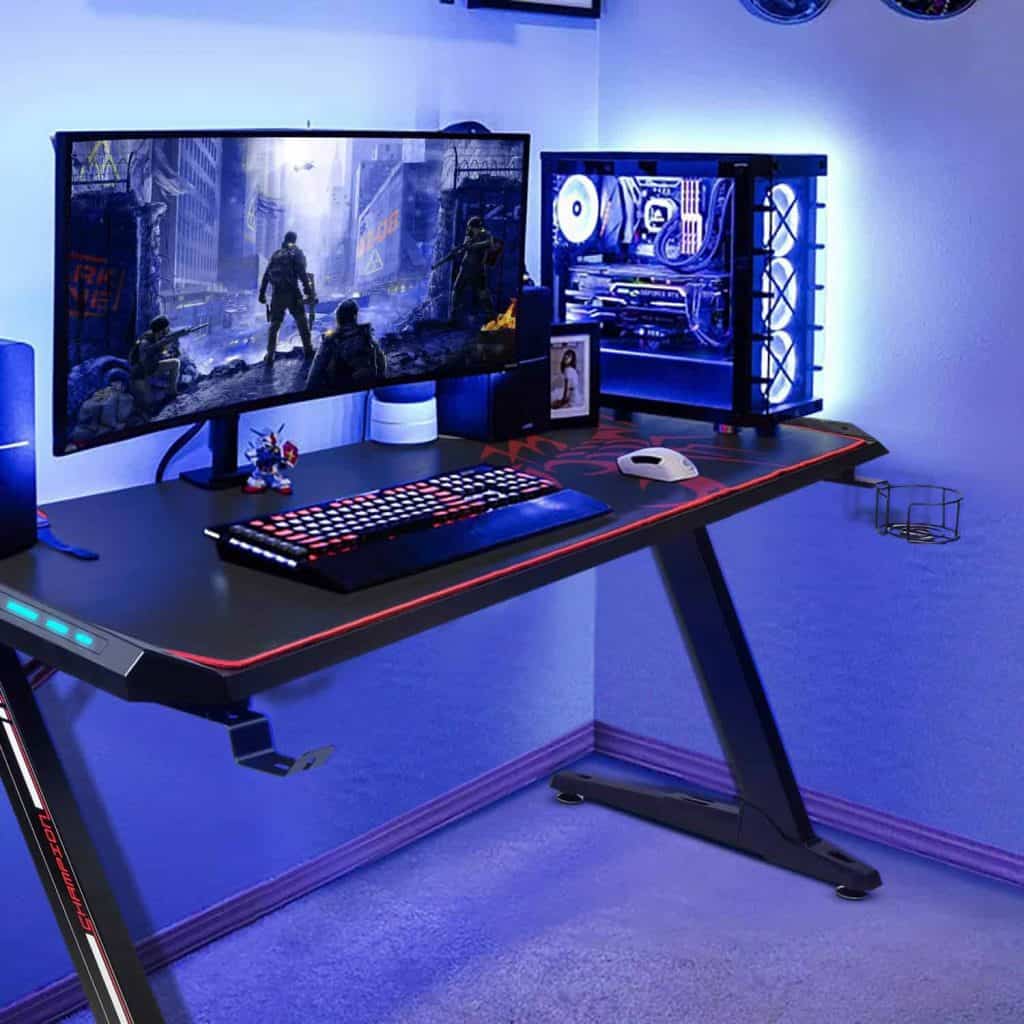 AuAg is the latest 60-inch gaming desk on our list. This desk resembles Eureka Z60 and almost has the same size. The large desktop provides enough room for all your gaming peripherals. You can easily attach two 27 inch monitors on top. Z-shaped solid frame is able to withhold a maximum load of 330lbs, which is enough for all your gaming hardware.
The whole surface of a desk is a thick mouse pad, which protects your wrists from edges and makes it easy to use mouse. Mouse pad is waterproof and pretty easy to clean. There is a big red-colored scorpion printed on the mouse pad, which looks amazing.
Features of this desk include an adjustable cup holder, headphone hook, two cable grommets and RGB LED lighting. You can set any color that matches the color scheme. These great features take the gaming experience on another level.
There are four adjustable foot screws that increase the stability even on uneven floor. This large gaming desk is great for those who want to do live streaming or content creation. AuAg gaming desk can be easily assembled in less than 30 minutes if you follow the instructions.
Overall this is a great high-quality gaming desk and best for any gamer. It can be a great addition to your gaming set up.
back to menu ↑
ApexDesk Elite Series
ApexDesk Elite Series electric standing desk is the most expensive desk on our list. It is available in two sizes, 60 inches or 71 inches. This desk has quick height adjustment and good stability. Quality of this desk is very high, and the same goes for the price of this desk.
This desk looks great with high-quality finishing. The solid frame can hold 225lbs of your gaming hardware. This desk can be great for those who game hard and also create content for YouTube. You can play games sitting and work standing after adjusting the height.
Height can be adjusted from 29 inches to 48 inches high with a high speed of 1.5 inches per second. Even at the highest point, the desk doesn't wobble, which is a great thing to acknowledge. The curved tabletop is made of MDF. ApexDesk tabletop is available in five colors, and the structure can be black or white depending on your choice.
The large surface of the desk provides ample room for gaming or work. Six-button controller comes built-in with the desk. You can save four customized settings for the desired height of the desk.
The assembly of this desk is easy, but still, it takes time to assemble this desk. We recommend getting help from a friend would be better than assembling it on your own. If you are six feet tall or more than the height of this desk won't be much for you but if you are less than 5'10" then you won't have any problem. The sound of the electric motor is measured at 60 decibels which is quite low.
The only negative point is the price of this desk. It depends on whether you want to spend that much money on a desk for gaming with a height-adjustable feature that you probably won't use much. But if you are using it as your workstation too then, this can be a great option to consider.
back to menu ↑
Tribesigns Modern L-Shaped Desk
Tribesigns l shaped desk has a minimalist modern looking design. This desk provides a huge surface area for all your hardware and can be great for your multi-monitor gaming set up. You can get this desk in seven different color combinations.
Tribesigns comes with a CPU stand, which keeps your CPU safe and above ground. The tabletop is made of environment-friendly particle board and comes in three pieces. The frame is made of thick steel, which ensures the excellent stability of this desk. There is enough space for all of your gaming hardware and accessories.
If you are a content creator and a serious gamer, then this desk is perfect for you. You can even have a quad monitor setup on this desk. One negative aspect of this desk is that it has no holes for your cables to go through, which can create a little mess.
The design is pretty basic, but the color combinations of this desk are so good that it will look good anywhere. The quality is very good with this desk. There are four adjustable leg pads for maximum stability. Corners are round for a more comfortable forearm position.
Though this desk is not specially made for gaming but if you want a desk with a maximum surface area, then this desk is a great option. The assembly of this desk is not so difficult if you follow the instruction properly. The company provides 18 months of quality assurance.
back to menu ↑
Vari Electric Standing Desk 60
Vari Electric standing desk is the best 60-inch desk for a tall person. If you are a tall person and need a standing desk so you can easily adjust the height according to your needs, then this is a great option. You can adjust the height of this desk from as low as 25.5 inches to 50.5 inches high.
This is a rock-solid deck, and it is very stable at any height. Vari 60 inch is a premium desk, and the quality is very high. The commercial quality construction means it is built to last.
Three programmable settings let you quickly save your preferred height. The powerful motor takes this desk from sitting to standing very smoothly and quickly without making much noise. The desk features a steel frame and a steel crossbar joining both legs, which increases the stability. There is a cable management tray included to keep your cables and cords organized.
The best part about Vari standing desk is that it is very easy to assemble in just under 5 minutes without any special tools. You just need to attach the legs to the tabletop and its ready for use. Vari standing desk comes in several heavy-duty finishes that can suit any style.
back to menu ↑
RESPAWN 2010 L shaped gaming desk
This is the best 60 inch L shaped gaming desk that you can buy. RESPAWN L-shaped Gaming Desk has a huge surface for all your gaming hardware. There are not many l shaped desks that are made for gaming in the market. RESPAWN has made this gaming desk with especially gamers in mind. Ergonomic design of this gaming desk provides a large tabletop with dedicated spots for your accessories so you can have everything within your reach. Respawn 2010 is a large desk suitable for up to four monitors if you want to.
Raised monitor shelf comes with the desk for better eye-level gaming action. You have the option to remove this shelf if you want to. Other than that it comes with headphone hook and a built-in cup holder. Design of this desk is very ergonomic and comfortable.
Frame of this gaming desk is built of steel tubes with contoured support and adjustable glides. Front part of the desk has beveled edges that help your forearm to stay in a comfortable position during long gaming sessions. This reduces the risk of injury while gaming for a long time.
The structure of this gaming desk is very durable and sturdy. It can hold up to 200lbs of maximum weight, which is enough for all of your gaming hardware and accessories. You can get this desk in contrasting colors that match the chairs made by RESPAWN, which completes your gaming battle station. This desk is shipped in two large boxes. Assembly of this desk is fairly easy if you follow the instruction right.
What to Look for Before Buying a Gaming Desk
It all depends on your personal preferences, choice and budget. There's no need to buy the first desk you see online. There are plenty of options available in the market. The first step before buying a gaming desk is identifying your needs. Make a list of 2 to 3 gaming desks that come close to your personal preferences, then compare them to see which desk fits your needs perfectly.
There can be different requirements for every other gamer. Some might want a simple desk, but for some serious gamer, the desk should be good looking with a gaming vibe. The size of the gaming desk depends upon the space available in your room. But if you have enough space for a large gaming desk then go for it.
The large gaming desks have enough space to handle multi-monitor set up. Even if you have a single monitor setup, a large gaming desk can come in handy in the future when you want to add more monitors to your display. Then you won't have to find a new substitute gaming desk to fit new monitors.
Maybe you want a gaming desk with full mouse pad or a desk that can manage all your accessories. Quality is the most important factor to consider before making the final decision. Don't spend your money on a cool looking but cheap quality desk because it won't last a long time for. Invest in a gaming desk that will last for a good amount of time. Most of the gaming desks available in the market have tabletops made of MDF. Look for a gaming desk that has thick MDF.
A desk that wobbles during intense gaming sessions is no good for a gamer. A good gaming desk should be sturdy and stable, so it won't cause a problem when aiming. Look for the desks with adjustable feet so it can be adjusted for stability even on uneven grounds.
Standing gaming desks are also an excellent choice, not only for their ability to easily adjust the height but also let you play while standing. Your gaming desk height should always be the same as your elbow level; that way, your forearm naturally rests at a 180-degree angle with the table. A table that is too high or low will put unnecessary stress on your arms, and that could lead to pain and injury.