10 Best Survival Games for Android and iOS in 2023
Survival games have become quite popular, and some of the titles have become super hit in the gaming world. With so much success on PC and console, mobile developers have jumped on the bandwagon to produce some of the most exciting survival games for us.
This genre of games has evolved throughout the years. So, we got to keep you updated on all the latest and trending survival games. In this article, we have listed our top 10 picks for survival games on mobile devices.
Angel Dust
This is a free-to-play MMORPG with destructible environments. It has lots of building opportunities and four playable character classes. You can explore different areas, fight monsters, collect coins, and gather treasures.
The game features first-person and third-person perspectives and a unique combination of 3D environments with cartoonish 2D character artwork to bring the game to life. Players can teleport from one place to another saved location without having to travel.
Angel Dust opens up its world for those who want to be a builder or an adventurer in true sandbox fashion. The building system in this game is quite similar to Minecraft or even Trove. You can play daily quests and defeat your way through world bosses.
You can play single-player or multiplayer with your friends and explore the massive world together, taking on the challenges.
Epic Raft Fighting Zombies
This is an exciting adventure game in which you are stuck in the middle of the ocean on a raft trying to survive. You can gather different items from the water and use them to craft armor and weapons. But first things first, find water and food to stay alive and active.
You can travel to different islands to extract resources and repair your raft. Do you think this makes it difficult? But wait, there's more. What makes it a true survival game is the hoards of enemies. You have to fight off sharks, crabs, and even zombies.
Beware of the weather, too, as different weather can have a different impact on you. Overall, it is a decent game for those who love the super sub-genre of raft survival games.
Just Survive
Just Survive is an action survival game. You will control a castaway lost on a seemingly deserted island in FPS mode. Each day is a struggle but surviving for even a second longer is a tiny victory.
Starting on the island with a couple of basic tools is no simple task. As you advance in the game, you will access an enormous arsenal of bows, arrows, pistols, hunting rifles, shotguns, etc.
You'll face all types of different attackers like wild boars, bears, aggressive mutants, etc. Upgrade your shelter, tools, and weapons to survive as long as you can.
Ocean is Home 2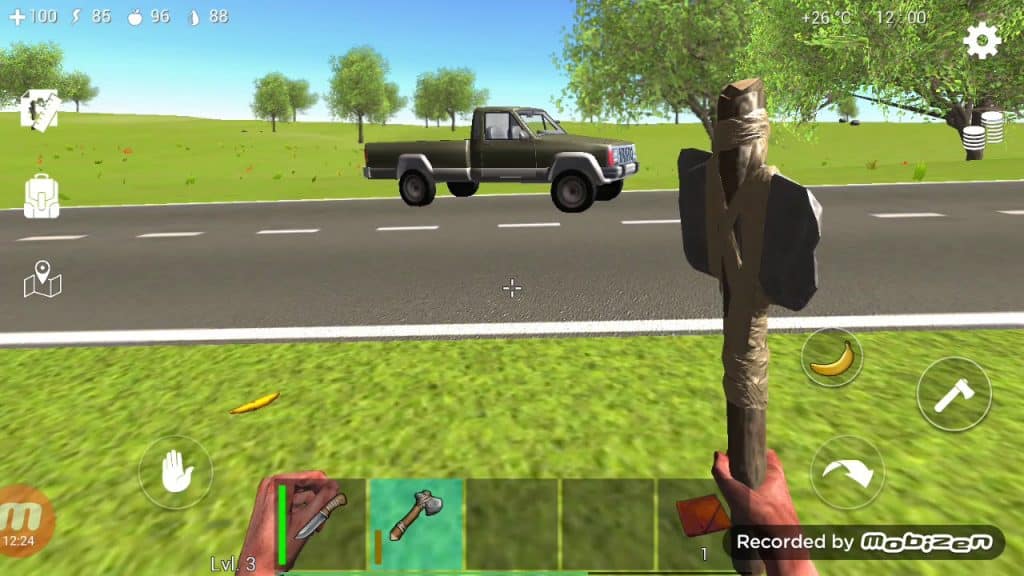 This is a first-person life simulation on a picturesque island. Here you will land on a beautiful open world location consisting of many different islands and an archipelago.
You are here to establish a new life by building a house, buying a car, socializing, and finding a job or a career. You can choose any career you want, from a truck driver to a doctor. Being an adult is the real test.
Meanwhile, you can explore different areas to find useful items and gather resources to upgrade your house and other stuff. Each island has unique racecourses for you to loot and upgrade your home.
You can even own a whole island where you can build your bases but don't forget to protect it from others.
Overall, it's a nice game with a big open world, where you can do lots of interesting things, all from the comfort of your couch.
LOST in Blue
It is a thrilling multiplayer zombie survival RPG, where you start the game stranded on a zombie-infested island after a plane crash. Now you need to find a way to survive on this island overrun by deadly creatures. You can relate the plot to the TV series Lost.
Players can do everything from collecting resources, crafting tools, construct buildings, working together with other players, interacting with the environment, and using various weapons to defeat the zombies and other deadly enemies.
Each day you will hunt for food and upgrade your shelter. There will be lots of daily tasks that you need to complete before you explore the island. This game will surely keep you busy.
Your ultimate goal is to survive while finding a way home, whether by building a raft or a plane from scratch. Overall, I recommend you all to try this game if you like top-down survival games. It is quite interesting and unique from many other survival games.
Shadows of Kurgansk
Set in a post-apocalyptic world, Shadows of Kurgansk puts you in a tight spot as you are in an irradiated area and must find a way to survive. Here you will gather supplies, materials and build your fortress to protect yourself from the zombies that roam the land.
This adventure game is full of mysteries and dangers. Your sole purpose is to fight, survive and find your way out. Craft tools and weapons to fight off the zombies and collect artifacts to improve your skills and abilities.
The game features both day & night. In the day, things are quite comfortable, but things start to get pretty dangerous as the night falls because that's when the zombies appear.
You can play three different story modes, including story, adventure, and survival.
Project Gaia
Another zombie survival game for zombie fans with an emphasis on scavenging for items. You will experience the gameplay from a third person's perspective.
The game is set in an open-world environment and features co-op gameplay with up to three other players. Every mission includes hoards of blood-thirsty zombies. To survive, you need to shoot and kill all the zombies who want to kill you.
Project Gaia was built using Unreal Engine 4, so you can expect good quality graphics. Overall, it's an exciting game for fans of shooting zombies.
Radiation Island
This is an adventurous survival game where you will craft your own destiny in a vast open-world, part of the Philadelphia experiment. You are stuck in a parallel universe, and you will explore the mysterious world with all its surprises.
Radiation Island delivers truly entertaining gameplay from a gameplay standpoint despite some rough edges on its crafting systems. Even with a few mistakes, the game is overshadowed by its shallow technical aspects and good storyline.
The progression system is slightly slower, and sometimes you will feel like grinding all day for racecourses to upgrade your weapons to kill even the simplest enemies.
The Survivalist
This is a spin-off of Team 17's older released game called The Escapist, where your survival skills were tested after washing ashore on a dangerous remote island.
You have to survive against the harsh environment by building a shelter, hunting animals for food, and exploring the island for racecourses that'll help you stay. There's also a recruiting system in which you can train monkeys to help you automate certain tasks, including protecting the group and gathering resources.
It can be played single-player or co-op with other players where you can complete joint adventures with fellow castaways. You can also trade items with each other.
Last Island of Survival Unknown 15 Days
This is an online PVP-focused multiplayer survival game for your mobile device. The game's goal is to survive the last day in the wildland of earth using collected or stolen items. Players need to manage their hunger, thirst, and health to stay, or they will die.
Despite the environmental dangers of the island, other players are the main threat because it's a PVP. You will fight them using firearms or handmade weapons for survival.
You can build up your own clan and play with friends, dominating the island, or you can be a loner and fight your way alone.