9 Best Games Like Destiny 2
We can't wait for the witch queen in Destiny 2 in 2021. Here's what we'll be playing instead before she arrives to destroy the universe. Right now in Destiny 2, we're enjoying icy new stasis powers courtesy of last year's huge beyond light expansion.
Controversially, Bungie removed entire planets from the game to streamline the experience and set Destiny up for new seasons and expansions in 2021. While we keenly await the arrival of the season of the witch queen this year, we've turned our attention to other great looter shooters and science fiction games that can fill the void.
Here are the best games like Destiny 2 to play on PC.
If you want to loot and shoot on distant planets, look no further than Borderlands one, two and three. This game has amazing, randomly generated guns. Tediore weapons are cheap and reload in milliseconds while Maliwan guns specialize in delivering elemental damage. If you want overwhelming firepower, Vladof guns can give you tremendous firing speed though they can be difficult to control.
Every time you open a chest in Borderlands, there's a chance you'll find a new bizarre weapon. Such as a gun you throw like a grenade when you reload. Sure some of these guns are impractical and sometimes even worthless, but they're fun to discover, and you get to boast about them when fighting through missions with friends.
With a colorful comic book look and lots of plucky characters, The Borderlands games are much more light-hearted than Destiny. Just be ready to meet a bunch of characters who have no manners at all.
There is no gaming universe, quite like Warframe. You play as a space ninja blasting your way through the cosmos to win treasure and grow a unique collection of weapons. The Warframes themselves are suits of armor that completely change your abilities and play style, and there are dozens to craft and collect over hundreds of hours.
Warframe is fast explosive, and lots of fun to play and the game keeps growing in unexpected ways. Sometimes you're somersaulting through alien facilities to assassinate targets at other times you're flying through massive space structures like the millennium falcon escaping from the death star.
Oh and I almost forgot to mention that Warframe is one of the most generous free-to-play games on PC. Best of all, you can collect pets and companions and plushies to display in your personal ship. I love this game, grab some friends and get stuck in you won't regret it.
Let's cut to the chase we love loot. We want to fill a cave full of loot and then fall asleep in it like the dragon Smog from the Lord of The Rings. That's why we're still playing Diablo 3.
It had a controversial launch, but in recent years with the outstanding Reaper of Souls expansion and the addition of the Necromancer class, this classic action RPG has redeemed itself. Today it stands as one of the best hack and slash games you can play on PC.
It's not a complicated game; you battle hundreds of monsters across five varied acts and pick up everything your enemies drop. All the while, you're leveling up and unlocking new skills that you can mix and match to create your own character build.
Diablo 4 is in development, but we're happy to keep playing three until the sequel is ready. Wondering what my favorite classes are? You can't go wrong with a big naked barbarian.
If you prefer shooting to looting but still want to see some gorgeous sci-fi vistas with friends The Halo Games are a must-play. Most of these classic shooters have lived on consoles for the last decade, but the launch of the Master Chief Collection on PC brings us the entire series,
These fantastic futuristic shooters made Bungie famous back in the day, and now we get to enjoy their brilliant Halo co-op campaigns and competitive multiplayer modes. Currently, Bungie is dedicated to building more seasonal Destiny 2 adventures, but it's fun to go back to Halo to see how everything started.
The games still play brilliantly, and there's an epic story to enjoy, but we're particularly impressed by the enemy AI. Your foes flee and take cover effectively, which makes every firefight feel dynamic. That's why Halo is still worth playing in 2021 even though Master Chief is somehow even less talkative than The Mandalorian.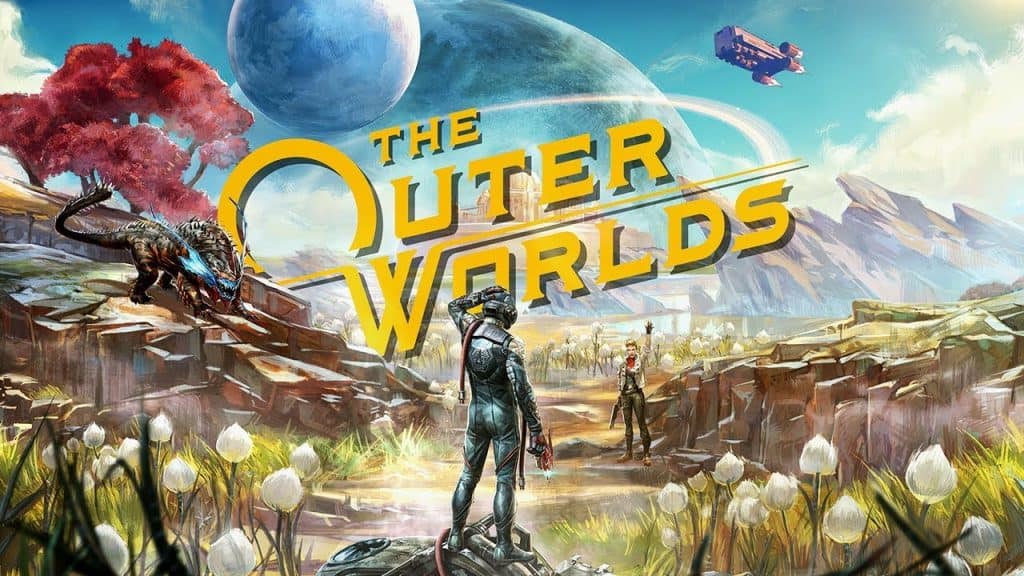 If you're looking for a looter shooter with more of a story, The Outer Worlds is perfect. This stylish obsidian RPG manages to be funnier than Fallout and almost as pretty as Destiny.
The universe is owned by brutal corporations who oppress citizens for profit, a classic sci-fi scenario but a good one. Of course, you can choose to join the suits or rebel against them in favor of local planet dwellers.
Whichever path you choose, you get to hop between planets collect cool guns and meet some very odd people along the way. It might be a bit much to call it Skyrim space, but it's close. That's because as a single-player RPG, The Outer Worlds can be ambitious with its story.
It's not a thousand-hour evolving experience like Destiny 2, but branching quests and multiple endings make this a fun re-playable game to come back to every few months. Will you be a freedom fighter or a horrible monster? The choice is yours.
It's about time Monster Hunter came to PC and Monster Hunter – World doesn't disappoint. As the name suggests, you roam the world, taking on creatures twenty times your size, and you can harvest their bones and craft new armor.
The monsters are extraordinary, full of personality, and it feels great to take them down with a crew of friends. It looks like a simple action game but under the surface monster hunter world is a deep RPG. Each weapon has its own complex move set to master. Switching from a sword and shield to a lance feels like you've just installed an entirely different game. And that's before you start getting to grips with monster hunters huge transforming swords and axes.
It's not exactly a science fiction game, but it's got shooting, looting, hacking and slashing. Plus with the IceBorne expansion, we could happily play this all year. Still not sure if you want to hunt? Just look at the fantastic trailers, and you will surely change your mind.
Check out these Action RPG games!
Let's head back to space for a journey into a horrifying haunted spaceship in the Dead Space series. A humble engineer, Isaac has to turn his power tools into deadly weapons to survive an infested spacecraft full of fantastic horrors.
There's a light layer of crafting and leveling up, but for the most part, this is a scary tactical shooter that has you sniping enemy limbs with industrial lasers. This was the best alien game before Alien Isolation in 2014, and today the series still delivers a perfect balance of horror and gory action.
The weakest of monsters are still scary even at the very end of the game. If you want to bring your friends for protection and co-op, you can turn to dead space 3. But we're big fans of the first two games as great solo shooters set in sci-fi survival horror scenarios.
Destiny 2 can be frightening at points, but that's nothing compared to dead space.
It feels good to be a special agent in the post-apocalypse. The first game was set in a deadly New York winter, but The Division 2 lets us tour a much sunnier version of Washington DC. Explore DC's broad avenues, see the sights, visit the white house but look out for gangs of marauders looking to kill you and steal your stuff.
It sounds like this ought to be a survival game, but it's very much a looter shooter in the vein of Destiny 2. You upgrade your class craft, upgrade your gear and then take your skills into dungeons set in Washington's famous landmark locations.
It's loads of fun with friends, and there's a fascinating player versus player mode called the dark zone. Here you have to loot a lawless region where enemy players can shoot you on site. A lot of games have similar modes, but in The Division it can feel scarily real.
Also Read: Best Open World Games
This is the unsung hero of today's collection of games. Remnant casts you out onto a warped post-apocalyptic planet infested with demons and corrupted colonists. Playing solo can feel like a desperate survival game as you guide your wastelander through the desert and unforgiving dungeons.
But with friends, actually, it still feels like a desperate survival game. We've had tons of fun taking on bosses and discovering satisfying new weapons. Gear is vitally essential in Remnant, so you need to gather as much loot as possible in a world that's probably best described as demonic mad max.
There's a bizarre and exciting story to uncover as you battle through each area, but you can happily ignore it if you just want to shoot bad guys with friends. This is a sleeper hit that provides a refreshing change of pace to Destiny 2, and we can't wait to see how it grows in the next year or so. Get a crew together and start raiding.
Verdict
There we have it thousands of hours of exploration space travel and shooting goons with friends as we keenly await the next Destiny 2 update we can rest knowing that there's always a great alternative to play on PC.