11 Best Paid and Free Aim Trainers for a Precise Aim
In this article, I am going to be talking about what paid and free aim trainers to use. It's no secret gaming is blowing up as an industry and Esports along with it. More and more gamers are becoming part of the ever-growing competitive community and all seeking ways to improve.
I'm sure many of you know by now that one of the core methods of practice is aim training and making sure your mechanics are on the next level to compete with the best of the best. That's not an easy task, and it could be extremely overwhelming since a lot of the information is not directly accessible.
With more gamers entering the competitive scene and learning about aim training, the more important it is for us to distinguish the difference between all the available aim trainers out there to help us achieve the most optimal practice.
I'm going to cover the most popular aim trainers and their uses along with other questions or concerns you guys might have. Since i can't use studies to provide a clear answer for this question, and instead of just giving you my own opinion, I asked around and contacted some aim coaches and skilled aimers in the community for their thoughts.
The paid aim trainers I'll be covering are Kovaak and Aimbeast. These are the most popular aim trainers that seem to be asked about, and if there's another aim trainer that's worth talking about, I will add it in the future. I have also added the free ones below. I'm going to be very honest about each one with full transparency.
Common FPS Skills That You Should Know
Before we delve into our list of free aim trainers, it's important to understand the essential skills you need to develop in order to improve your gameplay.
Training drills in aim trainers are designed to target specific skills, much like an RPG game. For instance, you may excel in hitting stationary targets with 80% accuracy but struggle to hit moving targets. Aim trainers come in handy to help you develop such skills.
The drills are typically categorized, and below are some of the most common ones:
Clicking – This is a fundamental skill required for FPS games as it triggers firing a weapon. Clicking exercises help develop accuracy and precision, making it an essential skill for headshots.
Flicking – Flicking is a mouse trick skill that involves slightly moving your hand to hit an enemy a few inches from the crosshair. This skill focuses more on reaction time and precision.
Tracking – One of the most challenging skills, tracking involves keeping moving targets in your crosshairs for as long as possible to get the perfect shot. This skill is crucial when playing competitive shooters.
Target Switching – Target switching involves a mix of tracking and speed and is handy against hordes of enemies. It's an essential skill for improving double, triple, or even penta-kills and climbing the ranks.
Understanding these essential skills is crucial for effective aim training. With this knowledge, we can now explore the best free aim trainers that you can try out to improve your skills.
Best Paid Aim Trainers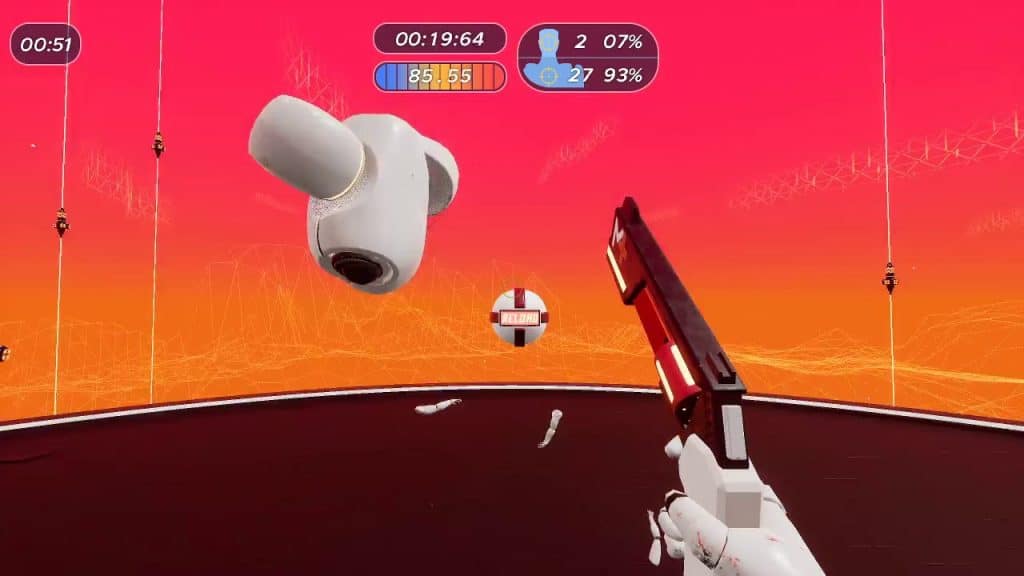 Let's start with the aim trainer that's on the top. Kovaak is $10 on Steam and has been around for a while now. While I don't recommend the newer meta trainer program, it has sandboxes over 4,000 scenarios that seem to cover almost every aspect of aim training.
Kovaak undoubtedly has the most scenarios to offer out of all the aim trainers that are available right now. Its UI is simple and makes it easy to move around certain UI functions and edit the environment you are aim training in.
It's also the most popular aim trainer out there, which means it's more highly rate. The most played scenarios have a larger pool of players to compare you with on the leaderboard, giving you a better idea of where you stand in specific aspects of aim.
With that being said, Kovaak is my go-to aim trainer as of right now, and it seems those at the top of the aim community agree with me.
Aimbeast is $6 on Steam, and it was called aim gods until they recently decided to rebrand following a rather large update that added more customization, a rank system, and some UI changes. I like how easy it is to make custom maps for aiming in Aimbeast. It's very straightforward, and I had no issues making my own maps.
It feels very smooth in comparison to all the other aim trainers. I've been told it's because Aimbeast was made with Unreal Engine 4 and it just seems pretty well optimized, which apparently makes a subtle difference in feel.
I honestly love the whole software, the way it looks, runs, and overall everything. I had zero issues with it, and its community on discord seems to be rather supportive, and the staff knows how to communicate.
There are a fair amount of scenarios to run that will definitely help you improve. It has fewer scenarios than Koovak, but it indeed does have some good ones, such as jump pad ones where you need to aim while jumping.
Honestly, if they had more scenarios, this would be tied for my number one pick, and as time goes on, I expect it to rival Koovakin the future, but for now, it's my second pick.
Best Free Aim Trainers
Steelseries Aim Master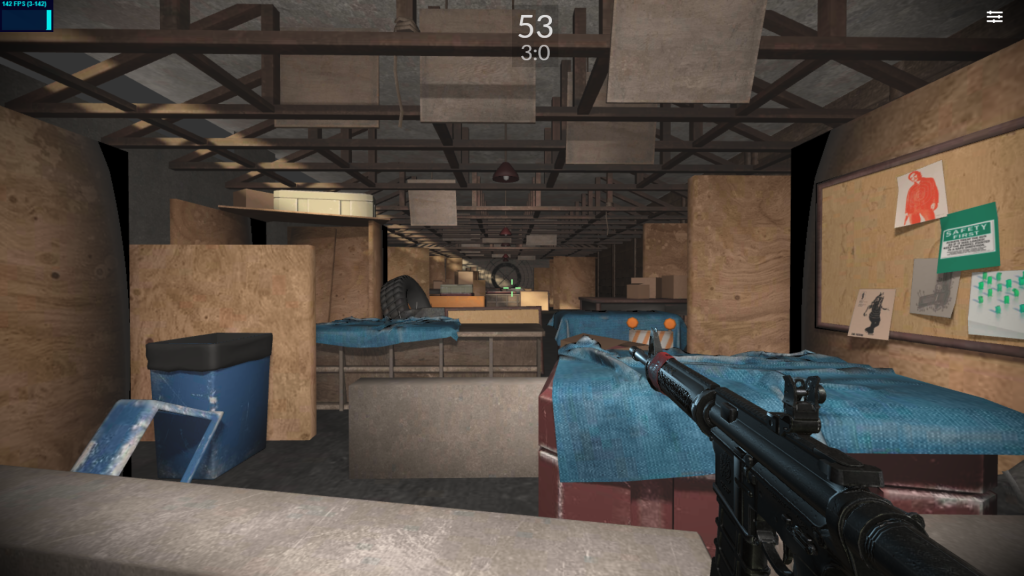 For a straightforward aim trainer that you can play directly from your browser, we highly recommend Steelseries Aim Master.
The app has a simple interface that allows you to choose a hand cannon, assault rifle, or sniper rifle as your starting weapon. You can also tweak some sensitivity settings for popular games such as CS:GO, Fortnite, Overwatch, and PUBG.
With a free account, you can track your statistics for each game and compete for the top spot on the leaderboards. Share your results with friends and challenge them to beat your score.
While Steelseries Aim Master is still in beta, it's sufficient to keep your hand-eye coordination sharp. Additionally, keep an eye on their blog as they sometimes host sponsored competitions where you can win prizes by excelling at this aim trainer.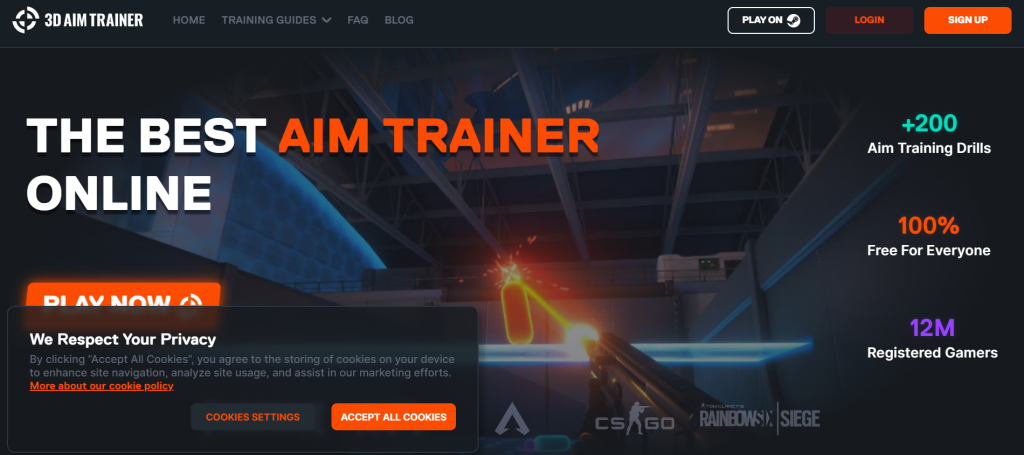 3D Aim Trainer is a highly recommended free aim trainer that stands out as one of the best in the market. This tool can be used to enhance your aiming skills for nearly any popular game. Additionally, it is beneficial for mastering specific shots and techniques required to excel in those games.
With 120 levels, 11 play modes, and multiple skill challenges, including flicking, clicking, tracking, target switching, and strafe aiming, 3D Aim Trainer hones the skills necessary for popular FPS games, such as Counter-Strike: Global Offensive and Rainbow Six Siege.
Achieving top rank in these games demands superior accuracy and speed, and 3D Aim Trainer provides the necessary practice to climb leaderboards. Furthermore, players can customize their aiming experience according to the game they want to improve their skills in, resulting in noticeable improvements in-game.
One of the significant advantages of 3D Aim Trainer is that it does not require any downloads. The software operates directly through the browser, and players can start and end their aim training sessions whenever they desire.
While some aim trainers may offer better graphics or additional perks, 3D Aim Trainer is undoubtedly the best free online browser-based aim trainer available today.
This web application is built with HTML5 and it has some similarities to aimtrainer.io. However, AimBooster excels in showing other training data aside from your accuracy and target hits.
This trainer also provides you with a couple of graphs that give you a better understanding of your shooting behavior.
The targeting section also helps you see how well you're hitting your targets with perfect precision.
There's even a heatmap to show areas on the screen where you excel most. There are some players that are good when shooting at either side while some struggle to hit from above or below.
Either way, this light aim trainer can give you enough data to play around with and it's a good starter app for practicing your aim before you even dive into your favorite shooters and it also comes with a couple of game modes as well.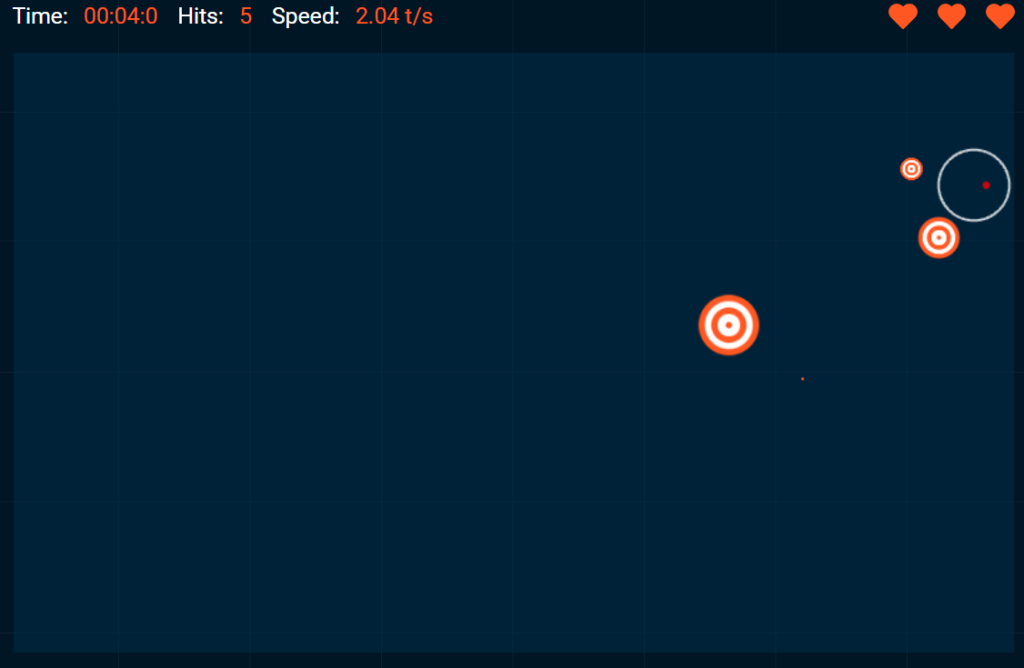 If you prefer a minimalist approach and want to jump right into FPS skills training without the fancy statistics, aimtrainer.io is a web-based aim trainer you might enjoy.
This aim trainer is geared more towards casual players as it doesn't store as much data as other free aim trainers. However, the challenge mini-game in this app is enough for a quick warm-up.
The goal of the challenge is to hit all the targets before they leave the screen. You're only allowed to let three targets escape, and the last 10 matches are saved within the session.
Additionally, there are a couple of endless training courses to choose from, and you can decide when to stop. The downside is that you can't set a timer for each training course.
Nonetheless, you can time each course for 30 seconds or a minute on your personal timer. It's crucial to take breaks after each session to avoid hand and eye fatigue.
Aimlab is free on Steam and has been making a name for itself through Twitch's paid advertisements recently. If you're on Twitch watching some popular streamers recently, I'm sure you've seen the Aimlabs hashtag ad or the Aimlab's command displayed on many stream titles. These are all paid promotions, so many streamers aren't inclined to speak poorly about the software.
Aimlab tries to be more innovative and more professional through their UI and the analytics they provide. They have more than a few setbacks like unnecessary loading screens that you'd never see in other aim trainers, a relatively poor selection of scenarios, and a few bugs.
I even saw a post on discord where a team member of Aimlab was admitting that it isn't really optimal aim practice. These are all causes for concern. Despite coming out on February 7th, 2018, Aimlab claims to still be very early in development. Unfortunately, these are their words and not mine.
In all seriousness, the main appeal of Aimlab is that it's free, and a lot of streamers are vouching for it. If you could afford to put down the investment for Aimbeast or Koovak, I highly recommend them over this free option, and after all, you get what you pay for.
Honestly, it's better than nothing, but if you're playing a game like CS:GO with different ranges and community maps for aim, I would just stick with those two.
Timetastic is a free trainer on Steam with a rather large community and claims to help you better your aim and take it to the next level. While there are a limited number of reviews about Aimtastic on Steam but most of them are positive ones. It made me curious as to what it had to offer.
Reading through some of the reviews, I could see most people who used Aimtastic to improve their aim claim the trainer helped immensely. The reviews made me want to try it as well.
There are eleven different scenarios available to play, and some of them cover all three aspects, aiming, tracking, and reflexes. The UI was nicely laid out and easier to navigate than other aim trainers I encountered in the past. Also, the ability to start playing it right away without any tedious setup made it user friendly.
The visual detail in the aim trainer isn't great, and it's by no means graphically intense. I'm pretty sure this would run on a potato the same as it does on a high-end gaming rig.
Aimtastic was built for one thing, and from what I could see in my short time playing, it does this pretty well. You have a gun model and muzzle flash that gives you a sense of being in an FPS without many flashy graphics that I wouldn't want in an aim trainer.
The game also shows your statistics at the end of each round, giving you a sense of how well you did. It even tracked my progress between sessions and overtime. Tracking your stats over time is really helpful if you continue to practice using the same aim trainer.
Aim FTW is a fascinating free aim trainer that boasts impressive visuals. Unlike the typical shooting range setup of other aim trainers, Aim FTW offers scenic backdrops that add a refreshing touch to the training experience.
The platform provides various challenges and competitive leaderboards to gauge your progress, and you can choose to compete against AI opponents or challenge yourself.
But Aim FTW is not just about graphics; it also offers an enjoyable mode called "Music Meets Aim." This feature enables you to train your aim while listening to your favorite songs. You can even upload your music and adjust the trainer's difficulty to match the song's mood.
In Aim FTW, players can practice their aim against unique targets such as monsters, agents, and other adversaries. The platform is customizable, allowing you to tailor the gameplay to suit your style and preferences, making aim training less tedious and more entertaining.
Moreover, Aim FTW provides players with extensive statistics to track their progress. It has a more game-like feel than other aim trainers, which may not appeal to everyone. However, if you're looking for an engaging aim trainer, Aim FTW is worth trying out.
Aiming.Pro is an excellent free online browser-based aim trainer that offers a wealth of statistics related to your aiming style. If you enjoy analyzing numbers, reviewing every shot, and tracking your progress, Aiming.Pro is the perfect aim trainer for you.
The platform allows players to benchmark their skills and compare their performance with others worldwide, adding an element of competition that can motivate you to improve.
Aiming.Pro enables you to match the sensitivity of your mouse to its setting in popular first-person shooter games, providing real-time feedback for efficient and productive aim training.
One of the unique features of Aiming.Pro is its support for Apex Legends and PUBG, making it one of the few aim trainers that cater to these games. The platform boasts hundreds of training drills, each with unique scenarios that help players improve their aim.
Moreover, Aiming.Pro offers interactive training courses that include 20 videos and 60 lessons, effectively providing a complete educational course on proper aim training. Although the graphics are not the best, this is expected from a browser-based platform. Nonetheless, Aiming.Pro remains an excellent option for training your aim.
McOsu/Osu
Lastly, we have Osu and McOsu, and both are free. I wasn't originally going to mention either of these softwares, but I see many people asking about it on Reddit and Twitter. So, I thought I should mention these.
Simply put, Osu is a 2d aim trainer. There is no depth, and since there is no camera of your player to interact within the 3d environment and look around, it isn't a proper simulation for fps games. One could argue it helps develop a degree of mouse control in games like League of legends, where the camera has a bird's eye view and doesn't turn.
But for fps games or any other game that is highly aim oriented like Fortnite, it pales in comparison to an aim trainer like Koovak or Aimbeast.
McOsu offers an fps function that allows you to move your camera around as you interact with the targets, but the targets still seem to be on a single plane. So while it's a better substitute than Osu, one could say it isn't nearly as efficient as a proper aim trainer like Koovak or Aimbeast.
The pro gamers from whom I also asked about their opinion about aim trainers are absolute titans in the aim community. They seem to all agree with me that a 2D environment isn't optimal practice for most of the games you'll be playing.
Conclusion
When playing an online game, most of your time is spent running and looting, and there are only a few moments where you are actually engaged in a fight. This gives you very little time to practice or improve your game. After countless hours of gameplay, gamers don't see any significant improvements in their aim or gameplay.
This is where aim trainers come to help. Using aim trainer, you can spend more time aiming and target practicing rather than running all over the map.
Many of the world's best players practice on aim trainers to improve their skills. You can also use the free trainers, and they will surely enhance your aim a lot.
So, in conclusion, Koovak is my number one pick, and you should keep an eye out for Aimbeast as time goes on. If you're looking to train hardcore and try everything honestly, you can utilize both pretty well, that's what I do.
FAQ
What is an Aim Trainer?
Aim trainer is a small game, which is used to improve your aiming ability. It is a point and click scenario just like the shooting games. It helps precise your movements and decreases your reaction time. Usually, it's a small-sized file that you can easily download and install on your PC. You can even run these aim trainers within the browser without even downloading.
There are different scenarios created in the aim trainers to develop or improve your gaming skills like flicking, strafing, pointing, tracking, and target switching. Aim trainers also keep a record of your stats, which helps you track your improvements.