6 Best Gaming TVs for PS5 and Xbox
Greetings, fellow pixel pioneers and joystick juggernauts! We're about to embark on a fantastical adventure through the enchanting realm of "Best Gaming TVs," where pixel-perfect visuals, lightning-fast reflexes, and heart-pounding action unite.
In this wondrous land, the legends of the gaming world await to unveil the finest champions of visual marvels that will elevate your gaming escapades to mesmerizing new heights!
As we navigate this magical terrain, we'll encounter mystical treasures such as 4K resolution, ultra-low input lag, dizzyingly high refresh rates, and the ever-radiant HDR. Hold on to your controllers, adorn your gaming headsets, and let your imagination soar as we quest through this vibrant world of awe-inspiring gaming TVs.
With every thrilling discovery, we shall unlock the secrets to transforming your gaming lair into an exhilarating paradise that will leave you spellbound and yearning for more!
Lowest Price
TCL 55" Class 5-Series 4K UHD QLED Dolby Vision & Atmos, VRR, AMD FreeSync, Smart Roku TV...
Lowest Price
TCL 55" Class 5-Series 4K UHD QLED Dolby Vision & Atmos, VRR, AMD FreeSync, Smart Roku TV...
Samsung S95B OLED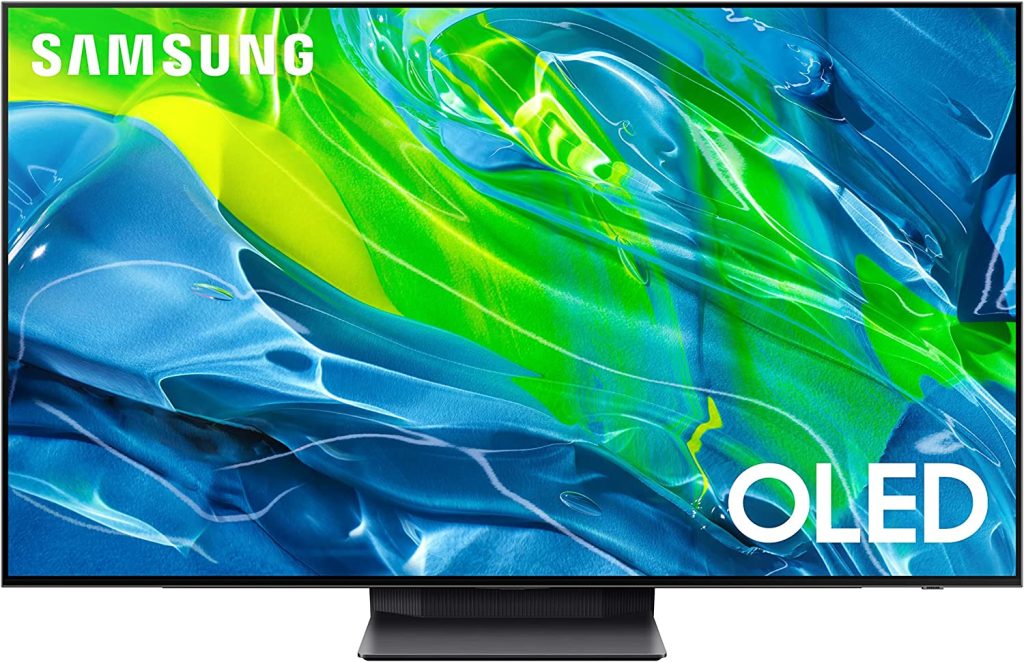 Positive
Near-infinite contrast ratio for perfect blacks.
Fantastic reflection handling.
Incredibly bright colors.
Negatives
Aggressive ABL can get distracting with large areas of brightness.
Raised blacks if it's in a room with any ambient light.
The Samsung S95B QD OLED TV is a noteworthy addition to Samsung's lineup, featuring a new QD-OLED panel that delivers brighter colors and superior contrast compared to traditional white OLED displays. The design of the TV is elegant and contemporary, with ultra-thin bezels and a minimalistic, center-mounted stand that effortlessly blends into any living space.
The build quality is top-notch, incorporating premium materials that ensure durability and sturdiness. However, due to the large size of the TV, there is a slight wobble on the stand, which may be a concern for some users.
Gaming enthusiasts will find the Samsung S95B particularly appealing, as it boasts fantastic low input lag in 'Game' mode, coupled with an almost instantaneous pixel response time. This combination results in an incredibly clear and responsive gaming experience, free from motion blur and overshoot artifacts.
Additionally, the TV supports HDMI 2.1 bandwidth on all four ports and is FreeSync Premium certified, making it compatible with a wide range of gaming consoles and devices.
Despite its many advantages, the Samsung S95B has some limitations, especially when used for productivity purposes. The TV's unusual subpixel layout can negatively impact text clarity, an issue that cannot be resolved using ClearType settings. Furthermore, the TV is best enjoyed in a completely dark room, as even the slightest presence of ambient light can cause raised blacks and a subtle pink tint due to the lack of a polarizing filter.
In terms of smart features, the Samsung S95B is equipped with Samsung's proprietary Tizen OS, offering users access to a vast selection of apps and games. Notably, the TV also supports Google Duo, enabling video calls with up to 32 people directly on the screen when connected to a compatible webcam. This makes the Samsung S95B an excellent choice for those who value seamless integration with their smart devices and ecosystems.
It's worth noting that the Samsung S95B has been replaced by the Samsung S95C OLED in 2023, which offers a similar picture quality but comes with an updated design and an external Slim One Connect input box. The S95C addresses some of the accessibility issues present in the S95B, making it a more user-friendly option for those considering a new OLED TV.
In conclusion, the Samsung S95B QD OLED TV excels in providing a visually stunning and immersive gaming experience, with its remarkable picture quality and low input lag. However, potential buyers should be aware of its limitations in productivity settings and optimal viewing conditions.
For those who prioritize gaming and entertainment, the Samsung S95B is a strong contender, but for users seeking a versatile display for both work and play, it may not be the best choice.
Hisense U7H
Positive
Excellent contrast results in deep blacks in a dark room.
Good reflection handling.
Negatives
Image degrades when viewed from the side.
International variants use the same name but perform differently.
Hisense has established itself as a leader in brightness, providing some of the best performance in this area at a fraction of the cost. The U7H upholds this reputation by outshining its rivals with a staggering 1000 nits of peak brightness.
To put it into perspective, most TVs in this price range have historically only offered a meager 600 nits, barely sufficient for displaying HDR properly. On the other hand, 1000 nits can not only counteract direct glare from a large open window but also enable you to fully appreciate any HDR content.
Regarding HDR, even TVs that are three times more expensive than the U7H may not always support a wide variety of HDR formats. However, Hisense has you covered with Dolby Vision, HDR 10, HDR 10+, and hybrid log gamma.
As a result, regardless of the streaming service you use, this TV can provide the ideal HDR experience. The U7H is powered by Google TV, which means it's compatible with nearly every streaming service you can imagine.
While the TV panel doesn't offer the perfect black levels associated with OLED technology, the full array local dimming coupled with peak brightness ensures that the picture quality won't appear washed out unless you're watching the U7H from an extreme angle.
The colors are also bright, vivid, and seemingly leap off the screen, thanks to the use of quantum dots. The U7H boasts a refresh rate of 120Hz, which ensures that games look and play smoothly when connected to a next-generation console.
The U7H can be hooked up to a PlayStation 5 or an Xbox Series X and deliver maximum performance with two of its four HDMI ports. The Hisense U7H also includes AMD FreeSync Premium, Auto Low Latency, Variable Refresh Rate, and Dolby Vision Gaming.
In summary, the Hisense U7H checks every box you'd want in a TV that costs well below a thousand dollars.
LG C2 OLED TV
Positive
Near-infinite contrast ratio for perfect blacks.
Fantastic reflection handling.
Image remains accurate at a wide angle.
Negatives
Aggressive ABL can get distracting with large areas of brightness.
Some uniformity issues, especially at an angle.
The LG C2 boasts several standout features that make it an attractive purchase, particularly considering its price. While a 55-inch model can cost up to two thousand dollars and a 65-inch model can reach as high as 2500 dollars, it's often available at a discount of around $600 to $700 less.
The LG C2 doubles the HDMI 2.1 support to four and significantly enhances the contrast with its ability to produce truly deep blacks, a feature exclusive to OLED TVs.
Though it doesn't reach high brightness levels in moderately lit or dark rooms, the image quality is far more impressive than that of non-OLED panels. The C2's highly accurate colors make it one of the few TVs on the market that can genuinely rival a movie theater's visual experience.
The C2 is powered by LG's webOS smart TV interface, which offers a wide array of streaming options but isn't as user-friendly or comprehensive as Google TV or Roku.
OLED technology also provides gamers with instant pixel response, ensuring no lag between input and on-screen action. Gaming on the C2 will not only feel better and faster, but games will also appear more visually striking.
The C2 also includes LG's exceptional Game Optimizer menu, allowing you to fine-tune your gaming experience, from contrast and color levels to full visualization of the active frame rate and resolution. It's like having a gaming command center always at your disposal.
The LG C2 caters to a more discerning viewer, and for them, the difference in quality between this model and our previous recommendation justifies the higher price.
Sony A95K
Positive
Perfect black levels.
No blooming around bright objects.
Wide viewing angle.
Near-perfect tone mapping.
Bright highlights and vivid colors.
Negatives
SDR brightness is just decent.
Ambient light causes black levels to raise.
The A95K comes with the latest technology which is QD OLED. It is very similar to an OLED, but supercharged. The concept was invented by Samsung but only Sony puts this new panel to best use in the A95K.
The A95K is one of the two OLED televisions that you can buy today, making it one of the most exclusive Technologies on the market. The price is as high as three thousand dollars for a 55 inch set and four thousand dollars for a 65 inch display.
Unfortunately, in exchange for this new panel Sony does cut some features. It only supports HDR 10 Dolby vision and hybrid log gamma, when it comes to HDR profiles. Also, it only has two HDMI 2.1 ports, which are capable of delivering 4K at 120 hertz.
However, Sony leans heavily on the picture quality as a reason for its high asking price. This TV deliver amazing picture quality. It has nearly perfect colors, and can display more colors than any other TV on the market.
While power efficiency doesn't sound that important but QD OLED does result in one major improvement over standard OLED because of how the tech works. The pixels on an OLED panel can actually wear out over time and cause what most people call burn-in.
It is not a huge issue unless you're displaying unchanging content consistently over the course of months. However, it can happen and gets worse when you increase brightness and push more power through those pixels.
On the other hand, QD OLED requires less power to achieve the same brightness, meaning the risk for burn-in is less of an issue.
Sony also has the best picture processing technology on the market, which means it can intelligently make any content look better regardless of how you're streaming it. Speaking of streaming, everything you could want to watch can be yours thanks to its use of Google TV.
As far as gaming is concerned, it delivers instant pixel response, supports Auto low latency, variable refresh rate, and up to 120 hertz in 4k.
It is really hard to explain just how good ACR movies look on this particular TV because most of the people have never seen this number of colors displayed on a TV before.
SAMSUNG 55 inch QLED 4K QN90B
Positive
Near-infinite contrast ratio for perfect blacks.
Fantastic reflection handling.
Image remains accurate at a wide angle.
Negatives
Aggressive ABL can get distracting with large areas of brightness.
Some uniformity issues, especially at an angle.
The LG C2 OLED is a remarkable TV that succeeds the highly popular LG C1 OLED, featuring a sleek and modern design. Its nearly invisible thin bezels and elegant silver border enhance the TV's overall aesthetic, making it a stylish addition to any living space.
As a self-emissive TV, it provides near-perfect contrast ratios in dark rooms, delivering deep blacks without any distracting blooming or halo effects around bright objects. The webOS smart interface, which has been refreshed for 2022, offers a more user-friendly experience, complete with user profiles and other minor improvements.
Furthermore, the LG C2 OLED has a strong focus on gaming, with features such as support for GeForce Now and Stadia game streaming, making it an appealing option for gaming enthusiasts.
Despite its impressive appearance and array of features, the LG C2 OLED does have a few drawbacks worth considering. One such issue is the small stand that inadequately supports the TV, causing it to wobble.
Additionally, the clearance between the screen's bottom and the table may not be sufficient for most soundbars, which could potentially obstruct part of the screen. However, the LG C2 OLED's superb build quality and use of premium materials, along with excellent reflection handling and low input lag, make it a versatile choice for various viewing scenarios.
The LG C2 OLED also boasts impressive compatibility with gaming consoles like the PlayStation 5 and Xbox Series S|X, supporting all their features, including variable refresh rates. All four HDMI ports offer full HDMI 2.1 bandwidth, making it a convenient option for users with multiple gaming consoles or PCs.
The LG C2's incredibly fast pixel response time minimizes motion blur behind fast-moving objects, while the variable refresh rate technology ensures a tear-free gaming experience across a wide range of refresh rates.
In conclusion, the LG C2 OLED is an exceptional TV for a wide range of uses, including watching movies, enjoying HDR content in dark rooms, viewing TV shows, and experiencing sports events in brightly lit rooms. Its wide viewing angles make it suitable for accommodating large seating arrangements.
Although the LG C2 OLED has a few minor design shortcomings, its overall performance, image quality, and extensive gaming features make it a strong contender in the high-end TV market.
The LG C2 OLED's combination of aesthetic appeal, user-friendly interface, and cutting-edge technology make it a worthy investment for those seeking an exceptional home entertainment experience.
TCL 55 inch Class 5-Series 4K
Positive
Superb contrast ratio results in deep blacks in a dark room.
Great selection of streaming apps.
Decent reflection handling.
High peak brightness in SDR.
Negatives
Image degrades rapidly when viewed from the side.
480p content isn't upscaled properly.
The TCL 5 Series/S555 2022 QLED is a budget-friendly 4K TV launched in 2022, featuring the user-friendly Roku OS smart interface. Sitting below the more advanced TCL 6 Series/R655 2022 QLED, it replaces the TCL 5 Series/S535 2020 QLED while offering an alternative to the TCL 5 Series/S546 2021 QLED, which runs on Google TV.
The S555 comes with new features like variable refresh rate support, although it is limited to a 60Hz refresh rate and lacks HDMI 2.1 bandwidth. While it has a full-array local dimming feature, it does not use Mini LED backlighting and has a limited number of dimming zones. The TV is available in 50, 55, 65, and 75-inch sizes, catering to a range of user preferences.
The TCL 5 Series Roku TV boasts a sleek, premium design with ultra-thin side and top bezels, allowing it to seamlessly blend into its surroundings. The slightly thicker bottom bezel has a brushed metal finish, adding to the TV's overall appeal. The V-shaped feet, although basic, provide adequate support and stability, with two position options to accommodate different TV table sizes.
In terms of build quality, the TCL 5 Series Roku TV is decent, with a stable stand and minimal flex in the back panel. Despite being mostly made of budget-friendly plastic, the TV maintains an attractive appearance without major issues.
The TCL 5 Series offers superb contrast, displaying dark scenes with deep blacks, even when bright highlights are present. However, reflection handling is only decent, with some smearing across the display due to the semi-gloss finish.
The TV's response time is quite good, with minimal black smearing and fairly consistent transitions. Although there is some motion blur behind fast-moving objects during sports or gaming, it is not highly noticeable.
The TCL 5 Series Roku TV also delivers superb low input lag, ensuring a responsive gaming experience. The Roku TV smart interface is simple, fast, and easy to use.
In conclusion, the TCL 5 Series Roku TV is an excellent option for watching movies in HDR, with a superb contrast ratio, fantastic black uniformity, and a great color gamut for vivid and lifelike images. However, its peak brightness in HDR and gradient handling are only average, which may result in less impressive bright scenes and more visible banding in areas of similar color.
Despite these limitations, the TCL 5 Series Roku TV offers an appealing blend of design, performance, and affordability for those seeking an enjoyable home entertainment experience.
Final Words
So, which TV is the best pick? Well it depends on what is important to you. The Hisense U7H brings all the important pieces to the table and does a fantastic job under great price. The LG C2 and Sony A95K both take steps up when it comes to visual quality and gaming performance.
For me, the U7H is best for everyday living room but both the C2 and the A95K are going to be better picks for use on a desktop or home theater.
What do you all think? Do you own any of these TVs? Do you prefer a model we didn't even mention? Let us know in the comment section down below.