12 Best Racing Simulator Cockpits and Seats
Are you tired of sitting on an uncomfortable chair while experiencing the thrill of virtual racing? Have you ever wondered what it takes to enhance your racing simulator experience to a whole new level? Look no further, as we dive into the world of the best racing simulator seats and cockpits!
In this article, we'll explore the top racing simulator setups that will provide you with an unparalleled racing experience. From ergonomic designs to immersive features, these sim racing seats and cockpits are the ultimate addition to any gaming setup.
Renowned expert, James Allen, has shared his insights on these top-of-the-line products, ensuring that you can trust their quality and performance.
Now, buckle up and get ready to be transported into the fast-paced world of sim racing. Discover the best racing simulator seats and cockpits that cater to your needs, preferences, and budget. Ready to take the plunge and elevate your gaming experience to new heights?
Let's hit the track and find your perfect racing companion!
Next Level Racing F-GT Racing Simulator Cockpit
The Next Level Racing F-GT racing cockpit is an excellent option for sim racing enthusiasts looking for a mid-range sim racing chassis that can alternate between GT and formula style seating positions. This cockpit is designed to offer the best of both worlds, providing a comfortable and immersive driving experience for a suggested retail price of $499.
The F-GT cockpit is built with high-quality steel and features an electroplated matte black finish. It comes with a pedal plate that can handle heavy braking, and the wheel deck is pre-drilled for Logitech, Fanatec, Thrustmaster, and sim experience wheels. The shifter mount is also included, allowing you to hard mount shifters from popular brands.
The cockpit is relatively easy to build, and it comes with all the necessary hardware and tools. It takes around two hours to build and another half-hour to mount the wheels, pedals, and shifter.
Once built, the cockpit is incredibly sturdy, with minimal flex or wiggling, making it capable of handling serious driving. However, it's essential to make sure that you tighten every bolt sufficiently to avoid any frame damage.
While the F-GT cockpit offers diverse adjustment options, finding the right seating position can be tricky. The shifter adjustment is limited, and the seat could be more comfortable and reinforced. It tends to move around a little, which can be slightly irritating.
However, the cockpit includes a pillow that provides decent lumbar support and can be recommended to use around your upper back and shoulders.
In conclusion, the Next Level Racing F-GT cockpit is an excellent option for sim racers looking for a mid-range cockpit with diverse adjustment options.
While it may not offer a true formula style seating position and lacks features such as a handbrake or keyboard mount, it is reasonably priced and comes with a buck kicker mount. It's worth considering if you're willing to make some adjustments to find the right seating position.
Also Read: PC Racing Wheels With Clutch and Shifter
Extreme Simracing Racing Simulator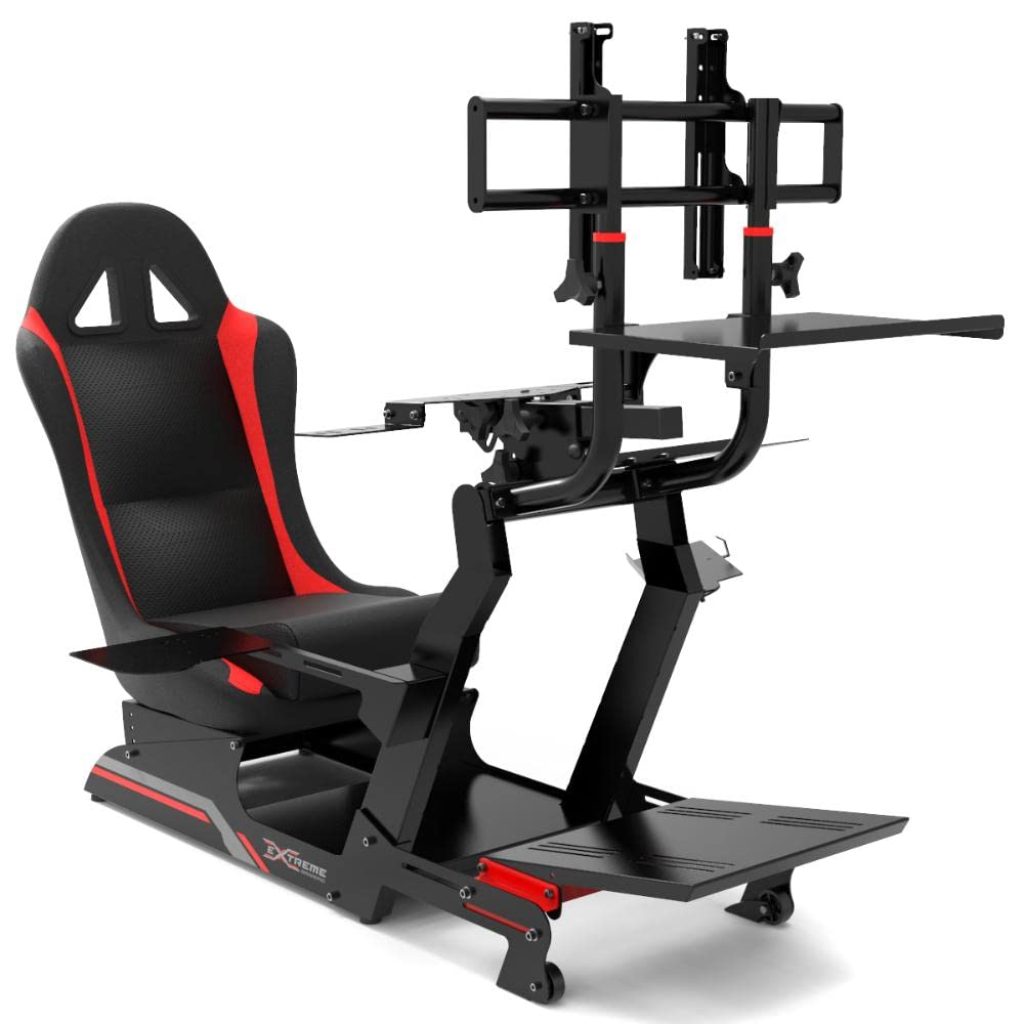 The Extreme Simracing Racing Simulator Cockpit offers a premium, fully customizable, and immersive racing experience for gaming enthusiasts and professional sim racers. Constructed with a strong tubular steel frame, it boasts a comfortable and adjustable racing seat, along with customizable pedal and wheel mounts, ensuring the perfect fit for each user.
The cockpit's modular design facilitates easy upgrades and personalization, allowing racers to tailor their setup to their specific preferences.
Compatibility with a wide range of gaming systems and accessories ensures that the Extreme Simracing Racing Simulator Cockpit caters to various racing tastes and requirements. Additionally, the sturdy platform securely mounts accessories, enhancing the overall racing environment.
Among its many advantages, the cockpit provides a highly immersive racing experience, with a durable frame for lasting performance. Its customizability enables users to create their ideal racing setup, and the cockpit's adaptability accommodates an extensive array of gaming systems and accessories. Furthermore, easy assembly and disassembly allow for convenient storage and transport.
However, there are some downsides to consider. The Extreme Simracing Racing Simulator Cockpit may be expensive for casual gamers, and it requires a significant amount of space for setup.
Some components and accessories are sold separately, which can be inconvenient, and there may be compatibility issues with certain peripherals. Assembly instructions may also prove challenging for some users.
In summary, the Extreme Simracing Racing Simulator Cockpit is a top choice for dedicated sim racers and gaming enthusiasts seeking a high-quality, immersive, and customizable racing experience.
While it may not be suitable for casual gamers due to its cost and space requirements, those committed to enhancing their sim racing experience will find it a worthwhile investment.
Next Level Racing GTTrack Simulator
The Next Level Racing GT Track Cockpit is a high-end racing rig that comes with a hefty price tag of $899. Despite its similarity in appearance to the Next Level Racing GT cockpit, the GT Track is built with thicker framework and additional support to provide sturdiness during use.
The cockpit's conventional seat includes support for a four-point harness, and the shifter mount is compatible with a wide range of accessories, including two Thrustmaster TSS units.
One of the GT Track's standout features is its adjustability. Users can fine-tune the rig to fit their preferences, with the ability to use either lockable casters or feet to keep the rig in place.
The rig also features a mount for a Buttkicker game or two tactile transducers, and is compatible with the Next Level Racing motion platform v3 and upcoming traction plus motion platform.
In terms of performance, the GT Track performs admirably, with surprising sturdiness and minimal flex during use. The cockpit is comfortable and versatile, but its shifter mount leaves something to be desired. The lack of height and side-to-side adjustment may be problematic for some users, particularly those using compact shifters.
Overall, while the Next Level Racing GT Track Cockpit is an impressive piece of equipment, its high price tag may make it difficult to recommend for some users. At $899, there are other racing rigs on the market that offer similar performance at a lower price point.
However, for users firmly invested in the Next Level Racing ecosystem, the GT Track may be a worthwhile investment, particularly when paired with the brand's motion platform.
Playseat Evolution Pro Sim Racing Cockpit
The Evolution Pro racing cockpit is an affordable option for those looking to take their racing game experience to the next level. At a price point of around 250 quid, it's a complete rig that comes with a seat, pedal tray, and wheel deck.
The cockpit is solid and sturdy, but not without its flaws. Some people have compared it to the Blazer Evo, which they say is a poorly made product. However, the Evolution Pro appears to be a carbon copy of the Blazer Evo, which may be a concern for some.
The cockpit is easy to assemble and comes with all the necessary tools. The seat material is made of plastic polyurethane, but it feels soft and plush to the touch. The cockpit is presented well and looks good, with a white, black, and silver color combination. The adjustable feet help stabilize the cockpit and prevent wobbling from side to side.
The pedal tray is adjustable and allows for comfortable positioning of the pedals. However, there are only two bolts that hold the pedals down, and they don't line up with all four holes. This can cause the pedals to lift up slightly when braking, which can be an issue for some users.
The wheel deck doesn't adjust, which may be a concern for some users. The swarf on the deck and sharp edges can be a bit of a problem. However, the deck is solid and provides a stable platform for the wheel. The seating position can be a bit of a problem, with no angle adjustment for the back upright and no seat adjustment.
The steering wheel is a little lower than some users may like, but it can be raised to bring it closer to the driver's chest. The cockpit provides a decent racing experience but can be a bit wobbly at times, especially when driving on rough terrain.
Overall, the Evolution Pro is a decent option for those on a budget who want to improve their racing game experience. It's not the best product out there, but it's solid and provides a stable platform for the wheel and pedals.
Some users may experience issues with the pedal tray and seating position, but these can be adjusted to some extent. If you're looking for a budget-friendly racing cockpit that won't break the bank, the Evolution Pro is worth considering.
Also Read: Racing Games to play
Playseat Trophy – Logitech G Edition Sim Racing Cockpit
The Playseat Trophy Logitech G Edition is an innovative and attractive sim racing cockpit specifically designed to handle the 11 newton meters of torque from the Logitech G Pro wheel. The compact nature of this cockpit makes it an excellent choice for individuals with limited space, while its sleek design, powder-coated gray finish, and blue accents give it an aesthetic appeal that adds a touch of style to any gaming setup.
Assembling the cockpit is a straightforward process, thanks to its user-friendly, visually focused instruction manual. The Playseat Trophy Logitech G Edition is compatible with various wheel bases and pedals, making it versatile and adaptable for a range of users.
One of the standout features of this cockpit is the adjustability it offers, including seat positioning, pedal placement, and wheel deck angles. This allows users of different heights and preferences to customize the cockpit to their comfort level.
Although the Playseat Trophy Logitech G Edition is a fantastic option for individual users, it may not be the most suitable choice for those who plan on sharing their cockpit with others.
Adjusting the seat position and other components can be a time-consuming process that requires tools, which may not be ideal for quick changes between users. This limitation may be a deciding factor for those who want to use the cockpit with friends or family members.
Another drawback of the Playseat Trophy Logitech G Edition is the lack of a mounting point for a shifter or handbrake. While these can be purchased separately, the additional cost may be prohibitive for users in certain locations due to high shipping fees. This is an important consideration for those who require these features for their sim racing experience.
Despite these drawbacks, the Playseat Trophy Logitech G Edition remains a top choice for individuals seeking a compact, visually appealing sim racing cockpit that offers a high level of adjustability and comfort.
Although there are more affordable options available, the rigidity and compatibility of this cockpit with the Logitech G Pro wheel make it a solid investment for those who prioritize performance and design.
In summary, the Playseat Trophy Logitech G Edition is an excellent sim racing cockpit for users who value a compact, stylish design, and a comfortable gaming experience. It offers a variety of adjustable features that cater to different preferences and needs.
However, for those who plan to share their cockpit with others or require a shifter or handbrake mounting point, alternative options may be more suitable. It is essential for potential buyers to carefully consider their specific requirements and priorities when choosing a sim racing cockpit to ensure the best possible gaming experience.
Next Level Racing Challenger Simulator Cockpit
The Next Level Racing Challenger cockpit stands out as an excellent choice for those venturing into the world of sim racing or those on a budget. Its competitive price of 300 pounds in the UK or 350 dollars in the US makes it an attractive option, and it's worthwhile to keep an eye out for great deals online.
Impressively, the lower price does not result in any compromises on build quality. The Challenger is constructed from the same four-centimeter square, two-millimeter thick carbon steel tubing as the flagship GT Track rig from Next Level Racing.
During the assembly process, users will find the instructions to be clear and easy to follow. Next Level Racing has thoughtfully included all the necessary tools, such as a hex key and spanner, along with the required hardware.
The unique flat pack seat might be slightly challenging to assemble, but once completed, the process need not be repeated. The adjustable seat caters to drivers of various heights, ranging from four feet to six feet nine inches.
The Alcantara-like fabric provides a touch of luxury, and although the padding may be minimal, it offers adequate support and comfort for shorter racing stints. For extended racing sessions, adding a lumbar cushion could be beneficial.
One of the standout features of the Challenger cockpit is the center post wheel mount, which, contrary to expectations, doesn't hinder left foot braking or heel and toe maneuvers. With a compact design, the rig is compatible with a wide range of belt and gear-driven wheels available in the market, including popular brands like Thrustmaster, Logitech, and Fanatec.
The adjustability of the wheel mount, pedal deck, and shifter mount further adds to the overall user experience, allowing racers to fine-tune their setup for optimal performance and comfort.
In addition to these features, the pedal and shifter plates are of notably high quality and can support significant loads. This makes the Challenger cockpit a future-proof investment, as users can confidently upgrade components like load cell brake pedals down the line.
Although the Challenger lacks the foldability of competitors like the Playseat Challenge, its compact footprint ensures that it can be easily tucked away in the corner of a room when not in use.
Playseat Challenge Black
The Playseat Challenge Actifit edition is an updated version of the original Playseat Challenge, which was reviewed on a YouTube channel. The seating area of the Playseat can be configured in various ways, including adjusting straps under the seat, as well as the back and depth with arm straps.
The pedals can be moved further and closer away with an easy-to-use system, and the plateau holding the wheelbase can be tilted. However, there is no mechanism to adjust the height of the wheelbase.
The build quality is good, although the pedal holder strap doesn't hold the pedals into position well, especially when the rig is folded. There is also some flex in the steering wheel caused by the open-and-close mechanism.
The Actifit upholstering is preferred over the Alcantara version because it always looks clean and dissipates warmth better. The Playseat Challenge is foldable and comes with cable management strips, but has few options for accessories.
The price is around $240, but can be found cheaper on the second-hand market. The Playseat Challenge Actifit edition is a good starter solution for sim-racing that offers a good sense of immersion and is easy to configure and use.
The Actifit version doesn't differ much from the original Alcantara Playseat Challenge, but still offers good value.
Dardoo G920 Racing Simulator Cockpit
Right out of the box, I could tell that the Dardoo G920 Racing Simulator Cockpit was made of high-quality materials. The sturdy metal frame and high-grade components provide a durable and stable platform that feels like it will last for years. The assembly process was fairly straightforward, and the detailed instructions made it easy to put everything together.
The G920's design is sleek and modern, making it an attractive addition to any gaming setup. One of the most significant features of this simulator cockpit is its adjustability. The seat, pedals, and wheel mount can all be adjusted to fit the user's preferences, ensuring optimal comfort and control. This is especially important for long gaming sessions or for accommodating multiple users.
The Dardoo G920 Racing Simulator Cockpit is compatible with most popular racing wheels and pedals on the market, including the Logitech G29/G920, Thrustmaster T-series, and Fanatec ClubSport series. This compatibility ensures that users can fully customize their racing experience and achieve the perfect setup for their specific needs.
In terms of performance, the G920 Racing Simulator Cockpit truly shines. The sturdy frame and well-designed seat provide excellent support and stability, allowing me to become fully immersed in the racing experience. The adjustability of the cockpit ensures that my steering wheel and pedals are in the ideal position for precise control and responsiveness.
In addition, the cockpit's design does an excellent job of minimizing any vibrations or wobbling, ensuring that my racing experience remains smooth and immersive.
Dshot Racing Wheel Stand with seat
The Dardoo G920 Racing Simulator Cockpit is a racing simulation setup designed to offer racing enthusiasts a realistic and exhilarating driving experience on a budget. Constructed with a durable steel frame and reinforced with high-density foam padding, the cockpit provides both comfort and longevity.
The adjustable components, including the wheel, pedal, and shifter positions, cater to users of various heights and body types.
The ergonomic seat design, featuring lumbar support and cushioning, ensures user comfort during extended gaming sessions. The G920 Racing Wheel, an integral part of the cockpit, utilizes dual-motor force feedback to deliver smooth and realistic steering resistance, simulating the sensation of driving an actual car.
The linear pedal response, with adjustable sensitivity and a progressive brake pedal, enables users to accurately control throttle, brake, and clutch actions for an enhanced driving experience.
Additionally, the six-speed H-pattern shifter contributes to the realism by allowing manual gear shifting and accommodating both left and right-handed users.
The Dardoo G920 Racing Simulator Cockpit is compatible with multiple platforms, such as PC, PlayStation 4, PlayStation 5, Xbox One, and Xbox Series X|S, as well as various popular racing games, including Gran Turismo, Forza Motorsport, Project CARS, and Assetto Corsa.
Although the cockpit requires assembly upon arrival, the process is made easier with the inclusion of a detailed instruction manual, necessary tools, and hardware. Once assembled, users can connect the racing wheel, pedals, and shifter to their preferred platform.
In summary, the Dardoo G920 Racing Simulator Cockpit offers an authentic and immersive racing experience due to its sturdy build, ergonomic design, and realistic force feedback system.
With compatibility across multiple platforms and a wide range of popular racing games, the Dardoo G920 is a worthwhile investment for racing enthusiasts seeking an enhanced simulation experience.
However, potential buyers should consider the time required for assembly and the significant amount of space needed for the cockpit in their gaming area.
Extreme Sim Racing Wheel Stand Cockpit
The Extreme Sim Racing Wheel Stand Cockpit is a compact and user-friendly racing simulation setup designed to deliver an enjoyable and immersive driving experience for gamers of all skill levels. Its minimalist steel frame ensures stability and sturdiness, while its lightweight nature allows for easy transportation and storage, making it an ideal solution for those with limited gaming space.
Key features of the cockpit include adjustable wheel, pedal, and shifter positions, catering to individuals of varying heights and body types, and a foldable design for effortless storage. The cockpit's easy assembly process allows users to set up their racing simulator quickly and jump into the action with minimal hassle.
Compatibility-wise, the Extreme Sim Racing Wheel Stand Cockpit supports a wide range of racing wheels, such as Logitech, Thrustmaster, and Fanatec, and works with various gaming platforms like PC, PlayStation, and Xbox. Popular racing games, including Gran Turismo, Forza Motorsport, and Assetto Corsa, are also supported.
In conclusion, the Extreme Sim Racing Wheel Stand Cockpit offers a fun and accessible racing simulation experience, balancing simplicity and versatility. Its compact, foldable design and broad compatibility make it a great choice for gamers with limited space or those new to racing simulators. While it may not provide the same level of immersion as more advanced racing simulators, it remains a solid option for those seeking an enjoyable, user-friendly racing experience.
GTR Simulator GTA-F
The GTR Simulator is an exceptional product that offers an immersive gaming experience to avid gamers and racing enthusiasts. Its design and engineering are top-notch, making it a worthwhile investment for those seeking an authentic racing experience.
The simulator is perfect for racing flight simulators and general PC gaming and is in stock and available for shipping, making it a reliable option for those who have faced difficulties finding simulators in the past.
One of the standout features of the GTR Simulator is its adjustability. The seat slider reclines, and there is a swivel keyboard tray with a mouse pad, providing a comfortable gaming area for those who enjoy playing first-person shooters or Microsoft Flight Simulator.
The package deal includes everything, including the keyboard tray and triple monitor stand, which is a considerable advantage over other manufacturers who often charge extra for these features. The cockpit is made from sturdy diamond metal plating, and the metal parts are powder-coated, ensuring the product's durability.
The GTR Simulator is also highly customizable, with adjustable mounting for all pedals, wheels, and joysticks. The product is compatible with load cell pedals, and the flex is minimal, providing a solid racing experience.
The triple monitor stand is a great addition, and the monitor's height and position can be adjusted to the user's preference. The simulator is straightforward to install, with clear instructions provided, and there are pre-drilled holes for different types of steering wheels, saving time and effort.
In conclusion, the GTR Simulator is a fantastic product that offers great value for its price. Its adjustability, compatibility, and durability make it an excellent investment for anyone looking to experience the thrill of racing at home.
With its solid construction, customizable features, and ease of installation, the GTR Simulator is a top-of-the-line product that is sure to enhance any gaming experience.
Marada Racing Simulator Cockpit
The Marada Racing Cockpit is a fantastic option for sim racing enthusiasts seeking an affordable yet sturdy rig. The assembly process is straightforward, thanks to the detailed instructions and helpful picture diagrams provided.
Everything you need, from bolts to washers, is included in a single bag, making it easy to keep track of all the components. The majority of the frame uses the same bolts and washers, simplifying the assembly even further.
During the assembly, it is recommended to avoid tightening all the bolts on one side completely to ensure proper alignment. A second person might be helpful in aligning the holes, but it's not entirely necessary.
The cockpit offers left or right mounting options for your shifter, although there's no height adjustability for the shifter mount. However, the default height is quite comfortable when paired with the seat.
Mounting popular sim racing equipment, like the Logitech G920, is a breeze. The Marada Racing Cockpit features a plate with three mounting increments, allowing you to adjust the height of the steering wheel to your preference.
In terms of cable management, there isn't a specific built-in solution, but with a little creativity, you can keep cables out of the way and maintain a clean setup.
The pedal mounting system is highly adjustable, with multiple height options to suit your preferences. It's recommended to attach the pedals to the frame before mounting the seat, making the process easier.
Although the Marada Racing Cockpit does have a model with a seat included, you can also use an office chair with a racing seat design. However, keep in mind that you may need a special adapter, like the one offered by Trax Racing, to ensure compatibility with the frame.
Overall, the Marada Racing Cockpit is a fantastic choice for sim racing enthusiasts seeking an affordable, sturdy, and easy-to-assemble rig. The instructions are clear, and the assembly process should take no more than 30 minutes.
The cockpit offers plenty of adjustability options and compatibility with popular sim racing equipment, making it a versatile and valuable investment.
Final Words
Some may argue that selecting the ideal sim racing cockpit is an art form.
Are you a beginner searching for your first racing rig? If so, go for an entry-level chassis priced below $500. The Next Level Racing Challenger and Playseat Challenge are specifically designed for newcomers. They offer a sturdy build and comfortable seats at a relatively affordable price. They are excellent equipment for occasional use.
On the other hand, we have high-end racing rigs like the Sim-Lab P1-X and RSeat N1. These sim racing chassis are utilized by professional drivers and commercial events. Owning one of these rigs can help you tackle some of the fastest cars in Forza Horizon 4.
They also provide superior stability, particularly if you use a direct-drive wheel. However, if you are considering purchasing one of these models, expect to spend a minimum of $800.
But what if you want a higher quality rig for your home console at a more reasonable price?
This is where mid-range cockpits such as Next Level Racing's GT Ultimate and F-GT models come in. They cost approximately $500 to $600 and provide almost all of the necessary features. They also support most of the important steering wheel models available.
These models are an excellent option if you're looking for a racing simulator for your PC or any of the current video game consoles.
How to Choose a Racing Simulator Seat
When selecting a racing simulator seat, the first consideration is whether you want a simple or sophisticated setup.
If you desire an ergonomic gaming chair for playing games like Forza with your standard controller and don't need anything more elaborate, a basic racing seat will suffice.
However, if you're looking for a comprehensive experience, you'll need more than just the chair. A wheel, shifter, foot pedals, and other racing sim accessories will be necessary. In this case, opt for a racing simulator seat that includes a frame for mounting these components.
There are two main types of racing simulator seat configurations to be aware of:
Full racing rigs, or "cockpits," are unique in that they consist of a metal frame on which a seat, wheel, shifter, and other equipment can be mounted. This allows for a complete setup that accurately replicates a car interior. Some cockpits include the seat and other components, while others require separate purchases. Cockpits with integrated racing seats are generally more costly than regular racing chairs.
Motion Cockpits incorporate motion elements into the racing rig. This means the seat moves based on in-game events, enhancing immersion and bridging the gap between reality and the game. These racing simulator seats are the most expensive.
After determining the type of racing simulator seat you'd like to purchase, consider the following features when shopping:
For a Racing Cockpit, look for:
Multi-bar wheel support
Screen mount compatibility
Included accessories/hardware (seat, shifter, wheel, pedals, etc.)
Sturdy build quality (durable materials and robust frame)
Adjustable wheel support (height, tilt, distance)
For a Motion Cockpit, look for:
Comprehensive motion (tilt, turn, and movement)
Integrated audio surround sound
Affordability (motion cockpits can be very expensive)
All features found in a regular racing cockpit