Top 10 Best White Gaming Headsets
Do you also love a clean looking white headphone like me? While white being my favourite color it also looks very neat. You want to have the best white gaming headset to play games? These gaming headsets are specialized for gaming and are the products of modern engineering. With the help of a perfect headset, you can have many victories with your teammates. It is because these headsets come in handy when locating the movements of the opponents.
Imagine you are sniping from a safe spot, and an opponent sneak on you. It can be a disaster if you don't know the exact position of your foes. Apart from that, they can also pick even the slightest sounds, such as a frag grenade's sound. Using these sounds, you can quickly leave the spot and change your whole tactics. However, many beginners and professionals find it a bit difficult to select the best gaming headset.
However, you shouldn't worry because, in this article, we will show you the top 10 best white gaming headsets. We found them after doing hours of non-stop research on the topic. We narrowed down the list for you so that you can pick the right type of headset without wasting too much of your precious time.
SteelSeries Arctis 5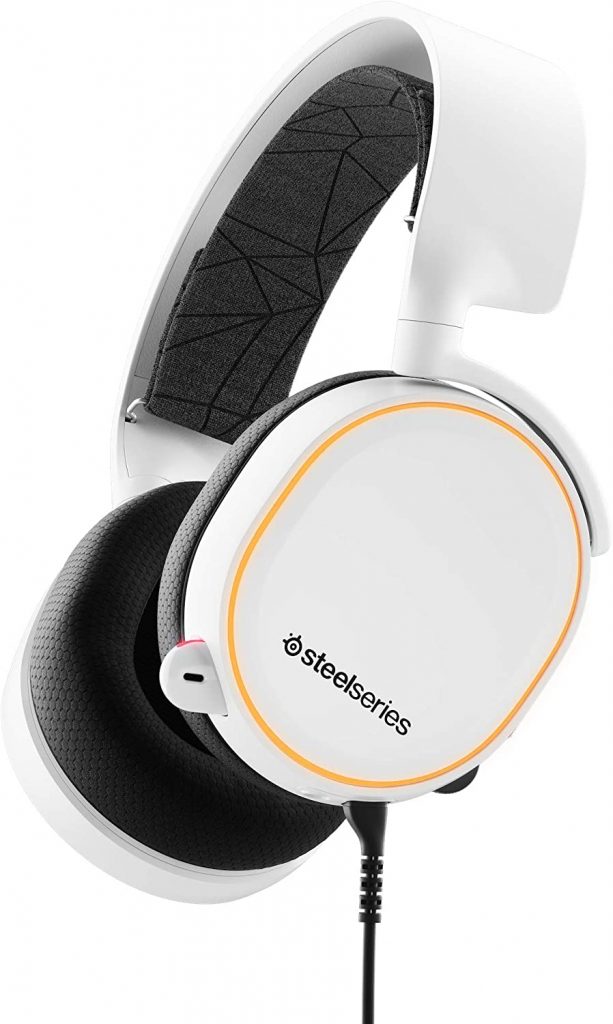 SteelSeries is one of the most popular manufacturer for different gaming products. Their products have served many professional gamers, including "Shroud," choco taco, Dr.Disrespect, and some other names. It will surely help you in your gameplay. No matter whether you are on a gaming PC, laptop, or Playstation, you will get the maximum performance of this device. It features a certified microphone from the Discord, one of the popular voice chat app for games. The microphone possesses active noise cancellation, which improves the sound quality.
Apart from a fantastic microphone, the whole headset is made durable for a long-lasting experience. Its white color gives the headset a great look. The earpads of the headphone are well cushioned, which provides a fantastic experience. They are quite comfortable, which enhances the overall gameplay. The drivers of the headset are perfectly engineered to provide even the slightest sound in the game. You can now dominate arenas with your skill and the sound quality of this headphone.
Positive
Comes with an excellent microphone
RGB colors glow in different combos, giving it even more beautiful look
Durable
Great sound
Negatives
Fine-tuning music takes some work
clunky phone and speaker functionality
Alienware 7.1 PC Gaming Headset AW510H-Light
If you are fond of over the ear types of headphones, then the Alienware 7.1 is a perfect option for you. The headphone possesses a splendid design making it an impressive looking headset. It features custom-tuned drivers with frequency ranging from 20Hz to 40KHz. They are capable of providing high-resolution audio. The ear cups are very well padded that enhances the comfortability of the headset. It provides an improved noise cancellation, which comes in handy during the intense gameplay.
If we take a look at the upper band of the headphone, it is well-cushioned. The headband of the headset provides a comfortable experience even for hours of gameplay. The best thing about this gaming headset is its detachable cable. Though it comes with a USB cable, you can always switch it with a 3.5 mm jack to make it compatible with different devices. The ear cups are designed so that they provide a comfortable gaming experience even for longer durations.
Positive
Superb sound quality
Possesses active noise cancellation feature
Very comfortable
Compatible with different platforms
Negatives
Lacks wireless connectivity
A bit heavy
Turtle Beach Stealth 600 White
The Turtle beach stealth 600 is also a high performing gaming headset that comes at an adorable price. This particular model is compatible with PS4, as well as your gaming PC. However, if you want to use it with the Xbox, then you will need to buy another version of this device. It has a pretty minimal design that gives it a sleek and beautiful look. Whether you are a professional gamer or a hobbyist, this headset will never let you down.
It is a wireless headset that doesn't allow any wired connection. It comes with a USB dongle that can be inserted right into the PS4 and PC devices to make it run. It is an over the ear headset, which is capable of providing outstanding sound quality. The ear cups are padded but not as much as other headsets that we've reviewed here. However, the headband of the set is quite awesomely padded, which makes it extremely comfortable.
Positive
Completely wireless 
Easy to sync
Comes at an excellent price
Battery life is also perfect
Razer Kraken X Ultralight Gaming Headset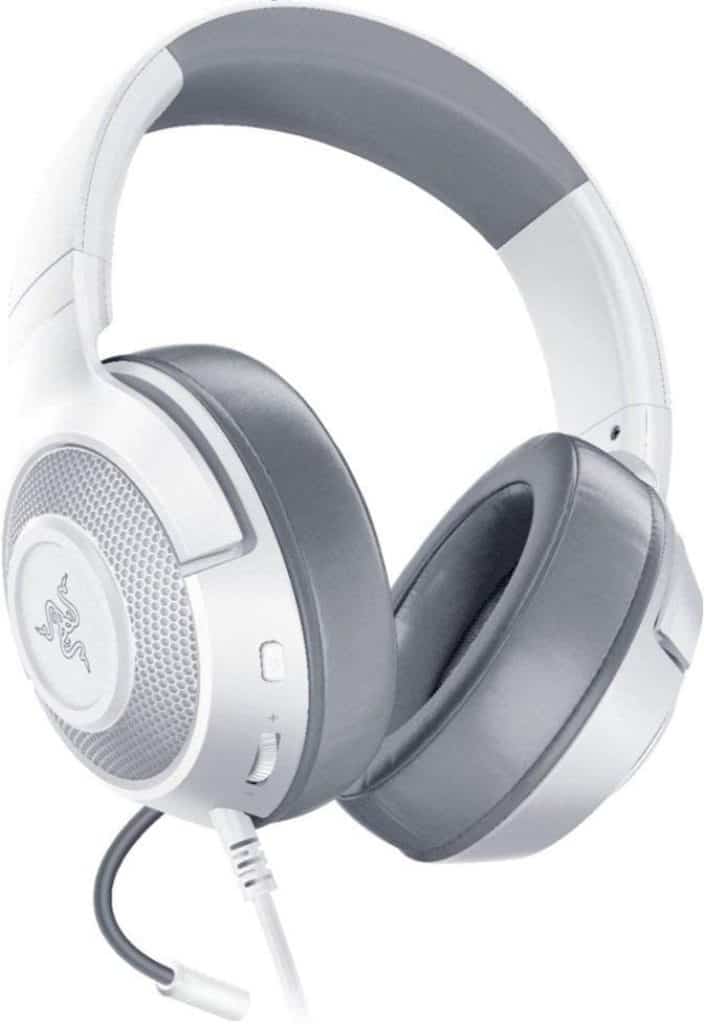 Another perfect gaming headset on the list of the best white gaming headsets is the Razer Kraken X. It is indeed one of the most cheaper headsets that cost at least lower than a video game. It terminates the 3.5-millimeter headphone jack that makes it compatible with different devices. It seems very bulky on sight, but in reality, it is incredibly lightweight. As soon as you take it in your hands, you will experience quality. Its decent plastic built quality reflects the enthusiasm of the manufacturer.
You get 40 millimeters, drivers, with this headset and that too with an impedance of 32 ohms. Besides that, it has a frequency response of 12 Hz to 28 Kilo Hz. It expands to a very comfortable size that makes it compatible with all types of gamers. You can adjust the headset according to your needs and requirements. The earcups are well cushioned, which provides comfortable experience throughout the gaming sessions.
Positive
Extremely lightweight
Very comfortable 
Well padded 
Durable
Turtle Beach Recon 200
Turtle Beach 200 is another perfect piece of equipment that you need to have in your gaming room. It can amplify sound from your Xbox and PS4 that makes the gameplay even more fun. You will hear even the slightest sound, which can give you an edge over your enemies. Imaging rushing a house in PUBG while wearing this headset. You can quickly tell where your opponents are right from their footsteps. The ear cups can be turned 180 degrees, comfortably handing the headset in your neck when not using it.
The earpads have a pleather, and the inside of them is a cloth which produces fantastic sound. It makes these headphones extremely comfortable and suitable for hours of gameplay. They are quite breathable, so your ears won't sweat inside. They also have noise cancellation property, which makes it stand out from the crowd. If we talk about the set's headband, it is also one of those sleek headbands that a good device should have. It is well padded and entirely adjustable.
Positive
Perfect Bass
Well performing device on shooting games
Affordable price
Negatives
The mid-low range sound needs improvement
Corsair Gaming VOID RGB Elite
Corsair is one of those more prominent brands that has served many gamers with its amazing products. We have tested their gaming mice, and they are outstanding when it comes to quality. In this article, we have the corsair gaming VOID RGB elite gaming headset for you. This headset features an attractive design that will add beauty to your whole gaming setup. It is a white wireless headset that is known for its fantastic sound quality and superb performance. No matter if you are a PS4 gamer or a PC gamer, you will get the best of its performance.
The high-quality microphone of this gaming headset makes it a quite suitable device for voice chats. It features active noise cancellation, which is a state of the art feature. Apart from that, the headphone is made quite durable, which will stand by your side for years. It is quite comfortable due to its well-padded structure. The headband, the ear cups, everything is enthusiastically finished.
Positive
Rotating ear-cups
Great Mic
Incredible sound quality
Amazing battery performance
Logitech G933 Artemis Spectrum
If you are a fan of those high tech futuristic looks, then the Logitech G933 is a perfect option. It is a fantastic headset from all directions. It features a stunning design with cool Logitec logos on both sides. The headband is adjustable, which makes the device suitable for all types of gamers. For those who are FPS lovers, this headphone will surely bring them many victories. However, some features, such as the surround sound functionality are limited to PC only. Apart from that, the Xbox One will require an additional 3.5 mm jack adapter, which is sold separately.
It features dual modes, i.e., wireless and wired, and has a powerful battery that gives a long-lasting performance on hours of gameplay. You can use it to answer calls while still playing your favorite games. This makes the player able to make a perfect and winning strategy with friends. The wireless connectivity of the device is active at a range of 15 meters, which is more than enough.
Positive
Excellent sound quality
Affordable
Programmable RGB colors
Suitable for different platforms
EPOS Sennheiser GSP 301 Gaming Headset
EPOS Sennheiser is another perfect device for streamers. The company is known for its quality products. And that is precisely why we have chosen the GSP 301 for our list of recommendations. This gaming headset features a stunning design that makes it stand out from the crowd. The minimal look of the device will add to the beauty of your whole gaming room. However, this fantastic headset is not limited to a beautiful design only. It is a product of the state of the art engineering that has some amazing capabilities.
The active noise cancellation of the headset completely minimizes the background noise and gives peak performance. You will understand and make tactics according to the situation in shooting games. It has an over the ear style ear cups, which is well padded. The primary purpose of the padding is to make the headset comfortable for longer gaming sessions. The mic boom has a neat feature that turns on the mute mode when you lift it. This way, it reduces the unwanted interference when you are recording montage videos.
Positive
Crystal clear sound quality
Removable cable
Noise cancellation
Lacks flexible software for advanced users. 
Negatives
Lacks flexible software for advanced users. 
Turtle Beach Elite Pro 2
We have another best performance device from the turtle beach. The elite pro features the same durable structure, just like the previous two we've reviewed in our article. However, a bunch of cool features makes it quite different from the rest. It has a cool mic boom that features noise cancellation to improve sound quality. It will enhance your gaming experience, especially if your making strategies with your teammates. The device's ear cups are also rotatable, which makes it quite comfortable to hand in your neck.
The wire is detachable, which makes the headset extremely easy to box and carry around. Apart from a sleek design, it has got 50 mm drivers responsible for delivering crystal clear audio. To make it more comfortable, the company has done a great job. They have added Aero fit air cushions to the incredibly soft earcups. They provide pleasurable sensations to the user even after extended usage. This is by far the best white gaming headset.
Positive
Superb sound quality 
Very reliable for tournaments 
Sleek and beautiful design
Great Bass
SteelSeries Arctis 3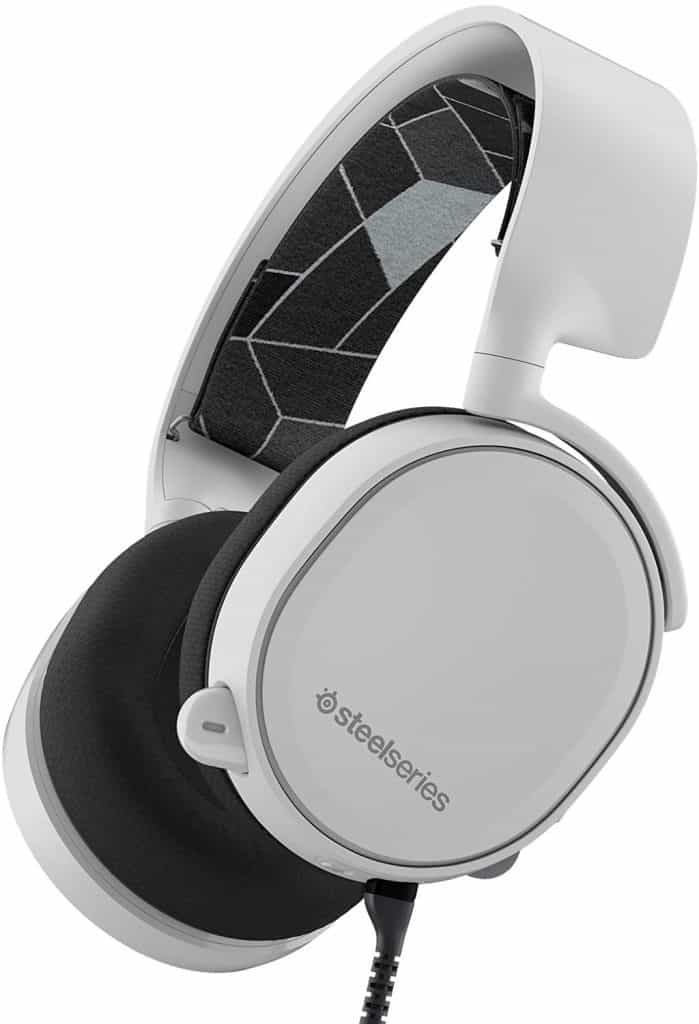 Finally, we have the SteelSeries Arctis 3 for our list of recommendations. You might have noticed that we have started our list with the SteelSeries because they always have better gaming solutions. The SteelSeries Arctis 3 has a remarkable design that looks quite amazing. Apart from the device's high quality built structure, it has some excellent features that make it a useful device. This particular gaming headset is designed for all types of gamers.
The SteelSeries has chosen a clear cast mic that is capable of delivering high-quality sound. It uses techniques from the state of the art engineering to cope up with the background noise. The reduced amount of background noise will enhance your overall voice quality and improve the whole gaming experience. Apart from that, drivers are well coated with leather. It helps in listening to the slightest sound during the games. Wearing one of these headsets will surely bring many victories during the intense gameplay.
Positive
Extended battery life
Comes at a very affordable price
Suitable for phones and PC
Conclusion
Having the right type of headset for gaming is crucial because they will always give you an edge. Without a good quality headset, you will never be able to learn about the surroundings. However, there is a slight bit of a problem as there are so many headphones available. Some of them are very cheap while some of them are extremely expensive. Selecting the right type of headphone for your needs can be quite challenging.
To save you from such hurdles, we researched the topic. Our research led us to the top 10 best white gaming headphones. Using our list, you can easily select the one that can fulfill your gaming requirements. These headsets lie in the sweet spot price-wise, which is suitable for all types of gamers.
Check out these best gaming headsets too.