8 Best PC Racing Wheels with Clutch and Shifter 2023
GPCD
is reader-supported. When you buy through links on our site, we may earn a small commission at no extra cost to you. Thanks for the support! Learn more.
The world of video games it is. Esports are progressing day by day, and gamers are getting more and more involved in it. The gamers these days are devoted and committed to achieving what they have dreamt for. Some love to carry on with fighting games, some relish themselves by playing different sports games, while some love to thrill themselves through the Racing games.
Everyone has contrasting and different interests; our main focus will be on the Racing games because that raises the bars high for the racing wheels' bars. So, what is a racing wheel? Do only the devoted racing gamers are aware of this? I don't think so. Many of us have seen racing wheels, but not many gamers have used them. And obviously, it is the part of your interest that drags you here.
The racing wheels we reviewed in this article comes with pedals & shifter. You can use the pedals for braking, gear changing, and speed adjustment. The wheel is similar to a steering wheel of a car, letting you control the movement of your vehicle or character by the use of steering.
These Racing wheels with clutch and shifter lets you feel that you are the original character or are driving the car or any other vehicle by yourself by dissolving you entirely to the game's core. The PC Racing Wheel is connected to the system via USB port.
There is a tough competition between companies due to many manufacturers making high-quality racing wheels. Companies like Logitech, Subsonic, Thrustmaster, etc. have made it difficult for gamers to choose a product.
Well, don't worry and scroll below. Our best picks and guide will help you decide, which Racing wheel will serve you the best.
Title
Best Selling
Logitech G920 Driving Force Racing Wheel and Floor Pedals, Real Force Feedback, Stainless...
Best Overall
Logitech G29 Driving Force Race Wheel + Logitech G Driving Force Shifter Bundle
Best Premium
Thrustmaster T300 RS - Gran Turismo Edition Racing Wheel (PS5,PS4,PC)
Lowest Price
Nintendo Switch Mario Kart Racing Wheel Pro Deluxe By HORI - Officially Licensed By...
Thumbnail
Logitech Dual-Motor Feedback Driving Force G29 Gaming Racing Wheel
It is one of the best racing wheels for PC. It is the latest version designed to increase compatibility with PCs and Xbox series X. The wheels paddles and shifter let you be amongst the high achievers and put aside your opponents. The Dual-motor Racing wheels driving force won't allow you to get back to your regular controller.
Logitech is one of the old operating companies and is highly renowned for the creation of high-quality products. G29 will let you drive fast on any type of landscape available. Drift, brake, or steer with complete efficiency and with full force. Show your rivals how well you are adjusted to the game.
The main factor that powers up your driving force is the Dual-motor that is supplied with such a power that the gamer tends to act instantly with absolute precision.
The most concerning thing is its durability. The construction of this best PC racing wheel is done in a way to provide super control for your gaming and even lets it survive and last long. The steel wall bearings in the wheel shaft, with steel pedals, shifter, and paddle, make it sturdy and resistant.
Moreover, the leather covering over the wheel adds to its style, and plays a vital role in providing a comfortable and strong grip. D-pad, console buttons with paddle shifters, and quick gear transformation provide extreme ease to the gamer to go on with their game and prove themselves one of the best. These multiple features by Logitech make this racing wheel a favourable purchase for the PC.
Positive
Good quality
It can rotate around 900 degrees.
Good Force Feedback
Perfect For Beginners
All the buttons you will need are on the wheel
Negatives
You have to pay more for shifter
Some Games Don't Work With It
Break is harder to push
Thrustmaster TMX Force Feedback Racing Wheel
Now moving towards the Thrustmaster TMX Racing wheel. It is considered the best racing wheel for Xbox one and PC. The TMX owns some super-interesting features capable of boosting the steering wheel's performance and making it reliable for the racing lovers.
Rotate the wheel to 900 degrees without any hindrance and feel the unique and distinct experience that only the best racing wheels can offer. Then here comes the force feedback effect that is also unrivaled amongst many. Pass every possible obstacle while braking or sprinting through different topography and have a full grip of the controls to overcome your enemies.
This PC racing wheel is automatically recognized by the PC and consoles and it is compatible with all the games that demand racing wheels. The Thrustmaster PC racing wheel is perfectly fitted to provide acceleration precision and lets the user hold on to the game with firmness.
Adjust your pedals according to your convenience and then brake or accelerate with all the comfort due to the pedal's unique design to provide relief to your feet.
The Wheel is rubber-coated, and gear shifts are grouped with a couple of metal paddle shifters to let it last long and build up the user's trust. So, purchase, connect, control, and then become the winner.
Positive
Good Force Feedback
Responsive Wheel
Easy configuration
Easy to setup with clamp
Good build quality
Negatives
The USB cable is a little short.
Vibration feels a bit jumpy
Cheap pedals
Logitech G920 Dual-Motor Feedback Driving
Logitech produces sturdier and robust products. Trusting Logitech would surely be your profit. The high-quality products that it manufactures also charge high. Still, it guarantees you the durability and long-lasting capability of the products and healthier performance throughout its life-span.
This racing wheel with a clutch and shifter for PC and consoles is designed to let you play latest games. The Logitech is the master in letting you get into the game with full attention and drowning you in it until the final moments.
Additionally, most users get annoyed due to the noise and vibration, buy Logitech's racing wheel for pc is free from noise and vibration production due to Helical transmission gears. It even keeps its wheels compact and tight because of its Anti-backlash technology. And even the hall-magnetic sensor keeps track of the wheel's position to provide the gamer with complete comfort to operate the racing wheel.
To make it heavy-duty and last longing, it contains stainless steel ball bearings, and the paddle shifters and pedals are steel manufactured with leather covering for a fancier look and better grip.
The gear system, the 900-degree rotating steering wheel, the D-pad, and console buttons make it one of the best PC racing wheels with clutch and shifter.
Positive
Dual Force Feedback
Responsive Wheel
It is highly compatible with multiple games.
Easily mounts with clamp
Easy to connect & setup
Overheat safeguard
Negatives
Has some pedal issues
Some imperfect button placements
Pricey
HORI PC Racing Wheel
Sony officially licenses the Hori PC Racing Wheel. It is compatible with PC and consoles. It's a cheap racing wheel as compared to other wheels that permits you to relish different specs that it contains.
It is a full-sized 11-inches wheel similar to the steering wheel of a car. This even makes it easy to access all the buttons on steering wheel, so you can enjoy your journey from a beginner to a master.
This steering wheel can rotate up to 270 degrees, so you can easily drive your car at corners and take sharp turns. It also provides you with a firm and comfortable grip with adjustable sensitivity and dead zone options to move on straight and reach the finishing line before anyone else.
Next thing that matters a lot is pedals that are originally designed to protect the foot from any irregularities. Adjusting pedal sensitivity even enhances your in-game performance, and positively affects your game. It can even be folded up to reduce space issues.
Users can even mount it on a clamp and can utilize it with extreme perfection. Trying Hori might be your best option to upgrade your gaming and take it to another level.
Positive
It is inexpensive.
It supports multiple games.
Vibration feedback
Responsive wheels and pedals
Negatives
Foot pedals aren't stable.
There are no drivers or software.
No force feedback
Thrustmaster TMX PRO Racing Wheel
It is the time to look at the seventh-best racing wheel but guess what? It is also manufactured by Thrustmaster. The Thrustmaster thrusts the force nicely. Well, it can even be a trust-master now, as it has collected the trust of numerous people and is quite famous throughout the world.
This is one of the best racing wheels that offers every feature necessary for a successful gamer. Everything is well suited to raise the racing gamer's standards, from the steering wheel's realistic size to its high performing motor.
Check out these Gaming desk Accessories.
The virtual drivers will be well pleased to use a racing wheel with high force feedback that adds to the game's precision and performance. It is time to play multiple games and top the charts with absolute gameplay.
The distinct TH8A- compatibility is the different identity of the Thrustmaster TMX PRO racing wheel. This feature makes it compatible with the pure metal shifter that is sold separately.
The TH8A features a design being motivated and inspired by the automotive industry. It consists of 2 different shiftings: styles, the H-pattern, and sequential movement.
To prove the world your potential, that you are a committed and devoted gamer, you'll have to trust Thrustmaster.
Positive
Good quality
It works well with different consoles.
Smooth force feedback
Value for money
Negatives
Design looks outdated
Wheel rotation slightly rough
Thrustmaster T80 Ferrari 488 GTB Edition Racing Wheel PS4
Thrustmaster Racing wheel is a perfect racing wheel for the devoted and sincere gamers who want to top the list of best gamers throughout the world. Let your opponents wonder the secret behind your success. Well, Racing wheels by
Thrustmaster thrusts the force with such power that the user tends to receive precise control of their game. Thrustmaster is one of the most trusted companies amongst the people and has been in operation since the 1990s.
T150 Pro supplies racing game lovers with real-time racing experience without any noise due to the force feedback. This immerses you in the game to such an extent that it seems that you are physically involved in and driving. Similarly, The Thrustmaster Ferrari Racing Wheel for PS4 and PC inclines the user to feel that they are the actual character, part of racing just as though you are using 3D glasses to watch movies.
Moreover, the T150 PRO racing wheel's manufacturing has been done while keeping in mind the aim to make it user-friendly. The Ergonomic design of the product and different technologies induced to ensure that the user finds ease while gaming and doesn't catch up with any injuries.
Additionally, the 11 inches wheel with a smooth 1080-degree rotation capability makes it handy for playing any type of game with flexibility. Apart from this, 100% metal pedal shifter isn't just durable but even adds to your gaming controls and makes it reasonably easy to change gears.
Also, the force feedback system is powerful enough to threaten your rival and reach the finishing line leaving others behind. The force feedback also permits gamers to configure the different controls to enhance their game performance. So, go ahead with the purchase and relish various controls to heighten up your gaming skills.
Positive
Low price
Good for kids
Instant connection with PS4
Easy to access buttons on the wheel
Negatives
On-wheel shifter
No force feedback
Average quality
Nintendo Switch Mario Kart Racing Wheel Pro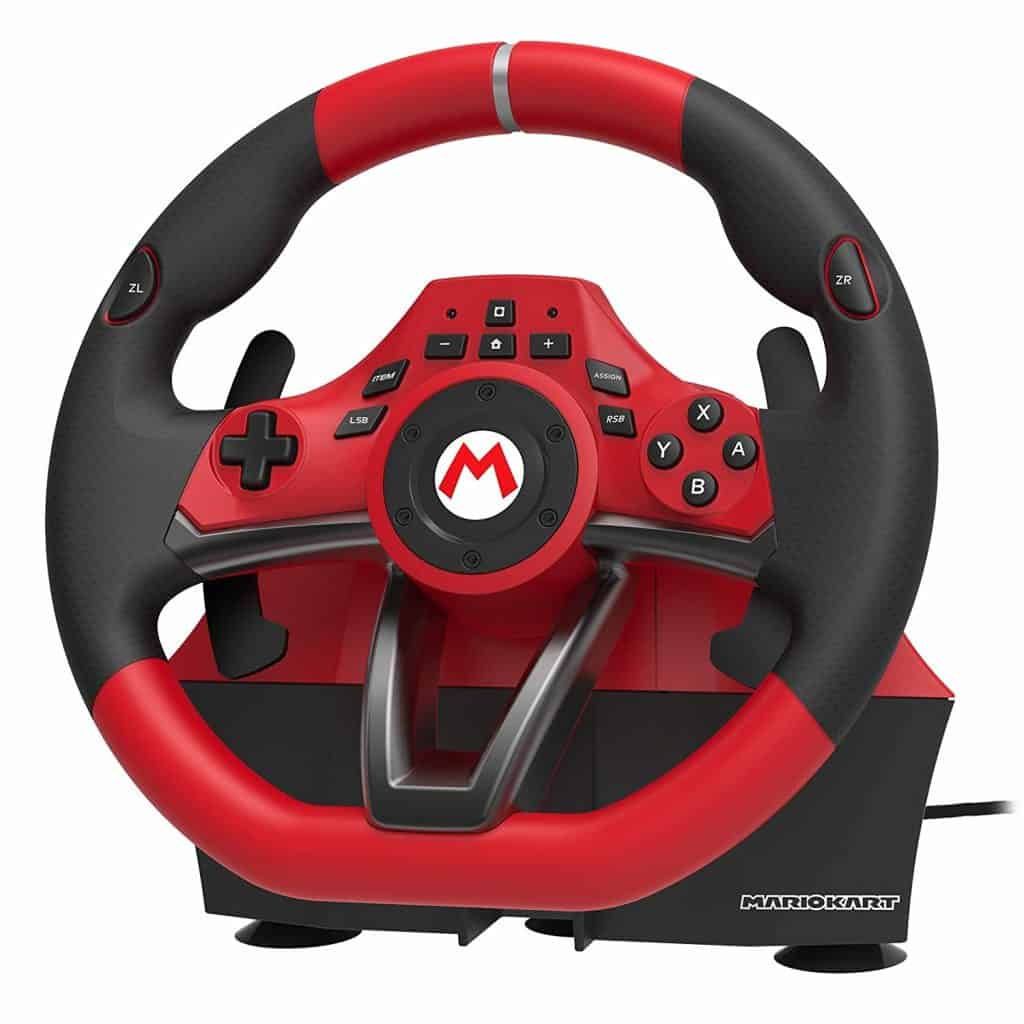 Nintendo officially licenses this racing wheel by Hori. It provides reliable and super-quick racing experience through its large-size pedals. It is very well set up as far as design is concerned and is highly loved amongst the people.
This PC racing wheel provides you with excellent acceleration and speed adjustment. It is highly sensitive to its programming and works with full force. Also, equipped with different programming modes makes it relatively easy to power your spirit and character to a point where it becomes apparent that you have become deeply immersed in the game.
Have a rugged terrain to get bypassed through, so use this Mario Kart racing wheel won't just let you go through but will even reduce bumping, crashing, and colliding probability.
It is cheap and is embedded with instructions for you to overthrow and subdue rivals.
Different strategically assigned buttons, the pedals, and paddles are vital for suppressing your opponents and increasing output performance, respectively. These pedals, paddles, and shifters give you realistic driving experience and further enhance your driving and gaming skills to search for expertise.
Positive
It is cheaper than many others.
The sensitivity adjustment even lengthens the gaming experience.
It is robust and hardy and won't go down quickly.
It is highly responsive.
Negatives
Suctions aren't up to the mark.
The wheel doesn't snap back to its original position, so it causes issues while drifting.
PXNV3II PC Racing Wheel
Looking for a cheap racing wheel with clutch and shifter included? This Racing wheel by PXN is a multi-tasking steering wheel originally designed that is compatible with PS4, PS3, Xbox One, and PCs. Play high trending games like DiRT, Forza Horizon, GTA, and Need for Speed with complete efficiency and reliability.
It has a varying dual motor with super-fascinating dual cores along with X-input and D-input support on pc. All these are vital in producing high-quality performance and letting you achieve success. To operate, connect it to the pc through the USB cable and plug it into work. Moreover, it has three different sensitivity levels for different programmers and the increasing gaming experience.
Additionally, it is designed ergonomically to support your body parts, especially your wrists and feet, shielding them against repetitive strain injuries. With all this, the rubber coating provides firm hold and grip over the steering wheel. It makes you feel smooth and won't cause any harm to your hands. It has a couple of large-sized pedals with gas, making acceleration and braking reasonably easy. The shifter functions with the pedals are even quite useful as they help alter the speed according to the situation.
The Racing wheel even consists of a suction cup that makes it relatively easy to mount or attach it to the table or a desk. The PXN is even issuing a product warranty so that you can exchange or replace it within the next 12 months.
Positive
It is a great deal for its money.
It immerses you into your games.
It is easy to set up.
It works flawlessly and ensures endurance.
Negatives
Instructions available aren't in English.
There's no customer service support.
Buyer's Guide
Now stands the most challenging question of what to choose and how to choose? The list above has ten different pc racing wheels, which are highly recommended but again, the question arises which one to select.
It is based upon your choice; everyone thinks differently to each other, so it is better to leave this decision upon you. But you need to be aware of some technicalities, some important FAQS, and some essential features as well.
Before ordering a racing wheel, go through these necessary details described below. Ignoring this will lead to further inconvenience from which you'll have to suffer. So to save your money, time but to expand your gaming capabilities, and for the one-time investment, scroll below.
Force Feedback
It is one of the essential things you are required to know about. The force is applied through the motor to let your racing wheel to operate with absolute precision. The racing wheels with force feedback have much better performance than the one without it.
It is evident that the user wants to be rapid and quick in their actions to defeat their enemy, so this force feedback ensures that you are granted victory.
The advancements are taking place, and now two force feedback motors racing wheels are available. Purchasing dual-motors will ensure much more quickness and efficient control, but they'll be expensive.
The question here arises from the force. Feedback is realistic or not? So, the answer is "NO.," and you'll be wondering why, so because it is just a device that tracks your vehicle, and it knows about its physical situation. The force can't only be felt through the wheels but even through the seats, pedals, and forces exerted by the user.
To conclude, the force feedback makes you feel better, and it is not necessary. If you can afford to have one, then it is well and good.
Compatibility
What you need to know is that the racing wheel you feel satisfactory to buy is compatible with your console or not. There are multiple best racing wheels compatible with PlayStations, different gaming laptops, PCs, and Xbox.
Moreover, also find out that the respective OS you have installed in your pcs is consistent with the Racing wheel. Also, check out connectivity and set up processes. If it suits you, then indeed purchase it without any second thought.
The steering wheel
The steering wheel has to be an absolute cracker. While using it, the user must feel that he is involved in the game. The steering wheel is designed to provide realistic feelings and immerse the gamer deeply into the game. Instead of managing the wheel, he can focus on reaching the finishing line while leaving others behind.
Modern steering wheels have been designed based on the real car steering wheels with a well-coated leather to improve grip and prevent sliding of hand and losing control.
Apart from look and appearance, the size, the rotation, and quality matter a lot.
A steering wheel must be around 11 inches in diameter to manage rotation and its different functions. As far as rotation is concerned, at least an orbit of about 900 degrees is the best. However, 270 degrees even fits the gap.
The rotation helps you go around the corners, avoid rugged landscape and different scars, and adroitness obstacles. Well, the more the rotation, the more dollars you should have in the pocket to purchase a one. Finally, make sure that the steering wheel is made up of a resistant and highly endured material, so it lasts longer.
Acceleration and braking functions
To accelerate and brake, the pc racing wheels are highly recommended. The pedals, paddles, and clutches are substantial in letting the car or the particular character move ahead.
Look for a whole package of racing wheels along with clutch and pedals. Make sure that the pedals are comfortable and work exactly as required. Foldable pedals are much better to have as they won't minimize the space as they will be easily stored. Be careful and attentive while ordering a racing wheel with clutch, pedals, and shifters.
Price
What matters the most is that you can buy a racing wheel that is precisely up to the buying guide. There are numerous racing wheels available in the market at different prices, so with other qualities.
It is up to you to recognize the best one. It costs at least around $150 to $300. A price lower than that might be of cheap quality or might lack some features.
It is upon your budget which one you choose.
Act according to the buying guide and enjoy your games with high perfection and exact precision. Choose one from the list above displaying the ten best racing wheels, which are quite renowned.
Well, there will be some difficulty to select, though try applying alternatives and choose the one you are well satisfied.
FAQ
Q) Does the Logitech shifter work with Thrustmaster?
The Logitech shifter won't connect with Thrustmaster; however, if it is connected with the Logitech steering wheel, then it will work. Moreover, A shifter can't work alone; it has to be connected to its particular steering wheel just like a shifter by Logitech can only be connected with a Logitech steering wheel.
Q) Are manual or paddle shifters faster?
It is better to use paddle shifters as they are faster and more convenient than the manual transfer of gears. According to research, paddle shifter takes around 0.25 seconds, while manual gear transfer takes about 0.40 seconds. Well, it is up to the user that he can bear shifter expenses if it is not in the package with a racing wheel. With the cost, it is also based upon the User's way of thinking and enthusiasm.
Q) Do you need a wheel for iRacing?
IRacing is only available on PCs. You'll need to have a racing wheel adjust similar to other racing games. The racing wheels provide a realistic experience that any other device won't offer you. So, a decent racing wheel with a decent pc is enough for iRacing.
Q) Why are racing wheels so expensive?
Racing wheels have to be built-up with a lovely, high-quality material. The motors used in them are highly expensive. Some racing wheels even use dual-motors that can cost even more. The arrangement of different devices and organizing the Wheel requires a lot of engineering work that is indeed a factor in making it expensive.