RAM
Editor choice
There's a quote often attributed to Bill Gates that goes something like, "no one would ever need more than 640 kilobytes of memory in their computer." It ...
Editor choice
DDR5 RAM is coming, and if you have been thinking about building a new PC anytime soon, then you're going to have to make a decision! Should you wait and hold ...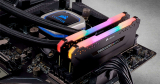 I am very excited today because I was able to get my hands on brand new Corsair Vengeance Pro series RGB memory. I have always been a fan of Corsairs memory ...
If you're looking for memory for your latest build or upgrade your current one, which of the available products is the right one for you? Corsair Vengeance VS ...
Dominator Platinum is Corsair's top-of-the-line DDR4, and for a good reason, the memory makes use of a custom ten layer PCB with handpicked ICs and Corsairs ...