Top 6 Best Silent Gaming Mice 2020
The sound of constant mouse clicking is annoying. With a noisy mouse, you might end up disturbing everyone around you with the constant clicking sound of a mouse. You can stop the sound coming from speakers by using a headset, but what about clicking the noise of the mouse? For this matter, you need a silent gaming mouse that won't make any annoying clicking sound. Before someone complains about the annoying sound your mouse is making and disturbing them, you need to buy a silent gaming mouse for a quiet and peaceful environment. You can also use these for office use, so you don't annoy your colleagues while working. In this article, we're reviewing ten best silent gaming mice you can buy, making this process of buying easier for you.
You can check the price on Amazon by clicking on the button below every product Image or the image itself.
Best Silent Gaming Mice 2020
Logitech G502 Hero
Logitech G502 is good quality, high performance, and well-designed silent gaming mouse at an affordable price. It is equipped with 11 programmable buttons and RGB lights that can be customized. You can save up to five custom profiles in the mouse. Up to five preset DPI settings that can be accessed on a single click. Hyperfast scroll lets you scroll down long pages faster. The scroll wheel can also be locked for click-to-click precision scrolling. The programmable RGB lighting system allows you to customize and choose colors from nearly 16.8 million colors. Lightsync Technology automatically syncs with the colors on your screen. The design of this gaming mouse is very stylish and perfect for gamers.
HERO has the most accurate gaming sensor with next-generation precision. Sensitivity can be set up to 16,000 DPI for precise accuracy and ultimate gaming speed. This silent mouse has an adjustable weight system. There are five removable 3.6 grams weights inside the mouse that can be removed for personalized weight and balance adjustment. You can make the mouse lighter or heavier according to your personal preference.
This mouse is made only for right-handed people, and clicks are a little bit loud.
back to menu ↑
UtechSmart VENUS Pro RGB MMO Wireless Gaming Mouse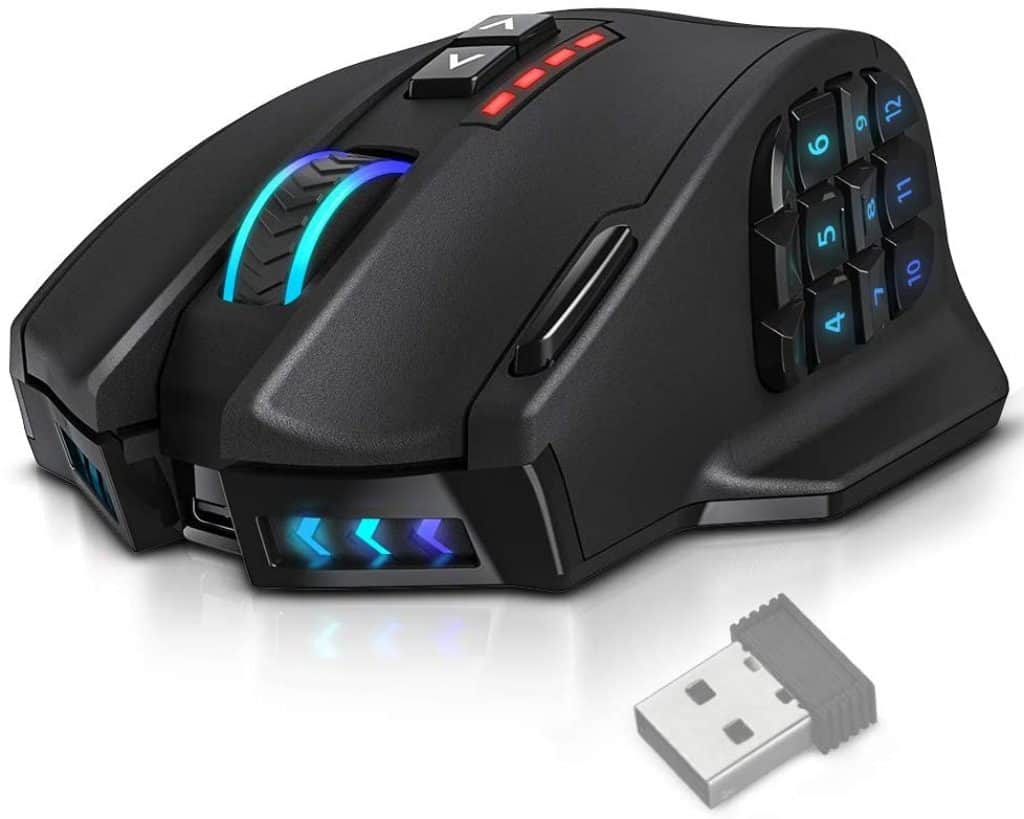 UtechSmart VENUS wireless silent gaming mouse has a full keypad glued to the side. This is a special MMO gaming mouse packed with a lot of buttons that you can customize. Venus pro got very popular among the MMO games, where you need different easy to access buttons for casting spells, using weapons and performing a different kind of actions quickly while saving precious seconds. MMO gaming mice are not cheap, but this silent gaming mouse is available at a reasonable price. Every button is programmable and can be set to keyboard shortcuts.
It has a 1000-mAh battery that has a runtime of almost 70 hours, depending on the usage. This mouse has an auto sleeping mode and a low power consumption mode. The battery can be fully charged in under 2 hours and offers to recharge over 300 times. Venus Pro is equipped with a PMW3335 sensor with a 100 to 16,000 DPI resolution. This silent mouse also comes with removable weights so you can adjust the weight that suits you. It is equipped with RGB gaming lights, which are customizable with the user-friendly Utechsmart actuation software that comes along. 2.4Ghz transmission technology with the Nano receiver provides a stable and fast connection for up to 10-meters boundary. The design of this mouse and grinding coating ensures a firm grip.
This mouse is made only for right-handed people.
back to menu ↑
VicTsing Wireless Gaming Mouse
VicTsing silent wireless gaming mouse comes at a reasonable price. The left and right buttons are noiseless and durable. This mouse is perfect for quitter work or gaming environment so that no one would complain about the annoying clicking noise. Buttons are tested for 5 million clicks. The stylish and ergonomic design is perfect for gamers. Resolution tracking technology provides sensitivity and precise tracking on a wide range of surfaces. It has a 2.4Ghz wireless technology for lag proof connection for up to 30ft.
There are five adjustable DPI settings (Default DPI settings: 800-1200-1600-2000-2400). An LED light will flash when changing DPI settings. This silent gaming mouse has built-in LED lights, but they are not so bright. VicTsing has an auto-sleep mode to save power. It goes into sleep mode if not used for 8 minutes to save energy. You can press any button to wake it up. The low power indicator will blink red when the battery is low. This mouse is perfect for low-level gaming but not suitable for high-end gaming.
back to menu ↑
VEGCOO C9s
VEGCOO C9s is one of the cheapest best silent gaming mice available on the market. It has 2.4Ghz wireless transmission for lag-free reliable connection up to 10 meters. Say goodbye to loud clicking noises, the left and right-click buttons are made silent for quite gaming experience. There are built-in LED lights that change colors randomly, but you can't customize LED lights yourself. You can turn off the lights if you don't want them on.
Vegcoo C9s is rechargeable and has a 600mah battery that can last for about 30 days on a full charge. The buttons are tested for 10 million clicks. The charging port is in the front, so you can easily use it while charging. The design is not so appealing and looks cheap, but the overall quality of this mouse is pretty good. But the good thing is you don't have to spend a lot on this mouse.
There is no indicator for low battery.
back to menu ↑
Srocker C10s Wireless Silent Gaming Mouse
Srocker C10s comes with an advanced 2.4GHz wireless technology, which provides a larger range up to 10 meters, and lag-free faster transmission speed. There is a silent micro switch for 95% noiseless than ordinary switch, which genuinely creates silent gaming or work environment. Use it with confidence without annoying people around you. The design of this quiet gaming mouse is very modern.
3 DPI levels (1000-1600-2400) lets you choose your suitable cursor speed quickly and win the battle in-game. Breathing LED lights make it look cool. Four colors (green, blue, red, purple) show its distinctive personality and give you vivid gaming experience. It requires 2 AAA batteries to function. The Left and right-click buttons are very silent, but the middle button makes noise.
It is one of the best silent gaming mice available in the market.
back to menu ↑
Logitech M330 Silent Plus Wireless Mouse
This extremely silent gaming mouse is great for a quiet and peaceful gaming environment. You can enjoy your gaming or do your work in complete silence without disturbing anyone else. A continuous clicking sound can annoy anyone, but with this silent gaming mouse, say goodbye to those disturbing clicking sounds. It does not have a gamer-friendly look, but it works pretty well. Logitech M330 is a small-sized mouse with a dinky dimension of 105.4 x 67.9 x 38.4mm. It is very lightweight, as well (91g).
I don't like that it comes with only three necessary buttons and built for only right-handed people. If you are buying this mouse for quietness, then do ahead you won't be disappointed, but for gaming, it lacks a few features. The overall performance of the Logitech M330 is awe-inspiring. This mouse has a sensor with DPI sensitivity. The 2.4Ghz connection provides a range of up to 10 meters without any lag.
Silent Gaming Mouse Buying Guide and FAQ
Finding the right mouse can be challenging for you, but in this guide, we will help you choose the best silent gaming mouse. We are going to share some tips below that will help narrow down your choice because you don't want to waste money on a mouse that you will regret buying.
Tip #1: Customizable Mice
In the world of gaming, customization can be an important factor in maximizing your in-game performance. You can customize your gaming mouse with features like extra programable keys to LED lights and weight management.
Imagine wasting those milliseconds in getting a headshot or performing in-game action that you can save with customizable buttons. Every second counts in the online gaming world, and if you want to win matches, then you can't even waste precious milliseconds. The competition in online gaming is high, which makes customization essential.
Customizable mice are little pricier than simple ones. So, make sure before buying that if you want a customizable mouse or not.
Tip #2 Weight Management
Some people want a lightweight mouse, but some prefer a little heavy mouse for a comfortable gaming experience. But what to do when you are playing games for hours, and the heavier mouse starts to get uncomfortable? This where mouse like Logitech G502 with weight management comes. You can attach and detach weights as per your comfort level.
The perfect mouse should be comfortable moving around. Weight of specific mouse can be ideal for one person, but for others, it can cause discomfort. So, consider the weight according to what you prefer before buying. Mice with weight management come in handy when you are not sure how much weight is perfect.
A mouse can look good with its stylish design and LED, but if it's not comfortable, then it's no good. There are many mice available in the market with a removable weight feature. A mouse that is too heavy will become a drag, and a mouse that is too lightweight can cause your mouse pointer away from the target.
Tip # 3: Laser or Optical
Buying a mouse that gives the perfect combination of sensitivity and pinpoint accuracy seems difficult. Mice with laser technology offer high accuracy, but they tend to jitter. On the other hand, mice with optical technology have lower sensitivity but higher accuracy.
Did you know that all the modern mice are optical and act like a camera? They continuously take pictures of the surface and convert data to track the current location on a surface. It is also known as a CMOS sensor. These mice capture more than 10,000 images every second for a precise location.
If you are a serious gamer, then laser mouse will help you get better results in gaming.
Both types of mice collect data using the irregularities of the surface to track location. But a laser mouse gets better results because it can go deeper in the surface hence collecting more information for the sensor. The data collected by the laser can be too accurate sometimes, and it can pick up useless information from the depth of the surface, which can cause jitter at the slow movement of the mouse.
If you look at the mice manufactured by Logitech, most of the time, they use LED technology. The reason is that when someone buys a mouse for gaming, they are probably sitting at a desk using a mouse pad that is specially designed for the best possible tracking. Gamers want the best result possible with absolutely no lag, which makes sense.
Tip #4: Which Software Works for You?
Each software has its pros and cons. Choose a mouse which comes with a software that is easier to work around and lighter for your gaming PC. If you already have a Razer mouse, then my suggestion is that you go for Razer mouse again. Because you already know how to use the software and switching your mice will also be more manageable.
You don't have to install multiple software if you have mice of the same company. Installing different software's for different mice can slow down your PC.
Tip #5 Wired mouse vs wireless mouse
In general, a wired mouse is a little bit faster, more responsive, and cheaper than the wireless mouse. On the other side, a wireless mouse looks good, and you have the complete freedom to move it around without any issue. Wireless mice have a higher price, and they also need batteries to run, which adds to more cost. Batteries of a wireless mouse can cause you a match if they die while playing a competitive online game.
You don't need an expensive wireless mouse to win matches. A cheap wired mouse can win you matches if you know how to play. But if you have the budget, then I recommend a wireless gaming mouse as it is easier to handle.
End Goal: Having the Right Mouse
The perfect mouse that you will end up buying might not have all the features, but it will include important ones that matter the most. The best silent gaming mouse is which makes lesser noise because the main reason you are buying a silent gaming mouse is that you don't disturb anyone with the annoying clicking noise. For a long gaming session, a gaming mouse should feel comfortable in hand.
For me, I prefer a wireless gaming mouse because it is easier to move around. Now you can narrow down your choices to what matters the most to you regarding features and price.