Gaming Laptops
The MSI GL65 is the first gaming laptop I've tested with Nvidia's new higher wattage 2060 graphics. Let's check it out in this detailed review and determine ...
Editor choice
Finding a good gaming laptop under $1500 that ticks all the boxes can be a difficult task because there are so many different options available in the market. ...
Editor choice
The ASUS Scar 15 gaming laptop has shifted from Intel to AMD's Ryzen processor, and it also got a new design in 2021, but there is more to it than just flashy ...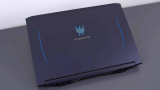 Over the past few months, a lot of really good laptops came out in the low to mid-range market. Most of them being Ryzen laptops but some of them like the HP ...
The Gigabyte's Aero series laptops are a perfect fit for people that do a mixture of content creation and gaming. Let's check out the differences in the new ...
Are you on a tight budget and can't buy a premium gaming laptop? Do you want to start a new streaming channel as a gamer, but don't have any suitable gaming ...