Best value
Top 13 Best Budget Gaming Desks Under $200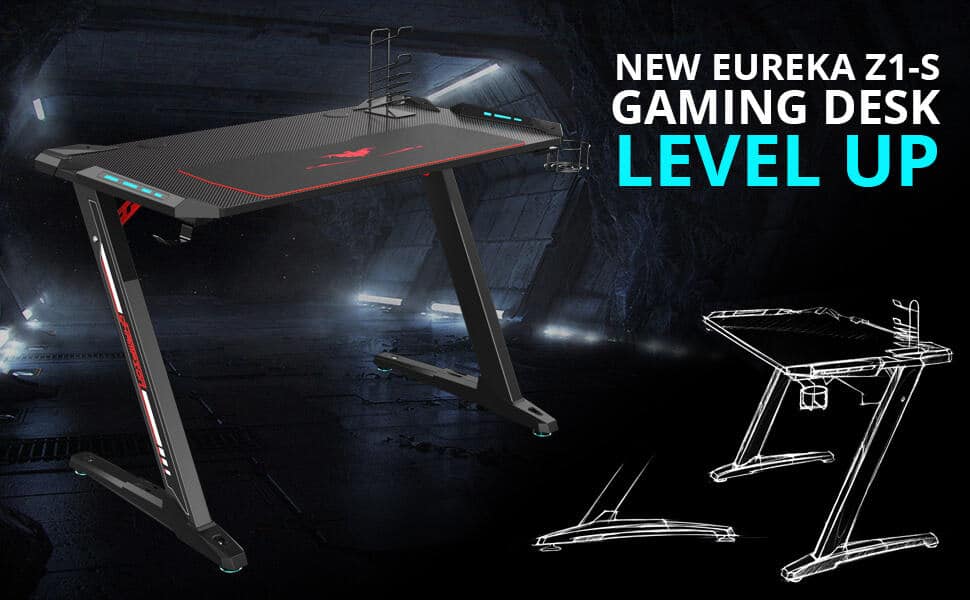 We know every gamer needs to spend his money wisely because there are lots of gaming accessories to buy for your ultimate gaming station. High-end gaming desks are way too expensive for an average gamer.
We made this list especially for those who don't want to spend too much money on a gaming desk but still want a decent looking PCConsole gaming desk. We have reviewed the five best budget gaming desks that you can buy under $200. This guide will help you buy a high quality excellent looking desk for your gaming needs without spending a lot of money.
If you are looking for desks under $100 then check out this guide "Cheap gaming desks under $100"
AuAg 47 Inches Gaming Style Desk
AuAg 47 inches is one of the coolest looking gaming desks out there. Beautiful RGB lights and the unique legs design makes it different from all other desks. You can choose out of six RGB colors on your desk and match it with your other gaming accessories. These lights lit up in three different modes, monochromatic change, flash, and breathing style.
The spacious surface is enough for all our gaming hardware. To clear things off the desk, it includes a headset hook and a cup holder. Unlike most of the gaming desks, it comes with a complimentary large gaming mousepad. The y-shaped legs of this desk are unique and resemble the legs of a giant robotic-machine.
While the frame looks cool, it is also stable, and it can bear a weight of 330lbs, which is more than enough for gaming equipment. With all the right features and a futuristic look, you should definitely consider this budget gaming desk.
VANSPACE 55 Inches Ergonomic Gaming Desk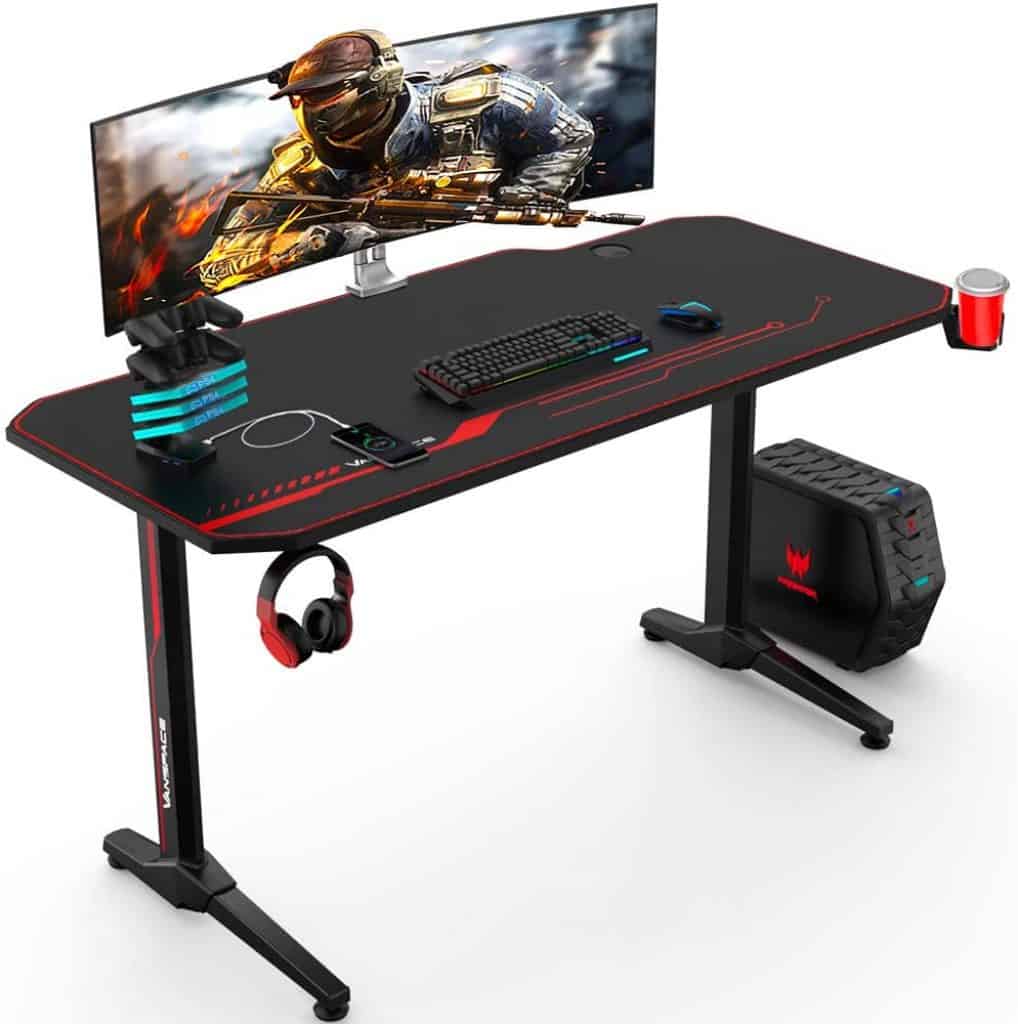 This budget gaming desk is another great option in 55 inches tier. If you want a large gaming desk, then this one looks a promising alternative. The 55 inches wide carbon fiber textured desktop has plenty of space for dual-monitor and other gaming accessories. This solid-built desk can withstand the weight of up to 330lbs of three monitors.
Vanspace 55" is packed with great features that include a headphone hook, a cup holder, controller, and DVD holder. It also has two built-in cable grommets for easier cable management. The controller stand also has four USB ports making it easier to charge your phone and headphones. On the back, there is power storage back for more convenient cable management.
Another great thing is the extra-large anti-skid gaming mousepad, which effectively keeps the keyboard and mouse in place. Solid construction makes this desk one of the sturdiest gaming desks. T-shaped legs provide enough space for you to move your legs. There are four leveling feet, which makes this desk stable on uneven floors.
This desk is a real deal under $200 budget.
AuAg 55 Inches Racing style Gaming Desk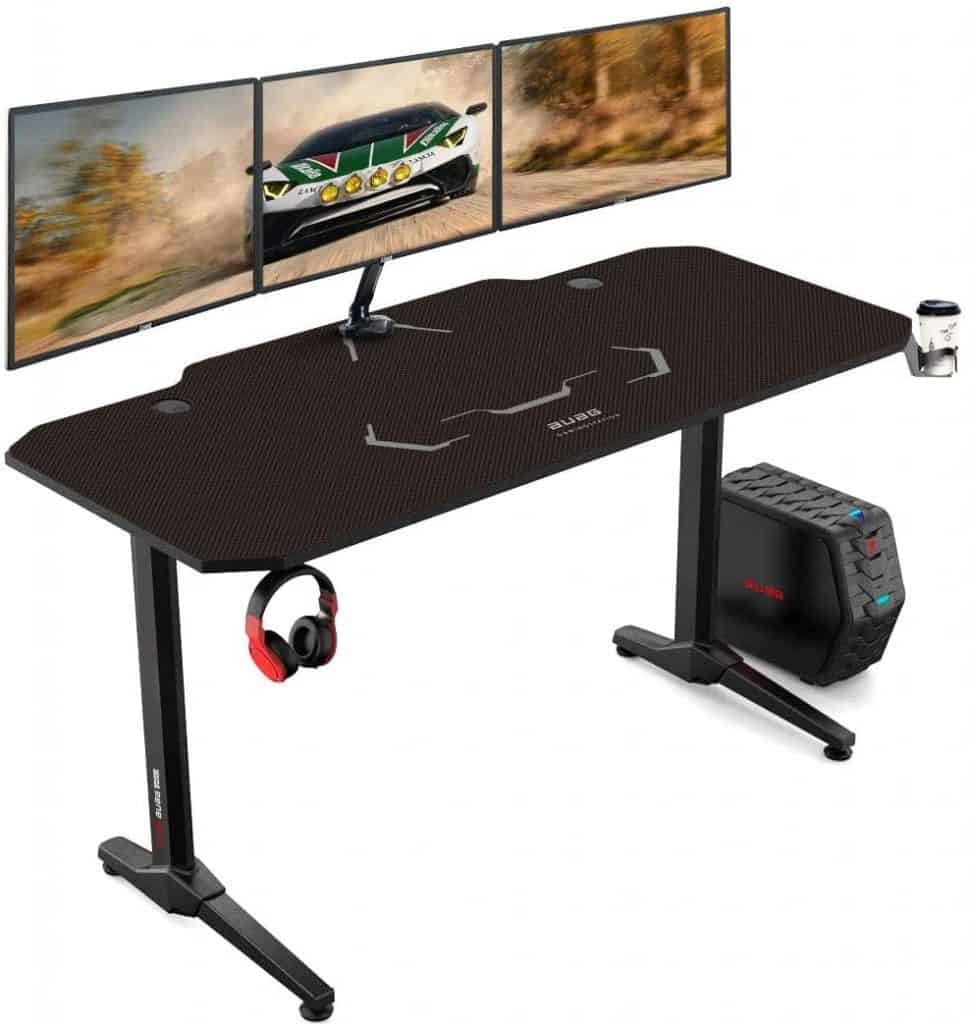 If you are looking for a desk with massive space for all of your gaming equipment, then AuAg 55" can be a wise choice. It gives you enough space to set up two monitors. The tabletop is totally covered with an extra-large 3mm thick waterproof mouse pad. The mouse pad is soft, durable, and easy to wash.
Sturdy t-shaped legs provide an excellent balance and a weight capacity of 330lbs. The tabletop is made of MDF with carbon fiber texture design. The t-shaped legs offer ample space for legs. This is a multi-purpose gaming desk, and you can use it as an office computer desk, writing, or study desk.
With two cable grommets and a concealed power strip box, you can easily manage your cables. Convenient cup holder and headset hook make it easy for you to manage your drinks and headset. The design is very user friendly, and it also comes with four adjustable leveling glides for a stable position on the uneven floor.
Atlantic 33950212 Pro
Atlantic 33950212 Gaming Desk Pro is a fantastic budget gaming desk with a price of just over $100. This desk offers an excellent surface to play your favorite games. This gaming computer desk includes a charging stand for your tablet or smartphone. A speaker stands on both sides, which double as a game storage, which means you can store your games just under the speakers where space is available.
This desk also includes an under-desk basket, controller stands, built-in wire-management, rear power strip holder, cup holder, and headphone/VR headset hook. This desk includes almost every feature that all the other desks have together. It is built with sturdy steel legs and sleek charcoal colored carbon fiber laminated top.
A desk like this with so many features is a real budget gaming table for any gamer.
Elevated shelf supports up to 32-inch monitor. The phone holder can hold two phones or a single tablet and charge them while you play your games as well as keep an eye on the notifications of your phone. The phone holder lets you charge your phone in an upright position, and the slight lip of the phone holder makes sure that your phone won't fall.
The desk comes with two cable grommets made for easy cable management. Alongside the monitor, stand are two console controller holders that will allow your PlayStation or Xbox controllers to rest where controllers can be connected and charge while staying out of everything.
Lightweight construction is a reward for anybody who doesn't like a large desk at their home. Lightweight gaming desks are best-case scenarios so that you can change your furniture settings at any time.
VIT 47″ Ergonomic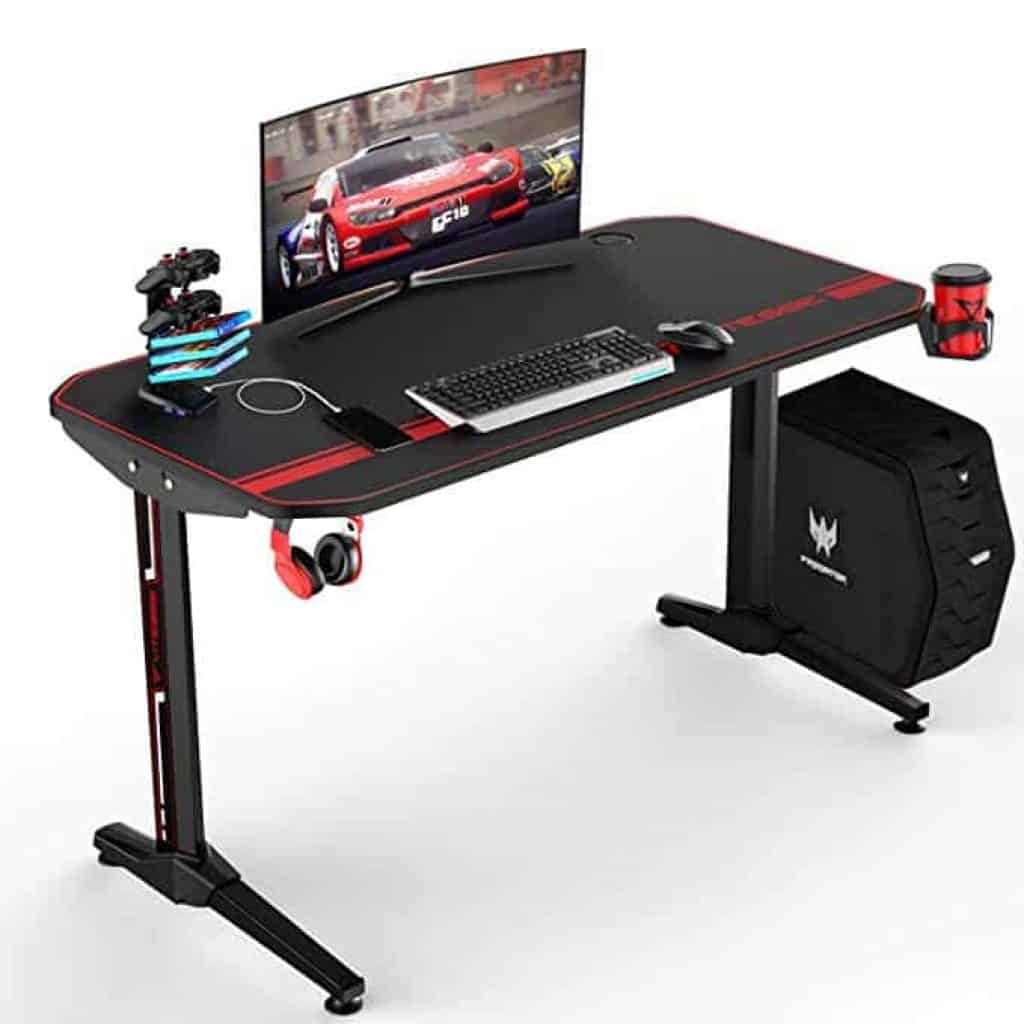 VIT 47″ gaming PC desk is another latest addition in our best budget gaming desk. With a large surface area it can hold all your gaming equipment with ease. This desk has a simple and sleek design with all the necessary features. It has a carbon fiber desktop which gives this desk a modern look. VIT 47″ is the sturdiest desk; T-shaped legs are made of steel, which can hold up to 260 pounds of weight.
The whole surface is a mouse pad, and the good thing is it is waterproof. The carbon fiber surface is effortless to clean. Feet are adjustable, so it is less inclined to wobble. Features include cup holder, controller stand, game stand, two cable grommets. Another great feature is a smart USB gaming handle rack with four charging ports allowing you to charge your phone, Ipad or headphone, while you work or game.
There is a VIT 55 inches variant that you can check out too.
Mr. IRONSTONE
This gaming desk is not so technically complex, but it has all the necessary features a gaming desk should have. This desk has a cup holder on the right side of the desk and an earphone hook on the left side. This desk comes with two holes for easy cable management. The design is simple, modern, and it gets the job done without costing you a lot.
Tabletop is made of MDF laminated with PVC, which makes it waterproof and very easy to clean. Legs are constructed by durable metal frame. This desk can hold up to 110 pounds of weight. It is enough to hold your monitor PC as well as all of the gaming and computer accessories easily so you can focus more on gaming.
There is enough space to set up two monitors. The R style design of this desk makes it very stable. What's more is, in spite of being the sturdiest model, it keeps a small profile and is right in the budget.
It's a great choice overall, regardless of whether you're attempting to squeeze it into the corner of a small room. Very easy to assemble with the help of instructions included with the table.
YIGOBUY PC Gaming Desk
Simple but decent looking Z-shaped design of this gaming desk will give your battle station a cleaner look. The desktop is made of MDF with PVC lamination, and sleek carbon fiber texture and the frame legs are made of high-quality metal. This rock-solid desk can bear a maximum weight of 220lbs. Four adjustable leg pads ensure the desk keeps a stable position even on uneven ground without wobbling.
This desk comes with a cup holder on the right side, and a headset/controller stands on the left front. There are two cable grommets for a cleaner look and better cable management. Assembling this desk is very easy, and you won't have any problems. It also comes with a 12 months tension-free warranty.
RESPAWN 1010
Respawn has delivered a pretty decent looking and one of the most durable gaming desk. It sports a progressively streamlined and stripped-down frame that can hold as much as 200lbs of weight on top of it. This desk can be the right choice for any gamer with a price tag just above $100.
The main features of this desk include cup holders, headphones hook, a durable raised shelve for your speakers, and a monitor shelve. The structure of this desk is very ergonomic. Eye-level action is achieved by the raised desktop monitor shelf measuring at 28. 75″ L x 8. 625″ D.
With a large tabletop, this desk has enough space for your PC/console and all the accessories. This desk has a steel tube frame, contoured support, adjustable Glides, and a beveled front edge that alleviates forearm stress to help you level up in comfort
Another good thing is, this desk is available in different colors so you can match the colors of Respawn chairs to complete the look of your gaming station. This desk is an excellent budget gaming desk at a reasonable price.
EUREKA ERGONOMIC X1-S
Eureka made some of the most stylish gaming desks in the market. Specially designed for gamers, this desk includes some cool features. It features a carbon fiber textured tabletop and beautiful blue lights, which increases your gaming experience. Simply plug in the USB in your gaming PC or gaming laptop and enjoy the cool blue light.
It comes with a headset hook, a cup holder, an extra-large mouse pad controller, and a DVD holder to make things more convenient. This makes enough space for your monitor, keyboard, and mouse. The build quality and the sturdiness of X1-S itself will tell you that you have made the right purchase. X1-S worth your money by all means.
Assembling this desk is very easy, and you will put it together in no time. The customer service is a pure delight and will help their customers to any extent. The price is a little higher for this gaming desk.
LYNSLIM Gaming Computer Desk
This is a bit simple but highly recommended budget gaming desk. It won't take much assembling this desk and there is clear difference between the desk and accessories. Features include a headset hook, a cup holder and a power socket with USB connection. Built-in USB connection makes it very convenient to charge your phone.
The front side has an inside curve for better position. The MDF PVC laminated surface is waterproof and easy to clean. LYNSLIM gaming desk designed with a rock-solid herringbone construction to enhance the stability and durability.
Homall Gaming Desk 43.6 inches
Homall makes some good quality gaming furniture. This gaming desk is specifically made for gamers and limited budget in mind. The design looks very stylish and perfect for gaming. The desktop of this gaming desk is sufficient for one large monitor and other gaming accessories. The carbon fiber surface of the tabletop makes it even more beautiful.
There are two plastic trim for each rear corner but you will have to use tape to fix them as there is no holes or screws for them. The front side of this is cut inside to comfortable position and easy access to accessories.
The base structure is made of hollow metal tubes with additional metal bars for more stable and strong support. Four leveling feet can be adjusted according to the floor for more stability. It also comes with a game handle rack for your controllers and DVD's.
GTRACING Gaming Desk
GTRacing is one of the oldest brand famous for making gaming chair has introduced a gaming desk. Not so expensive but this one is right in the budget. There are two variants of this desk, one without a shelf and one with the monitor shelf and $20 more. The Z-shaped design looks a little different from other gaming desks.
It comes with most of the necessary features like speaker stands, a cup holder, power strip holder and phone/tablet holder. Unfortunately, the headphone hook is missing which is a must to have. The overall design is very ergonomic with a slight curve on the front side and rounded shape for comfortable gaming experience.
The metal frame is tested strictly for super stability and sturdiness. High quality GTRacing gaming desk is very durable and it will last you for many years. There is a cable management tray under the tabletop but it is missing cable grommets.
Sedeta Gaming Desk
SEDETA gaming desk has a good-looking design and excellent build quality. T1-G distinguishes itself from other gaming desks with its large monitor shelf, which increases the space for your gaming accessories. You can put a monitor in the center and the speakers on the sides. Other than the monitor shelf, it has a cup holder and a headphone hook.
The structure of this gaming desk is sturdy and long-lasting. This design is pretty simple, but it gets the job done. There is another shelf below where you can rest your legs, CPU, or the woofer. This extra shelf can keep your CPU and Woofer above the floor, saving it from dust and scratches. The smooth surface is effortless to clean.
SEDETA is constructed by E1 MDF with PVC surface and coated steel tube frame for maximum strength and durability. It has a grommet power strip with 3-Outlet & 2 USB Ports, which makes things very convenient and gives a neat look to the setup.
Assembly of this desk is pretty easy if you follow the instructions and use the hardware that came along. They provide 3 years of warranty, which is more than any other desk.
Best Budget Gaming Desks Guide & FAQ
What to look for in a budget gaming desk?
The most important thing to look for in a gaming desk is its maximum weight capacity. If the desk is not capable of holding all your gaming hardware then what is it good for? You should get a desk with good weight capacity because in the future your gaming gear can increase and your desk not be able to withstand all the weight.
Another good thing for consideration is build quality. A solid gaming desk can last you for years if taken good care of. But if you try to save cash and bough a poor quality gaming desk that you are going to have a problem soon. We recommend a desk with sturdy steel or metal frame instead of MDF particleboard.
You should consider the surface area of the desk too. As in the future you might add a new monitor with your existing setup and the new monitor can use the extra space you got. Your desk should hold all your gaming accessories so you can reach out for them easily.
Last but not least a gaming desk should look excellent in your place. A good looking desk can increase the overall gaming experience of any gamer.
Things to avoid before buying a gaming desk
The first thing you should know is that you are trying to buy a budget gaming desk so manage your expectations. Premium gaming desks can be very expensive. Don't go and buy the first gaming desk you see. Try to compare all the options in your budget and then make a decision. Try to buy a desk with high quality structure and avoid the glass desks.
Final Thought
All of the five desks in our best budget gaming desks are high quality and well-designed desks. We have discussed all the features of these desks that you should know. Prices vary from the start of $100 to $200. Now the choice is yours to make according to your style and budget.